The Third Wife [Blu-ray]
Blu-ray B - United Kingdom - Eureka
Review written by and copyright: Eric Cotenas (19th July 2019).
The Film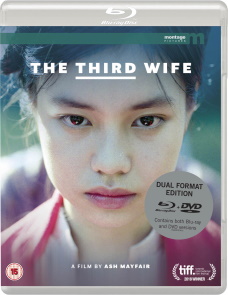 Late nineteenth century Vietnam: fourteen-year-old May (Nguyen Phuong Tra My) becomes the third wife of wealthy silkworm farm owner Hung (The Vertical Ray of the Sun's Long Le Vu). She has much to learn from Hung's first and second wife who are still very much in the picture. Mistress Ha (The Scent of Green Papaya's Nu Yên-Khê Tran) gave Hung a boy in teenage Son ('s Nguyen Thanh Tam) but has suffered miscarriages subsequently. Mistress Xuan (Mai Thu Huong Maya) has only given Hung girls with Lien (Hollow's Lam Thanh My), Nanh, and Baby Dove. They offer her differing advice on sexual pleasure according to their own tastes but it seems not to matter much to her husband when both she and Ha become pregnant. Sneaking out at night to witness Ha taking her own sexual pleasure with Son and spy on a pair of servants who are soon banished when the girl falls pregnant, May realizes that the means of securing her husband's attentions is to have a boy and she prays that hers will be the only one. She feels guilty when Ha suffers another miscarriage despite Xuan's assurances and forms an attachment to the other woman when Ha monopolizes Lien and insists on finding her a husband to which she will be the first wife, and Xuan is troubled by Son's desperate believe that Baby Dove is his child and his refusal to touch Tuyet, the girl to whom he has been forcibly betrothed. When tragedy strikes the household shortly after May gives birth, she comes to realize just how limited are her prospects as The Third Wife.

Although bursting with soap opera intrigue and occasionally digressing visually and aurally into slow motion imagery out of a Zalman King film, The Third Wife – feature film directorial debut of Vietnamese sound recordist Ash Mayfair – is a less interested in making a statement about the almost dehumanizing subservience of women during the period than in observing lives constrained by tradition and the way it shapes and distorts character. May knows absolutely nothing about what is expected of her as a wife, much less a third wife, her sexualized attraction to Xuan is not so much the revelation of an unconscious lesbian identity as the girl finding pleasure in sensual touches the goals of which are ultimately to make the skin of her belly supple for future childbirths. Although he secretly loves Xuan, Son appears to seek the same maternal comfort in her and his own mother when he is told he is to marry. Even Hung may be etched with some depth in his offer not only to pay back Tuyet's dowry but to make a public announcement that she has not been touched for the benefit of another marriage; on the other hand, the fact that Tuyet's own father blames her and believes such an announcement would bring shame on their family may be a reaction anticipated by Hung in anticipation of the tragedy that will inevitably incur (indeed, one wonders if everyone in the house may have been anticipating May's own actions in the film's final scenes). Seemingly aged beyond concern for procreating or even sexual desire, Hung's father makes such statements as "what are we but dust in the shadow of Buddha" to the household's all-seeing housekeeper Auntie Lao (Indochine's Nhu Quynh Nguyen), but remains silent and possibly blind and deaf to everything happening around him. Although much is implied rather than stated, some things are more pointed than others in illustration: such as the fact that May and Lien are the same age, Lien's own match is anticipated after Son's even though we see her emotionally immature reaction to the death of a farm animal she has adopted as a pet (she later defiantly cutting of her hair in the end as if she has come to realize the nature of her value as a future wife), as well as the self-interest that underlies Ha taking on a blanket role of maternal authority and the viewer's suspicion of even the most genuine-seeming offers of comfort on her part. The Third Wife says little new or original but holds interest in for the way it says it cinematographically.

Video


Elegantly shot in the non-standard aspect ratio of 1.50:1 or 3:2 – corresponding to the aspect ratio of a still 35mm frame although that is likely not the reasoning given the nineteenth century setting even though there are plenty of compositions that seem like they would make attractive photographic still lifes – and presented on Blu-ray with side mattes, the 1080p24 MPEG-4 AVC image gains a filmic softness seemingly less from digital tools than to the use of long lenses and shallow focus and a combination of low-lighting and diffusion through set dressing. Detail impresses in facial close-ups, details of hands and objects, and some macro close-ups of silkworms in and out of their pupae.

Audio


Audio options include Vietnamese DTS-HD Master Audio 5.1 and LPCM 2.0 stereo that are generally front-oriented for a dialogue-heavy film with the surrounds use throughout for subtle atmosphere including offscreen weather apart from moments in which the score dominates and spreads to the rears. Optional English subtitles are provided.

Extras


The sole video extra is the film's theatrical trailer (2:10), the standard international one (with Eureka's Montage branding added here) that oversells the brief lesbian dalliance with lines like "this is wrong, the gods will punish us." Included in the case is a booklet featuring a new essay by David West, news editor at NEO magazine that was not provided for review.

Overall


The Third Wife says little new or original but holds interest in for the way it says it cinematographically.

---
DVD Compare is a participant in the Amazon Services LLC Associates Program and the Amazon Europe S.a.r.l. Associates Programme, an affiliate advertising program designed to provide a means for sites to earn advertising fees by advertising and linking to amazon.co.uk, amazon.com, amazon.ca, amazon.fr, and amazon.de.