Lola
R0 - America - Indiepix
Review written by and copyright: Eric Cotenas (20th July 2019).
The Film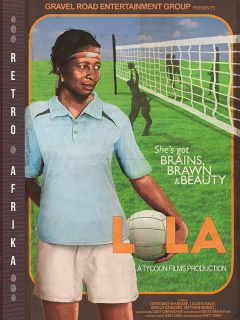 "The following film is one of hundreds that were produced at the height of Apartheid for African audiences with no access to mainstream entertainment.

By early 1990, most of these films simply disappeared.

In 2013, Gravel Road Entertainment Group launced an iniative to locate and digitally restore these forgotten films for present and future generations."

In the summer before their senior year, teenage Lola (Constance Shangase) and her friends are hanging around the local recreation center where a college recruiter has come to advise them on their choice of university and area of study. Concerns about relocating, financing, and finding places to live and work are daunting, but Lola is interested in life beyond high school. When a gang of volleyball players hassle them for being "nerds," Lola and her friends decide to challenge them to a winner-takes-all volleyball match; the problem is, none of them know how to play volleyball. Enter Mandala, Lola's childhood friend, who has tired of the other gang and has decide to coach Lola's gang how to beat them. That's pretty much all there is to this Apartheid-era South African take on the youth sports movie. Lola is the only character with any degree of development (some of the other characters including Lola's chief chauvinist rival are not even named) and the training montage and the actual game are edited and scored with no more energy than the earlier lighter moments of the film (and all scored with the same theme that sounds a decade behind the times and may be a library piece). The direction is disinterest and even a bit lazy with the sequence in which Lola and friends watch a video of volleyball to pick up pointers taking place entirely in a long shot with no cutaways to the video they are watching (or even sound effects from it) with the actors appearing to just improvise until the roll of film runs out. Although it runs closer to feature-length than some of the other films rediscovered as part of the Retro Afrika Bioscope collection, Lola certainly does not make use of that additional time to do anything ambitious or even obligatory with the story.

Video


Mastered in HD from unspecified sources, Indiepix's anamorphic, pillarboxed 1.30:1 progressive single-layer presentation is typical of what we have come to expect of Gravel Road's restorations. The digital noise-reduced image is free of surface damage but it is hard to tell how much fine detail is sacrificed with the natural light interiors and the on-the-fly exterior scenes.

Audio


The dialogue on the Dolby Digtial 2.0 mono track is in both Zulu and English with the hard-coded English subtitles transcribing all of it. The track is clean enough apart from some surface noise.

Extras


As with other releases in this series, the sole extra is the film's trailer (1:14), newly-created (and one wonders if there actually were any original trailers accompanying these films).

Overall


An Apartheid-era South African take on the youth sports movie, Lola is rather unambitious and even lazy for something intended to be shown on a theatrical screen.

---
DVD Compare is a participant in the Amazon Services LLC Associates Program and the Amazon Europe S.a.r.l. Associates Programme, an affiliate advertising program designed to provide a means for sites to earn advertising fees by advertising and linking to amazon.co.uk, amazon.com, amazon.ca, amazon.fr, and amazon.de.