The Film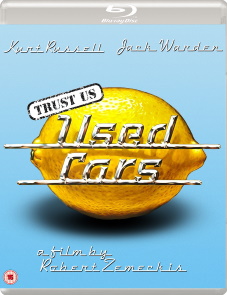 Rudy Russo (Escape from New York's Kurt Russell) is an aggressive and unscrupulous Phoenix-area used car salesman who aspires to becoming a "bought" politician but needs ten thousand dollars for his campaign and starts cooking up schemes to drive business to the New Deal car lot of his elderly boss Luke Fuchs (Death on the Nile's Jack Warden) and away from Luke's rival twin brother Roy A. Fuchs' (also Warden) business across the street. Despite his large political "contributions" and having Assistant District Attorney Sam Slaton (Going Berserk's Joe Flaherty) in his pocket, Roy's business is in the path of a new freeway and there is no stopping it because of recent conflict of interest scrutiny. Spying on Luke's lot through his binoculars, Roy sees that his brother's health is getting worse and decides to step up his plans to acquire the lot by sending demolition derby driver Mickey (Miami Vice's Michael Talbott) to take Luke for a test drive while Rudy and his superstitious colleague Jeff (Phantom of the Paradise's Gerrit Graham) are both busy. After a high speed trip around the block with a crash-landing, Luke suffers a heart attack in the office. Wanting as much to honor his promise to Luke to keep Roy from getting the lot as to get more money for his campaign, Rudy, Jeff, and mechanic Jim (Licence to Kill's Frank McRae) bury Luke and his white Edsel in the lot's mechanic's pit and make up the cover story that Luke has taken off to Florida on a fishing trip when Roy comes over the next day trying to claim ownership of the lot. Rudy presses on with his daring plan to illegally interrupt a football game broadcast with a commercial with the makeshift technical knowhow of Freddie and Eddie (Who Framed Roger Rabbit?'s David Lander and Clue's Michael McKean). The on-the-fly commercial manages to upset rabid sports fans but the mishaps including "bare tits" and FCC-violating expletives prove just as much a draw to henpecked husbands and their kids who swarm the lot the next day, leading Rudy to plan his next ad to interrupt President Carter's televised speech; however, the arrival of Luke's estranged daughter Barbara (Bachelor Party's Deborah Harmon) throws more than one kink into the works as they try to prevent her from becoming suspicious about her father's whereabouts even as Roy tries to prove that his brother is dead. When Barbara takes over the business, not even blood relations can keep her out of Roy's crosshairs, and Rudy must choose between his ambitions and his loyalties when she needs to come up with "a mile of cars" or lose the business, and possibly her freedom.

The second feature of Robert Zemeckis, Used Cars – based on an undeveloped idea by producers Steven Spielberg (Jaws) and John Milius (Conan the Barbarian) and scripted by Zemeckis and producer Bob Gale (Trespass) – is more indicative than his directorial debut I Wanna You're your Hand of the direction his career would quickly take in the eighties from Romancing the Stone and Back to the Future onwards. A wonderfully cynical sendup of the American Dream from a time before "all used car salesmen are crooks" was a given and the commercial stunts depicted were actually considered outrageous, the film feels so glutted towards the middle that the romantic subplot feels entirely obligatory, and one might actually forget some of the threads foreshadowed early on and picked up to tie things together during the action climax, but the film barrels along on its laughs and the winning charisma of a very different Kurt Russell – the film was shot the same year that John Carpenter's made-for-TV biopic Elvis was released, and even Zemeckis and Gale say on the commentary track that they only knew Russell from his teen actor days as a Disney star from films likeThe Computer Wore Tennis Shoes – alongside a foul-mouthed Warden, twitchy Graham, and a slew of supporting performers plucked from Second City and other comedy troupes (explaining the bizarre decision to cast Lander and McKean who were already known at the time as Lenny and Squiggy on TV's Laverne & Shirley). The film also features a special appearance by Mexican actor/director Alfonso Arau (Like Water for Chocolate) as a dealer of stolen cars, as well as The Munsters' Al Lewis, and the ubiquitous Dick Miller (The Howling).

Video


Released theatrically on both sides of the pond by Columbia Pictures – the U.K. with minor cuts for an AA rating – Used Cars was released to cassette in the U.S. in 1985 and the U.K. as a pre-cert in 1983 and then uncut with a 15-certificate in 1986, as well as a 1984 American laserdisc and remastered edition in 1995 (still fullscreen). Virtually identical DVDs appeared from Columbia/Tri-Star in the U.S. and U.K. featuring an anamorphic transfer and commentary by Zemeckis, Gale, and Russell. The first Blu-ray release came in 2014 as a limited edition from Twilight Time followed by a German edition from . When Twilight Time lost their rights, the film was reissued in the United States by Shout! Factory as part of their "Shout Select" line earlier this year. Eureka's 1080p24 MPEG-4 AVC 1.85:1 widescreen Blu-ray likely comes from the same HD master which is an improvement over the colorful yet grainy and kind of drab DVD transfer, retaining a layer of grain most apparent in the bright skies of the exteriors (particularly during the climax) and the darker areas of the car lot at night, but now neons and the classic "used car salesman" wardrobe clashing color choices really pop now (somehow giving the film a bigger feel in line with studio product of the time).

Audio


Used Cars was released theatrically in mono, as were the home video releases, with a 5.1 remix first appearing on the aforementioned Twilight Time Blu-ray and carried over to subsequent releases. The English DTS-HD Master Audio 5.1 gives spread to zooming cars and explosions as well as the score but is generally front- and center-oriented, and the optional LPCM 2.0 mono track is just as satisfying a listen. Optional English HoH subtitles are included.


Note: The vintage Columbia Pictures logo lacks the usual musical intro accompanying other releases of the time (those in which the film's score or dialogue did not start over the logo). This appears to have been a deliberate choice, although the vintage intro does appear on the film's isolated score tracks.

Extras


The film is accompanied by an audio commentary with director Robert Zemeckis, writer Bob Gale, and actor Kurt Russell. Gale and Zemeckis reveal that the original idea was a planned film to be written by Milius and directed by Spielberg they mentioned while working on the protracted shoot of 1941 with George Hamilton (Love at First Bite) originally in mind for the lead, and their concept as It's a Wonderful Life if George Bailey had no moral center. Gale and Zemeckis initially pitched it to Universal who turned it down, but one of the executives at 1941 co-production studio Columbia Pictures had been a used car salesman and got the jokes (another did end up nixing a joke with nuns because he was a Catholic). Amidst discussion of the real-life characters that inspired the film – including a college schoolmate of Gale's and Zemeckis' whose father owned a large used car business – they also reveal that John Candy was supposed to play Flaherty's role but his agent double-booked him on the film and 1941, and that Warden initially turned down Roy Fukes until they made the brothers into twins, and that Warden enjoyed swearing on camera, as well as getting to play drunk and play dead. Ported from the Twilight Time release as additional audio options are the isolated score track by Patrick Williams (The Streets of San Francisco) in DTS-HD Master Audio 2.0, a second isolated score track featuring the rejected score by Ernest Gold (Exodus) in DTS-HD Master Audio 2.0 of which only his arrangement of Sousa's "The Stars and Stripes Forever" remains (it is used over the opening credits on the finished film but the Gold score features a different cue).

Ported from the Shout! Factory edition is the interview "Would You Buy a Used Car From These Men?: Getting Used Cars Made with Producer Bob Gale" (27:11) which covers a lot of the same information as the commentary with some added detail like Milius' and Spielberg's original concept of a Vegas used car lot buys cars sold by people who plan to win big in Vegas and then end up buying clunkers on the way out after losing all their money. Also included are a vintage Kurt Russell radio interview (5:03), a gag geel and outtakes selection (4:29), a promotional Kurt Russell Darner Chrysler Commercial (0:32), the film's theatrical trailer (1:50), and seven radio spots (7:57) as well as four still galleries.


The first print run includes a limited edition collector's booklet featuring new essays by author Scott Harrison and film writer Phil Hoad that was not provided here for review.

Overall