The Film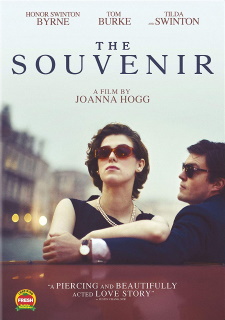 C.I.C.A.E. Award (Panorama): Joanna Hogg (nominated) - Berlin International Film Festival, 2019
Bildrausch Ring of Film Art (Best Director): Joanna Hogg (nominated) - Bildrausch Filmfest Basel, 2019
The Michael Powell Award for Best British Feature Film (Best Film): Joanna Hogg (nominated) - Edinburgh International Film Festival, 2019
Feature Film Award (Best International Film): Joanna Hogg (nominated) - Galway Film Fleadh, 2019
Golden Duke (International Competition): Joanna Hogg (nominated) - Odessa International Film Festival, 2019
Grand Jury Prize (World Cinema - Dramatic): Joanna Hogg (winner) - Sundance Film Festival, 2019
Sydney Film Prize (Best Film): Joanna Hogg (nominated) - Sydney Film Festival, 2019
"Stop torturing yourself."
"I'm not tort--"
"Stop inviting me to torture you."


London, 1980: Although she comes from a posh middle-class family, twenty-two year old college student Julie (I Am Love's Honor Swinton Byrne) wants to get outside of her privileged bubble and plans to make a film set in industrial town Sunderland, not a documentary but telling a story based on experiences "radically different" from her own. She initially plans to make the film with the help of artistic school friends and money borrowed from her parents – her father having given up his city business to farm in the country and her mother (We Need to Talk About Kevin's Tilda Swinton) dropping in weekly to furnish her daughter's flat with things she comes across and vent about her marriage – but soon realizes that she needs an education and applies to film school. Her acceptance into film school and the acquaintance to a new set of friends also leads to her meeting Antony (Only God Forgives's Tom Burke), an Eton-educated thirty-something who works for the Foreign Office. Although Julie she feels ill-at-ease and out of her depth with his friends, their private moments of intimacy and the seeming vastness of Anthony's life experience become addictive, taking a toll on her education. He also starts to borrow money from her which she borrows from her parents, ostensibly for "equipment," and her paying the restaurant bills becomes a regular thing. Julie is naοve enough to believe he has a medical condition when she notices marks on his arms, and it takes quite a bit of bad behavior before she confronts him after his old schoolmate Patrick (The IT Crowd's Richard Ayoade) blithely remarks about Anthony's drug use. Although once intrigued by Anthony, she starts to question everything he has told her, and to doubt him whenever he claims to be clean; and yet, she is still drawn to him even as she knows that he has her parents fooled about how ideal a partner he is for her, and she does not have the heart to tell them why they subsequently break up. Just as Julie starts to get back on track with her filmmaking ambitions, however, she runs into Anthony again...

A semi-autobiographical film based on the formative filmmaking experiences of writer/director Joanna Hogg (Archipelago), The Souvenir is a frustrating viewing experience: it is more than half-good, and yet it seems to work its hardest to alienate the viewer with its obsessively measured pace, scenes that start in the middle, contemplative silences with characters to which we have not been properly introduced, and plenty of scenes shot from behind speaking actors or with their faces in shadow. Hogg is at least consistent in her approach, introducing Anthony from behind as first noticed by Julie who is at first intrigued by him even as neither she nor we can catch a glimpse of his face and only capture bits of his conversation. While this approach makes it difficult for the viewer to immediately relate to Julie in any meaningful manner, sympathize with her own feelings about her privileged background, or even put up with her misery as she tries desperately not to become disenchanted with Anthony, there are also a number of insightful moments like Julie reacting the only way she can in polite company to Anthony's friend Patrick's dismissive reaction to her film school ambitions – he regarded film school as a supply center and film theory as a con – which perhaps numbs her even more to his subsequent remark about Anthony's drug use to the point where she can only "thank" him for his advice. Anthony's coolness and social superiority as seen from her perspective also puzzles us as to what she sees in him for more than half the film. Upon his return, however, when she has accepted his drug problem and remains apprehensive about whether he is using again, we get to see a certain self-deprecating side of him that we presume he only shows to her that is as disarming to us as it must have been to Julie earlier. Told as it is from her point-of-view, it is a mystery to us just how or if Anthony does indeed hold down a civil service job even if we know where all the money would go, while the film's lip service to the IRA and The Troubles reflects as much how removed Julie and her family are from its reality as Anthony who seems to only bring it up as part of stilted conversation or as a work stressor to excuse his need to unwind in various ways. The lack of detail about Julie's school project – the Sunderland scenario having fallen by the wayside – is perhaps a more frustrating even if we do get that her complicated love life has diverted her from her true passion. It would be an understatement to say the film is not without interest, but it feels like more of a failed experiment in its approach than an imitation of an "art film."

Video


Shot in the pleasing but "outmoded" European aspect ratio of 1.66:1 (like distributor A24's The Witch, The Souvenir on LionsGate's progressive, anamorphic widescreen DVD - apparently it is a practice of A24 and LionsGate to relegate to DVD titles which bring in under a million dollars at the box office, as if this film had the chance in that venue - reproduces in standard definition the film's natural-lit and low-lit imagery as well as can be expected with a mid-range bitrate (occupying 6.06 GB of a dual-layer DVD). A Blu-ray - very likely a manufactured-on-demand BD-R - is available exclusively from Amazon.

Audio


The sole audio option is a Dolby Digital 5.1 track which is predictably front-oriented with surrounds used conservatively for atmosphere in most scenes and a bit more in others. Optional English SDH and Spanish subtitles are provided.

Extras


The disc's most interesting extra is the audio commentary by director Joanna Hogg who clarifies just how much of the film is autobiographical and how much is fictionalized. She did indeed plan to make a film about Sunderland but realized that she had not experience or education in filmmaking, noting that she had not learned how to tell the story and just had strong visual ideas since she was already into photography at the time (the black and white photographs seen in the opening sequence are ones that she took while developing the project all those years ago and the making of this film has spurred her imagination again with the original project). She also points out the furniture and props that belong to her as well as the ones Byrne and her mother Swinton brought along, and the degree of collaboration on shaping the characters and film the actors brought to it. Also included is an EPK making-of (7:55) and bonus trailers (also visible at start-up).

Overall


It would be an understatement to say The Souvenir is not without interest, but it feels like more of a failed experiment in its approach than an imitation of an "art film."