The Film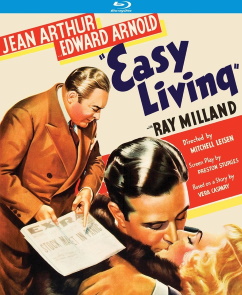 In the midst of the Great Depression, the country's third (or fourth) richest banker John Ball (Mr. Smith Goes to Washington's Edward Arnold), known as "The Bull of Broad Street," seems to be the only person in his family who knows the value of money. When he and his son John Jr. (Dial M for Murder's Ray Milland) get into an argument at the breakfast table over his trading a sensible American automobile as a down-payment on a Lugatti, and John Jr. walks out determined to strike off and make a living on his own rather than turn into a grouch like his father. Upon discovering that his wife (The Philadelphia Story's Mary Nash) has spent thousands of dollars on a new sable coat, John chases her through the house and throws the coat off the roof. The coat lands on the head of Mary Smith (Shane's Jean Arthur) passing by on top of a double-decker bus, ruining her fashionable hat. Naturally, Mary tries to return the coat but John insists that she keep it when she demonstrates her ignorance about computed interest with her plan to buy a coat of her own, and even buys her a new hat; the sight of Ball with a young woman in a sable coat buying a hat gets tongues wagging, although not before John Jr. has left home and his wife has stormed off to Florida in a huff. Even before the rumor mill spreads with word of Ball having a mistress, Mary's sable coat is met with disapproval and suspicion by her boss and co-workers at the "The Boy's Constant Companion" and she is fired to violating the magazine's "ethical requirements" (after which she demonstrates how she was hit on the head with the coat by striking him with a painting). Unable to pay her overdue rent of seven dollars, Mary is about to skip out on her apartment when she receives a letter from Monsieur Louis Louis (The Count of Monte Cristo's Luis Alberni) whose luxury hotel is in danger of foreclosure by Ball and thinks to garner preferential treatment if he puts the man's mistress in the penthouse suite. Mary, however, is ignorant of his reasons, believing herself to have been hired based on her magazine experience to help promote the hotel and mix with the guests, even though she is expected to pay for her stay and yet manages to talk Louis down to seven dollars a week. Although she is set up in a penthouse, she still goes out for meals at the Automat where she meets John Jr. who is trying to scrape by a living as a waiter. After he gets in trouble for giving her free food, inadvertently starting a riot and a food free-for-all, John Jr. is invited by Mary to stay with her in her penthouse. Mary remains puzzled why so many people seek her company in the hotel, but she almost causes another stock market crash when one of the guests seeks financial advice from her – assuming the John staying with her is John Sr. – and John Jr. demonstrates his own financial ignorance by flippantly giving a bad tip for her to pass on. Things come to a when a lonely Ball decides to take a vacation from home with a stay at Louis' hotel and his wife comes home in time to read the gossip columns.

One of the earliest screwball comedies of Preston Sturges (Sullivan's Travels), based on a story by Vera Caspary (Laura), Easy Living – taking its title from the Ralph Rainger jazz standard popularized the same year by Billie Holiday – is already quite a refreshing take on romantic comedy expectations, most notably in billing Arnold above romantic lead Milland (Arnold is a canny bit of casting in light of how Milland looked and sounded in his later years). Although not quite a departure from his stick-in-the-mud characters of the likes of You Can't Take It With You (in which Arthur's romantic lead was James Stewart), Arnold's Bull of Broad Street is only ridiculed for being sensible by the other characters, and it is his son and wife who must come to their senses, as John Jr. realizes how he has mucked things up – and needs a career if he wants to make a life for himself and Mary – and his scandalized wife must come to realize that the notion of her husband stepping out on her is as outlandish as it sounds. Director Mitchell Leisen (Death Takes a Holiday), a former MGM art director who continued to design costumes for his own films uncredited, is surely as responsible as Sturges for the film's comic set-pieces, concentrated as they are around physical settings from the Automat set to a giant swan bathtub flanked on either side of the Academy Ratio screen by Arthur and Milland who are then promptly soaked by the contraptions unpredictable jets when they come together in the middle of the screen. If everything resolves itself in a quite conventional Hollywood way, it has been a pleasure getting there. Fans of Leisen's comic work here would do well to check out his 1939 Billy Wilder-scripted Midnight and his retooled 1945 version Masquerade in Mexico, the former a vehicle for Claudette Colbert and the latter for Dorothy Lamour.

Video


Released theatrically by Paramount Pictures and ending up with MCA/Universal in the fifties, Easy Living was not released to videotape until 1998, and then not onto DVD until 2008 by Universal as part of Cinema Classics line. Kino Lorber's 1080p24 MPEG-4 AVC 1.37:1 pillarboxed fullscreen Blu-ray appears to have come from the same HD master, looking a tad softer if only because the DVD version was probably given some sharpening that is thankfully not baked into the master as evidenced here.

Audio


The only audio option is a DTS-HD Master Audio 2.0 mono track which is clean-sounding but unspectacular. The dialogue is intelligible throughout and the uncredited music – IMDb sites "Falling in Love Again" writer Friedrich Hollaender, Gordon Jenkins of "When a Woman Loves a Man," Paramount contract composer Gregory Stone, and Victor Young of "When I Fall in Love" – is undistorted, but both are subject to the limitations of the period's Western Electric Mirrophonic Recording. Optional English SDH subtitles are included.

Extras


Apart from a selection of bonus trailers, the only extra on the disc is a new audio commentary by film historian Kat Ellinger who discusses the film in the context of Arthur's comic female characterizations, Arnold's atypical lead performance, the historical period of the film – including the financial ignorance of people at the time who had lofty living aspirations – and background on the supporting cast. Most interesting is her discussion of director Leisen and the feelings of Sturgess and Wilder who felt that he focused more on the sets and costumes than the nuances of their scripts.

Overall


If everything in the screwball comedy Easy Living resolves itself in a quite conventional Hollywood way, it is still a pleasure getting there.