The Film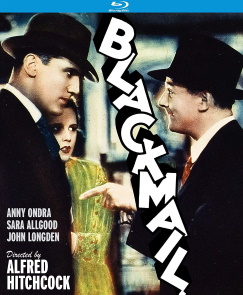 The daughter of a London news agent, Alice White (The Affairs of Julie's Anny Ondra) affects airs of her desired social station during increasingly routine nights on the town with her police detective boyfriend Frank Webber (Frozen Alive's John Longden). When Frank grows frustrated during dinner with Alice's waffling on going to see a crime movie at the cinema and walks out, he returns too late to see her leaving the restaurant on the arm of another man. Bohemian artist Crewe (Piccadilly's Cyril Ritchard) escorts Alice back to her neighborhood and invites her up to his loft. Despite the appearance of impropriety, Alice agrees and is charmed by his lifestyle and tempted by the idea of modeling for him as a means of further upward mobility. When Crewe tries to force himself on her, however, Alice defends herself by stabbing him with a cheese knife. In shock, she tries to remove any trace of her presence there and wanders the streets until dawn before returning home to widespread news of a murder in their neighborhood. Frank is one of the detectives called upon to investigate the case and discovers one of Alice's gloves at the scene and conceals it. He visits the shop to discover a guilt-ridden Alice rattled by gossip about the crime, but relief at his assurances that no one knows that she was at the crime scene is short-lived when appears Tracy (A Night of Terror's Donald Calthrop), a small-time criminal who also visited Crewe that night and has found Alice's other glove. Although he does not voice his intent to blackmail them, he intimates it by affecting a refined air in front of her father (Charles Paton), ordering an expensive brand of cigar and expecting Frank to cover the bill. A battle of wills ensues between Frank and Tracy over whether the police will believe a known criminal or a shop girl. Frank thinks he has the upper hand when he learns from his colleagues that Tracy has been identified as an associate of Crewe's who visited the night before, but Alice's own sense of guilt may compromise Frank and doom herself to the gallows.

The first of director Alfred Hitchcock's sound films, and indeed considered the first British sound film, Blackmail – based on a stage play by Charles Bennett who would subsequently script all of Hitchcock's major British works of the thirties from the original The Man Who Knew Too Much to Foreign Correspondent – finds in Ondra (who had already appeared as the leads in Hitchcock's silent The Manxman) the first "Hitchcock blonde," here becoming embroiled in a murder not through promiscuity but taking a risk and ultimately revealing her naivety about the intentions of a man who invites a woman up; take, for instance the sequence in which she draws a funny face on one of his blank canvases, and he completes it by directing her arm to add a nude female body beneath it, or his foregoing a chance at voyeurism as she changes into a costume behind a screen to play a song on his piano as if knowing that he will eventually see more than such a view would accord. Of Hitchcock's third sound film Murder!, Hitchcock expressed a dislike of the mechanics of the whodunit, and Blackmail instead focuses on Alice's growing guilt as she realizes she is not as good as Frank believes and perhaps starts to believe she is how Tracy must see her as they argue without regard for her. This makes the finale dramatically satisfying when her attempts to redeem her soul are hushed away following an excitingly visualized foot chase through and on top of the British Museum (at least Tippie Hedren's Marnie got to change her mind). The film was initially planned as a silent film and started as such, but Hitchcock was then asked to plan a partial sound version which started shooting right after on the same sets with the same actors, with the Polish-Czech-Austrian-German-French Ondra "dubbed" live on-set by Joan Barry who would subsequently star in Hitchcock's Rich and Strange. Whereas other partial silent films of the period withheld the use of sound until a pivotal point in the film, Hitchcock leaves the entire first reel silent, letting the viewers absorb the first scenes which as a bit of a cheat introduces the police characters including Frank and real Ex-Det. Sergt. Bishop - Late C.I.D. Scotland Yard, with the first audio coming in the form of throwaway small talk between the officers in the aftermath of their capture and jailing of a criminal. The silent version of the film was produced first but the sound version was finished and went into release first. Although both follow the same script and a virtually identical but not recycled shots, they differ in nuance of performances as well as some bits of business; for instance, Alice's reaction to Crewe painting the nude female figure is less playful in the silent, and Crewe does not sing or play the piano (the prop is not even on the set). In some ways, the silent version bests the sound version. The use of sound, especially early on, distracts from bits of background goings-on like Hitchcock's cameo being annoyed by an ill-behaved child and the "dance" to find an open table in the crowded restaurant. On the other hand, one of the film's most masterfully "Hitchcockian" touch is the sequence in which the Whites' neighbor is gossiping about the crime, and her voice drones on from Alice's perspective only spiked by the increasing use of the world "knife" until one final "stab" of the word jolts a breadknife out of Alice's hand at the breakfast table ("Dear, you ought to be more careful. You might have cut somebody with that"). Ondra's performance is in no way helped by the dubbing, even though Barry early on affects a comically upper-class accent when Alice is among Frank's police friends or out in public at the restaurant, dropping it with the likes of "You and your Scotland Yard. If it weren't for Edgar Wallace, nobody'd ever heard of it." Although Ondra was robbed of her voice here, she would have subsequent experience with multiple language versions of properties like Hans H. Zerlett's Baby as a German production directed by Ondra's husband Karel Lamac and a French production co-directed by Lamac and Pierre Billon, French and German productions of André Picard's Kiki (directed respectively by Billon and Lamac), Richard Arvay's Try My Sister as German and Czech productions helmed respectively by Lamac and Martin Fric, as well as Leo Stein's operetta Polish Blood as Czech and German both directed by Lamac. Dialogue for the sound version is credited to Benn W. Levy (The Old Dark House) whose last credited work was the scenario for Hitchcock's abandoned Kaleidoscope. Michael Powell (Peeping Tom) also contributed to the screenplay uncredited.

Video


Released theatrically in the U.K. by Wardour Films (Metropolis, The Blue Angel) and in the U.S. by Sono Art-World Wide Pictures (Easy Virtue, The Death Kiss), Blackmail –as noted by Brenton Film's two-part article – fell into obscurity, but much more in the case of the silent version while the sound version persisted in mainly in bootleg editions, but it was never in the public domain, being part of the Lumiere Pictures library which included the British International Pictures titles leading to a few authorized editions including Criterion's 1992 laserdisc (featuring commentary by screenwriter Bennett and a sound test featuring Ondra's real voice) and a British Warner VHS, while subsequent Lumiere owner Studio Canal's licensed British DVD from Optimum and French DVD from featured the sound version only, while the Spanish and German featured both versions and the Ondra sound test. Kino Lorber's 1080p24 MPEG-4 AVC pillarboxed fullscreen Blu-ray has a sound version (85:15) that comes from Studio Canal's HD master but misframed in two presentations: stretched to 1.33:1 on the first disc and squashed to 1.12:1 from the intended (poor Longden's square jaw suffers in both versions in close-up). 1.20:1 aspect ratio on the second disc (which is indeed labeled as 1.20:1). The silent version (75:44) comes from BFI's 2012 HD master transferred at 24fps, looking darker and overall grayer than the sound versions which may have their contrast boosted slightly, with whiter whites that almost blow out while also revealing some light scratching that might otherwise have gone unnoticed.

Audio


The sound version is accompanied by an English DTS-HD Master Audio 2.0 mono track is very clean for its age, exposing the limitations of sound recording during the period with clear dialogue recording – so much so that Ondra's lip-synching to Barry's live voice is all the more apparent – while the few added on-set sound effects sound even more intrusive than Ritchard's live song and piano performance. The silent version which was mastered without any audio and screened by BFI with a score by Neil Brand – composed in 2008 for Il Cinema Ritrovato, Bologna screenings of the film – adapted for the film speed and performed live in 2012. Provided with a silent master, Kino commissioned a new score from the Mont Alto Motion Picture Orchestra encoded here in DTS-HD Master Audio 2.0 stereo. No complaints about that newly-recorded track. Optional English SDH subtitles are provided for the sound version.

Extras


Both sound versions are accompanied by an audio commentary by film historian Tim Lucas who discusses Hitchcock's adapting to the challenges of sound cinema in contrast to some of his contemporaries and likens Alice's treatment here not to punishment but to a psychological reckoning not unlike Hedren's Melanie Daniels in The Birds. Ported over from the French DVD is an introduction by critic Noël Simsolo (6:28) who states that Hitchcock was not asked to do a sound version until after shooting the silent version. In the "Hitchcock/Truffaut: Icon Interviews" audio excerpt (10:27), Hitchcock discusses the "novelty of sound" and initially being asked to prepare only the final reel for sound, as well as dubbing Ondra and the "knife" scene. Also included is Anny Ondra's Screen Test (0:52), preceded by a new Studio Canal logo, in which Hitchcock seems to embarrass Ondra with some dirty remarks, although she seems to be in on the joke early on feigning surprise that they are already being filmed and recorded. The first disc also includes the theatrical trailer (1:15) and trailers for other Hitchcock titles from Kino Lorber: Murder!, The Paradine Case, Under Capricorn, and Lifeboat.

Overall


One of the first, and possibly the first British sound film Blackmail also brings viewers the first "Hitchcock blonde."