The Film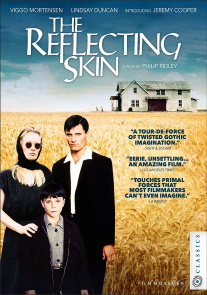 C.I.C.A.E. Award: Philip Ridley (winner), FIPRESCI Prize: Philip Ridley (winner), Silver Leopard Philip Ridley (winner), and Golden Leopard: Philip Ridley (nominee) - Locarno International Film Festival, 1990
Best Actress: Lindsay Duncan (winner), Best Cinematography: Dick Pope (winner), and Best Film: Philip Ridley (nominee) - Sitges - Catalonian International Film Festival, 1990
FIPRESCI Prize: Philip Ridley (winner) and Bronze Horse: Philip Ridley (nominee) - Stockholm Film Festival, 1990
"Sometimes… terrible things happen quite naturally."

Seth Dove (Jeremy Cooper) lives in a dying Midwestern town with his milquetoast gas station owner father Luke (Needful Things' Duncan Fraser) and histrionic mother Ruth (Stephen King's It's Sheila Moore) while golden boy older brother Cameron (The Indian Runner's Viggo Mortensen) is off at war but due to return home soon. With little to do, it is easy for Seth and his friends Eben (The Surgeon's Codie Lucas Wilbee) and Kim (Evan Hall) to get into trouble, and the latest object of their attention is Dolphin Blue (Prick Up Your Ears' Lindsay Duncan),the British farmer's widow who lives in the local haunted house. After a cruel prank involving a bullfrog, Seth is sent to Dolphin Blue's house to apologize to her. The lonely woman gifts Seth a harpoon from her family's past as whalers, tells him about her "beautiful" American husband who hung himself in the barn one day soon after they were married, and shows all that remains of him as keepsakes of hair, teeth, and his "scent" in a bottle of cologne. Seth does not know what to make of her grief until he discovers his father seeking escape in a comic book on vampires and determines that Dolphin Blue is one and that she really is the "two hundred years old" she claimed to be when he hazarded the guess that the thirty-something widow must be about fifty; indeed, she seems much more sinister than the quartet of greasers who cruise down the town's wheat field-flanked only road in a black Cadillac. When Eben's body is discovered in the local well, his father Joshua (Runaway's David Longworth) believes he has been punished for his evil thoughts involving his pet goat, but the local sheriff's deputy (David Bloom) suspects Luke instead because of a past incident involving himself and a seventeen year old boy that soon has tongues wagging. When Ruth tells Luke that she will not go through the embarrassment and shame she brought on him then once again, Luke covers himself in gasoline and sets himself and the gas station alight, leading the town to believe that he was indeed responsible for Eben's death. Seth and Kim find some comfort when they discover a mummified fetus in their barn hideout that they assume is Eben as an angel, his wings torn off because he was murdered. Cameron's return is far from the happy homecoming. Cameron has no entertaining tales to tell of his wartime experience or island romances, and Ruth's seeming adoration is smothering, causing him to seek out the company of Dolphin Blue. Although Seth sees Kim snatched by the guys in the Cadillac, and one-handed, one-eyed former Sheriff Tucker (Unforgiven's Robert Koons) believes that Luke is not really dead, but Seth believes that Dolphin Blue is draining his brother dry when Cameron's gums start bleeding and some of his hair falls out.


"Why don't you go play with your friends?"
"They're all dead."

A British/Canadian co-production set in the American Midwest but lensed in Alberta, the debut feature of Philp Ridley (The Passion of Darkly Noon) is an American Gothic by way of the intersection of David Lynch and Andrew Wyeth. However gorgeous the cinematography of Dick Pope (Naked) with its meticulously (laboriously) choreographed magic hour exteriors and the sweeping orchestral score of Nick Bicât (Stealing Heaven), the histrionic supporting performances and Ridley's tendency to bludgeon the viewer over the head with meaning – from Cameron's throwaway remark about their mother "draining" their father dry to a scene in which Seth takes three photographs from Cameron's wallet of himself and his brother, a cheesecake snap of a nude woman, and a shot of a baby born after the Hiroshima blast and arranges them into a triptych – may be off-putting upon first viewing but the film improves upon subsequent viewings when taken as a memory piece in which the chronology of events may be inaccurate, some characters like the Cadillac greasers may not exist at all, and Seth may be twisting words and events to form an interpretation that makes sense of "the nightmare of childhood." We see countless times that Seth takes seriously throwaway remarks said flippantly by other adults including his father and his brother, but it remains a mystery as to whether Dolphin Blue makes the same mistake or if she takes advantage of Seth's credulity to frighten him or whether she sees a kindred spirit in him where he only sees horror. A fine companion piece to The Reflecting Skin would be the dark New Zealand coming-of-age film Vigil from Vincent Ward or the more recent November.

Video
"It's all so horrible you know, the nightmare of childhood. And it only gets worse."

Released theatrically by Miramax and to VHS and Dolby Surround laserdisc by Live Home Video, The Reflecting Skin was one of those films that Miramax neglected throughout the DVD era with only a tape-mastered DVD resulting from their latter day deal with Echo Bridge Entertainment. The film came to Blu-ray first in Germany in a problematic transfer lacking the intended color grading and with a soundtrack that was essentially mono despite having a lossy 5.1 configuration. The British Blu-ray from Soda Pictures (as well as an identical Region A edition from Canada's Mongrel Media) was derived from a 2K scan approved by the director, and that appears to be the source used for Film Movement's 1080p24 MPEG-4 AVC 1.85:1 widescreen transfer that opens with the Soda Pictures logo. It cannot help but improve on everything that has come before stateside but it is not without issues. In its broad strokes, the image looks hellishly gorgeous from the deliberately warm golden hour lighting utilized throughout the exterior scenes and lighting the interiors, but highlights on the faces of characters seem constantly in danger of clipping (less so in the high sky vistas), and it would be easy to suggest that overexposure on behalf of the cinematographer and grading resulted in the loss of some fine detail – Ridley quotes the Technicolor technicians for the original film grade and the digital grade as exclaiming at his pushing "things that far" – in the exteriors but this is more likely a touch of DNR as well. The film is still visually stunning to behold and the Blu-ray is the best way of appreciating Ridley's visual imagination.

Audio


Like the import edition, Film Movement's Blu-ray preserves the Dolby Stereo track in an uncompressed LPCM 2.0 track with clear dialogue and sweeping musical passages while the sound design favors atmosphere and spare deployment of directional effects. Optional English SDH subtitles are provided that transcribe the sheriff's name early on as "Tucker" but then designate his offscreen dialogue with "Ticker."

Extras


Ported over from the UK and Canadian editions is an audio commentary by writer/director Philip Ridley who reveals the origin of the project in a series of American Gothic collages he did in art school in which every woman looked like Marilyn Monroe and every man like Elvis Presley or James Dean against rural Midwestern landscapes that he realized were becoming sort of a storyboard for some of the visual concepts that he would develop into the film as his debut following his feature-length screenwriting debut with The Krays. Of the production, he recalls scouting the locations for his imagined Midwest in Canada, having to work around incessant rain, the limited window of time they had to shoot each of the exteriors during the magic hour, and working with child actor Cooper as well as the other principals. Also ported over is the retrospective documentary "Angels and Atom Bombs" (43:42) in which Ridley cover some of the same information about the projects origins now illustrated by some of his artwork and collages that inspired it, cinematographer Pope chimes in on the visualization of these scenes on location, actor Mortensen provides additional remarks on the other cast members as Ridley recalls the casting process, and Bicât remarks on the score. The disc also includes the film's theatrical trailer (2:23) and trailers for other Film Movement releases. Also included is a booklet by film historians Travis Crawford and Heather Hyche that includes a statement on the restoration by Ridley and the Crawford/Hyche essay that places the film in the companionship of The Curse of the Cat People, Forbidden Games, and The Spirit of the Beehive as well as Miramax promoting the film as a straight horror film.

Overall


David Lynch meets Andrew Wyeth in the "nightmare of childhood" that is The Reflecting Skin.