The Film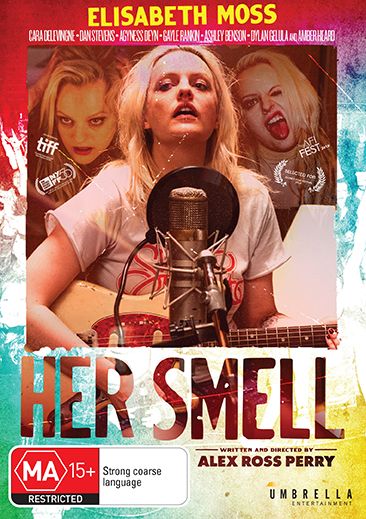 "Her Smell" (2018)

Becky (played by Elizabeth Moss) is the bandleader of the threepiece rock group Something She, riding the wave of the 90s grunge success through hit records and magazine covers. But things behind the scenes are in turmoil, with Becky having nervous breakdowns, anxiety attacks, a controlling attitude, taking a toll with her bandmates, her manager, as well as her ex-husband who she has a child with. Drummer Ali van der Wolff (played by Gayle Rankin) and bassist Marianne Hell (played by Agyness Deyn) are on the verge of quitting while their manager Howard (played by Eric Stoltz) is constantly complaining of his financial troubles due to the band's inactivity. During the course of performances, recording sessions, and times backstage, it's uncertain what the band's future is and where Becky is heading in her mental state.

Writer and director Alex Ross Perry's latest film explores many of the filmmaker's trademarks of psychologically imbalanced characters with witty yet awkward dialogue sequences in various situations. For "Her Smell" the story is broken up into five lengthy sequences rather than various short scenes, and with a 134 minute runtime, these sequences can be fairly lengthy running nearly thirty minutes in length for some, though there are a few long one shot one takes used, there are edits along the way with certain scenes having quite a few cutaways like in the studio segment. The scenes are centered around the bizarre rituals and paranoia of Becky surrounded by religious and spiritual givers, her disdain and separation from reality, and the rest of her crew around her, but there are also a few scenes without her. The time that everyone is waiting for her to arrive and all starting to panic, and other sequences of people talking about her, there is always Becky on everyone's minds. People do care for her, but they also hate her in the process. Her ex husband Danny (played by Dan Stevens) tries to maintain something positive as they have a baby together but he sees nothing but destruction from her direction. Becky's mother (played by Virginia Madsen) sees some responsibility but feels hopeless in trying to help her daughter out.

But even if there is frustration around everyone, she is still a loved rock star. When the band Akergirls (played by Cara Delevingne, Ashley Benson and Dylan Gelula) meet Becky in the studio they are in absolute awe of her. She certainly has a number of followers and even if she causes emotional troubles for everyone around her, it's the fanbase that drives things forward. The story of "Her Smell" and the band is not based on anyone in particular, but like many female led bands in the 90s such as Veruca Salt, Red Aunts, Elastica, that dog, and especially Hole, rock and roll excess and band turmoil was not something that was new, but what takes place with Becky and her band is to a high level. While music industry insiders and band members can see "Her Smell" and relate to many of the troubles, from the creativity waning to the realities not faced by the members, it's obviously a nasty experience shown.

"Her Smell" does have a lot of high points, especially with the performances of the actors, but the music actually is one aspect that suffers. While the band is fictional and it takes place in the 1990s, the songs performed were not exactly as powerful and catchy as some of the bigger groups of the period. The songs are fair, but nothing exactly spectacular, as well as the performances of Akergirls. The lengthy sequences are also at times a bit too lengthy. The recording studio session, the time that the band waits for Becky to arrive could have easily been trimmed as they seem to be going in circles for some time. Also the entire story basically takes place within the band's world. Not much is shown of the fans or the time period in music to set an outsider's perspective, but in some ways that may be the strength of the production.

The film's production began on April 2018 and concluded a month later. It had its first screening at the Toronto International Film Festival in September 2018 and at the New York Film Festival later that month, with other film festivals screening the film in late 2018 and in 2019. For home video, it was first released in the United States by Gunpowder & Sky on Blu-ray and DVD in May of 2019 after a limited theatrical run. Umbrella Entertainment picked up the rights for Australia and released in on DVD in summer.

Note this is a region 0 PAL DVD

Video


Umbrella Entertainment presents the film in the 2.35:1 aspect ratio with anamorphic enhancement in the PAL format. There are some instances of aspect ratio changes such as the opening segment piece which is recorded on VHS being windowboxed to 1.33:1, but for the most part the film is in the widescreen ratio. Colors are very vibrant with the concert lighting, neon lit hallways, while more natural portions such as the recording studio are more brightly lit. There are some points where there is digital artifacting present on flat walls and solid colors, but for the most part the are fairly solid. There are no major damage marks or errors to be spotted in the transfer.

The film is uncut with a runtime of 130:18 accounting for 4% PAL speedup.


Audio


English Dolby Digital 5.1
A 5.1 track is present and considering the music aspect one would expect it to be a very involved and heavy track. The surrounds are well used for background noises and what sounds at times what is going on in Becky's head with thumping rhythms in the backstage segments. The concert sequences though are a little disappointing sounding a little lower in volume and depth in comparison to the other scenes. Dialogue is always fair and easy to understand, with no particular errors in the audio transfer.

There are no subtitles offered for the feature.

Extras


There are no extras on the disc. The US Blu-ray has a commentary by Perry but that has not been carried over to the Australian DVD.

Packaging


The packaging mistakenly states the aspect ratio as 1.85:1, being region 4 only, and the runtime as 134 minutes.

Overall


"Her Smell" is a good but quite frustrating experience into a mentally unstable rock star's mind with the affect she has on everyone she encounters. It's a little on the lengthy side but there are many strong points to be said including Elizabeth Moss' performance. The Umbrella Entertainment DVD is barebones which makes it a bit hard to recommend.
| | | | | |
| --- | --- | --- | --- | --- |
| The Film: B | Video: B+ | Audio: B | Extras: F- | Overall: C |