Score to Settle (A)
R2 - United Kingdom - Lions Gate Home Entertainment
Review written by and copyright: Rick Curzon (15th September 2019).
The Film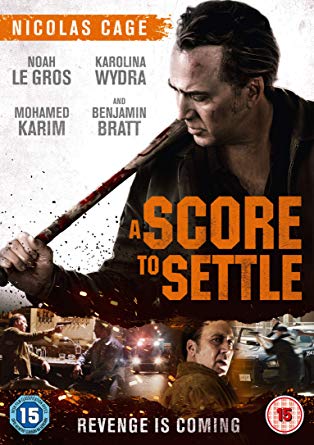 After being paid-off to take a murder rap, Frank (Nicolas Cage) receives an unexpected life sentence and spends the next two decades locked behind bars festering a need for revenge. When he is given a diagnosis of a terminal illness he is released from prison to live out his final days as a free man.

Keeping his condition a secret, Frank reunites with his estranged son Joey (Noah Le Gros). Their reunion is awkward because his son harbours resentment about being abandoned as a child. Frank tries to heal their relationship and they bond over expensive shopping trips and dinners, which are well beyond any legitimate means. Joey recognises these extravagances are tied to Frankís past and knows his father hasnít changed.

With Joey threatening to leave, Frank is torn by the need to repair his relationship with his son and his need to exact vengeance against those who wronged him. When he discovers a truth withheld from him long ago, he races furiously against the ticking clock of his life, trying to expose lies from the past before it is too late. The choice between family, friendship, love and hate is no longer as clear as he once thought and Frank is forced to face secrets he has spent years avoiding.

Video


A pretty standard revenge tale takes back seat to a character study of a man who lost it all. There's comparatively little action here and I liked it's deliberate pace and melancholy tone. All of the story beats are predictable which prevents A Score to Settle from being top drawer; but Cage's excellent performance and Shawn Ku's measured direction and of the drama make it a solid view.

There's nothing new here but it's involving and worthwhile.

Solid transcription of a modern, digitally shot production. Being standard definition this is a soft image and it lacks the kind of fine detail that would kick out in full HD, which obviously beggars the question as why Lionsgate have chosen to put this solid flick out only on DVD.

For the most part the colour palette is solid but very naturalistic and slightly muted. There are moments where it gets deeper and richer, notably the sequence in Frank's car overlooking the city at night when he discusses his life with Simone (Karolina Wydra in a nice performance); there we get some nice, bold reds and yellows. The brightest colours are actually on the discs menu screen based on the key art.

Contrast is pretty sweet throughout with virtually no grain to see and detail holds it's own if not spectacularly. Bright sequences look solid with no blown out highlights. It's not as punchy as it could be given an HD release obviously but on my 55" 4K display it was pleasing enough and not distracting. Blu-ray's of A Score to Settle are available in the USA and elsewhere and it's obvious the master used for this DVD has been optimised for that format.

Black levels are deep and rich with no signs of unintended crush; shadow detail is good for standard def (see my comments above re the HD master used). A solid SD rendering that acquits itself well enough on DVD.

PAL / 2.4:1 / 99:50

Audio


English Dolby Digital 5.1
Subtitles: English HoH

The soundtrack gets the job done and only really comes alive when the score or action dominates; only then do the surrounds get a workout. Dialogue is always clear, front and centre and the score moves to all corners. Bass is decent with the occasion moments when the subwoofer kicked in.

The soundtrack is recorded at a good level for a lossy Dolby .digital track and I appreciated the fact that I didn't have to tick the volume up to get a satisfying experience out of it.

Subtitles for the hearing impaired are present and appreciated,

Extras


"A Score to Settle" featurette (16:10)

Standard EPK puff piece although this is perhaps better than most; brief interviews will all of the key oarticipants.

Startup Trailer:
John Wick: Chapter 3 - Parabellum (1:56)
Angel Has Fallen (2:13)
211 (1:56)

Promo pieces for upcoming Lionsgate releases.

Overall


Lionsgate releases a solid standard definition minting of this recent straight to video crime drama. Picture and sound aren't spectacular in this age of HD and 4K but are about as good as the source will allow on DVD. Extras are scant. Overall, this is a solid package for the price.
| | | | | |
| --- | --- | --- | --- | --- |
| The Film: B- | Video: B | Audio: B- | Extras: D | Overall: C+ |

---
DVD Compare is a participant in the Amazon Services LLC Associates Program and the Amazon Europe S.a.r.l. Associates Programme, an affiliate advertising program designed to provide a means for sites to earn advertising fees by advertising and linking to amazon.co.uk, amazon.com, amazon.ca, amazon.fr, and amazon.de.