The Film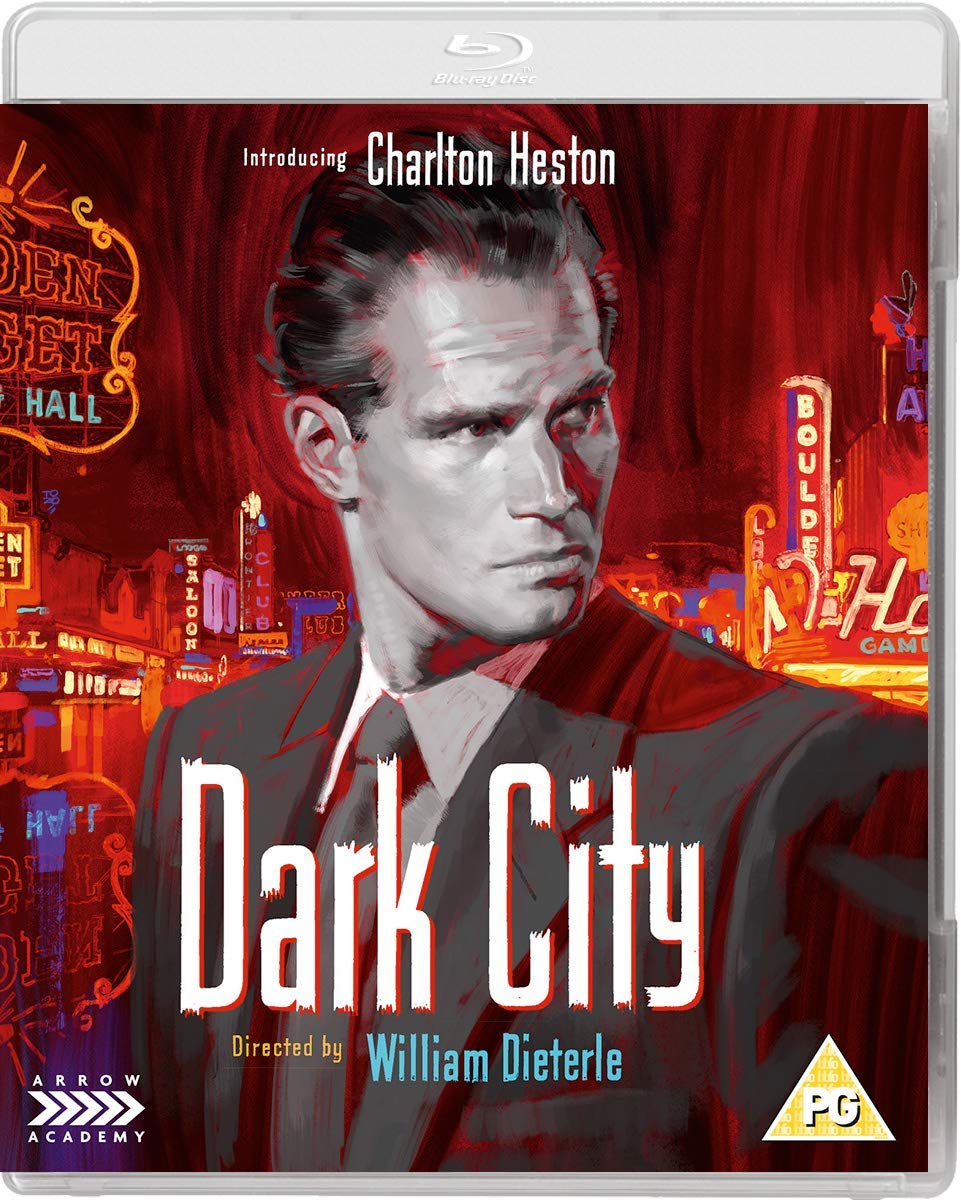 Dark City (William Dieterle, 1950)

Synopsis: Decorated war veteran Danny Haley (Charlton Heston), expelled from the Air Force for the killing of an officer who was conducting an affair with Haley's then-wife, runs an underground gambling joint with his associates Barney (Ed Begley) and Augie (Jack Webb). The trio are assisted by former boxer Soldier (Harry Morgan), who is mocked by the cruel Augie for his limp. Though Danny has been paying for protection from the police, he and the others are frustrated when the police raid their premises.

Danny is also involved in a relationship with nightclub singer Fran (Lizabeth Scott). Though she wants more, Danny is reluctant to commit himself owing to the manner in which his former wife betrayed him.

When Danny meets Arthur Winant (Don DeFore), who is in town to buy stock for the athletics company he co-owns with his brother and who is carrying with him a banker's draft for several thousand dollars, Danny sees Winant as a potential sucker. Danny invites Winant to a poker game with Barney and Augie; the trio let Winant win, lulling him into a false sense of security. When the now-confident Winant returns for another match the next evening, Danny and the others take him for every cent – including the banker's draft.

However, the next day Danny discovers that Winant has committed suicide in his hotel room, the body having been discovered by Winant's wife and brother Sidney (Mike Mazurki). Danny, Barney and Augie are investigated by Captain Garvey (Dean Jagger), who has taken a dislike to the trio and suspects them of involvement in Winant's death. However, Danny and his associates have even an even more pressing matter of concern: Winant's brother Sidney, protective of his younger sibling since childhood, has been driven into a murderous rage by Winant's suicide and, beginning with Barney, seems determined to take revenge upon Danny and the others.


Critique: The feature film debut of Charlton Heston, William Dieterle's 1950 picture Dark City treads similar ground to Abraham Polonsky's searing 1948 film noir Force of Evil. Though Polonsky depicts the world of underground gambling and numbers running as inherently venal, in its opening sequences at least Dark City portrays Danny Haley, one of three owners of an underground bookies, as an initially sympathetic small businessman who, it seems, is simply looking to get ahead: he describes what he does as 'just penny-ante stuff'. This is, at least, until the human cost of his criminal endeavours, and those of his associates, is revealed through the fate that befalls Arthur Winant. In the film's early sequences, parallels are drawn between the criminalisation of gambling and Prohibition – when Danny visits the club in which his lover Fran sings, he reflects on the fact that the club was during Prohibition a speak-easy – with the suggestion that like Prohibition, the 'ban' on gambling will eventually be lifted. (The characters also speak of the legalisation of gambling in Las Vegas: 'Everything's legal there', Soldier reminds Danny early in the film.)

Originally, Danny was to have been played by Burt Lancaster, who had made a name for himself as an actor associated with films noir thanks to his roles in pictures like Robert Siodmak's The Killers (1946) and Criss Cross (1949). However, Lancaster turned down the role, reputedly because he wanted to expand his acting palate (see Dick, 2015: 132). In his feature film debut, Charlton Heston anchors Dark City to a remarkably confident extent: in fact, establishing the actor's firm screen presence the film's opening titles play out over an image of Heston carrying a parcel down a city street. (The parcel is intended for Fran.) On the soundtrack, his purposeful stride is accompanied by a driving, militaristic march which is undercut by a trumpet that repeats the main refrain – offering a sense of mournfulness which Danny conceals within an outwardly tough exterior. Seeing the police outside his bookie joint, Danny ducks into a nearby café where he converses easily with the owner. From the outset, we know that Danny is a 'known' face in the community, with a tenuous relationship with the law, but Heston's physique makes him an imposing character. Much of the rest of the film plays out through tightly composed shots of Heston as he listens to others or watches them. As Captain Garvey notes, reflecting on Danny's past and the way he carries himself, 'What do you get out of this setup? You don't look like a hoodlum'. 'Neither do you, Captain', Danny replies, drawing a swift and subtle equivalence between the law and gangsterism.


Danny, it seems, is stuck in a rut, and he is aware of this. 'If I had enough money, I'd move on', he tells Fran, 'This is a dead end'. 'Where would you go?', Fran asks him. 'Some place. Any place', Danny answers. 'Another dead end?', Fran queries, pointedly. His fingers having been burnt by his the infidelity of his wife, the deeply cynical Danny wants to disconnect from the world around him. 'You just want to be left alone', Fran observes, 'Don't you get tired of being left alone?' 'I told you from the beginning I didn't want to get involved', Danny reminds her, to which Fran replies: 'You can't live without getting involved'. 'I can try, can't I?', Danny responds. Danny's aloofness carries to all of his social interactions: from his relationship with Fran to his interactions with his associates Barney and Augie, Danny demonstrates a sense of disconnect from the world. However, he is sympathetic to Soldier, another social outsider: when Augie mocks the former boxer, calling him 'Punchie', Danny is quick to defend Soldier.

Nevertheless, when Danny notices that Winant, who appears to be in town on his own, is carrying a banker's draft for $5,000, Danny quickly marks Winant as a victim. After the first poker game, which Danny and the others let Winant win in order to build his confidence for the second evening of poker – in which they intend to take him for every cent – Fran laments how Danny and his associates have treated Winant. 'This set-up, it's dog eat dog', Danny tells her nihilistically, 'I had to learn it the hard way. I didn't get it in one easy lesson'. In the same scene, Fran buys the newspaper in which Winant's suicide is mentioned. However, before she and Danny encounter the article about Winant, Fran asks Danny, 'Don't you want to know what's going on in the world?' 'What's going on in the world stinks', Danny answers bitterly. In fact, Danny's seething negativity throughout the film might lead the viewer to wonder why, other than the alchemy of physical attraction, Fran is so invested in him, and perhaps this is one of the film's biggest flaws: though the early scenes attempt to build Danny up as a somewhat sympathetic anti-hero, throughout much of the picture he behaves like a cad and a shit: other than his defence of Soldier, it's difficult to identify Danny's positive qualities. When, after Winant's suicide, Soldier blows his stack at the trio who run the bookie joint, asserting that 'I wish someone would come down and kill the whole murdering lot of you', it's difficult not to agree with his sentiment – and Soldier adds, to Danny, 'You're worse than the rest of 'em, Danny [ie, Augie and Barney]. They don't know no better'. Captain Graves holds a similar conversation with Danny slightly later in the film, reminding Danny that Augie and Barney were originally from the proverbial wrong side of the tracks and the 'dog eat dog' mentality was part of their nature, socialised into them from a young age, whereas Danny is from a more privileged background, his association with criminality a product of the choices he has made and representing his attraction to the underbelly of society. Whilst this might make Danny an almost quintessentially noir protagonist, it doesn't necessarily make him a particularly sympathetic one.


Video



Presented in 1080p using the AVC codec and taking up 27Gb of space on a dual-layered Blu-ray disc, Dark City runs for 97:26 mins. The film benefits from some superb 35mm monochrome photography by Victor Milner. While outdoor scenes and daytime scenes are somewhat 'flat', scenes such as the pivotal poker game are shot in an extremely expressive manner: all sweaty close-ups, smoke-filled rooms and canted angles. The film is, however, clearly studio-bound, the artificiality of its exterior locations standing in stark contrast with the semidocumentary films noir of the late 1940s (such as Jules Dassin's The Naked City, 1948) and the heavy use of locations in many films noir of the early/mid 1950s.

Arrow Academy's presentation of the film uses Dark City's original aspect ratio of 1.33:1. From an unidentified source, the presentation is very good. Detail is for the most part excellent, with some strong fine detail being present in closeups except, naturally, for where diffused light and soft focus has been used (eg, in the closeups of Lizabeth Scott). Contrast levels are very good too, with rich definition in the midtones and a moderately subtle drop into the toe. Highlights are even and balanced too. A natural, filmic level of grain is present throughout the film. There's some damage to the source material, but this is all organic and true to the 35mm source material. The encode to disc is fine and ensures the presentation retains the structure of 35mm film, resulting in a pleasingly filmlike viewing experience.

Some full-sized screengrabs are included at the bottom of this review. Please click to enlarge them.





Audio


Audio is presented via an LPCM 1.0 track, in English. This is fine: it's certainly not 'showy' but it has good range, showcasing the excellent score by Franz Waxman, and dialogue is audible throughout. Optional English subtitles for the Hard of Hearing are included. These are easy to read and error-free.

Extras



The disc includes:
- An audio commentary by Alan K Rode. Rode, author of biographies of Michael Curtiz and Charles McGraw, offers some thorough reflections on Dark City. Rode discusses the work of the key personnel who worked on the picture, offering some anecdotal detail about their various careers and, in particular, highlighting the work of the film's supporting actors. Rode discusses Augie's abuse of Soldier, considering this in the context of the amicable relationship between Jack Webb and Harry Morgan that spanned several films and television shows, including, of course, Dragnet. Rode's commentary track is grounded in consideration of the evidence, including Rode's reading of the production files for Dark City – which offers some insight into producer Hal Wallis' feelings about the original script, doctored by Leonardo Bercovici and Carl Foreman – both of whom would be blacklisted – at the suggestion of Wallis.

- 'Appreciation by Philip Kemp' (14:34). Kemp offers a characteristically precise and insightful overview of the picture, commenting specifically on its position within the career of Charlton Heston, who would of course go on to become one of Hollywood's most bankable stars. Kemp discusses Danny Haley and reflects on the complexities of this character. Kemp also talks about the career of director William Dieterle and considers Dieterle's position amongst some of the more 'experienced' directors of film noir.

- Trailer (2:14).

- Gallery (6:50).



Overall



Dark City is an interesting film noir though not a great one. It's interesting to compare the film's representation of the work of underground bookies with Abraham Polonsky's searing Force of Evil, which is anchored by an extremely complex and nuanced performance from John Garfield. Whilst, in Dark City, Heston does a fine job of playing Danny, one can't help but wonder if Lancaster might have made the character a little bit more sympathetic and easier to identify with.

That said, Dark City is a commendable film noir which fans of the genre will find undeniably entertaining. Arrow's presentation of the film is very good and filmlike, and the main feature is accompanied by some pleasing contextual material – including a thorough commentary from Alan K Rode, and an insightful interview with Philip Kemp.

References:
Dick, Bernard F, 2015: Hall Wallis: Producer to the Stars. University Press of Kentucky

Please click to enlarge: