The Film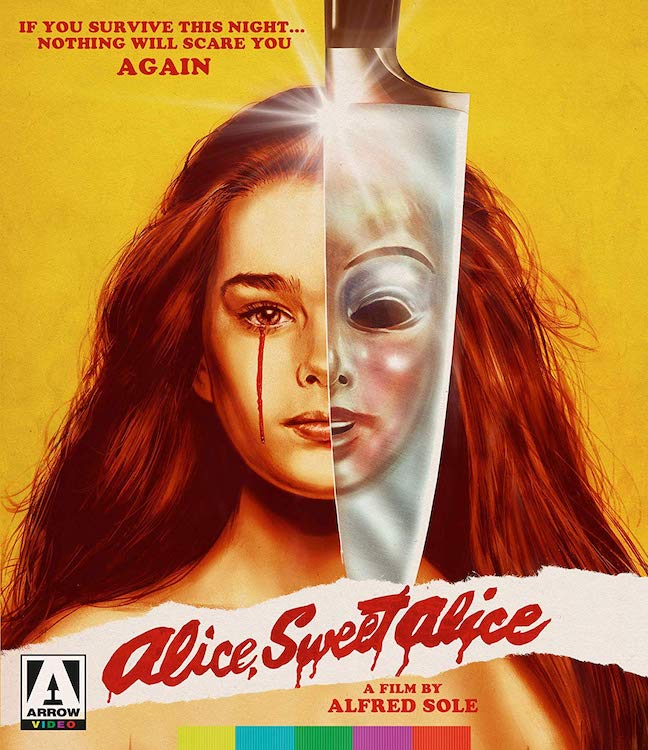 "Alice, Sweet Alice" is a fine example of a neglected horror film classic that is finally being re-issued on Blu-Ray and features a brand new 2k restoration of the theatrical version from the original camera negative by our friends at Arrow Video. I recall seeing this film on late night television and I thought that it was great; in fact, seeing this gorgeous version is even better and the film definitely holds up well, no matter its age. Unquestionably influenced by the films of Alfred Hitchcock, the Giallos of Mario Bava, and Nicolas Roegís classic "Donít Look Now" (1973), director Alfred Sole nevertheless manages to create a unique film that is all his own. Filmed entirely on location in Paterson, New Jersey, the directorís home town, this film works on several unsettling levels: a treatise on religious guilt, an early entry into the yet to come slasher genre, a nerve racking who done it mystery, and at its base, an examination of the creepy child syndrome. This is an American original, shot on a low budget, but filled with a talented cast and excellent uses of location filming techniques, Sole displays some serious talent in his horror film debut.

The film begins innocently enough in the 60ís with the Spagesí family paying a friendly visit to the rectory of Father Tom (Rudolph Willrich) in preparation of younger daughter Karenís (Brooke Shields) first Holy Communion ceremony. Karenís mother Catherine (Linda Miller) is clearly smitten with Father Tom, and his housekeeper Mrs. Tredoni (Mildred Clinton) is clearly jealous of the other womanís affection. Catherineís older daughter Alice (Paula E. Sheppard) is clearly disturbed and is displaying some bizarre behavior such as wearing a creepy transparent face mask instead of using the facilities. Father Tom presents Karen with a present, a necklace with a holy medallion on it. The two sisters are clearly experiencing growing pains and they are often seen arguing and fighting. The family unit is undergoing some stress as the girlís father Dom (Niles McMaster) has divorced his wife and has recently remarried again. Karen is worried that her father is not going to attend her big event and she expresses this to her mother. Adding to the stress is the annoying presence of Auntie Annie (Jane Lowry) and her milquetoast husband, Jim (Gary Allen). The big day finally arrives and the children are in the backroom of the church all lined up with a sourpuss nun (Libby Fennelly) making sure that everyone is in their place and wearing their headgear. We see Karen at the end of the line when suddenly someone dressed in a yellow rain slicker and wearing a translucent face mask grabs her and strangles her to death. As if that isnít enough insult to Karen, she is slowly dragged to a wooden bench and stuffed inside; the masked intruder then sets the corpse on fire. I am sure that the censorís loved this violent scene; not only is the victim, a child, it takes place in a church and essentially makes a mockery of the entire celebration. I can clearly remember my first communion and luckily nothing as drastic as this occurred. What a downer!

Sole clearly has an axe to grind with the Catholic Church and he essentially blames the organization for all the horror that follows this opening scene. There is plenty to like here as Soleís camera lingers on the statues that look on from the church walls like some type of silent witnesses. Clearly the family is pushed to the edge of sanity and Dom finally arrives in time for his daughterís funeral. Ever helpful Auntie Annie makes no bones about suspecting Karenís older daughter as being the prime suspect because she was seen wearing a yellow raincoat and that strange mask. Down in the basement, Alice opens a trunk that is filled with some odd memorabilia including Karenís doll and the necklace that Father Tom gave her. There are also some candles and a sealed jar that contains several large and active cockroaches inside; Alice lights the candles and starts murmuring about being treated badly and how sheís going to get revenge. Dom stumbles onto this strange scene and Alice immediately starts crying about how sorry she is that Karen is gone.

Catherine is looking pretty worn out about now since she lost her favorite child on a sacred day; she asks Alice to drop off the check with the landlord, Mr. Alfonso (Alfonso DeNoble). This is a favorite scene of mine because Mr. Alfonso is an obese bald headed man that likes cats, listening to opera on an old phonograph, and also displays some pretty lecherous behavior towards Alice. Where Sole found this dude is a mystery to me, but with his urine stained trousers and sweat ridden wife beater undershirt, he looks like he would be more at home in an early John Waters picture than this film. Speaking with a voice that drips of perversion, Mr. Alfonso is a surprise bonus to this film. The give and take between Alice and Alfonso is first rate: she calls him "fatso" and he attempts to grope the girl, but she forces him to surrender by killing one of his many cats. Again we are witness to Aliceís rather cold blooded behavior and maybe Auntie Annie may be on to something.

Auntie Annie is about to about to leave the apartment when she is viciously attacked by a masked suspect in a yellow slicker with a huge kitchen knife. This scene is really an attention getter as it mimics the shower scene in "Psycho" (1960) with the assailant thrusting the blade repeatedly through the handrail of the staircase; to add to the overall horror of the scene, the attacker stabs Annie directly in the foot, a shot that is shown in close up. Stumbling down the stairs, covered in blood, Annie collapses on the rain soaked pavement outside of the apartment building while Catherine cradles her wounded sister in her arms like a bizarre version of the Pieta.

Since Alice is suspected of being the killer, she is temporarily institutionalized for her own good, of course. Meanwhile Dad is playing amateur detective trying to disprove Aliceís involvement in the crimes; heís convinced that the real culprit is Angela (Kathy Rich), Aliceís cousin (where he gets that hare-brained notion from is beside me), but thatís his theory. A phone call from a tearful Angela asks Dom to come to a local warehouse and he agrees to meet thinking that this is the final payoff. Seeing someone luring in the shadows, wearing the yellow slicker and mask, is the killer. Dom, trying to make it easy for the assailant to confess, foolishly comes too close and gets struck repeatedly in the face and head with a brick for his trouble. The unknown killer then ties Dom up and pushes him out of a window to a four story drop. The killer exhausted from the efforts and breathing hard takes off the disguise only to reveal that, gasp, itís Mrs. Tredoni! Well, now that we know who the killerís identity is, does that mean that Sole has basically revealed his hand? The answer is a resounding no. There is still more mayhem to come and just because we know who is doing all the stabbing, that doesnít mean that we understand the motives for such bloodshed. ďWho is nextĒ should be the question on all of our lipsÖ.

The good news is that since Alice was locked up when Dom was killed, it is clear that she is innocent and gets sprung from the monkey house. Reunited with Catherine, mother and daughter have a regrouping and the family is semi reunited. Alice immediately heads to the cellar and dons her yellow slicker and creepy mask and with jar of roaches in hand, silently enters the charming Mr. Alfonsoís apartment where he slumbers on the couch in a massive heap. Alice places the open container on the fat manís protruding stomach and slips out the door. Meanwhile Mrs. Tredoni is back at the rectory, where she dons a pair of gloves, the familiar yellow rain jacket, and picks up a large butcher knife. It looks like there is some unfinished business to take care of. Pounding on the Spageís apartment door, she receives no answer. Going downstairs she runs right into a panicking Rolly Polly, Mr. Alfonso who is having a virtual conniption fit because of the roaches that have been set loose on him. Shrieking for all heís worth, Mrs. Tredoni makes short work of the screaming fat man, plunging the blade into his large gut. Leaving the bloated corpse behind her in the hallway, the killer leaves the building with her kill kit intact.

By this time, Pattersonís finest have finally solved the case and with the aid of Father Tom, they plan on apprehending the suspect while she is in the church receiving communion. In a scene that brings everything back to the church, the cops are stationed outside with some plainclothes officerís positioned inside. Father Tom is saying mass and anxiously waiting for the entrance of his housekeeper to receive the sacrament. The parishioners line up at the rail in order to receive the body of Christ and then from the rear, a glassy eyed Mrs. Tredoni is approaching, elbowing her way through the crowd, with her telltale brown bag, the knife at the ready. Poor Alice is in line to finally get the host when she is rudely pushed aside by the killer who positions herself to be the next recipient. NaÔve Father Tom had assured the cops that he could handle the elderly housekeeper but was he ever wrong! Mrs. Tredoni makes with the big knife and slits the poor fatherís throat with one swift move.

I was raised Catholic in the 1960ís wasnít a lot of fun, however horror films were a serious source of attention to me, and so I recall seeing this film late one Saturday night on a local channel. It is very evident that director Alfred Sole had been influenced by plenty of classic horror films; his use of unique angles, his striking use of locations, and his entire mise en scŤne is fairly distinct. Sole seems to enjoy placing his camera in some unusual positions, filming from behind various objects or the scenes in the cramped stairwell in Aliceís apartment house where Auntie Annie (Jane Lowry) is attacked. The camera angle is from above and distanced from the violent incident, the camera a mere spectator to a gruesome occurrence. The scenes with the obese landlord, Mr. Alphonso (Alphonso DeNoble) are extremely notable for adding an unusual character to an already disturbing film. With strong suggestion of being a pedophile, Mr. Alphonso simply adds another layer of sleaziness to the plot; be he sitting and fanning himself with a paper fan or feeding (and also indulging himself) his many cats, this character really stands out. Where Sole found this Patterson native is questionable, but I always looked forward to his high pitched surreal antics and his death scene is a show stopper.

In conclusion this is one film that newer fans need to discover and I for one am certainly happy to have it added to my collection. Arrow brings this film to us avid fans on a brand new 2K scan of the original camera negative along with a plethora of extra features that alone is worth the admission price. My endorsement is to grab this gem just in time for October screenings.

This Arrow release includes two cuts of the film, the original "Communion" theatrical release (107:05) and the "Holy Terror" 1981 re-release version (107:13).

Video


Both cuts of the film are presented in the film's original theatrical ratio of 1.85:1 widescreen, mastered from a 2K scan in HD 1080p 24/fps and using AVC MPEG-4 compression. This is an excellent reproduction for us film lovers; the colors are bold and stand out, the blacks are rich and dark with little flaw, the overall product is really impressive.

Audio


The original theatrical cut features an English LPCM 1.0 mono audio track, while the re-release version includes an English Dolby Digital 1.0 mono soundtrack. The audio is dark and brooding, with a dash of Bernard Herrmann-esque touches, the audio is properly centered and all dialogue is clear and understandable. Optional subtitles are included in English for the hearing impaired.

Extras


Arrow has included an incredible amount of supplements, first up is an audio commentary by director Alfred Sole and editor Edward Salier, moderated by William Lustig (on the "Communion" version); Lustig was the cameraman and special effects person on the film prior to going on to direct his 1980 masterpiece, "Maniac".

There's a second audio commentary by film historian Richard Harland Smith (on the "Communion" version only). Smith knows his stuff and his commentary is rich and fact filled.

"First Communion" is an interview with director Alfred Sole (18:42); the director talks about the overall film and its production.

"Alice on My Mind" is an interview with composer Stephen Lawrence (14:59); an interesting short feature where the composer talks about what influences he had in mind while creating the score.

"In the Name of the Father" is an interview with actor Niles McMaster (16:02); McMaster, of course, portrayed Father Tom.

"Lost Childhood: The Locations of Alice, Sweet Alice" featurette is a tour of the original shooting locations with author Michael Gingold (16:02). This feature shows us some clips of the films locations and also present day settings.

"Sweet Memories" is an interview with filmmaker Dante Tomaselli, cousin of Alfred Sole (11:18); nepotism at its finest.

There is a single deleted scene (2:45), as well as an alternate opening title (1:13).

The disc also includes the "Holy Terror" re-release theatrical trailer (1:44).

The U.K. "Communion" TV spot (0:16) is also included.

There is an image gallery (6:40), assorted stills and film posters.

Finally the disc also features a BD-ROM feature, the original screenplay in pdf format.

Included in the package is a booklet by Michael Blyth included with the first pressing.

Packaging


This film features a reversible cover and is packaged in a transparent plastic keep-case.

Overall


"Alice, Sweet Alice" is an enjoyable early proto-slasher with a creepy kid motif; the cast is first rate and the direction is strong and unsettling. Stephen Lawrenceís score uses the Bernard Herrmann score for "Psycho" (1960) for a touchstone and it is excellent.
| | | | | |
| --- | --- | --- | --- | --- |
| The Film: B+ | Video: A | Audio: A | Extras: A | Overall: A- |