Doctors (The): The Paul McGann Years
R0 - United Kingdom - Koch Media / Reeltime Pictures
Review written by and copyright: Rick Curzon (30th September 2019).
The Show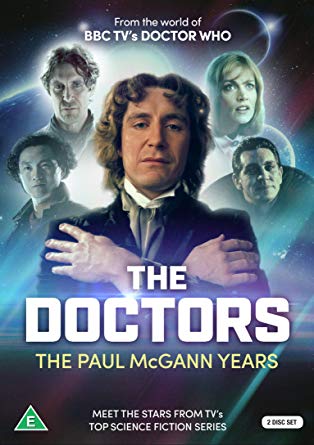 This is the definitive set of interviews with the team who brought the PAUL McGANN era of DOCTOR WHO to life!

These six documentaries are the best in-depth interviews with PAUL McGANN (the Eighth Doctor), DAPHNE ASHBROOK (Grace Holloway), YEE JEE TSO (Chang Lee), ERIC ROBERTS (The Master), PHILIP SEGAL (Producer) and GEOFFREY SAX (Director) ever undertaken!

Presented by SOPHIE ALDRED, ROBERT DICK and the voice of the Daleks NICHOLAS BRIGGS.

For all DOCTOR Who fans, this 2 DISC special collector s edition is 5 hours of pure nostalgia, which will give you a whole new insight into the making of your favourite science fiction series!

SPECIAL FEATURE: Introduction by NICHOLAS BRIGGS & Producer KEITH BARNFATHER.

Video


Keith Barnfather has been interviewing Doctor Who (and Blake's 7) alumni since the 1980s predominantly for his long running Myth Makers range of behind the scenes interview VHS and latterly DVD releases. This latest edition collects together chats with most of the key personal who were responsible for the 1996 Do tor Who TV movie.

Image quality tends to vary as you would expect from these kind of productions but none of the segments are poor in any way. All of the interviews are shot on varying types of video and I'd say all are in standard definition and as this is a DVD release that's fine and dandy. Contrast is acceptable, black levels are likewise if occasionally dark greyish. Flesh tones are natural and colours matter of fact without much digital regrading in evidence.

I didn't notice any artefacts or compression issues but to be frank had there been some minor ones it probably wouldn't have detracted in the same way as on a release of Doctor Who episodes.

Audio


English Dolby Digital 2.0 Stereo
Subtitles: None

Basic 2.0 stereo that gets the job done. Dialogue is clear and easy to hear and what little music there is (intros and outros) doesn't get in the way.

Sadly, no subtitles have been provided so the hearing impaired are up a gum tree without a paddle.

Extras


Seeing as this release essentially constitutes it's own extras package ... or rather, what we have here is ALL extras. The content IS what could've been included on a home release of the TV movie. The segments are probably a little more rambling and not broken up by clips as an extras package on an official BBC release would've been so plenty of judicious editing could be done to tighten these up. However, they're a little kore warts and all.

Introduction (with Keith Barnfather and Nicholas Briggs) (23:22) - the men behind these productions. Briggs interviews the subjects.
Paul McGann (53:58) - The actor who plays the good Doctor and the main man as far as this release is concerned.
Daphne Ashbrook (76:39) - The leading lady of the piece, Grace Holloway.
Yee Jee Tso (50:59) - The misled sidekick to The Master; led along with promises of wealth.
Eric Roberts (56:21) - The latest incarnation (in 1996) of The Master; arch Timelord enemy of the Doctor.
Philip Segal (55:55) - The producer and man most responsible for getting the 1996 TV movie made.
Geoffrey Sax (70:23) - The director of the film

All are extensive, wide-ranging interviews that cover the persons concerned involvement in the film, their careers and their thoughts on why the production didn't go to series.

Packaging


Standard 2-disc DVD case.

Overall


A nicely presented series of interviews that act as an extra to the BBC video releases (DVD, BD) of the 1996 TV movie. Picture quality is adequate, clean and clear as is the sound. Not much more to say really; this is a release aimed directly at the collector's market and no doubt the fair price will encourage many to partake.
| | | | | |
| --- | --- | --- | --- | --- |
| The Show: A | Video: C+ | Audio: C+ | Extras: A+ | Overall: B- |

---
DVD Compare is a participant in the Amazon Services LLC Associates Program and the Amazon Europe S.a.r.l. Associates Programme, an affiliate advertising program designed to provide a means for sites to earn advertising fees by advertising and linking to amazon.co.uk, amazon.com, amazon.ca, amazon.fr, and amazon.de.