System (The) AKA The Girl-Getters (Blu-ray) [Blu-ray]
Blu-ray ALL - United Kingdom - Powerhouse Films
Review written by and copyright: Rick Curzon (3rd October 2019).
The Film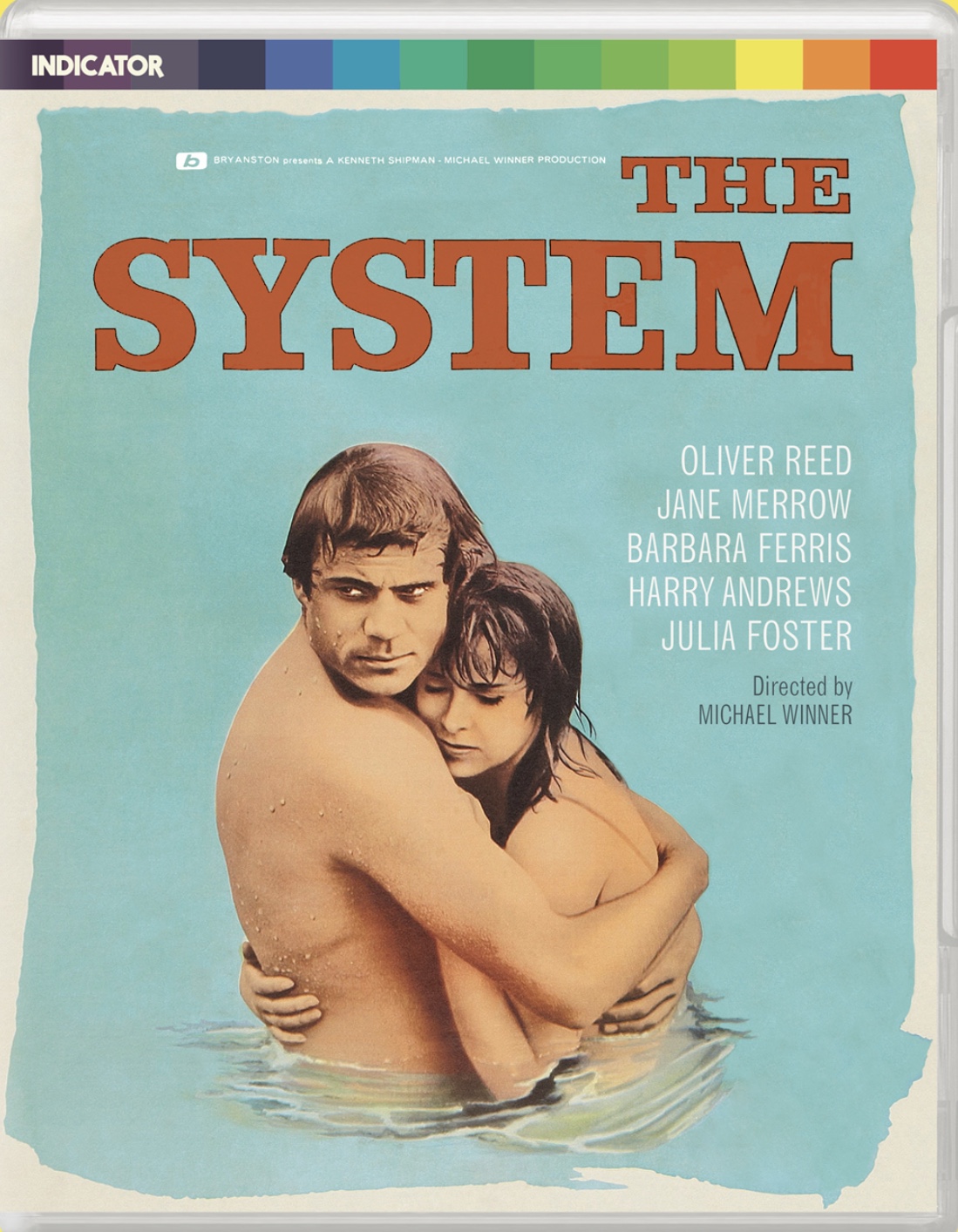 The first of six collaborations between two of British cinemas most infamous figures – Oliver Reed (The Damned, The Triple Echo) and Michael Winner (Death Wish) – The System finds both at their creative peak.

Reed is leader of a gang of youths, who spend a hot summer season in Devon in pursuit of women – including Jane Merrow (The Appointment) and Barbara Ferris (A Nice Girl Like Me).

Filmed on location, and shot by the great Nicolas Roeg before he turned his attentions to directing, The System boasts a fine supporting cast, including Julia Foster (Alfie), Harry Andrews (The Deadly Affair), and David Hemmings (Fragment of Fear).

Video


Tinker (Oliver Reed) and his cronies schlep about a seaside town picking up and sleeping with girls (they have a "system") ... and making ends meet, hopefully enough to make it through the lean winter months. Then he meets Nicola (Jane Merrow) and his head spins.

One of those timepieces that encapsulates it's era. These days it seems quaint and very dated but it's extremely well acted and beautifully shot by Nicholas Roeg. Interesting to see an early Michael Winner film before he was taken up by Hollywood and made commercial genre fare.

Reed gives one of his best performances with plenty of nuance as someone who just has a bit more depth of character than Alfie; a man of intelligence and education but who just can't quite commit ... and pull his intellect above his libido.

Pristine B&W cinematography is glorious and even more so when Nicholas Roeg is responsible. He gives this low budget, British, cheeky chappie about town drama a lush inky sheen. There's plenty of shadow detail to be had an no signs of crush; this is from an HD master minted by copyright holders Euro London and it looks like it's straight off the OCN which has been well looked after. No signs of print damage and no digital artefacts to be seen.

It's a very stark image with a tremendous range from dark to light and contrast has been well handled with a sympathetic eye. Some of the brighter daylight scenes (and there's a lot) occasionally threaten to blow out in their brightest parts but it never actually happens.

The encode is as good as always for Powerhouse Films; so, top notch and as good as it gets. No digital splats, clumps or holes in the grain with the latter having a healthy field across the whole film. Darker scenes are courser but that's to be expected in such a low budget film shot fast and dirty.

To sum up: Another topnotch transfer from top to bottom.

1080/24p / MPEG-4 AVC / 1.85:1 / 90:18

Audio


English LPCM 1.0
Subtitles: English HoH

The audio isn't as robust as the visuals but that is entirely down to how the sound was recorded at the time. It's a mono track lacking in much depth or range despite the lossless rendering and occasionally sounds very hollow (see one of the opening beach scenes with Reed). I seriously doubt much more could be done with it shy of a complete rebuild from the original sound stems.

However, it's still solid and dialogue is always clear. The score never intrudes and in any case excellent subtitles for the hearing impaired have been provided.

Extras


Audio commentary with Thirza Wakefield and Melanie Williams

An excellent, highly listenable and informative track from two film historians that places this film in it's context within late '50s / early '60s film making; specifically within the British new wave pioneered by Harry Saltzman and his Woodfall films company. Obviously Winner and Roeg are discussed at length and how their careers developed from here on. There's also plenty on the cast which is chockers with names and faces who were on the rise (Reed, David Hemmings, Merrow, John Alderton, Barbara Ferris et al).

"Getting the Girl: Jane Merrow on The System" featurette (17:52)

Lively, chatty interview with Merrow, who comes across as an extremely mellow and matter of fact person. She has plenty of memories of Reed both good and bad and briefly discusses Winner who she remembers as very amenable to cinematographer Nicholas Roeg's suggestions for shots, lighting, framing etc. HD master supplied by the BFI and it looks like a decent restoration job has been done.

"Drinking and Dancing: John Porter-Davison on The System" featurette (5:39)

Brief piece focusses mainly on Porter-Davison's memories of working with Reed.

"Fun and Games: Jeremy Burnham on The System" featurette (3:50)

Actor Burham waxes lyrical about the shoot; specifically the sequence where his character whips Reed's at tennis. Amusing.

The System Image Gallery: Original Promotional Material (22 images)

Typically nice image gallery in HD. Not many images here but what there is is choice.

"Haunted England" 1961 short (23:31)
Thoroughly charming little documentary short that catalogues several urban legends and ghostly tales from around England. Shot in lovely, rich colours and looking very fine. The soundtrack is LPCM 1.0 and the aspect ratio is 1.37:1.

32-page liner notes booklet with new essay by Andy Miller, extracts from Winner's memoir Winner Takes All: A Life of Sorts, an overview of contemporary critical responses, Vic Pratt on Haunted England, and film credits

The usual stunning little booklet filled with contextual material. Winner is always witty and amusing with the excerpt from his autobiography being a choice addition. I heartily recomend his book to those interested.

Packaging


The usual clear BD case that all of Powerhouse Films' limited editions come in.

Overall


Excellent picture, decent sound and a choice collection of extras. The film is a good one that very amusingly represents it's era well. Highly recommended.
| | | | | |
| --- | --- | --- | --- | --- |
| The Film: B | Video: A+ | Audio: B | Extras: A | Overall: A |

---
DVD Compare is a participant in the Amazon Services LLC Associates Program and the Amazon Europe S.a.r.l. Associates Programme, an affiliate advertising program designed to provide a means for sites to earn advertising fees by advertising and linking to amazon.co.uk, amazon.com, amazon.ca, amazon.fr, and amazon.de.