The Film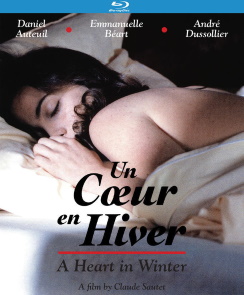 BAFTA Film Award (Best Film not in the English Language): Jean-Louis Livi, Philippe Carcassonne, and Claude Sautet (nomianted) - BAFTA Awards, 1994
César (Best Supporting Actor): André Dussollier (winner), Best Director: Claude Sautet (winner), Best Film: Claude Sautet (nominated), Best Actor: Daniel Auteuil (nominated), Best Actress: Emmanuelle Béart (nominated), Best Supporting Actress: Brigitte Catillon (nominated), Best Screenplay, Original or Adaptation: Jacques Fieschi (nominated), Best Cinematography: Yves Angelo (nominated), Best Sound: Pierre Lenoir and Jean-Paul Loublier (nominated) - César Awards, 1993
David (Best Foreign Actor): Daniel Auteuil (nominated), Best Foreign Actress: Emmanuelle Béart (nominated), and Best Foreign Film: Claude Sautet (nominated) - David di Donatello Awards, 1993
FIPRESCI Prize: Claude Sautet (winner), Little Golden Lion: Claude Sautet (winner), Pasinetti Award (Best Actress): Emmanuelle Béart (winner), Silver Lion: Claude Sautet (winner), Special Golden Ciak: Claude Sautet and Jacques Fieschi (winner), and Golden Lion: Claude Sautet (nominated) - Venice Film Festival, 1992

Stéphane (My Favorite Season's Daniel Auteuil) and Maxime (Lemming's André Dussollier) are partners in Maxime's family business of violin restoration. Stéphane is the expert, Maxime is not without expert knowledge, but he is the people person. It is an amicable arrangement in which Maxime cannot help but expose his private life for Stéphane for the latter's wry analysis, but Maxime is too self-involved to pry into Stéphane's private life which seems to consist of little than what is apparent on his cold surface if the growing frustration of long suffering bookstore owner friend Hélène (Death in Paradise's Elizabeth Bourgine) is anything to go by. Stéphane is, however, surprised when Maxime announces that things are serious with young violinist Camille (8 Women's Emmanuelle Béart) whose live-in agent Régine (Merci Pour le Chocolat's Brigitte Catillon), enough so that he will be finally moving away from his wife and children of whom Stéphane is fond (or, at least, they are of him). Although he acknowledges her talent, Stéphane maintains a cool distance from Camille which only seems to draw her to him. Entrusted with Camille's career by her mother, Régine seems more jealous of the effect Stéphane has on Camille than that of middle-aged Maxime. Maxime hides his own trepidation about the relationship behind mocking amusement that Stéphane may indeed be in love with Camille; and Maxime telling Camille that he believes Stéphane has feelings for her leads to devastation when she tries to return those feelings.

The second-to-last film of the not-very-prolific but respected French filmmaker Claude Sautet (Classe tous risques), Un Coeur en Hiver – very appropriately, A Heart in Winter – on paper is certainly the stuff of classic melodrama if told from the perspectives of anyone but Stéphane, a man not so much in denial of his feelings but one who tries to ruthlessly dissect and analyze his own feelings as much as those of others, hiding his self-doubt behind affectations of arrogance and egotism ("I don't have your goodwill," he says to Camille of his reluctance to take either side in an argument with a cultural critic about whether art can be appreciated by only the intellectual elite). Indeed, the meaningful exchange between Stéphane and Maxime about the latter's divorce in which he explains "You don't spend your life with a pal […] Someone always suffers," could initially suggest that Stéphane's actions are a reaction to having his life upset by outside forces he had always taken for granted; and, while one can believe that he can endure the embarrassment of a public scene from Camille in the climax, it is not so easy to determine if he had anticipated Maxime's reaction (although it appears that he was to a degree lashing out at his best friend as well). It takes Stéphane seeing truly for the first time the unhappiness of the only person he believed he could love – his, Maxime's, and Camille's shared mentor (Le Professionnel's Jean-Claude Bouillaud) who both sees the root of Stéphane's problem yet also sees him as the only one in his life unsentimental enough to help him die – that, while he dismisses all of the suppositions that he must have had an unhappy childhood, a trauma, or some other excuse, there is something in him that "isn't alive," and that it is really himself that he destroys when he hurts others. While such an admission in a more sentimental film would lead to the heroine committing to changing him and making him believe he is worthy, Sautet's more realistic stance is that sometimes people "come to things too late," and it is left wide open whether Stéphane is truly better off with the realization. Un Coeur en Hiver was Sautet's most internationally successful film, and regrettably his second-to-last; although his final film Nelly & Monsieur Arnaud, also starring Beart, is also of more substance than it appears.

Video


Given a limited release in metropolitan areas by short-lived indie distributor October Films (Maurice, Session 9, The Celebration, and Breaking the Waves among others), Un Coeur en Hiver has always looked good on home video, with Koch Lorber utilizing a new HD master supervised by cinematographer Angelo for their 2006 DVD – sporting a cooler look thanSecond Sight's yellow-tinged transfer – and Kino Lorber's Studio Canal-licensed 1080p24 MPEG-4 AVC 1.66:1 widescreen Blu-ray – not a new 4K master as with some of Kino Lorber and Shout! Factory's recent Studio Canal-licensed releases where sometimes no HD master existed before – remains faithful to the choices made for the earlier transfer while looking finer grained with richer colors despite the cool look.

Audio


While Koch Lorber's transfer featured a Dolby Digital 5.1 and a 2.0 mono track instead of stereo, the Blu-ray includes French DTS-HD Master Audio 2.0 stereo original and a 5.1 remix (possibly the same as the DVD edition) as well as, for the first time anywhere, an English dub in DTS-HD Master Audio 2.0 stereo. While not a concert film, it is a film that treats the sonic delivery of music with deliberation. While much of the mix has always been front-oriented, Un Coeur en Hiver's sound design is very meticulous with utter silences pierced by violin notes to the left or right while piano accompaniment remains centered. The English dub is a curiosity in what films France thought they could sell more widely and what was required to do so. The mix itself is not particularly good, characteristic of more modern say the lines competently and be done with it tracks rather than the quirky dubs created for international sales or even the slicker ones commissioned by some American studios taking a risk on a foreign film like some of Columbia Pictures' foreign releases of the previous decade. Optional English subtitles are included.

Extras


Koch Lorber's DVD had an archival interview with Sautet and TV appearances by Sautet Dussolier while the sole extra on the Kino Lorber Blu-ray is an audio commentary by film historian Kat Ellinger who notes that, while Sautet is a respected French director, little has been written academically about him, and this film and Nelly and Monsieur Arnaud are his best known films in English-speaking countries (although his earlier film The Things of Life was remade by Mark Rydell as the less-than-successful Intersection) and attempts to discuss both the themes of the film and how they recur in his filmography; more helpfully, in the case of this film, is her elaborating on the film's references to and the common citation in reviews that the film is based on Mikhail Lermontov's "A Hero of Our Time" which was representative of Russian literature's "superfluous man" archetype which is the Western equivalent of the antihero (at least in terms of nineteenth and early twentieth century literature rather than the modern-day usage). Specifically, she notes that Sautet was inspired by the Princess Mary episode of the novel along with the notion of telling Othello from Iago's point-of-view and his addition of the music world to the story (she also notes that like the bookshop owner, Sautet had given Autiel the Lermontov book during an earlier production). Ellinger also appears on the commentary track for Kino Lorber's edition of Nelly and Monsieur Arnaud. The film features the film's theatrical trailer (1:08) as well as two trailers for additional Kino Lorber releases.

Overall


The second-to-last film of the not-very-prolific but respected French filmmaker Claude Sautet, Un Coeur en Hiver is on paper the stuff of classic melodrama but here is a dark yet moving study of "a heart in winter."