The Film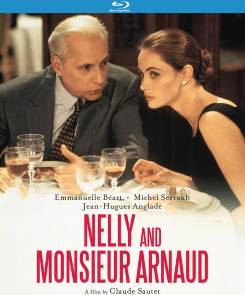 BAFTA Film Award (Best Film not in the English Language): Alain Sarde and Claude Sautet (nominated) - BAFTA Awards, 1997
César (Best Actor): Michel Serrault (won), Best Director: Claude Sautet (won), Best Actress: Emmanuelle Béart (nominated), Best Supporting Actor: Jean-Hugues Anglade (nominated), Best Supporting Actor: Michael Lonsdale (nominated), Best Supporting Actress: Claire Nadeau (nominated), Best Film: Claude Sautet (nominated), Best Screenplay, Original or Adaptation: Jacques Fieschi and Claude Sautet (nominated), Best Music: Philippe Sarde (nominated), Best Sound: Pierre Lenoir and Jean-Paul Loublier (nominated), and Best Editing: Jacqueline Thiédot (nominated) - César Awards, 1996
David (Best Foreign Film): Claude Sautet (won), Best Foreign Actor: Michel Serrault (nominated), and Best Foreign Actress: Emmanuelle Béart (nominated) - David di Donatello Awards, 1996

Ever since she was laid off as "last come, first out" from a publishing company experiencing financial difficulties, twenty-four year old Nelly (Time Regained's Emmanuelle Béart) has been carrying the burden for two with multiple on-call and part-time jobs, what with her aspiring writer husband Jerôme (Summer Hours' Charles Berling) having given up looking for or seemingly above regular employment to the point where Nelly is not even sure that Jerôme is actually "waiting" for her in front of the television between her morning departure and afternoon return. Although they are six months behind on the rent, Nelly cannot take her best friend and former work colleague Jacqueline (Duelle's Claire Nadeau) up on the offer of a loan since the older woman has a child and difficulties of her own with her husband. While the two women meet up for lunch to commiserate, Jacqueline introduces Nelly to wealthy former lover Pierre Arnaud (Les Diaboliques' Michel Serrault) on one of his rare trips to the city. While Jacqueline is on the phone with her husband, Pierre gets Nelly to unburden herself and he makes an offer of a gift of thirty-thousand francs. Nelly initially refuses and then promises to pay him back even though he claims it is a gift and she admits that it will take quite some time with her current jobs; whereupon Pierre offers her a job typing up his memoirs (again insisting that he will pay her rather than count it towards the money he has already given to her). Nelly returns home and tries to provoke Jerôme with a version of the story of this "indecent proposal" and is disgusted not just because he laughs it off but also because he seemed at first to be asking her to consider the offer. Nelly decides then that their marriage is over, pays the overdue rent, and then moves into Jacqueline's spare room. She learns from Jacqueline that Arnaud is separated from his wife (L'immortelle's Françoise Brion) and does not see his grown children, and initially takes Arnaud's self-deprecating comments that his story of being a twenty-four year old judge in the French colonies is "exotic stuff" at face value. As she transcribes what he has written and takes dictation, however, she starts to develop a different perception of him that is greatly aided by the editorial comments he welcomes from her about his writing that allows them to sift through the monotonous detail and distancing humor to a young man that she has trouble reconciling with his more recent reputation as a hard and ruthless businessman, evidence of which she only overhears behind closed doors from his encounters with mysterious frequent visitor Dolabella (Moonraker's Michael Lonsdale). Arnaud's decision to sell off his massive library brings back into Nelly's life an old love in librarian Christophe (Three Colours: Red's Jean-Pierre Lorit) who has since married, but Arnaud claims that he did not introduce her to his editor Vincent (Betty Blue's Jean-Hugues Anglade) with the intention of the younger man making a move on her (although he seems very interested in whether anything has occurred between them). Tensions arise between Arnaud and Nelly as his life becomes an open book to her but she becomes even more closed off in light of upheavals in her own life.

The final film of director Claude Sautet, following his most internationally-recognized and –acclaimed Un Coeur en Hiver, Nelly & Monsieur Arnaud promotes the latter film's love interest Béart to protagonist and manages both to exploit the actress' beauty while also creating a character just as complex as his male protagonists from other films. Because Nelly seems a Sphinx-like woman of few words – whether she has been drained by the state of her marriage and work situation or was always like that – those whom she comes to meet for the first time during the film not only make assumptions about her relationship with Arnaud but also assume that she has been accumulating observations. On a number of occasions, Arnaud, Vincent, Dolabella, and Arnaud's prying daughter Isabelle (The Closet's Michèle Laroque) are all shown at different times attempting questioning Nelly to gauge others, but only Arnaud seems to do so out of curiosity with only a hint of jealousy. Nelly is no blank slate, nor is she self-obsessed but she is going through a period of flux that has her ready to throw herself into some relationships but only so far and hesitant to comment on said developments with the same kind of reflective perspective as Arnaud with his memoirs. A more conventional treatment of the subject matter, particularly a French one, might be building towards a relationship between Nelly and Arnaud, or have a frustrated creative Arnaud manipulating Christophe and Vincent into Nelly's life for observational and analytical purposes but the mysteries that Nelly and Arnaud present to one another reflect back upon their own lives; indeed, one wonders if the question as to whether Arnaud selling off his belongings being that of an old man winding down and tying loose ends or a shady businessman who has incurred large debts might parallel the question of Sautet making this film his final one: did he decide that he had said all he needed to say five years before his death, or were those final years marked by projects he could not get off the ground even in light of his last two successes? While Nelly & Monsieur Arnaud is not quite as tragically moving as Un Coeur en Hiver, it is not less compelling a look at characters who realize that their own personal growth cannot be dependent upon others.

Video


Released theatrically and on DVD by New Yorker Films, Nelly & Monsieur Arnaud's new HD master had a theatrical reissue through Rialto Films in 2015 and comes to Kino Lorber Blu-ray through their deal with Studio Canal. The 1080p24 MPEG-4 AVC 1.66:1 widescreen transfer has a more naturalistic palette than the chilly one of Un Coeur en Hiver, and the transfer is free of any glaring issues including some of the DNR and color tinkering of some Studio Canal masters from earlier in the decade.

Audio


The sole audio option is a French DTS-HD Master Audio 2.0 Stereo film, and the mix is rather undemanding, generally centered apart from music and atmosphere with mostly intimate moments apart from some Paris street scenes and scenes set in restaurants, busy offices, and parties. Optional English subtitles are provided.

Extras


Beside the film's theatrical trailer (1:39) and trailers for other films, the disc includes an audio commentary by film historian Kat Ellinger – which can be considered a continuation of her track for Un Coeur en Hiver – in which she discusses the recurring Sautet theme of personal growth and how he has differentially applied it to his male and female protagonists within his filmography, and puts Béart's Nelly in the context of Sautet's "Romy" characters; that is, the characters essayed by the tragic Romy Schneider as the star of four of five Sautet collaborations including The Things of Life and César and Rosalie).

Packaging


Included in the case is an essay booklet by Jonathan Rosenbaum in which he recalls his initial low opinion of Sautet's subject matter while conceding his skill at storytelling, avoiding much of his filmography, and his mixed reviews of later films including the acclaimed Un Coeur en Hiver before Nelly & Monsieur Arnaud inspired him to reassess the director for the nuance with which he examines with nuance "the subtle vibrations between people in their daily interactions."

Overall


While Nelly & Monsieur Arnaud is not quite as tragically moving as Un Coeur en Hiver, it is not less compelling a look at characters who realize that their own personal growth cannot be dependent upon others.