The Film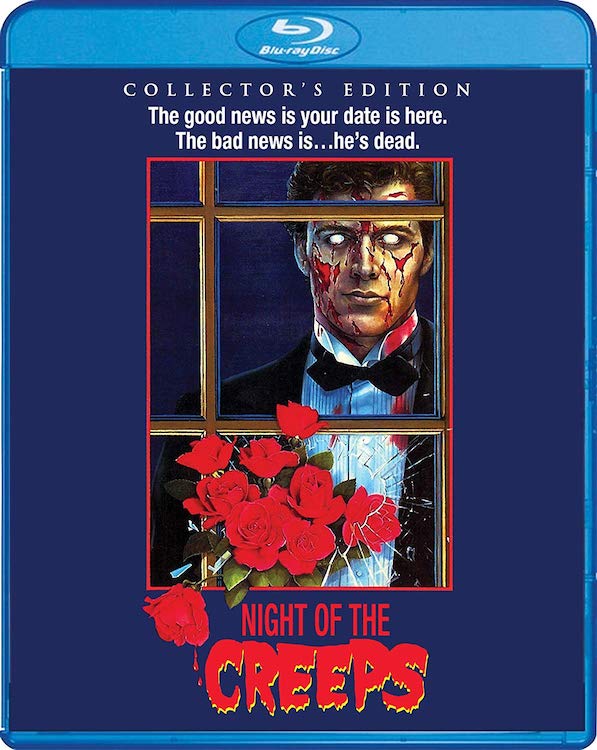 Fred Dekker's career is frequently cited by me (and many others, I'm sure) as one of those frustrating "what if?" scenarios. What if, after delivering two of horror's most celebrated cult classics – "Night of the Creeps" (1986) and "The Monster Squad" (1987) – Dekker had continued to work within the genre he so clearly loves, turning down what was certainly a generous offer to co-write and direct "RoboCop 3" (1993)? That oft-maligned feature put his directorial career into an early grave, one from which it has yet to be exhumed. Dekker has spent the past 25-ish years as a script doctor, albeit uncredited, working behind the scenes but not behind the camera; his only credited film work being a co-writer credit on Shane Black's bizarrely awful "The Predator" (2018). Nobody will ever know what could have been. Hypotheticals aside, Dekker's first directorial effort sees him blending 50's sci-fi camp with 80's horror and gruesome practical FX work which, combined with the machismo might of Tom Atkins, makes for one of the most entertaining films from that era.

Sorority Row, 1959. On the same night an alien experiment crash lands on Earth, a maniac escapes from a nearby mental facility. A couple out on a date decides to investigate the extraterrestrial object, with the boy heading into the woods while his girl hangs back in the car. He winds up infected by some slug-like alien that emerges from a burned-up canister, while his girl gets hacked to pieces by the loosed psychopath.

Cut to 1986. Pledge Week. Chris (Jason Lively) and his buddy J.C. (Steve Marshall) are a couple of geeks hoping to increase their cred with the ladies by joining a fraternity – but not just any frat; they want to be part of Beta Epsilon, which is run by the bro-iest of bros, Brad (Allan Kayser). The Bradster and his frat bros propose a challenge to the boys: steal a cadaver and leave it on the steps of a rival frat house. Without a second of hesitation, J.C. agrees and Chris is forced to go along. The two infiltrate the school medical lab easily enough, managing to get past the guard and employees to access a secure room that houses a dead body - only they don't know this "dead body" is the cryogenically frozen remains of the boyfriend from 1959 who had his brain invaded by alien slugs. The guys freak when the "dead" body moves during transport, so they abandon it – and inadvertently cause the release of those slimy little aliens. Their only hope comes in the form of Det. Ray Cameron (Tom Atkins), a hardened cop with no patience and an endless supply of one-liners.

Dekker melds aliens-from-outer-space sci-fi with the horror sensibilities of the mid-1980's to draft his love letter to all things creature feature and camp. His references are quite literally worn on this movie's sleeve because nearly every place and character is named after someone legendary. Lively's character is named Chris Romero. His best buddy is James Carpenter Hooper. They attend Corman University. A cop is named Sgt. Raimi. Chris' love interest is Cynthia Cronenberg. The list goes on. Suffice it to say, Dekker had all the best names in horror in mind when making his debut and those influences are splattered over every frame.

I have an endless supply of love for the film's gnarly FX work and creepy crawlers but the true highlight is unquestionably Tom Atkins, who gives one helluva bravado performance as Det. Cameron. He's tough as a coffin nail, barking through cigarette smoke and just waiting for someone to give him a reason to chew them out. On the surface he operates like a guy who lives on scotch and steak seven days a week (and that might be accurate) but this cop is complex, too. He witnessed his former love being hacked to pieces way back in '59, and he's been barely living with that pain ever since. His terse demeanor was born out of misery and heartache, but good luck getting him to express those emotions through anything but gritted teeth. When Chris and J.C. enter his life and give him a chance to literally save the world, with a bit of redemption in the process, Cameron is all in.

Scream Factory includes both the theatrical cut and the director's cut, each available on its own disc. Personally, I find both endings have some merit but I feel Dekker's originally intended denouement feels fresher than the studio mandated version, which is awfully cliché.

Video


Unless my eyes deceive me, this is the same 1.85:1 1080p 24/fps AVC MPEG-4 image found on Sony's 2009 Blu-ray release. Despite the lack of a fresh scan, the picture here is handsome and free from damage and debris. Film grain is variable, appearing moderately heavy throughout with occasional spikes that swarm the image. Shadow detail is acceptable. The practical FX gags and make-up hold up well under the scrutiny of HD, with only some of the seams showing. Fine detail is acceptable, though I do wonder if a new scan could have tightened up the image a little more.

Audio


The English DTS-HD Master Audio track is available in both 2.0 stereo and 5.1 surround flavors for both cuts. Dialogue comes through loud & clear, with no hissing or pops detected. Composer Barry De Vorzon's score is a synth delight, bridging a gap between sci-fi and horror soundtracks just as this film is intermediary. Gunfire and explosions have a nice bit of weight to them. Subtitles are available in English for the hearing impaired for both cuts.

Extras


DISC ONE: Theatrical Cut

"Thrill Me! – The Making of Night of the Creeps" (1080p) is a multi-part documentary made up of the following parts:

- "Birth of the Creeps" runs for 10 minutes and 42 seconds.
- "Cast of the Creeps" runs for 15 minutes and 58 seconds.
- "Creating the Creeps" runs for 10 minutes and 33 seconds.
- "Escape of the Creeps" runs for 11 minutes and 35 seconds.
- "Legend of the Creeps" runs for 10 minutes and 59 seconds.

"Tom Atkins – Man of Action" (1080p) is a featurette that runs for 19 minutes and 55 seconds.

A reel of deleted scenes (SD) runs for 7 minutes and 39 seconds.

The film's theatrical trailer (1080p) runs for 1 minute and 32 seconds.

DISC TWO: Director's Cut

There are two audio commentary tracks – the first, with writer/director Fred Dekker; the second, with actors Tom Atkins, Jason Lively, Steve Marshall, and Jill Whitlow.

"Real Good Plan – Interview with actor Jason Lively" (1080p) featurette runs for 10 minutes and 46 seconds.

"The Bradster – Interview with actor Allan Kayser" (1080p) featurette runs for 7 minutes and 42 seconds.

"I Vote for that One - Interview with actor Ken Heron" (1080p) featurette runs for 10 minutes and 12 seconds.

"Worst Coroner Ever - Interview with actor Vic Polizos" (1080p) featurette runs for 6 minutes and 28 seconds.

"Answering the Door - Interview with actress Suzanne Snyder" (1080p) featurette runs for 4 minutes.

"Final Cut - Interview with editor Michael N. Knue" (1080p) featurette runs for 11 minutes and 21 seconds.

"Horror's Hallowed Grounds" (1080p) is an episode that runs for 10 minutes and 56 seconds, with host Sean Clark touring the filming locations as they stand today.

Packaging


The two-disc set comes housed in a standard Blu-ray keep case. The cover art is reversible. A slip-cover featuring newly created artwork is included on first pressings.

Overall


Scream Factory ups the ante on Sony's previous Blu-ray, packing in more bonus features and housing everything in their typically stellar packaging. A new scan of the film would have been even better to see, but as of right now this is definitely the definitive edition of Dekker's horror classic.
| | | | | |
| --- | --- | --- | --- | --- |
| The Film: A | Video: B | Audio: B+ | Extras: A+ | Overall: A |