The Film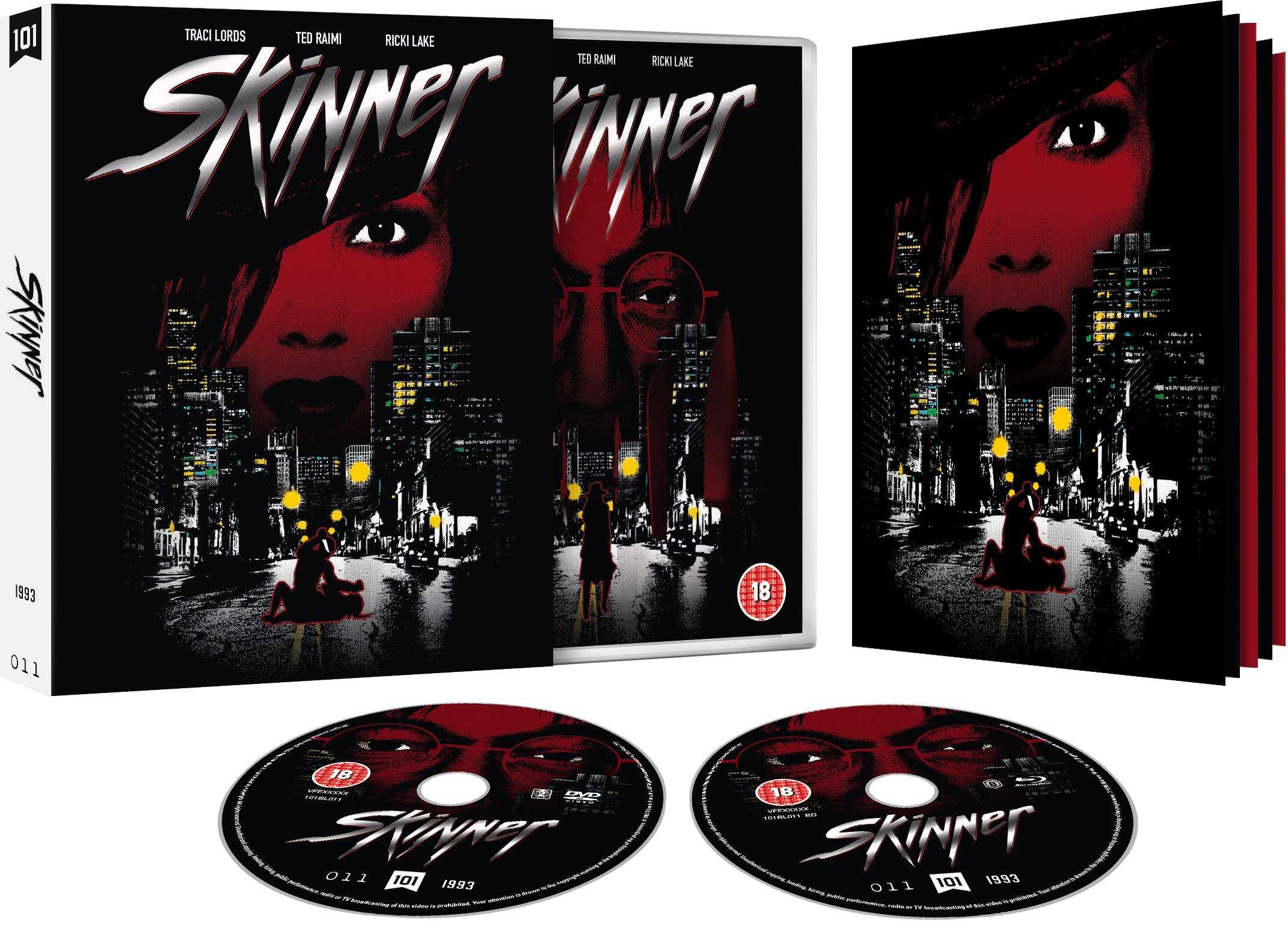 101 Films presents Skinner (1993), a dark and brutal horror from director Ivan Nagy and writer Paul Hart-Wilden and title 010 on 101 Films' Black Label. Starring Ted Raimi (Spider-Man), Traci Lords (Blade), David Warshofsky (There Will Be Blood), Richard Schiff (Se7en) and Rikki Lake (Hairspray), Skinner is released for the first time in the UK on any format.

At one time thought a lost film, Skinner has been resurrected from obscurity in a mind-blowing 4K restoration, so cult cinema fans can now witness this 90s horror gem in all its sinful, sleazy and violent glory.

Dennis Skinner (Raimi) seems like a normal enough guy, but he has a very abnormal hobby. At night, he creeps through the back streets looking for potential victims, and when he finds one, carefully removes their skin with an elaborate collection of knives. Heidi (Lords), one of Dennis' victims, is on his trail, waiting for a chance to get her revenge, but in the meantime, Dennis has developed a crush on Kerry (Lake), and wants to find a way to show her he really cares.

Video


A low budget independent horror film about a slasher called Dennis Skinner (politically aware UK readers will probably chuckle here) who flays his victims; usually prostitutes although not exclusively ... and has a water fixation. An effective companion piece to the likes of Maniac (1980) and Henry: Portrait of a serial killer (1986) with some elements of The Silence of the Lambs (1990). Stunningly shot from top to bottom, this is a great looking film and very well produced and directed (the late Ivan Nagy).

It's also exceptionally gruesome and creepy with knockout performances from all concerned. Raimi revels in the role that is probably his best and has great chemistry with leading lady Riki Lake who is especially affecting and lovely as Skinner's lonely landlady; a shame she didn't do more horror film roles. Traci Lords is also extremely good as a survivor who is out for revenge.

Faults are that the film has a little too much MTV; especially in the glamorous prostitute characters who don't look very skid row to me. Also, Skinner's male victims are but butchered off screen which lends it a misogynist streak, alas.

Be warned as it's exceptionally, matter of factly gruesome on a few occasions.

Shot on 35mm film and given a new 4K restoration by Severin in the USA, Skinner was thought lost for a long time. It looks very good with plenty of lovely grain and an extremely filmic appearance which is given a first rate encode that handles the occasionally difficult source well.

Visually it falls somewhere between a neon and filtered '80s film and a ultra slick '90s effort. There's plenty of gel lighting (red and blue mainly) which gives the film it's slicker look but we also have some gritty street scenes set in skid row (where Skinner hunts his victims). Colours are rich with plenty of vivid reds; flesh tones are warm but not overblown and alignment is rock solid with no bleeding.

Black levels are extremely velvety with some signs of crush but I put that down to the conditions during production; none of it seemed unintended to my eyes. Detail in shadows is pleasing although this is an intentionally soft looking film; revelling in it's filmic texture detail in closeups is pretty sweet although when gel lighting hits it can suffer slightly in darker moments.

Daylight scenes are very bright and grainy and contrast across the whole film is stark but well controlled with no blown out whites or highlights. The new master and the supportive encode really bring out surface textures nicely; so sharp that at times some of the latex on Traci Lords is quite apparent. And, the flaying scenes are quite cruelly exposed.

The Severin disc reportedly had some minor print damage in the form of speckles but I saw none, so 101 Films must've done additional cleanup. Also, I saw no digital artefacts or compression issues.

A great transfer, highly recommended.

The DVD was not sent for review.

1080/24p / MPEG-4 AVC / 1.78:1 / 88:18

Audio


English LPCM 2.0 Stereo
Subtitles: English HoH

Made in Dolby Ultra-Stereo this lossless 2.0 rendering is very effective with the superb score playing around the sound field very satisfactorily. Most of the actual action is very front-centric with dialogue centrally placed although grisly moments creepy around the sound field. Base is effective in the score which reminded me somewhat of John Carpenter and Alan Howarth's work. I detected little if any real LFE woofer work although what there was from the score.

Subtitles for the hearing impaired are welcome and essential.

Extras


"A Touch of Scandal: An Interview with Ivan Nagy" 2007 featurette (20:04)

An interview with the late director from 2007. Covers his career starting with his escape from Hungary in the 1956 revolution attempt. He became a photographer working for Life magazine and thence on to album covers and film directing. His first film was
Pushing Up Daisies (1973). Skinner is obviously covered in the second half of the piece. A port from the US Severin BD.

"Under His Skin: An Interview with Ted Raimi" featurette (14:25)

A nice précis of Raimi's career starting off in commercials and low budget movies with some TV thrown in for good measure. His preference for character parts and offbeat roles is discussed; his one and only straight part for a TV show and obviously Skinner gets lots of coverage. A port from the US Severin BD.

"Bargain Bin VHS for a Buck: An Interview with Skinner Screenwriter Paul Hart-Wilden" featurette (17:10)
Interview with the English-born screenwriter focusses mainly on Skinner. He was inspired by reading up on various infamous serial killers like Ed Gein. A port from the US Severin BD.




"Cutting Skinner: Jeremy Kasten Post Supervisor Skinner" featurette (10:42)

Interview with post production supervisor Kasten; a bit of an enthusiastic dude with lots of entertaining asides on the production; his Baltimore upbringing and his affinity for John Waters and Traci Lords; the video boom and production of micro budget straight to video cinema. A port from the US Severin BD.

Flaying Sequence and Outtakes & Extended Takes (14:00)

Full frame and taken from a time coded video source, this is a longer variant of the flaying scene.

Trailer (1:55)

Slick, quick cut trailer set to Skinner's monologue as he tells the corpse of one of his victims about why he does what he does.

Limited edition liner notes booklet "Finding Skinner" by screenwriter Paul Hart-Wilden on the long and multi-faceted search for the 'lost' Skinner master

Sadly, this wasn't sent for review.

Packaging


Two disc, clear BD keep case with outer case and booklet.

Overall


A fine, if transgressive film gets the royal treatment; a great transfer with topnotch image and sound quality. The extras package is also a notch or two above the Severin release with all of that discs content ported over plus a booklet which sadly wasn't provided for review in either hardcopy or PDF format. The DVD was also not sent for review.
| | | | | |
| --- | --- | --- | --- | --- |
| The Film: B | Video: A+ | Audio: A+ | Extras: A | Overall: A |