3 from Hell (Blu-ray) [Blu-ray]
Blu-ray B - United Kingdom - Lions Gate Home Entertainment
Review written by and copyright: Rick Curzon (13th October 2019).
The Film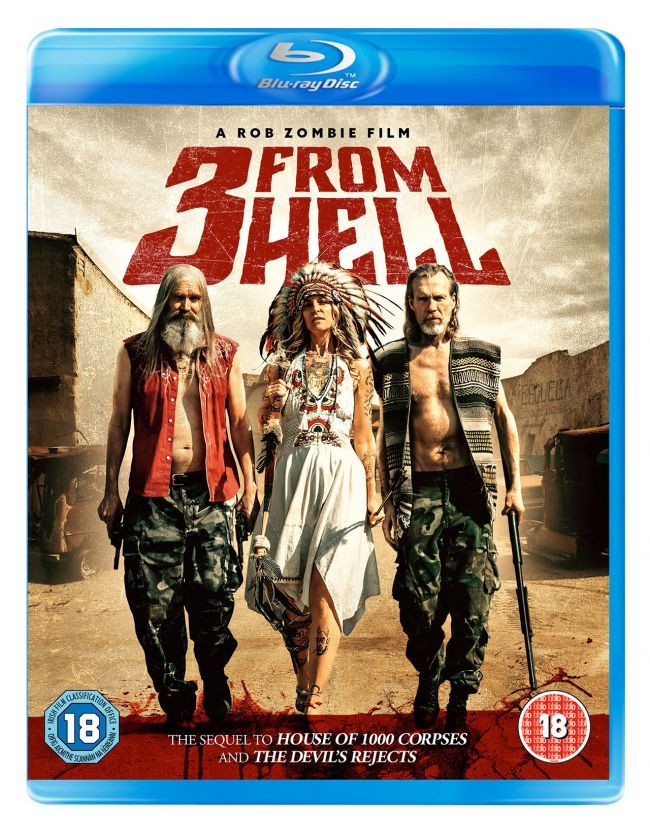 After barely surviving a furious shootout with the police, Baby Firefly (Sheri Moon Zombie), Otis Driftwood (Bill Moseley) and Captain Spaulding (Sid Haig) are behind bars. But pure evil cannot be contained.

Teaming up with Otisí half-brother Wilson (Richard Brake), the demented Firelfly clan are back to unleash a whole new wave of death and depravity. A firestorm of murder, madness and mayhem will be released in this terror ride to Hell and back.

Video


Lion's Gate Entertainment bring Rob Zombie's 3 from Hell to Blu-ray in the UK. Shot with the Arri Alexa Mini with, according to IMDB, the source format being in 2.8K and the master format being a digital intermediate

Grain is - by design - ever present in this grungy, gritty typically hard edged Rob Zombie epic. His third entry in his Family Firefly trilogy begun in 2002 by The House of 1000 Corpses and continued with The Devil's Rejects (2005); his ninth feature film in 17 years. Zombie is an auteur through and through and he has a deep abiding love of the horror genre with references in his films paying homage to the likes of Hammer and grindhouse style classics.

Colours are deliberately faded and made to look like this was made in the '70s ... for all of the flashback or news footage sequences; but, the body of the film is richly, warmly coloured favouring reds and browns. The '70s fashions and furnishings really kick out with the likes of orange sofas and various outfits. Fleshtones are warm but naturalistic and outdoor scenes are vivid with plenty of bright greens and yellows especially in the scenes set in the USA. Once the tale segues to Mexico the colours hot up several notches, which is to be expected; especially as it's set during the Day of the Dead celebrations with lots of vivid colours on show which are all well defined with no bleeding.

Black levels are always deep and dark with plenty of moments with lots of shadow detail although there is also some deliberate crush. It struck me that Zombie is going for the 16mm look of such as The Texas Chain Saw Massacre (1974), The Hills Have Eyes (1977) and The Last House on the Left (1972).

Contrast is frequently harsh; deliberately so to give the images pep but there's no unintended faults like blown out highlights or loss of detail. The encode seems to mostly be well up to the task although I did notice the odd moment of noise mainly in the faux news footage and some mild posterisation in the same scenes.

My overall feeling is that this is a typically superb modern transfer and the film is designed to look funky, grainy and gritty. Detail and grain are ever present in satisfying amounts throughout.

1080/24p / MPEG-4 AVC / 1.85:1 / 115:49

Audio


English DTS-HD Master Audio 5.1
Subtitles: English HoH

Flawless. An absolutely tub thumpingly good lossless audio track with tremendous range and depth. Zombie's soundtracks are as important as his visuals and themes to him and this one is no slouch. Surrounds are vitally active at all times when action and score are blasting out.

Dialogue is always clear however, so no worries there and Lionsgate have happily provided us with hard of hearing subtitles on the main feature but alas not on the commentary or the documentary.

Extras


Audio commentary with writer / director Rob Zombie

If you're a fan of Zombie's films then you know what to expect; softly spoken, highly intelligent commentary filled to the brim with detail and trivia about the production. He always puts his work in context and has much to say about the genre.

"To Hell and Back: The Making of 3 from Hell" 2019 documentary (94:28)

Produced and directed by Steven Addair this is yet another mindblowingly comprehensive, warts and all production documentary. It's also very, very stylishly made and much of my comments on the image for the film itself also apply here. Practically every aspect of the production is covered both from in front of and behind the camera. It's not quite as detailed as the three hour plus Halloween (2007) or The Devil's Rejects docs but few are. Mind you, much of the ground work for this trilogy was covered in the earlier extras for the first two films. Mixes B&W and colour in full 1080/24p and lossless LPCM 2.0 stereo sound.

Packaging


Standard blue Blu-ray case.

Overall


A triumphant third entry in Rob Zombie's well regarded Firely Family trilogy gets a more than solid transfer with both sound and vision being of a high standard. The extras are truly comprehensive as well and the price is right
| | | | | |
| --- | --- | --- | --- | --- |
| The Film: B | Video: A+ | Audio: A+ | Extras: A | Overall: A+ |

---
DVD Compare is a participant in the Amazon Services LLC Associates Program and the Amazon Europe S.a.r.l. Associates Programme, an affiliate advertising program designed to provide a means for sites to earn advertising fees by advertising and linking to amazon.co.uk, amazon.com, amazon.ca, amazon.fr, and amazon.de.