The Film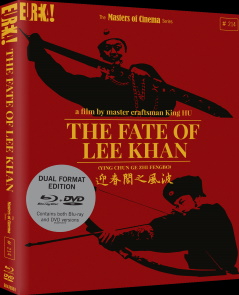 In the middle of the fourteenth century, General Zhu is leading a rebellion of 100,000 soldiers against the Yuan dynasty, but espionage is rampant on both sides and Mongol general Lee Khan (A Better Tomorrow's Feng Tien) is about to get his hands on a map of Zhu's battle plans from traitorous general Shen Tiansong through the machinations of his cruel sister Princess Lee Wan-erh (To Kill with Intrigue's Feng Hsu). To not arouse suspicion, Khan and his sister plan to meet with the general at the Welcoming Spring Inn while making a district visit. The proprietress Madame Wan Jen-mi (The Magnificent Concubine's Li Hua Li) is appraised of his visit by local tavern manager Mr. Liu (The Vengeful Beauty's Nan Chiang) who tells her that he will be sending assassins to kill Khan and retrieve the map. Madame Wan plans to diminish suspicion about sudden newcomers by opening up the inn to gambling and liquor as well as hiring four beautiful serving girls with shady pasts which they plan to put to good use in killing Mongols: bandit Lilac (Shanghai Blues' Helen Ma), pickpocket Black Pieny (Enter the Dragon's Angela Mao), street performer Peach (Boxer Rebellion's Chin Hu), conwoman Chile. Madame Wan and her serving girls prove capable of looking after themselves when dealing with cheats, robbers, and ruffians, but they are soon joined by Zhu's spies in traveler Sha Yuan Shan (Fist of Fury's Ying-Chieh Han) and troubadour Wang Shih Cheng (Thunderbolt's Ying Bai) who pose, respectively, as Madame Wan's bookkeeper cousin and the kitchen chef when Khan and Wan-erh his sister arrive with a retinue of soldiers, brutally cutting down anyone suspected of being a spy. The inn is closed for several days when Khan decides to stay there instead of the official residence offered by the solicitous district magistrate who has already been embarrassed by the exposure of spies among the populace he claims to know closely. Khan's second-in-command Tsao Yu-kun (Game of Death's Roy Chiao), however, is on the side of the rebels and tries to help them find the map and capture the traitor, but Khan and his sister are not so unsuspecting or without martial arts skill when it the entire staff of the hotel set about their assassination attempt in a final showdown.

One of a pair of Golden Harvest co-productions mounted by director King Hu who walked out on his Shaw Brothers contract and had a massive hit with Dragon Inn and then a failure with the more ambitious A Touch of Zen domestically (it had yet to be seen internationally at Cannes), The Fate of Lee Khan is more intimate in its production values and storytelling while but by turns hilarious, unbearably suspenseful, and exciting. Indeed, the film is structured in that order with about twenty minutes of light-mannered setup as the women reveal their mettle dealing with various nuisances with wit and might while various patrons of the inn reveal themselves to be fools, crooks, or spies. This is followed by a shorter second act in which the anti-Mongol spies come together and deal with potential leaks and plot, and then Khan and Wan-er make their grand entrance fifity-odd minutes into the film; whereupon, the setting becomes more claustrophobic with Khan and his sister ordering beheadings right and left and threatening the staff (and the charisma of the characters is no guarantee they will survive). While some hand-t-hand combat was on display during the first act, the third act kicks in with wuxia wireworks and swordplay in which kicks, punches, and unconventional makeshift weapons are used to throw off both viewer and the trained practitioners of more "martial chivalry" styles of fighting. Ming-Tsai Wu (The Fists of Vengeance), one of the "Seven Little Fortunes" of the Chinese Drama Academy – whose number included "brothers" Sammo Hung, Jackie Chan, and Yuen Biao and were the subject of Hu's final film Painted Skin – appears in a small role. After the subsequent Golden Harvest co-production The Valiant Ones, Hu went independent again with the expansive Taiwanese duo Raining in the Mountain and Legend of the Mountain.

Video


Released theatrically in the U.K. in 1976 by The British Film Institute in a subtitled version, The Fate of Lee Khan was hard to see outside of television airings until a letterboxed 1999 VHS from Made in Hong Kong. For DVD, English-speaking viewers had the choice between a cropped Chinese DVD and an anamorphic German import until the film's recent 2K restoration which debuted on Blu-ray and DVD in the U.S. from Film Movement. Eureka's 1080p24 MPEG-4 AVC 2.35:1 widescreen rendition of the 2K scan is stunning with bold colors and more "natural" looking color correction than some of the blue-leaning other Fortune Star high definition restorations of late. Less zoom-happy than some of Hu's other films, the image is crisp and clear throughout with the included unrestored high definition trailer showing how the film has looked in the past.

Audio


Film Movement's Blu-ray only had Mandarin and English DTS-HD Master Audio 5.1 (and redundant Dolby Digital 5.1 tracks for each), so the inclusion of Mandarin LPCM 1.0 mono on this disc is a big reason to choose it over the U.S. edition. The optional DTS-HD Master Audio 5.1 track reveals that Fortune Star apparently did not have separate dialogue, music, and effects tracks for this title so the dialogue, most of the effects, and the music has a rather muffled feel on the surround track. Most of the sword clangs are original foley effects and centered while all of the sword unsheathing effects are brand new and distracting in their clarity and relatively loudness. The Mandarin mono track is overall the better option. While I am unsure if the 5.1 English track on the U.S. release is a new dub, the English LPCM 1.0 vintage dub is almost hilariously bad. The lead performances are generally competent but the supporting character vocals often sound like something out of What's Up, Tiger Lily? and Madame Wan becomes "Miss Wendy." Optional English subtitles are included, and even there Peach and Chili are never called by name.

Extras


Besides the film's theatrical trailer (3:25), Eureka's Blu-ray features a pair of brand new extras starting with a separately-encoded selected scene commentary by film historian Toby Rayns (73:10) in which he discusses King Hu's situation following the success of Dragon Inn (delayed domestically by Shaw Brothers who tried to get their own rival productions out first) and the failure of A Touch of Zen (shown in a cut-down version before getting its full-length version shown three years later at Cannes), and the deal with Golden Harvest that saw producer Raymond Chow getting controlling interest in The Fate of Lee Khan and Hu retaining The Valiant Ones (which is why the film has not yet been given a high definition restoration), as well as the influence of Bruce Lee on the industry's transition from "martial chivalry" to hand-to-hand martial arts combat (which is echoed in the film), and the need to start casting performers with actual martial arts ability. He also provides background on the historical setting, some of the lesser-known faces, and production factoids like the credits consisting of cards in Hu's own calligraphy. He also reveals that credited composer Joseph Koo was actually Golden Harvest's expert in assembling patchwork musical soundtracks for their productions (which explains why some of Berto Pisano's already-recycled music from Burial Ground makes a couple appearances on the soundtrack). "The Name of the Game is Go" (19:05) is a video essay credited only on the menu and promotional materials to David Cairns but is actually co-authored by Anne Billson whose comments are intercut with those of Cairns. Billson discusses the presence of strong female characters and the jarring transition from the almost sitcom-esque aspect of the first half to the second while Cairns discusses Hu's economical storytelling style and his preference for cohesion over energy in the fight scenes.

Packaging


Included in the package is a limited edition booklet featuring:
- "Beyond Swordplay: King Hu and the New Wuxia Movement" by David West
- "King Hu's The Fate of Lee Khan and The Valiant Ones" by Stephen Teo
- Original Film Brochure (courtesy of Tony Rayns)
- Notes on Viewing
- Blu-ray & DVD Credits

Overall


One of a pair of Golden Harvest co-productions mounted by director King Hu whose massive hit with Dragon Inn was followed by the box office failure of A Touch of Zen domestically, The Fate of Lee Khan is more intimate in its production values and storytelling while but by turns hilarious, unbearably suspenseful, and exciting.