Rabid (Blu-ray) [Blu-ray]
Blu-ray B - United Kingdom - 101 Films
Review written by and copyright: Rick (20th October 2019).
The Film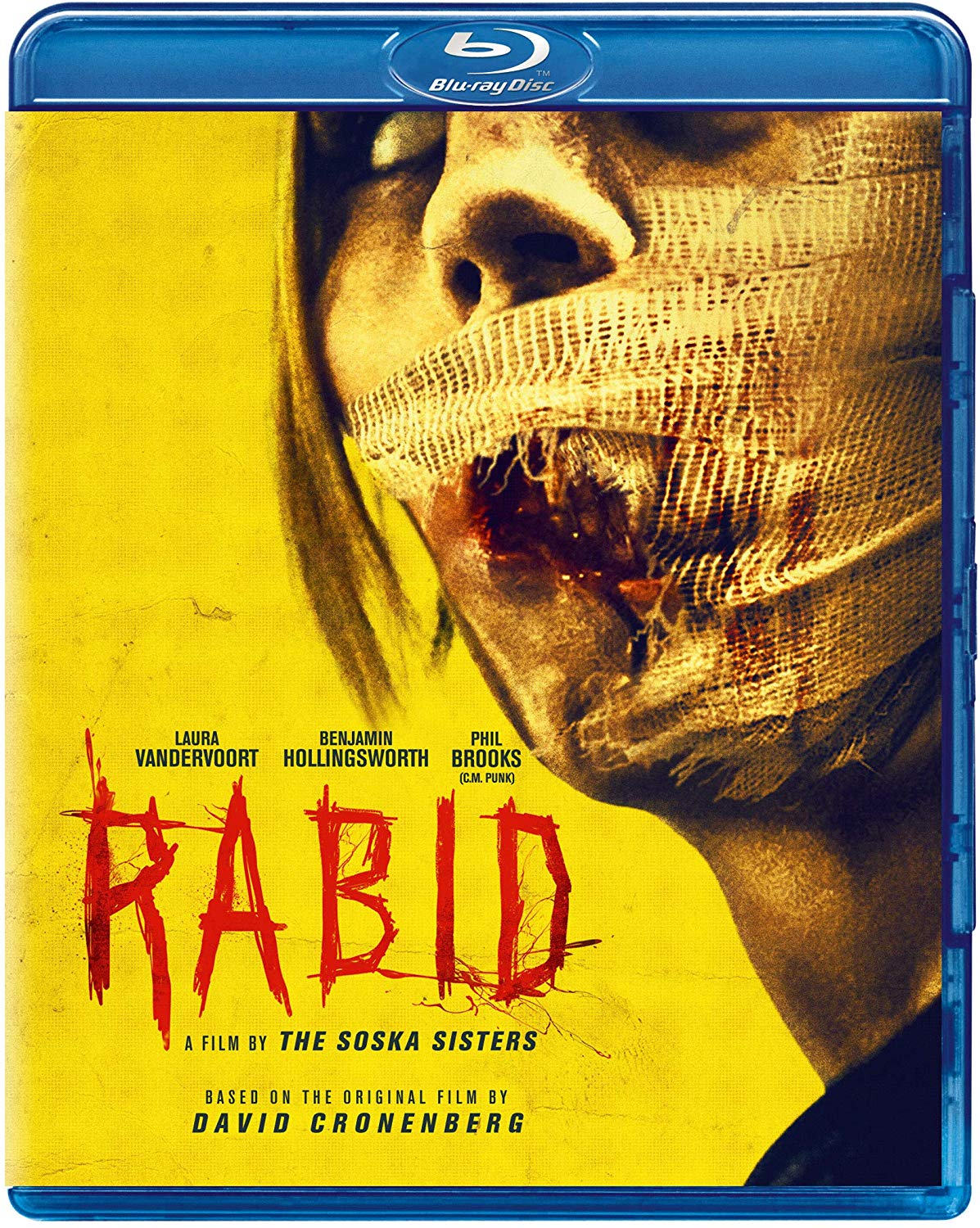 Acclaimed horror directors Jen and Sylvia Soska AKA the 'Twisted Twins' (American Mary) are back with their next nightmare, the bloody, brutal and deranged RABID, based on the original film by David Cronenberg.

An fashion designer (Laura Vandervoort - Jigsaw) undergoes a radical untested stem-cell treatment after being disfigured in an accident. Although the procedure transforms her into a ravishing beauty, the lasting side effects leave her with an uncontrollable taste for blood, resulting in several torrid encounters and a trail of infected victims. As the illness mutates and the contagion spreads out of control, the infected rampage through the city in a violent and gruesome killing spree.

Video


Rose, a budding fashion designer, is involved in a serious car accident which leaves her disfigured. She is helped by an an experimental scientific institute run by Dr. Burroughs (Ted Atherton) using a new stem cell treatment.

David Cronenberg's 1976 film Rabid reimagined and expanded into a slicker, more ambitious plague outbreak cum mad scientist satire. Told much more from the female point of view this is a very femme-centric nightmare from the writing-directing team of Jen and Sylvia Soska (American Mary). It does get a bit OTT at the climax with plenty of prosthetic SPFX work (no CGI here).

Regarding the script; this version has much better characterisation than the 1976 film and spends a good fifteen minutes or so building up Rose and her life before the accident unlike the original which just leap straight in and din't bother to give any substance to it's people.

A refreshingly old fashioned film in it's reliance on old school SPFX with an excellent lead performance from Vandervoot, this was a pleasant surprise and certainly the equal of the Cronenberg film. In fact this is very much a tribute to the whole of Cronenberg's oeuvre

Image quality as befitting a new, digitally shot production directly transferred from the digital master is of a very high quality with a decent encode ensuring that the whole thing looks a peach in motion.

There's not a great deal of grain to he seen but what there is is even and film like. Obviously, there are no signs of visual flaws as we would see in a vintage film-sourced production and I could detect no signs of digital tinkering from a viewing distance of ten feet on my 55" 4K display.

The overall colour scheme is naturalistic but when the production design or costuming designates bright, primary reds - as in the operation scene when the medical staff wear red robes (Dead Ringers reference dudes!) and we seem some mild gore - they really pop. The film has a vivid quality to the cinematography that shines through in this excellent rendering. Overall my impression of the colour values is one of whites, yellows, flesh and occasional blood. The Soskas and their DP have intentionally gone for the stark, antiseptically clean look Cronenberg favoured in many of his early science fiction horror films.

Black levels are satisfyingly velvety and deep with plenty of shadow detail to be gleaned and contrast is supportive with no signs of blown out highlights or loss of surface textures. Faces and closeups look razor sharp with plenty of surfaces with fine textures.

1080/24p / MPEG-4 AVC / 1.78:1 / 107:49

Audio


English LPCM 2.0 Stereo
Subtitles: English HoH

I would've expected a full-bore 5.1 track which is mystifying in it's absence. What we have is a very active, loud and more that satisfactory 2.0 stereo track which kicks in the subwoofer at appropriate moments. Separation is very good with fairly active surrounds, but the mono nature of those surrounds (inherent in 2.0 Dolby Stereo) is a shame. The track doesn't kick out quite as it ought to had it been given a 5.1 boost. Frankly, it's hard to believe that the film wasn't given theatrical screenings in anything less than 5.1.

Subtitles are present for those who need them and essential. Dialogue is always clear and the score never unintentionally intrudes.

Extras


"The Quiet Revolution, Part 2 - An Emerging Revolution: New Territories & Diverse Fears" documentary (52:32)

Superb conclusion to the documentary found on 101 Films' recent 2-disc special edition BD of Rabid (1976) which essentially picks up where that left off bringing the story of Canadian genre cinema bang up to date in 2019.

"Behind the Scenes with Jen & Sylvia Soska" featurette (16:20)

The incorrigible and irrepressible Soskas take centre stage discussing their love of Cronenberg, horror and their remake.

"An Interview with Laura Vandervoort" featurette (4:01)

The leading actress discusses her role.

"Frightfest Presents The Soska Sisters: On Set Message to the Frightfest 2018 Audience" featurette (3:54)

A short introduction filmed for the Frightfest premiere of Rabid (2019) in which the ladies are in fine form.

Packaging


A standard, blue Blu-ray keepcase.

Overall


A surprising good remake that gets a tad daffy and OTT in it's final stages but manages to at least equal the original. The transfer is topnotch both in image and sound and the extras, whilst mostly non-specific to the film (the documentary) are choice. Highly recommended for fans of the Soskas and film buffs and horror-sci-fi fans in general.
| | | | | |
| --- | --- | --- | --- | --- |
| The Film: B | Video: A+ | Audio: A- | Extras: A | Overall: A |

---
DVD Compare is a participant in the Amazon Services LLC Associates Program and the Amazon Europe S.a.r.l. Associates Programme, an affiliate advertising program designed to provide a means for sites to earn advertising fees by advertising and linking to amazon.co.uk, amazon.com, amazon.ca, amazon.fr, and amazon.de.