Prey
R2 - United Kingdom - Signature Entertainment
Review written by and copyright: Rick Curzon (20th October 2019).
The Film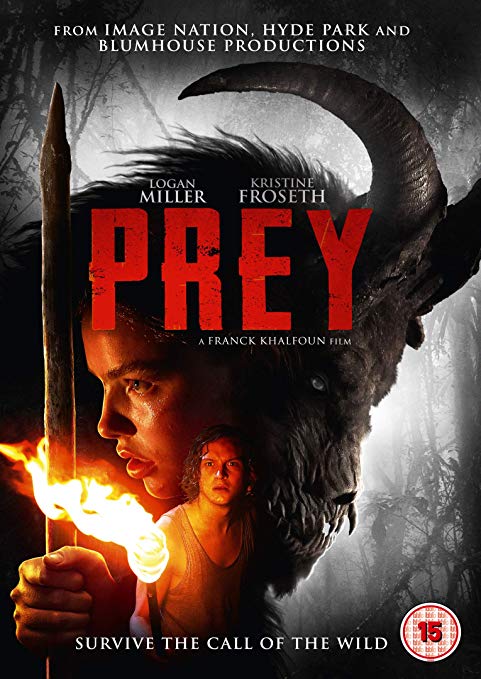 Described as Donnie Darko meets Lost, PREY follows Toby Burns (Logan Miller: Escape Room), a millennial coldly floating through life and disconnected from his family. After his father is tragically killed, Toby is left stricken with guilt.

He is begrudgingly enrolled in a program, in which he will spend three days on a remote jungle island. Toby soon finds that this uninhabited island is not so lonely when he meets a mysterious girl named Madeleine (Kristine Froseth: The Society). It soon becomes clear that neither of them are safe here and time is running out. Someone or SOMETHING bloodthirsty lurks in the jungle...

Video


A teen (Logan Miller) is left on an island for three days as a character building exercise but there would appear to be unpleasant locals and a supernatural force present. Too bad.

Poorly written, technically polished programmer is a real bore and a little incoherent at times. Good production values and the odd creepy moment can't salvage this perfunctory mess.

Whatever I may think of the end result, it's certainly a good looking film and being a horror film from genre specialist Franck Khalfoun, who made the 2012 remake of Maniac (1980) I was expecting a Blu-ray release. However, but Signature Entertainment in the UK have erred on the side of caution and given us a barebones, single layered DVD release only.

As far as standard definition transfers go it's fairly middling to good. Overall it looks great in motion but I did notice some mild posterisation in darker scenes and is, obviously, inherently soft.

Colour values are naturalistic with plenty of vivid greens as befitting the tropical island setting. Flesh tones are also on the cooler side with the image favouring a darker look although scenes set in daylight are satisfyingly bright. Detail is adequate but compromised by the single layer, lower bitrate status.

Black levels are also adequate with the odd moment of unintended crush creeping in. Contrast is supportive. I saw no signs of damage as this is a modern digitally shot flick, but occasional moments of compression were detectable, but I was really scrutinising it for this review. Lay folks just buying it to view and then either pass the disc on or file and forget are unlikely to be troubled by anything here.

Hardcore techno-freaks and horror buffs are likely to import a BD edition from the USA or the continent if and when one becomes available.

PAL / 2.40:1 / 81:57

Audio


English Dolby .digital 5.1
English Dolby Digital 2.0 Stereo
Subtitles: None

Solid soundtrack options with the 2.0 coming off as much louder and more robust but lacking the depth and range of the 5.1. However, to get the full effect I had to turn the volume up a little bit. Bizarre, but true and it's a strange problem I've noticed with many DVD transfers these days.

No subtitle options is a terrible choice; what about all of the folks out there who need them both those who are born hard of hearing or those afflicted during life or who're just getting old?

Extras


Startup Trailer:
- Fright Fest (1:20)
- A Good Woman is Hard to Find (1:40)

Nothing sadly, extras for this film might have been more interesting. I've not seen the specifications for foreign releases so can't comment on extras there. Incidentally, both films in the trailers look way more fun than Prey (2018).

Packaging


Standard, black DVD Keepcase..

Overall


A bare ones DVD edition of a film I found not to my taste, but others may feel differently. The transfer is adequate in both picture and sound and is hobbled slightly by being on a single layered with a correspondingly lower bitrate. It's a cheap disc so I can't complain and have no problems endorsing it. It gets the job done and looks fine in motion. Sadly, there's no extras to savour or to help build interest in the film.
| | | | | |
| --- | --- | --- | --- | --- |
| The Film: D- | Video: C+ | Audio: B | Extras: F | Overall: C+ |

---
DVD Compare is a participant in the Amazon Services LLC Associates Program and the Amazon Europe S.a.r.l. Associates Programme, an affiliate advertising program designed to provide a means for sites to earn advertising fees by advertising and linking to amazon.co.uk, amazon.com, amazon.ca, amazon.fr, and amazon.de.