90° in the Shade AKA Ninety Degrees in the Shade (Blu-ray) [Blu-ray]
Blu-ray ALL - United Kingdom - Powerhouse Films
Review written by and copyright: Rick Curzon (21st October 2019).
The Film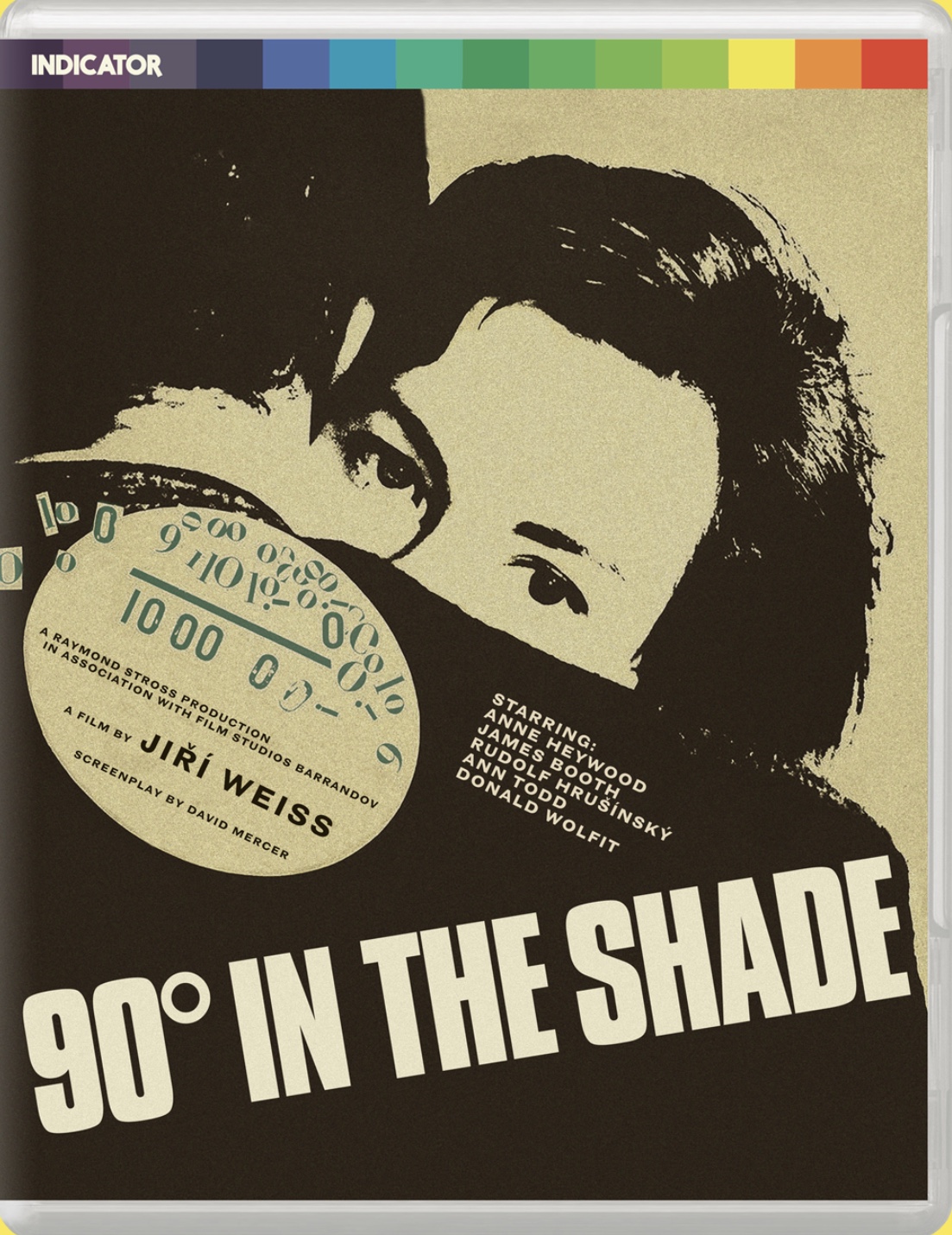 A rare Anglo-Czech co-production, 90° in the Shade is a fascinating, little-seen drama directed by Jiří Weiss (Romeo, Juliet and Darkness) and co-written by David Mercer (Morgan: A Suitable Case for Treatment).

Set at the height of summer, the film concerns shop assistant Anne Heywood (The Fox), and two men who will affect her life: James Booth (The Man Who Had Power Over Women), the married man with whom she is having affair, and Rudolf Hrusínský (The Cremator), an auditor who has family problems of his own.

Filmed simultaneously in English and Czech versions, Indicator is proud to present both cuts on Blu-ray for the first time ever.

Video


AKA Ninety Degrees in the Shade; Thirty-one in the Shade (Třicet jedna ve stínu)

Prague, high summer 1965: Elena (Anne Heywood) is the assistant manager of an off licence managed by Vorel (James Booth); they're having an affair and Vorel has been pilfering expensive booze on the side. Elena is aware if this but doesn't know the extent to which he has fleeced the shop. One day two government auditors Kurka (Rudolf Hrušínský, superb) and Bazant (Donald Wolfit) turn up unannounced to complete a stock check ...

Heated, sexy, languid noirish drama (brilliantly directed by Jiří Weiss) about how men subject women to their whims and desires. The main audience identification figure played by Heywood (in an exceptional performance) is used and abused by her caddish lover and boss who treats her as a mere conquest despite his promises to divorce his wife. She's caught between a rock and hard place when coldly efficient auditor Kurka discovers the crime she and Booth's character have been carrying out.

This is a slow burn ride as we are slowly introduced to the situation and it emotionally builds to it's ambiguous climax in which Kurka obviously analyses his life choices. All of the performances are as good as can be but special mention to Ann Todd who is superb in the supporting role of Hrušínský's lush of a wife; her sad life etched on her face only coming alive at a party her husband isn't at. At the time I'd guess this was quite a risqué film with it's hedonistic leads and a couple of nude scenes. It's also a nice analysis of how being incorruptible can have unexpected consequences as Kurka's story arc demonstrates. A first rate drama that deserves to be more widely known.

A pristine black and white scope production beautifully lensed throughout and the presentation is immaculate with no signs of gamma bias. Crystal clear monochrome. Exquisite.

The film has been lensed with a soft filtered quality; highlights occasionally flare but it seems to be the intention and as a consequence there is some mildly blown out highlights especially in the opening sequence set at the height of the day showing folks sunbathing. It has a luminous, glowing ambiance that's quite mesmerising. Black levels in this sequence seem to deliberately be muted somewhat with the emphasis on sunniness.

The balance of the film is a dark affair however and the black levels take on an expected velvety richness that embrace the noirish aspects of the story. Detail is mostly excellent and grain is constant albeit fine in most sequences. Some of the night time moments are courser which is desired and appreciated. I saw very little print damage; perhaps the odd speckle and certainly no compression artefacts or noise.

Contrast in the daylight sequences has some deliberately blown out highlights to emphasise the summer heat but interiors are very layered in the grayscale creating a tenebrous effect. Detail on all focal plains is again rewarding and the encode handles everything expertly. I have to say that Maestro David MacKenzie and Fidelity in Motion have done and always seem to do a job worthy of a Bafta; they make my job reviewing these discs so much more easy and pleasurable. Bravo.

1080/24p / MPEG-4 AVC / 2.35:1 / UK version: 90:32; Czech version 82:53

Audio


English LPCM 1.0 (UK version)
Czech LPCM 1.0 (Czech version)
Subtitles: English HoH (UK version); English (Czech version)

A standard mono track typical of the era. It lacks range and depth when compared to kore modern versions circa the 1980s but is presented here on it's best behaviour. There is a little reediness but it's simply not going to get any better shy of a complete rebuild and that ain't likely to happen. Dialogue is generally clear and audible although there is the odd moment where it can be quiet and a volume boost was necessary overall to avoid the issue. My comments apply to both English and Czech tracks.

Subtitles are welcome and vital; very well done with no errors.

Extras


Audio commentary by Michael Brooke (UK version only)

Exceptional, passionate and breathless commentary from Czech cinema expert and BD producer Brooke. Everything you could want to know about this film and the people involved and their careers is here.

"Degrees of Separation: Presented by Michael Brooke" featurette (21:57)

Engrossing and helpful featurette that compares the two versions of the film.

"The Rape of Czechoslovakia" 1939 short (17:37)
"The Other RAF" 1942 short (7:56)
"100,000,000 Women" 1942 short (7:59)
"Before the Raid" 1943 short (34:32)

Four wartime propaganda shorts made by Jiří Weiss for the English market that provide context to the main feature in terms of his earlier career. All are in 1080/24p and generally look excellent but with plenty of print damage. Sound is lossy Dolby Digital. On my copy the English subtitles were switched on when played and yet they're all in English.

"The Imperial War Museum (IWM) Interview with Jiří Weiss: Conducted on 4 November 1990" plays as an alternate audio track over Before the Raid (25:11)

The director discusses his career in this valuable audio recording that plays over his short film Before the Raid. Weiss has a dry sense of humour and focusses on his wartime experiences.

36-page booklet with a new essay by Jonathan Owen, Weiss on 90° in the Shade, Anthony Nield on Weiss' WWII films, and film credits

A comprehensive little tome that is a great primer on the production of the film and is a great way to kick off one's appreciation and experience. It also covers the shirts in detail. As usual, worth the price of the disc almost by itself.

Overall


Although this film has been available on DVD, this stunning new disc is definitive in that not only is it in HD featuring a knockout transfer but it has both variants for fans to compare. The extras package is also second to none. Without a doubt, one of THE discs of the year.
| | | | | |
| --- | --- | --- | --- | --- |
| The Film: A | Video: A+ | Audio: A | Extras: A+ | Overall: A+ |

---
DVD Compare is a participant in the Amazon Services LLC Associates Program and the Amazon Europe S.a.r.l. Associates Programme, an affiliate advertising program designed to provide a means for sites to earn advertising fees by advertising and linking to amazon.co.uk, amazon.com, amazon.ca, amazon.fr, and amazon.de.