The Film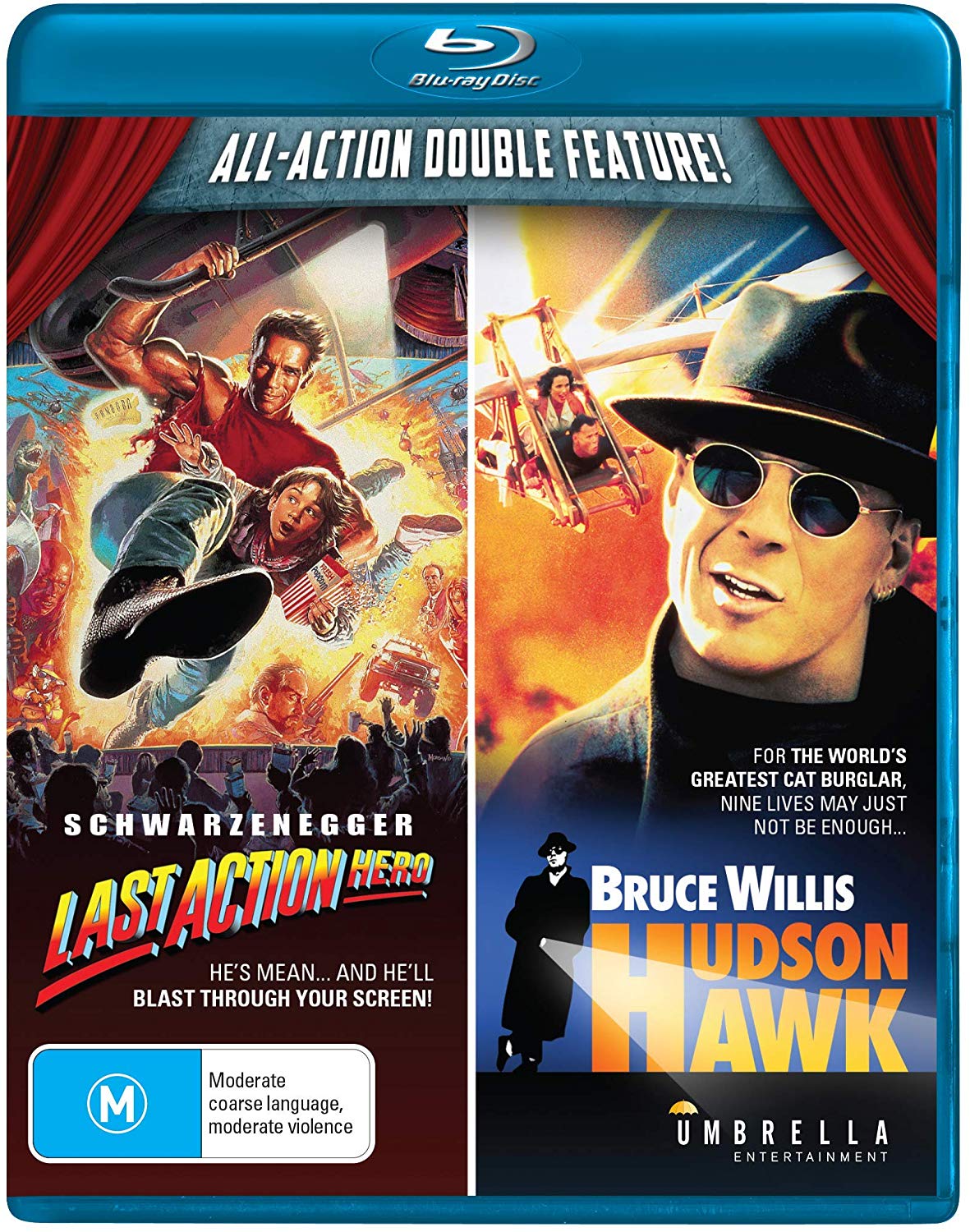 "Last Action Hero" (1993)

Danny (played by Austin O'Brien) is a young boy who loves action movies, especially the ones with the character of Jack Slater (played by Arnold Schwarzenegger, who is a rogue cop that gets into plenty of action and doesn't play by the rules. Danny goes to the local vintage theater which is fairly empty and run down, where the elderly projectionist Nick (played by Robert Prosky befriends the young boy, and invites him to the pre-screening of the newest Jack Slater film. One thing special that Nick gives for Danny entering the theater is what he calls a magic ticket that has been passed down from Harry Houdini onward, but little do they know the magic is real, and magically transports Danny into the film world itself. Suddenly he is a young sidekick to Jack Slater, and must follow the rules of Hollywood action cinema to help the story unfold.

"Last Action Hero" plays in two worlds - reality in New York City with middle school student Danny going through a tough life, and the world of Jack Slater, an action movie series where explosions are everywhere, the bad guys always get caught and the good guys always win. Danny is not interested in school and uses movies as an escape, but there are troubles at home as well. His mother is widowed and the neighborhood is dangerous, as seen with a burglar coming into their home. The Jack Slater movie series on the other hand has danger as well, with gunfire, dynamite, and stunt driving, but the rules are different. Cars fly with invisible ramps, bullets are endless without magazine changes, with unnecessary destruction in almost every scene. When Danny suddenly jumps into the movie he is watching, he sees everything as he sees it. He sees Jack Slater as Arnold Schwarzenegger. He sees F. Murray Abraham as the character he played in "Amadeus" rather than his police character. He keeps telling Slater that everything around him is a movie and obviously Slater does not believe him and takes a bit of convincing. The premise of the film and Danny's journey is a silly one, but one that brings out some great comedy and fun pokes at movies and Hollywood all around.

The pointing out that all phone numbers begin with "555", how there are no "unattractive" women anywhere, and how cameos from other films such as Robert Patrick as T1000 and Sharon Stone as Catherine in "Basic Instinct" appearing for a few seconds each. In addition cast such as Art Carney and Tina Turner appear in small roles, making the whole fictional "Jack Slater" universe filled with familiar faces not only to Danny but to the audience as well. Danny trying to make Schwarzenegger say the "F" word, the ice cream truck explosion, the shattering glass of the office of the police chief, an animated cat detective, there is a lot packed into the fun, but as it is a Schwarzenegger vehicle, there is also an equal villain of giant magnitude. Charles Dance as the killer Benedict is an excellent choice, and when he is able to "escape" into the real world, there is a real menacing presence that Dance does exceptionally with his craft. The film is filled with fantasy, action, comedy, and quite a lot of silliness throughout and the final sequence of the movie characters jumping into real New York is also quite a highlight, with another round of insane cameos in almost every shot. But not is all an homage to action cinema and Hollywood, as there are references to Laurence Olivier's "Hamlet" and Ingmar Bergman's "The Seventh Seal", with Ian McKellen playing Death being inspired casting.

The original script was written by Zak Penn and Adam Leff as a parody of various action films, but rewrites were asked by Columbia Pictures, with Shane Black and David Arnott brought it for tweaks. Director John McTiernan was well established with action films filled with one liners such as "Die Hard" and "Predator", and with Schwarzenneger coming off of "Terminator 2" the film seemed like a surefire hit. Unfortunately there were quite a few issues that plagued the film's release. Test screenings were overwhelmingly negative and critical reviews were mostly negative. Universal moved its release of "Jurassic Park" to a week before "Last Action Hero", and with dinosaur fever sweeping the world and opening at #1 with $47 million on its opening weekend. The film opened on June 18th 1993 at #2 in America with an opening weekend of $15 million, behind "Jurassic Park" on its second weekend. In addition, the $85 million production cost of "Last Action Hero" was more than $20 million more expensive than "Jurassic Park", and breaking even was even further away. Box office topped at $50 million in the United States in comparison to $357 million for "Jurassic Park". Although "Last Action Hero" performed much better overseas grossing an additional $87 million, it was still not enough to call it a hit considering the addition of marketing costs. Another blow to the release was it being the first to utilize SDDS - Sony Dynamic Digital Sound for 8.1 surround audio theatrically. Unfortunately only a handful of theaters could accommodate the technology, and most theater goers could not experience the full effect as intended. A similar issue is happening with the 2019 film "Gemini Man" in which very few theaters are able to project the 3D 120fps high frame rate production, with most theaters having to project a downscaled 24fps version instead.

The biggest issues were with the tone of the work, which action fans were not particularly satisfied with the comical aspects and, the film having a child as a main character and not marketing enough to the PG audiences, and adult audiences seeing things as particularly childish. "Last Action Hero" was literally all over the place, trying to grab various target markets but not hitting a particular one. While it has its issues, there is still a lot of fun the be had with the production, from its wonderful soundtrack, the cheesy one liners, the tongue in cheek humor and criticism of Hollywood. Metafilms and self aware works are much more commonplace now and it may work better now than it did in 1993.

In an odd pairing, Umbrella Entertainment presents the film as a double feature in the "Last Action Hero" / "Hudson Hawk" set on one disc, with neither film particularly sharing anything. None of the same main cast or crew, made in different years by different studios. Michael Kamen does contribute to the soundtracks of both films, but it's mentioned on the packaging in extremely tiny font in the credits.

Note this is a region ALL Blu-ray

Video


Umbrella Entertainment presents the film in the theatrical 2.35:1 aspect ratio in 1080p AVC MPEG-4. The film looks fairly good, with a darker and grainier tone in the real world compared to the more brightly colored portions in the Jack Slater world. There are some inconsistent portions such as when Nick shows Danny the magic ticket it seems to suddenly look like a standard definition source, or an extreme zoomed in shot, but fixes itself in the following shot. Some of the special effects sequences with additionally layered digital explosions and other processed shots can also look slightly off, but most likely having to do with the original source. On the better side there are no particular issues with cuts, scratches, or dust in the picture, leading a clean image with a healthy amount of grain. The film takes about 30GB of space on the 50GB disc which also shares its space with "Hudson Hawk", having a good amount of breathing room.

The film's runtime is 130:54.

Audio


English DTS-HD Master Audio 5.1
The film was originally mixed with SDDS, which was 5 channels of audio in the front, two surrounds in the rear, and one subwoofer channel. The 5.1 mix recreates the original mix with very pleasing results. The rock soundtrack filled with Alice in Chains, AC/DC, Fishbone, and others come in clear, as well as Michael Kamen's score. In addition the gunfire, explosions, and other action sound effects also nicely use the surround soundscape while dialogue is always well balanced and centered. There are no issues of hisses or pops, for a very clean sounding track throughout.

There are no subtitles for the feature.

Extras


Unfortunately no extras for either film are offered. The menu has a choice of the two films and that's all there is. "Last Action Hero" had a vintage 6 minute featurette, AC/DC music video and the trailer as extras on many of its DVD releases, but none have been ported here. "Hudson Hawk" had a special edition DVD with a commentary, deleted scenes, featurettes and more but not carried over to this Blu-ray.

Packaging


The artwork is reversible, with the Australian rating logo removed on the other side. The packaging also states region B only, but is in fact region ALL. In addition, "Hudson Hawk" is stated with an aspect ratio of 1.77:1, but it is in fact 1.85:1.

Overall


"Last Action Hero" was panned on its release for its inconsistent tone, but is a film with many highlights by poking fun at the cliches of Hollywood while going all out on its action scenes and comedy. The meta aspect is great while the cameo filled ending is a great piece of early 90s nostalgia as well. Umbrella Entertainment's transfer is great, but having no extras is a disappointing touch.
| | | | | |
| --- | --- | --- | --- | --- |
| The Film: B+ | Video: B+ | Audio: A | Extras: F- | Overall: C |