The Film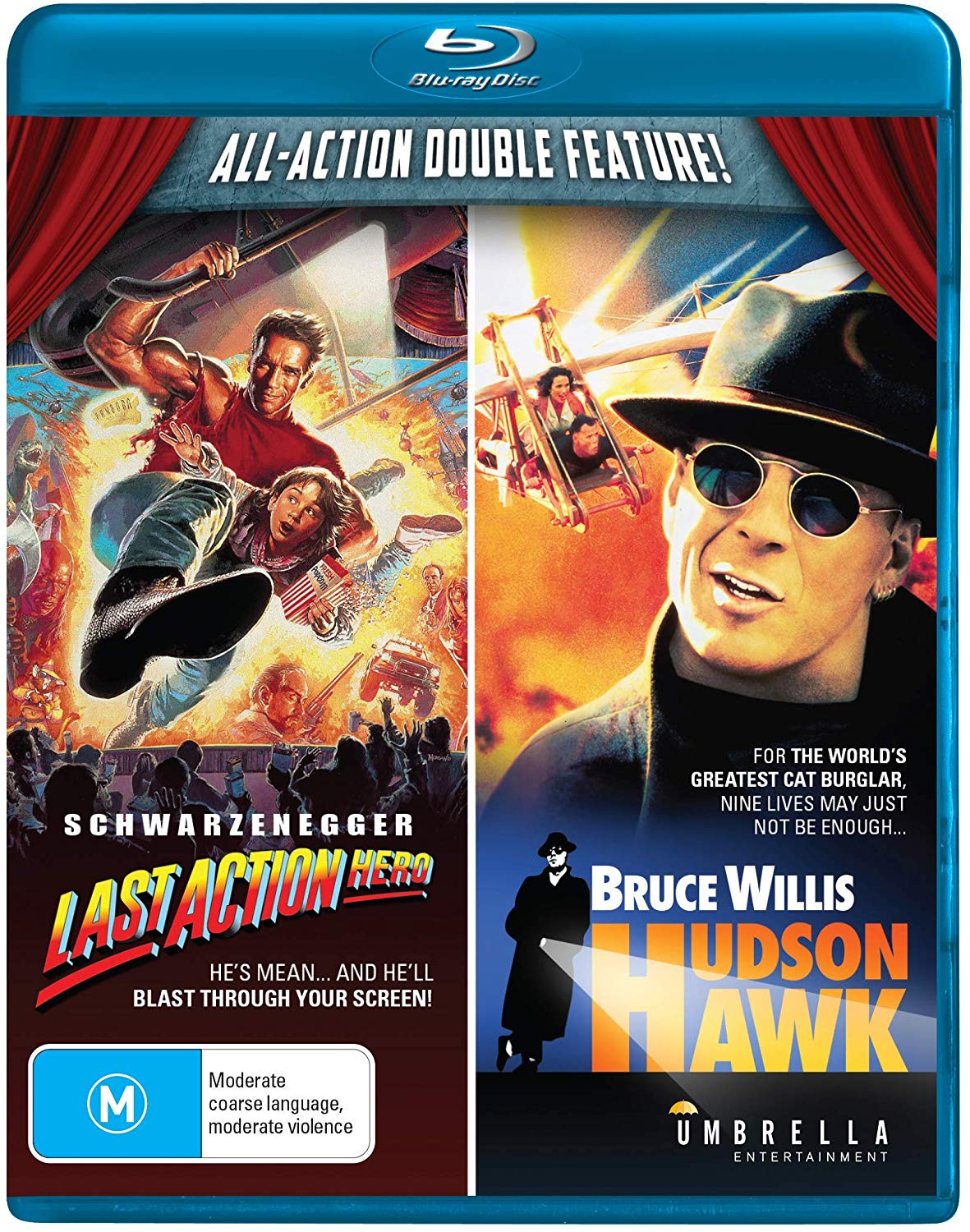 "Hudson Hawk" (1991)

Fresh out of a lengthy prison sentence, cat burglar Eddie "Hudson Hawk" Hawkins (played by Bruce Willis) is ready to lay low as a free man, but things don't particularly go his way. His old partner Tommy "Five-Tone" Messina (played by Danny Aiello) has a legitimate bar, but trouble comes with the Marios (played by Frank Stallone and Carmine Zozzora) who basically give Hudson no choice but to do a job stealing a priceless piece from an upcoming auction. Hudson and Tommy do the job like old times, with their signature way of timing out the process through songs - singing a tune which according to their rhythm should be entirely on cue to each other. But the job is much more complicated, as the millionaire heads of Mayflower Industries Darwin and Minerva Mayflower (played by Richard E. Grant and Sandra Bernhard) are involved in the acquisition, and secret agent Anna (played by Andie McDowell) is also on the case, making sure it doesn't fall into the wrong hands.

"Hudson Hawk" is a film that is all over the place, and that is not particularly a good thing. The comedy that it tries is on the eye rolling side that is never slapstick enough to be considered slapstick, not cerebral enough to be considered smart. The musical moments come so infrequently that it seems like just an excuse for Bruce Willis to show his love for singing, and not enough to call it a "musical". The action sequences are sometimes over the top, but not enough to be considered surprising or fantastic. The plot itself is convoluted, all over the place, and filled with slightly quirky characters that play more like a parody of spy films than an actual spy film. To say, the film is uniquely inconsistent throughout.

Bruce Willis and Robert Kraft penned the original story and adapted for screen by Steven E. de Souza and Daniel Waters, and the script does put the strengths of Willis at the forefront. The witty lines and deliveries as seen in his breakout film "Die Hard" and showcasing his singing skills as featured on his two solo albums "The Return of Bruno" from 1987 and "If It Don't Kill You, It Just Makes You Stronger" from 1989 which the first was a minor hit on the charts. While the comical aspect of Willis being able to deliver funny dialogue was quite on par, the singing aspect was far from perfect. Not to say he doesn't have skills on the microphone, but the idea of timing a robbery with music is a gimmicky idea that can work in a film like "Baby Driver", as the film is filled with excellent musical moments well paced and well timed. "Hudson Hawk" on the other hand has a few musical sections, but too few to even call them highlights. If the film itself was a musical, would it have helped? Possibly so. "Hudson Hawk - The Musical" actually sounds pretty enticing. With the slightly cartoonish humor, a burglar in the lead, quirky villains and henchmen, and an international rendezvous, there are quite a things "Hudson Hawk" has in common in the "Lupin the Third" series. If "Hudson Hawk" was entirely remade as a Lupin film with a few tweaks such as removing the song cues, having Annie as Fujiko, and having a sub story of the law enforcement on the case, it would make an excellent production. Even the final "flight" sequence is something that is not out of place in the Lupin world. But "Hudson Hawk" is no "Die Hard", no "Baby Driver", nor is it "Lupin the Third". It may have a lot going for it but so many marks are missed in the production. Questionable choices like calling the mafia boys the "Mario Brothers" and having the two disconnected Nintendo referencing lines in the beginning and end were bizarre. The Andie McDowell seduction sequence was uncomfortable considering her reveal, and the hitmen group named after candy bars were a fun group that was given not enough screen time.

Positives are thin, and to say the film is never boring, as there are things happening all the time. It jumps from point to point fairly quickly and even the chemistry and banter between Willis and Aiello is fun to hear. But even with those points it was not enough to make the film a hit. The $65 million budgeted film opened on May 24th, 1991 in the United States. It opened at #3 with $7 million behind "Backdraft" which opened on the same day and went to #1 and "What About Bob?" which was at second in its second weekend. "Hudson Hawk" went on to a final domestic gross of $17 million, not even close to reaching its production budget. A video game was also released on the NES, Amiga, Game Boy, and others and like the film was not a major hit. The film was also a "winner" of a number of top prizes at the Razzie Awards. Worst Picture, Worst Director, Worst Screenplay, Worst Actor, while also nominated for Worst Supporting Actor and Worst Supporting Actress. Though reviews were mostly negative, there were some positive reviews out there and a cult following for the film over the years on video and television, with Sony even giving it a fairly good special edition DVD treatment in 2007 with a load of nice special features.

In an odd pairing, Umbrella Entertainment presents the film as a double feature in the "Last Action Hero" / "Hudson Hawk" set on one disc, with neither film particularly sharing anything. None of the same main cast or crew, made in different years by different studios. Michael Kamen does contribute to the soundtracks of both films, but it's mentioned on the packaging in extremely tiny font in the credits.

Note this is a region ALL Blu-ray


Video


Umbrella Entertainment presents the film in the theatrical 1.85:1 aspect ratio in 1080p AVC MPEG-4. The HD transfer is quite good with bold and vibrant colors throughout, whether it is in sunny outdoors of Italy or in the darker night scenes indoors. There is a good amount of film grain visible, with little if no damage to the image in terms of cuts or debris in the frame. There are a few special effects sequences that are a bit on the weaker side due to the processing, but not a big distraction to the viewing. The film takes about 17GB of space on the 50GB disc which also shares its space with "Last Action Hero". The other film takes up a large 30GB of space being longer, while the shorter "Hudson Hawk" gets the smaller space, it doesn't seem to hinder much on the quality of the transfer.

The film's runtime is 99:53.

Audio


English DTS-HD Master Audio 2.0 stereo
The 2.0 lossless stereo track is fine, but nothing particularly exceptional. The music tracks are well balanced with the dialogue tracks, and the action sequences sound fair, but nothing to work out the home theater with. There is good separation with the stereo track and nothing sounds particularly gimmicky, but interesting that the film has always received a 2.0 track on DVD and Blu-ray over the years when it was released in theaters with a multi-channel surround track.

There are no subtitles for the film.

Extras


Unfortunately no extras for either film are offered. The menu has a choice of the two films and that's all there is. "Last Action Hero" had a vintage 6 minute featurette, AC/DC music video and the trailer as extras on many of its DVD releases, but none have been ported here. "Hudson Hawk" had a special edition DVD with a commentary, deleted scenes, featurettes and more but not carried over to this Blu-ray.

Packaging


The artwork is reversible, with the Australian rating logo removed on the other side. The packaging also states region B only, but is in fact region ALL. In addition, "Hudson Hawk" is stated with an aspect ratio of 1.77:1, but it is in fact 1.85:1.

Overall


"Hudson Hawk" was a mess of a comedy-action-musical film and failed to connect with a wide audience. Though it has a cult following, there are too many flaws that overtake the quirkiness of the piece. The Umbrella Entertainment Blu-ray transfer is great, but not porting over any of the special edition DVD extras is disappointing.
| | | | | |
| --- | --- | --- | --- | --- |
| The Film: D+ | Video: A- | Audio: B+ | Extras: F- | Overall: C- |