The Film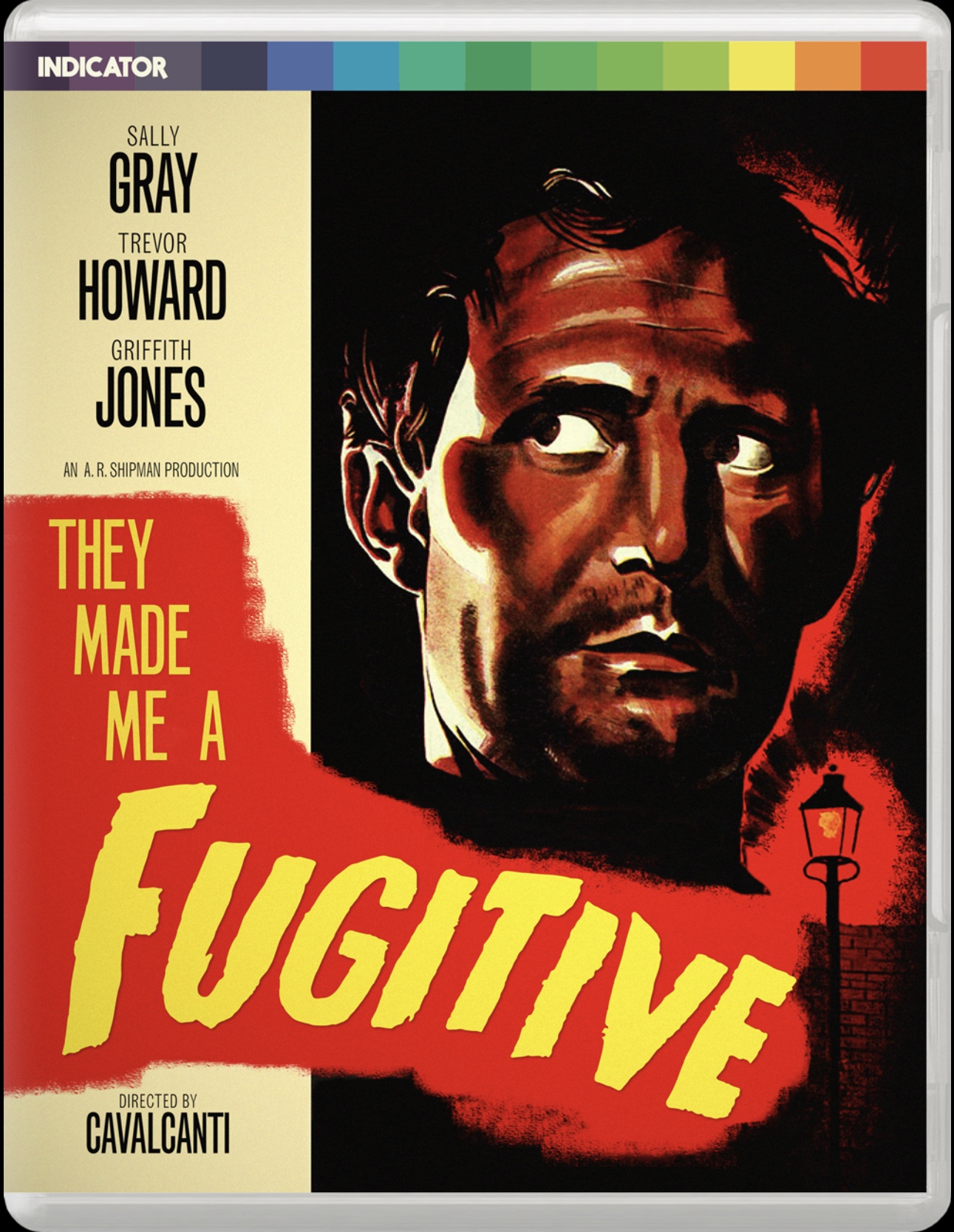 Directed by Alberto Cavalcanti (Went the Day Well?, Dead of Night), They Made Me a Fugitive is a prime example of British film noir.

Trevor Howard (Who?, The Missionary) plays Clem Morgan, an RAF officer during the war, now unemployed since demobilisation. Turning to the black market, he finds himself embroiled in a life of crime that will lead to prison, a daring escape, and a deadly manhunt.

Boasting striking cinematography by Otto Heller, whose later credits would include Michael Powell's Peeping Tom and classic Cold War thriller The Ipcress File, this UK Blu-ray premiere of They Made Me a Fugitive is accompanied by two rare short films, made during Howard's own time in the RAF during WWII, featuring his earliest known on-screen appearances.

Video


Solid, engrossing crime noir is beautifully made but follows a fairly predictable pattern. Still, fine entertainment even if the ending is glum. Howard is fine but Mary Merrill is especially noteworthy as an ageing moll. The story effectively builds to a splendid shootout cum fistfight climax that's as good as these things get.

A beautifully atmospheric '40s noir that's been given world class cinematography by the renowned Otto Heller so the production is a gift for the maestros behind this excellent BD edition.

You know the score with Powerhouse Films' releases by now!

A first rate handling of a superbly restored film (by the BFI) so there are no complaints. No gamma bias, no digital tinkering and no artefacts because the encode by David MacKenzie and Fidelity in Motion is world class ... as usual. The source is a gift so why would there be any issues?

I noticed a single short section of print damage and there I was thinking "oh no, a glitch in Powerhouse's superb track record!" But I declaimeth too soon! Watch the restoration featurette covered below in the extras and it was an intended bit of business by Cavalcanti, the sly old devil!

Anyway, back on track ....

Black levels are as velvety and as rich as black coffee and the contrast is supportive and layered. Detail is excellent along all focal planes although the grain and filmic softness must be taken into account. This new master uses the best possible surviving elements which are a second generation source with vintage 35mm as guidance.

The only way this could be improved would be if the OCN were to suddenly turn up but the second generation element used and the first rate handling down the line ensure that this deserves it's A+ status as is. I'm sure there'll be technically-minded perfectionists who'll knock it down a peg but my view is that this is as good as it's possible to be given the archival state of the materials.

1080/24p / MPEG-4 AVC / 1.37:1 / 100:52

Audio


English LPCM 1.0
Subtitles: English HoH

The sound is similarly robust but being a limited 1.0 track will have built in issues like a lack of range or depth. But, this is still presented here without any distortions or audible damage. Short of a whizz like Mark Ayres at the BBC getting his hands on it and turning a 1.0 into a 5.1 boost it's not going to get any better.

Powerhouse Films always provide excellent subtitles for the hearing impaired and they're present and correct here as well.

Extras


"The John Player Lecture with Alberto Cavalcanti: Introduced by Paul Rotha at the National Film Theatre, London 26 April 1970" plays as an alternate audio track over the film (62:14)

Royha provides and eloquent and interesting introduction to the venerable Brazilian-born film maker Cavalcanti; full name Alberto de Almeida Cavalcanti (1897-1982). During the Q&A section they're joined by producer Michael Balcon and filmmaker Basil wright. Cavalcanti starts off discussing the silent era and use of music and is a little rambling but topics covered include the changing shape of the screen, film vs TV and the later's influence of what films get made, cinema innovation, the films of his chosen for screening and most interesting the effect of how he feels TV will kill cinema. His English is halting so you'll need to have the sound up and your ears peeled; you may need to replay sections to fully get what he's saying.

"After Effects: Neil Sinyard on They Made Me a Fugitive" featurette (28:13)

Sinyard is an old hand at these things and he discusses on 1944-49 initially describing that period as UK film's finest years in which the Brits started to take the world by storm making many highly regarded classics. Topics covered are the Englishness of the films of that period, the spiv-noir cycle and the more controversial elements they contained (see No Orchids for Miss Blandish). Sinyard lays down the context for They Made Me a Fugitive and how it relates to other films like Brighton Rock and it's place in postwar UK; it's source was a popular book, how it was cut by twenty minutes and retitled more prosaically for the USA, screenwriter Noel Langley, the level of humour, Cavalcanti's career and and a detailed analysis of the film itself.

"About the Restoration Presented by Kieron Webb" featurette (13:20)

Webb is the Film Conservation Manager for the BFI National Archive and goes through the process of restoring a film like They Made Me a Fugitive. Most interesting is the perusal of vintage trade adds for footage length. Sadly, the OCN no longer exists anymore so existing 35mm prints are them compared side by side and second generations protection elements were used for the transfer. Interestingly the damage I mention above was baked into all prints at the time and thus was left in place because it may have actually been intended by Cavalcanti ... which is what Webb decided was the case. Excellent featurette.

They Made Me a Fugitive Image Gallery: Original Promotional Material (18 images)

Solid, if limited HD Still gallery.

"Squaring the Circle" 1941 short (first 11:54 are mute due to the soundtrack and screenplay being lost) (33:04)
"The Aircraft Rocket: Part 4, Tactics Section 2: Coastal" 1944 short (8:59)

A couple of wartime short films selected because of Trevor Howard's involvement; amongst his first known screen roles. Both are in HD with lossless LPCM sound. Sadly, the first 12 minutes of the longer one are mute with no subtitles because the soundtrack is lost and there are no existing scripts to supply dialogue. Both are RAF training films.

36-page booklet with a new essay by Nathalie Morris, extracts from Cavalcanti's Film and Reality, a 1970 article on Cavalcanti by Geoffrey Minish, an overview of contemporary critical responses, Anthony Nield on the wartime films of Trevor Howard, and film credits

The usual mini bible to accompany the film with new essay and plenty of vintage contextual material.

Packaging


The usual clear BD case used for all of Powerhouse Films' Indicator release limited editions.

Overall


A superb restoration of a lesser known 1940s British film noir with top notch picture and sound quality. The extras are fascinating and up to the usual high standard expected from Powerhouse Films; it never ceases to amaze me how consistently excellent Powerhouse Film's releases are in terms of transfers, mastering quality and added value. An essential, purchase for most film buffs.
| | | | | |
| --- | --- | --- | --- | --- |
| The Film: B | Video: A+ | Audio: A | Extras: A+ | Overall: A+ |