At War [Blu-ray]
Blu-ray ALL - America - Cinema Libre
Review written by and copyright: Eric Cotenas (29th October 2019).
The Film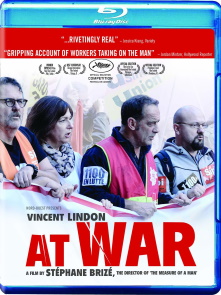 Palme d'Or : Stéphane Brizé (nominated) - Cannes Film Festival, 2018

In the French village of Agen, eleven hundred auto parts workers are on strike when Perrin Inudstrie is set to close its doors two years into a five year agreement to protect the workers' jobs if they took on extra hours in place of a pay raise. Closing the plant will lead to fifty percent unemployment for the town and the workers – lead by engineer Laurent Amédéo (Le Moustache's Vincent Lindon) – consider the severance package an insult, shooting down claims by the company accountants that the reason is due to competition rather than the shareholder profits and accusing Borderie (Jacques Borderie) as going back on his word as he claims that they are all in the same boat and that the decision to shut the plant and move jobs to Romania is the decision of the CEO of the German Dimke Group who own the Perrin plants in Agen and Montceau among hundreds of other companies. When the high court rules that it cannot intercede in the shutdown plans, Laurent and his followers question whether the government is responsible for protecting its constituents or answering to foreign investors. After the devastating ruling, the plant uses the police to break the blockade at the plant's entrance and some of the dissenting workers cross the picket line for need of a paycheck. Laurent and a faithful few remain dedicated to their cause, and get a boost when the Montceau plant workers storm the plant with them and shut it down again. A possible "highly-viable" buyout offer gives Laurent the footing to demand a meeting with CEO Hauser, and the workers grow increasingly frustrated by the various intermediaries in the company and even in the government who tell them first that Hauser is under no obligation to hear them, that he might consider the possibility of seeing them, and the various German experts who want to pick apart the buyout offer (which Laurent believes has less to do with its viability than a desire not to create more competition as they have blamed a "lack of competitiveness" as the reasons for the shutdown).

Opening with a quote from playwright Bertold Brecht that "those who fight may lose, but those who do not fight have already lost," At War is a bitter look at a labor situation all-too-common today in as manufacturing jobs once outsourced and then brought back to Western countries to bolster political and business posturing are once again being sent back or to countries whose flagging economies are starting to have more in common with so-called non-Western "Third World" countries; indeed, the film takes the film to the point where some have nothing to lose. Lindon is believably low-key as the sort of labor leader whose emerging charisma is that very thing that will not only make him a scapegoat when things go downhill (quite spectacularly in what is described within the film as "maelstrom of violence") and the potential delusions of martyrdom. The occasional lapses into lengthy dialogue-free sequences in which the score overwhelms the soundtrack are forgivable in light of how realistically the major sequences play out. The flip-flopping characters are certainly clichés within such narratives but just as believable in both their desires to come out of a losing situation even if it means assigning blame and denying their own prior support of Laurent when things he had leverage ("With guys like you, they have nothing to worry about," he says in the context of their crumbling movement to the comparative "solidarity" of the executives who may have their own differences but are unified when it comes to protecting their profit margin).

Video


Shot on the Arri Alexa Mini and distributed digitally, At War debuted on Blu-ray in France a few months ago from Diaphana and presumably a BD50 encode. Cinema Libre's single-layer 1080p24 MPEG-4 AVC 2.40:1 widescreen edition is a satisfactory rendition of a film that has a deliberately rough look with a contrasty image, handheld camerawork that even weaves slightly during static dialogue scenes, along with a few mobile phone inserts.

Audio


French Dolby Digital 5.1 and 2.0 stereo options are lossy but the soundtrack is not very demanding, consisting mainly of dialogue, location ambient sound, and the Tindersticks-esque scoring of Bertrand Blessing. The English subtitles are burnt-in and small while an optional caption track translates onscreen text and provides SDH notations.

Extras


There are no extras apart from the film's theatrical trailer (1:52) and start-up traielrs also accessible from the main menu.

Overall


At War is a bitter look at an all-too-common labor situation and its human fallout.

---
DVD Compare is a participant in the Amazon Services LLC Associates Program and the Amazon Europe S.a.r.l. Associates Programme, an affiliate advertising program designed to provide a means for sites to earn advertising fees by advertising and linking to amazon.co.uk, amazon.com, amazon.ca, amazon.fr, and amazon.de.