The Film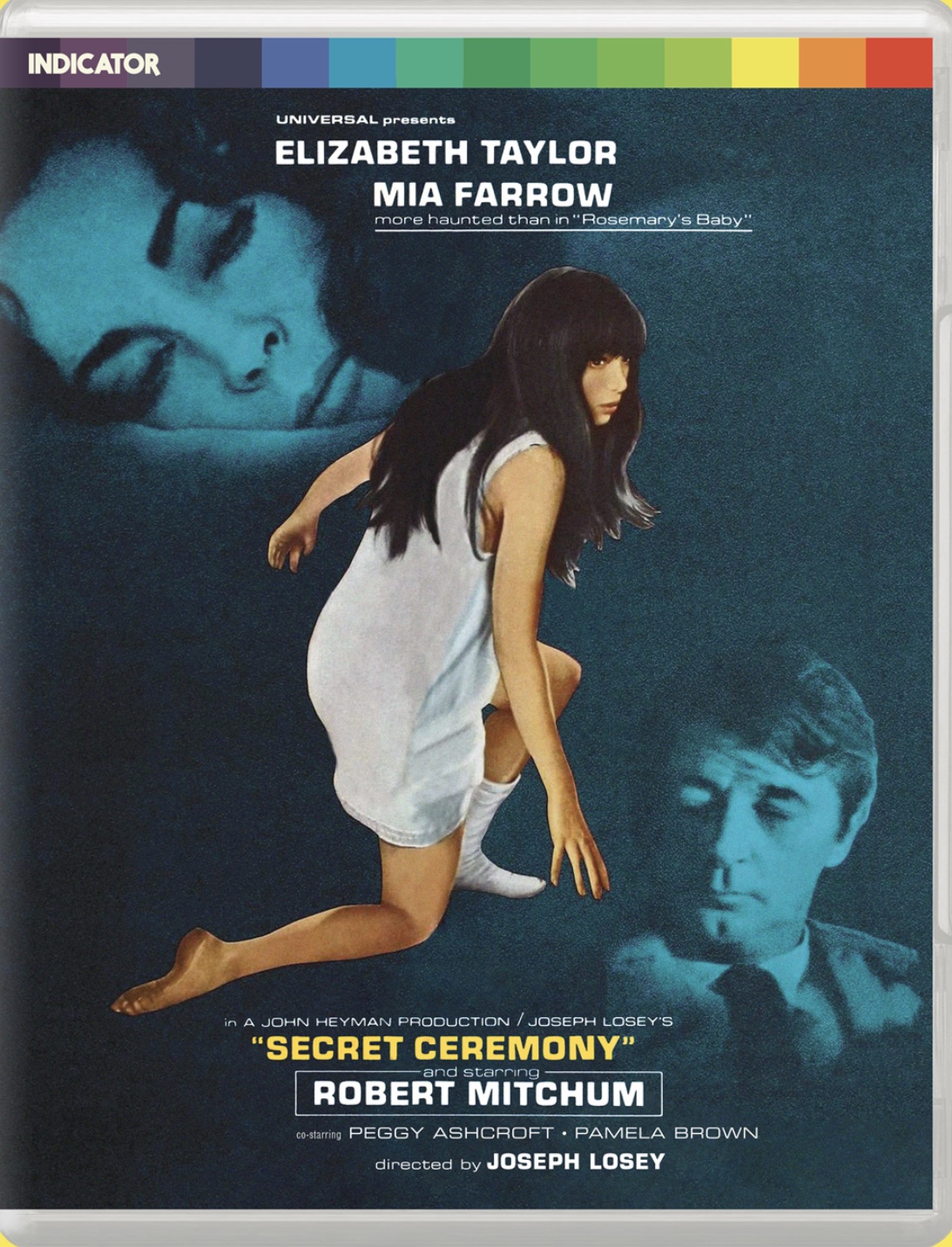 Limited Edition Blu-ray (World Blu-ray premiere)

Joseph Losey's lurid and often misunderstood drama stars the great Elizabeth Taylor (Suddenly, Last Summer) as an ageing London prostitute who befriends a young woman (Mia Farrow, See No Evil) that reminds her of her long-dead daughter. As the bizarre relationship between the two evolves, the appearance of Robert Mitchum (Cape Fear), as Farrow's abusive stepfather, ignites deep emotions and dark passions.

With its exquisite production design, stylish cinematography and elegant score, Joseph Losey's lost masterpiece finally makes its long-overdue premiere on Blu-ray.

Video


A woman shattered by the 1963 drowning of her daughter (Elizabeth Taylor) is approached by a very strange soul (Mia Farrow) who bears a striking resemblance to her daughter; funny thing is, her mother (who was the spit of Taylor) has also died.

They both start an odd relationship living in Farrow's massive house (she's a wealthy heiress) and her creepy family (Robert Mitchum, Peggy Ashcroft, Pamela Brown) start to show up and make life difficult.

A truly disturbing psychological drama about loss and abuse with knockout lead performances from Taylor and Farrow (didn't recognise her in her first scene) who play the strange emotional games well together. Mitchum turns in a subtly reptilian performance as as Farrow's former stepfather who's fancied her since her first met her age 11; another knockout performance to add to his rogues gallery.

An odd, creepy film that's well worth seeing and a bit of a forgotten minor gem.

The colour palette is strong favouring a naturalistic look but bright colours like red and purple (Taylor's outfits) stand out like a flame in the dark. Flesh tones are are also naturalistic and never angry orange or bleeding at the edges under scrutiny. The overall look favours greens, greys and blacks seemingly in order to enhance warmer elements like some of the clothes and skin.

Black levels are as is usual for Powerhouse Film's releases, expertly handled being velvety and with excellent shadow detail; no signs of unintended crush anywhere. Details all round are excellent with the usual upticks in quality benefitting facial closeups and fabric textures. Background detail is also very satisfactory which adds to the allure of looking at the late '60s London locations. The interior scenes in the wicked Aunt's shop is superb allowing greater appreciation of the art direction and display this fine transfer to it's greatest advantage.

Contrast is supportive of both detail and colours with equally fine handling of interiors and exteriors. I saw no signs of any print damage although there is the usual density changes at scene changes where image quality fluctuates due to optical fades etc.

All told this is an excellent transfer.

1080/24p / MPEG-4 AVC / 1.85:1 / 109:09

Audio


English LPCM 1.0
Subtitles: English HoH

Crisp, clear mono track with a certain amount of surprising depth considering it's age. Ambient noises come off well especially considering there's no surrounds. Silence is used very effectively as in the scene where Mitchum seduces and Farrow, but it's used throughout ... rather a quiet film. Base is satisfying when required usually in the few moments where the score raises it's game. Dialogue is preeminent and never interfered with by the mostly very low key score. No distortions or signs of age related wear.

Being a dialogue heavy piece subtitles are essential and comprehensive.

Extras


Audio commentary with Dean Brandum and Alexandra Heller-Nicholas

I'm not familiar with either of the commentators, both are Australian and both academics so there's a more intellectual approach ... albeit with plenty of humour. They kick off discussing the opening credits and it's colour values and how it was achieved. Most interesting is the information that the film exists in several different cuts; the TV version gets mentioned and the material is available on this disc. Losey's work is gone over and comparisons drawn between his films The Servant and Boom. Themes of doubling are discussed, locations, how Taylor came to this film via working on Boom; how some see the film as camp but the commentators see it more seriously being about mania with fairytale elements (I agree). Both are major fans of the film, Taylor and the Liz-ploitation films the star made around this period.

"Cinema Critique: Joseph Losey" 1968 featurette (15:03)

Vintage, B&W, French TV interview with Losey and separately, critic Michel Mourlet who focuses on Losey as an auteur. In French with optional subtitles and anyone speaking English has a French voiceover speaking over the top of them. Illustrated by clips from Secret Ceremony.

"The Beholder's Share: Gavrik Losey on Secret Ceremony" featurette (24:14)

The director's son reflects on his fathers life, work, specifically Secret Ceremony; he speaks with obvious love and passion.

TV Version: Additional Scenes (Play All - 17:36):
First Reel (8:10)
Last Reel (9:25)

Scenes added for the US network TV broadcast version in open matte 1.37:1 and HD. This was done to cover for edits made to the material for censorship to build the length up for a televised slot. None are essential, although all interesting they involve an American psychiatrist and a UK barrister discussing Taylor's character's state of mind and the forthcoming trial. They bookend the film.

Theatrical Trailer (2:02)

Standard promo piece that emphasises the stars and the dramatic tensions.

Trailers from Hell with Larry Karaszewski: Secret Ceremony (2:57)

Typically engaging précis by Karaszewski discussing why he finds the film an interesting failure.

Secret Ceremony Image Gallery: Original Promotional Material (138 images)

Extensive very satisfying HD gallery; much larger than usual.

40-page liner notes booklet with a new essay by Neil Sinyard, an archival location report, Joseph Losey on Secret Ceremony, a look at the source novella, an overview of contemporary reviews, and film credits

All hail the great god Powerhouse Films and their stupendous, engrossing booklets. The perfect hard copy companion to each film ... and this one is no exception!

Packaging


Standard, clear BD case.

Overall


Top notch image and sound are the big plusses of this release backed up by a sound extras package that is very solid if not quite as extensive as many other Powerhouse Films releases but what we do have is top drawer stuff. Yet another largely forgotten film gets uncovered and given the spotlight and it's a doosy! The film is one that plays on the mind and beckons more that one viewing.
| | | | | |
| --- | --- | --- | --- | --- |
| The Film: B | Video: A+ | Audio: A+ | Extras: A | Overall: A+ |