The Film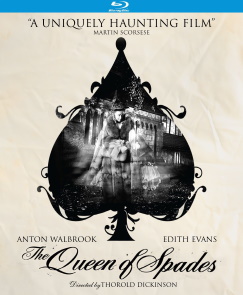 BAFTA Film Award Best British Film (winner) - BAFTA Awards, 1950
Grand Prize of the Festival: Thorold Dickinson (winner) - Cannes Film Festival, 1949

It is 1806 and the gambling craze Faro has spread to Russia, making and breaking fortunes among the soldier class who stand to lose anything from a month's pay to entire family legacies. Aristocratic officer Fyodor (Midnight Lace's Anthony Dawson) bristles at the seeming disapproving presence of engineer Herman Suvorin (The Red Shoes' Anton Walbrook) who is invited among the officer class by Fyodor's best friend Andrei (The Curse of the Mummy's Tomb's Ronald Howard) but never plays. Far from disapproving, Herman cannot afford to play, having a complex about money stemming from his more humble origins and living almost ascetically rather than risk his considerable savings. On one such occasion, a drunken Fyodor boasts of the legend of his grandmother Countess Ranevskaya (The Whisperers' Edith Evans) who was rumored to have sold her soul to learn the secret of the cards as young woman winning at the tables in what was traditionally a man's game. The story sticks in Herman's mind the next day as he wanders into a bookshop and is drawn to an occult volume about personages who had struck Satanic bargains with one Count de Saint Germain, particularly the story of a Countess R. who took desperate measures when her lover made off with the entirety of her husband's regiment's payroll. Desperate to gain access to Countess' residence and learn from her the secret of the cards, Herman sees his opportunity in courting her young companion Lizaveta (Crucible of Horror's Yvonne Mitchell). Already miserable because of the Countess' constant accusations about and insinuations about her supposed promiscuity, Lizaveta is vulnerable to Herman's attentions even if they are solely in the form of letters snuck into the house by the kindly housekeeper Varvarushka. Having met and become infatuated by Lizaveta himself while on a visit with Fyodor to his grandmother, Andrei spies an assignation between Lizaveta and Herman in the flesh and realizes that he has unknowingly assisted Herman in his "cold-blooded seduction" but his attempts to warn Lizaveta are perceived by her as a dishonorable besmirching of a fellow officer out of jealousy. When Herman is able to gain entrance into the Countess' bedchamber, he implores her to give him the secret of the cards which she has been sworn to keep secret, even willing to take her own sins upon himself and risk damnation should he fail to hold up his end of the bargain.

An adaptation of the Alexander Pushkin short story, The Queen of Hearts is regarded as one of Britain's classic ghost stories on film, still very much rooted in human psychology as the later The Innocents (whose director Jack Clayton serves here as associate producer) even though the supernatural is less ambiguous. While Herman rightfully believes that his prospects as an officer are less than those from wealthy families, this is no tale of love thwarted by social superiors casting Herman as the hero nor does the film ascribe moral authority to other characters based solely on their class status. The film does indeed establish Herman as a cold-blooded individual who abstains from gambling only because he lacks the advantage and he is not compelled or manipulated towards his fate by circumstance or malefic influences but by his own ruthless ambition which has him manipulating his only friend for the means to woo a young woman naïve enough to feel complicit in crime of which she had no prior knowledge (if only out of devastation upon discovering she has been used). While the supernatural does manifest itself in providing Herman with the secret of the cards to the protagonist, it remains uncertain as to whether it is actually instrumental in effecting the climax or his own mind after failing to fulfill the Countess' request despite a more overt spectral manifestation. The supporting cast features Valentine Dyall (The Haunting) as the Count de Saint German's sinister envoi, Miles Malleson (Brides of Dracula) whose voice rather than his face is more recognizable this time around as Herman's solicitor, Michael Medwin (Night Must Fall) as one of Fyodor's more thick cronies, and Helen Christie (Lust for a Vampire) as the young Countess in an extended flashback that is almost a self-contained short fantasy film in itself. Director Thorold Dickinson had already directed Walbrook in the 1940 version of Gaslight and had along with cinematographer Otto Heller (The Ladykillers) a handful of Ealing Studio efforts ahead of him.

Video


Released theatrically in the United States by Monogram Pictures, The Queen of Spades was released on VHS by HBO (who had by then joined up with EMI stateside) in the eighties before the Associated British-Pathé titles became part of the Studio Canal library and it was licensed to Anchor Bay for in 2003 in a fitting double bill with Ealing Studios' anthology Dead of Night. Derived from a joint venture restoration of Studio Canal and the British Film Institute, Kino Lorber's 1080p24 MPEG-4 AVC 1.33:1 pillarboxed fullscreen Blu-ray is not pristine, with its share of scratches and shot change jitter, but there is a considerable leap in detail and depth in ways that suggest that some of the softer shots are deliberate stylistic choices rather than degradation.

Audio


The sole audio option is a DTS-HD Master Audio 2.0 mono track in which the careful digital cleanup greatly aides the conveyance of depth in the scoring of Georges Auric (The Mind Benders) and the cutting nature of Walbrook's icy delivery. Optional English SDH subtitles are included.

Extras


Extras start off with an audio commentary by film critic Nick Pinkerton who argues that the British film feels more continental than most of its ilk owing not so much to the source and setting as the major collaborators behind and in front of the camera, provides some information on the Pushkin story, the realization of nineteenth century Russia on British sound stages, and production information; but most informative is his setting of the cultural context of the Napoleonic Wars and the influence of it on the protagonist. Also included is an introduction by filmmaker Martin Scorsese (1:24) in which he describes the film as "the first real classic of supernatural cinema" and marvels over the assuredness of Dickinson's handling coming onto the film on short notice. Dickinson himself is heard in two audio interviews – a 1951 audio interview with director Thorold Dickinson at the British Federation of Film Societies (17:47) and a 1968 audio screening introduction by director Thorold Dickinson (14:29) – in which he skirts the reasons for him replacing original director but attributes the Russian look and feel of the film to producer Anatole de Grunwald (Innocents in Paris), the visuals to Heller, the notoriety of singer Maroussia Dimitrevitch, Walbrook's help in guiding Evans and Mitchell in their first films (sound film in the case of Evans), and the process of rewriting the script as they were shooting. There is also an An Analysis by film critic/author Philip Horne (19:31) who provides more background on Dickinson's storied career as an editor, the beginnings of his career in film with George Pearson (The Little People), and the poor luck as a director with British National Film selling the rights to Gaslight to MGM for the George Cukor version with the contract stipulation that all prints of the British version be destroyed (Dickinson managed to save prints of his "calling card" film but was barred from showing it). He goes into more detail about the co-writer Rodney Ackland (Number 17) being set to direct the film but departing after quarrels with de Grunwald, Dickinson's activities in the five days of preparation before shooting, his encyclopedic knowledge of world film as programmer of the National Film Theatre, and his subsequent activities including chief of film production for the United Nations and teaching filmmaking at London's state school. The disc also includes the film's theatrical trailer (2:50) and bonus trailers.

Overall


Kino Lorber's Blu-ray of The Queen of Spades gives viewers the chance to assess Scorcese's lauding the film as "the first real classic of supernatural cinema."