The Film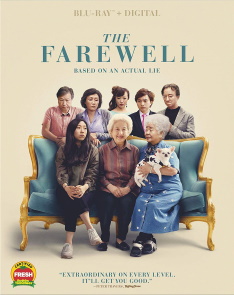 Billi (singer Awkwafina) is a thirty-year old Chinese-American writer living in New York who is currently down on her luck. She has been rejected for a prestigious fellowship, she is months behind on the rent, and her relationship with her parents is strained to say the least. She seems to confide in her father Haiyan (Arrival's Tzi Ma) but her critical mother Jian (The Family Law's Diana Lin) is able to surmise more about her daughter's life than Billi willing to tell her. Secrecy goes both ways, as Billi discovers that her father's withdrawn mood of late stems from the knowledge that his mother Nai Nai (Shuzhen Zhao) has been diagnosed with terminal lung cancer and the prognosis is that she only has a few more months to live. Billi is hurt that her beloved grandmother never mentioned it in their frequent phone calls – although we see that she tells her grandmother about as much as she does her father – until her parents reveal that Nai Nai does not know that she is sick; the diagnosis having been kept from her by her sister "Little Nai Nai" (Hong Lu), and that the sudden trip her parents are taking to China for the wedding of her cousin Hao Hao (Han Chen) – the son of her uncle Haibin (Yongbo Jiang) who emigrated to Japan – is a pretense for a reunion for the family to spend one last time with Nai Nai; a reunion that her parents would rather Billi not attend out of the fear that she would not be able to restrain her emotions. Billi is incredulous that the family would believe that Nai Nai does not have the right to know that she is dying, but her mother explains that the lie is for her benefit and not at all uncommon because of the belief that it is not the cancer but fear that kills. Billi goes against her parents' wishes and maxes out her credit card to fly to China, throwing the family into a panic when she arrives despite the oblivious happiness of Nai Nai at her arrival. Billi does indeed find it difficult to enjoy her time with her grandmother who busies herself with the wedding plans despite her seeming disapproval of the union, not realizing that the real reason for the discomfort of her grandson and his Japanese fiancée Aiko (Aoi Mizuhara) who have only known each other for a few months, and dotes on Billi and her father. Billi is frustrated with her mother for whom a display of emotion seems completely alien; and indeed, she starts to see the cracks in the happy facades of her other relatives even as they reiterate to her the importance of maintaining the lie for the benefit of Nai Nai.

"Based on an actual lie," as the promotional materials proclaim, The Farewell is derived from the experience of feature debut writer/director Lulu Wang who first shared the story on the Chicago talk radio/podcast show This American Life. Although the film was unfortunately overshadowed by singer Awkwafina's other recent star venture Crazy Rich Asians, the independently-produced, A24-distributed film first attracted attention from stories about the difficulty of finding American producers who thought the story was not universal enough and insisted on adding prominent white characters and Chinese producers who thought the story too "American." The film, uncompromised in this respect, manages to appeal universally in its cultural specificity due to the outsider/insider status of Wang's stand-in protagonist, the director's stated continuing ambivalence about the lie, and her nuanced portrayals of the characters' relatives who impart a view of individual identity as part of a whole that Billi does not recognize and believes was lost when her parents moved to the United States (there is also a mention of a dead childhood relative, possibly a sibling, who her parents seemed to have erased from memory with Billi not even allowed to miss school to go to the funeral). When she tells her mother that she wants to stay behind to take care of Nai Nai, it almost seems as if she is running from her life back home in light of the lost fellowship – her mother derides Billi's decision not in terms of emotional support but her inability to cook or clean – and she feels even less accomplished as she learns that Nai Nai had a storied life before and apart from being her beloved grandmother (there even intimations of a past "casual" relationship with her roommate Mr. Lai who wanders through the picture seemingly oblivious or just accepting of the emotional turmoil). The cliché moral of the film stated in the dialogue seems at first quite apart from the film's central question of the lie but seems quite appropriate in retrospect as to both Nai Nai's outlook on life and Billi's own doubts about the direction of her own. Performances are deliberately understated but quite effective and even moving – with Lin a particular standout with a wonderfully measured passive-aggressiveness that attempts to mask more resentments than it reveals – seeming to blend the acting styles of professional actors with non-actors like Wang's great aunt as Nai Nai's younger sister. The end result is one of the more deserving releases of A24, a company whose "elevated" output does not always live up to the hype.

Video


Lionsgate's 1080p24 MPEG-4 AVC 2.40:1 widescreen Blu-ray of this Arri Alexa-photographed film is excellent as expected, delivering a palette that contrasts an overcast New York and its dark, warm interiors with a Chinese day and night exteriors spiked with saturated colors in architecture and neon while the flourescent interiors are cooler and more evenly lit (Wang explains the cultural reasons behind this choice on the commentary track).

Audio


The sole audio option is a DTS-HD Master Audio 5.1 track in which Chinese dialogue is subtitled with burnt-in subtitles on the image while the rest of the dialogue, music, and effects notations are transribed with English SDH subtitles. The dialogue-heavy film is front-oriented throught dialogue scenes but the surrounds are used for music, city atmosphere, and it seems like even some of Nai Nai's tai chi shouts reach the rear channels. Optional Spanish subtitles are also available.

Extras


Extras start with an audio commentary by writer/director Lulu Wang and director of photography Anna Franquesa-Solano, an engaging discussion in which Wang reveals that she learned to make films by listening to audio commentaries and hopes to return the favor here. The pair discuss attempts to create both visual contrasts between the New York and China settings while also creating visual links in cuts between the two locations, as well as the visual choices made to introduce "the lie as a character." They also provide some technical information on staging, including blocking scenes with iPhone photographs and the challenges to direct the actors to hit their marks for the sake of stylistic camera moves rather than the dramatic beats of the scenes. The discussion continues in "Nothing But the Truth: Confessions of a Writer/Director" (15:31) in which Wang explains that the lie is not at all uncommon in China and that she has learned since the film's release that its common in other countries around the world, proving that there is some universality in the specificity of the film's story. In "Going Home: A Conversation with Awkwafina" (8:51), the Queens-raised actress discusses learning Mandarin for the role and reflects on her own views about the lie. Also included are a pair of deleted scenes including some additional humor and a scene that foregrounds Jian that is nice but probably would have affected the rhythm of the film. There are no trailers or start-up material.

Packaging


The disc comes with a slipcover and a digital copy code.

Overall


Emotionally-nuanced and sometimes funny, The Farewell is one of the more deserving releases of A24, a company whose "elevated" output does not always live up to the hype.