The Film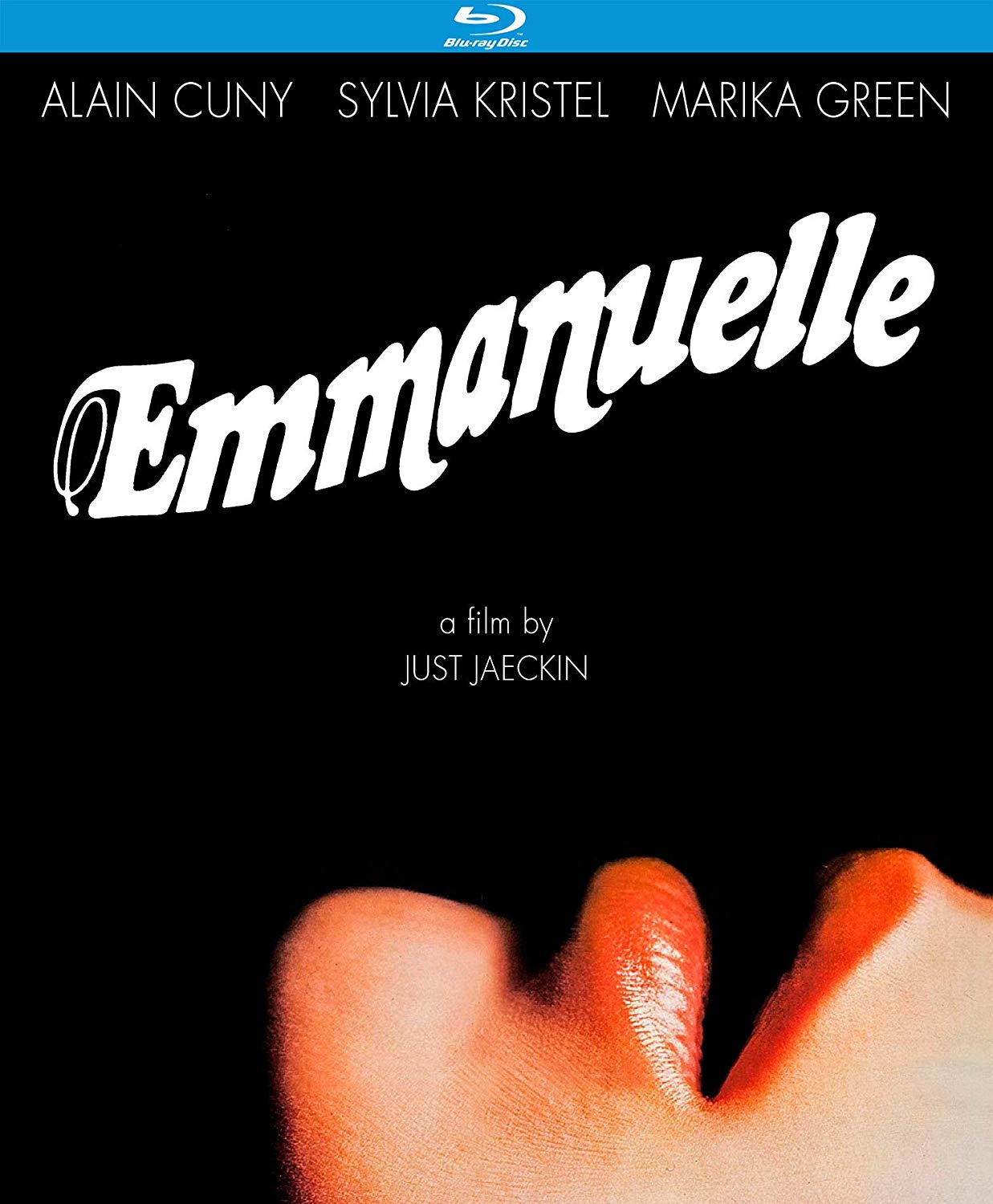 Ah, "Emmanuelle", the mere mention of that name transports me back in time when I was but a teenager and this cinematic gem made its rounds. I can recall seeing the ads for such films as this in the Philadelphia Enquirer when I was ogling the film ads looking for horror films and other interesting tidbits that were playing in the big city. This was years before the joys of cable television, Cinemax and other venues of ill-gotten thrills were difficult to come by and required setting the alarm clock to get up in the middle of the night to try and watch some scrambled channel that was unwatchable nonetheless. Back in the 70's, sex still sold and it was something that occupied almost all of my waking hours. Films like "Emmanuelle", "The Story of O" (1975) and Penthouse magazine all are mashed together in a feverish vision of illicit pleasures. Ask any male whose adolescence corresponded with the 70's and if they are honest, they will tell you that it was truly an age of sneaking glimpses at the female form in anyway, shape or form. So it is with an odd somewhat guilt ridden feeling that I present this review for your enjoyment.

Originally given an "X" rating, the film was based on the bestselling novel by Emmanuelle Arsan, entitled "Emmanuelle: The Joys of a Woman." The story is about a young woman named Emmanuelle (Sylvia Kristel), who is recently married to Jean (Daniel Sarky) a diplomat that is stationed in Thailand; Jean is one of those new modern thinkers and he encourages his wife to embrace life and to experience love in all of its forms. It appears that there isn't much more to life in Bangkok than to lounge about near the pool and gossip about sex or that is what the other ambassador's wives do. Every woman in the film is apparently bisexual and has no inhibitions as clothes are frequently shed without so much as a word. Emmanuelle who is a tad naïve soon befriends Marie-Ange (Christine Boisson) a woman that looks like she is no more than sixteen and is fond of compulsive masturbation when the mood strikes her. Within this group of women, Emmanuelle encounters an older woman named Ariane (Jeanne Colletin) who wastes no time in getting our heroine out of her clothes after an energetic game of squash. At a party, Marie-Ange encourages Emmanuelle to have an affair with Mario (Alain Cuny) an older man with quite the reputation amongst the ladies. Instead Emmanuelle seeks out the companionship of Bee (Marika Green), a career oriented archeologist. The two have a brisk affair and Emmanuelle gets her heart broken for her trouble. Mario doesn't accept no for an answer and asks Emmanuelle to dine with him. Mario likes to talk about the philosophy of sex: he describes himself as a collector of experiences. "Couples should be outlawed. A third party should always be involved." Apparently Jean has seen fit that Mario is to be Emmanuelle's tour guide on her erotic journey to complete womanhood. Mario is ultimately a voyeur and he introduces Emmanuelle to a wide variety of sexual experiences: threesomes, opium smoking, nothing is taboo in his book. The film ends on a strange note as Mario refuses to make love to Emmanuelle and he cryptically answers "that he wants the Emmanuelle that has not been revealed yet." Emmanuelle wearing a feathered boa looks into a vanity mirror and tarts herself up good with plenty of war paint. She looks languidly into the camera and the credits roll.

French distributor Studio Canal has decided to bring all three Emmanuelle films out of cold storage and began re-distributing them for home viewing and the collector's market. There is no doubt that this is an adult oriented product with its soft-core production values, it resembles something out of Penthouse magazine with plenty of Vaseline on the lens. There is assorted sex scenes featured, some of them better than others, the scene where Emmanuelle is raped by the winner of the boxing match felt gratuitous and completely unnecessary. This leads us to put "Emmanuelle" in perspective:

During the 70's things were gradually heating up, with censorship coming to the forefront and audiences expecting more and more nudity and additionally relaxed standards. With the film "Last Tango in Paris" (1972) starring Marlon Brando and directed by filmmaker Bernardo Bertolucci and receiving an "X" rating, the door was opened for hardcore pornography to become popular with regular film going audiences. "Deep Throat" hit New York in 1972 which was two years prior to "Emmanuelle" unveiling in Paris in 1974 with the film selling a reported 8.89 million tickets. "Emmanuelle" was not hardcore, and was marketed as a classier type of production with the ad campaign stating "X was never like this." The film was distributed in the US by Columbia Pictures as their first "X" rated film and appealed to a couples market. This was the beginning of the "porno chic" aesthetic with long lines forming around the block and the film reportedly taking in an excess of $11.5 million. Yes, there was gold in them thar alley's. The critic's weren't exactly kind to the film either with Variety describing Just Jaeckin's direction as "a bit pompous." But it didn't matter, sex was on the big screen and it was here to stay.

Video


Presented in the film's original theatrical ratio of 1.66:1 mastered in HD 1080p 24/fps and created using AVC MPEG-4 compression, taken on its merits alone, the cinematography by Richard Suzuki is very well done and tastefully done. The exotic settings and the outdoor scenes are presentable and the close ups of Sylvia Kristel capture her natural beauty well.

Audio


There are two choices for the audio tracks: a French DTS-HD Master Audio 2.0 mono and an English DTS-HD Master Audio 2.0 mono with optional English subtitles for the French track. I watched with the French track and the sound was well represented. The soundtrack was supplied by Pierre Bachelet, a popular French singer, is notable and works well with the visuals.

Extras


Kino, of course, gives you your money's worth with these additional special features:

"Talking About Emmanuelle" (17:00) featurette is an interview with director Just Jaeckin and producer Yves Rousset-Rouard talking about obtaining the rights to the novel and striking it rich at the right time. This was originally produced by David Gregory for Anchor Bay Entertainment. In French and English with optional English subtitles where necessary.

"The Joys of Emmanuelle: Part I" (32:00) is a featurette involving Sylvia Kristel, director Just Jaeckin and producer Yves Rousset-Rouard. The participants discuss the film, the development of the main character and what their goals were. In French with optional English subtitles.

There are a collection of vintage theatrical trailers for:

- "Emmanuelle" (2:26)
- "Emmanuelle 2" (2:18)
- "Goodbye Emmanuelle" (2:20)

Packaging


Packaged in a standard Blu-ray keep case.

Overall


As a dated curiosity from the early 70's this was an interesting snapshot of the times. There is a lot of talk about the idea of what making love is all about, but it certainly seemed to me that this was more a story for the male consumer than the female counterpart. I found that after the initial thrill wore off that the film became somewhat repetitious and ultimately boring.
| | | | | |
| --- | --- | --- | --- | --- |
| The Film: B+ | Video: A | Audio: A | Extras: A | Overall: A- |