Emmanuelle 2 [Blu-ray]
Blu-ray A - America - Kino Lorber
Review written by and copyright: Robert Segedy (16th November 2019).
The Film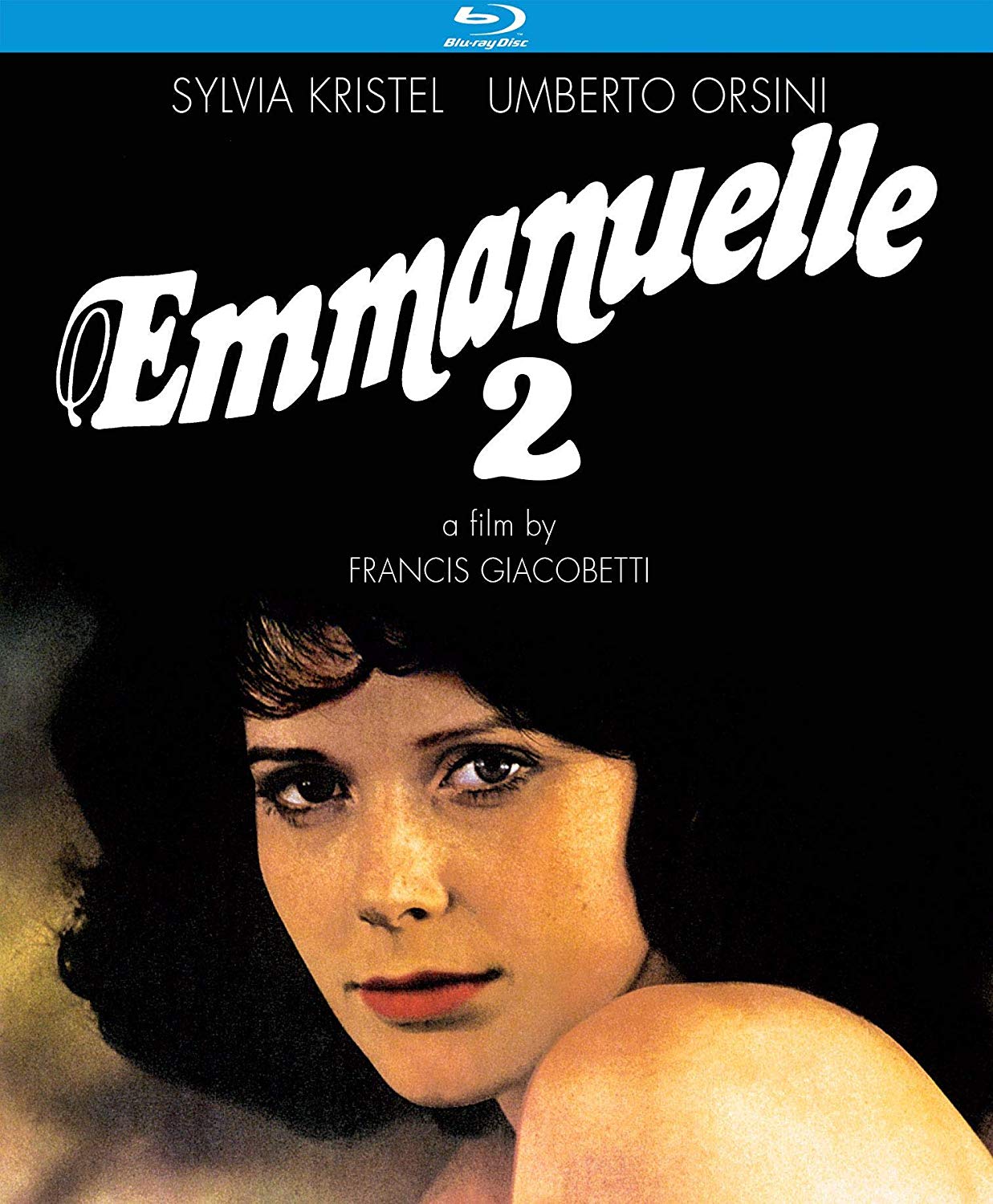 The original star of "Emmanuelle" (1974) is back at it again in the sequel and Sylvia Kristel is up for many more adventures of the same ilk as she had in the first film. Emmanuelle is on board a ship headed for Hong Kong after a two month separation from her husband Jean (Umberto Orsini) and she is raring to go. Finding herself assigned to a crowded cabin of women instead of a single cabin like she had paid for, Emmanuelle is cranky and upset. Turns out that the lady in the next bed had the same misfortune that she did and soon these two will be better acquaintances. Woken in the middle of the night by her cabin mate, Emmanuelle asks the woman what is wrong. The woman then confesses a story of how she was raped by three Asian women and that she lost her virginity that way. Various steamy scenes are intermittently spliced into the flashback and later on we are told that the story was merely a means of capturing Emmanuelle's interest. Yeah, that old chestnut, never works for me as a come on line. As in the first film, Emmanuelle will disrobe at the drop of a hat and enjoys the company of both men and women.

Upon docking in Hong Kong Emmanuelle travels to find her beloved Jean, only to walk in on him receiving a hot shave from his servant girl Wong (Claire Richard). Ah, the life of a diplomat! Jean and Emmanuelle get reacquainted again and they make the acquaintance of Anna Marie (Catherine Rivet) who is the stepdaughter of one of Jean's recent conquests. Emmanuelle is intrigued by the virginal girl and makes it her business to deflower her; plus she couldn't help but notice that Jean is fond of the young girl as well. You know what that means! The rest of the film is filled with various situations that Emmanuelle finds herself in: she has sex with Anna Marie's dance instructor, has sex with a tattooed polo player in the dressing room of the club, and the highlight of the film is an acupuncture experience that is highly questionable in its integrity. Well after all that activity, our heroine is all worn out; that situation calls for is a trip to the local bathhouse where Jean and Anna Marie are massaged and rinsed by three naked women. I couldn't help but think of how these sex workers must really feel working to make a living while pleasuring these three Europeans. Of course, reality never enters this ongoing film fantasy as Jean tells Anna Marie that there is no harm in sex; it is love that is dangerous. Yes, this was made in 1975 and Aids and other diseases weren't common knowledge yet, but that landscape would quickly turn sour and fatal. Note to viewers: one of the masseuse's would turn out to be Laura Gemser, star of "Emanuelle in Bangkok" (1976) and several other sequels. Note that Gemser's character spells her name with only one "M" to avoid confusion. The film climaxes with a quick jaunt to Bali where the trio finally get to share the young Anna Marie in the sack.

The second film is a bit stronger in terms of plot lines and the relationship between Emmanuelle and Anna Marie seems to be authentic. Overall the direction appears to be a tad stronger and Francis Giacobetti keeps things on track and moving along. This was the 70's and this was a lush sequel with plenty of exotic locales, hot looking babes showing plenty of skin, and an actual storyline. Sure it is nothing more than eye candy, but this is a time trip that some will delight in taking.

Video


The film is presented in 1080p 24/fps high definition framed at 2.35.1 widescreen and mastered using AVC MPEG-4 compression and looked very good to me. The cinematography is well presented in this edition and the color palette is balanced with strong blacks and very little sign of age.

Audio


Two audio tracks are included in French DTS-HD Master Audio 2.0 mono and English DTS-HD Master Audio 2.0 mono, the sound levels are fine with a complete lack of hiss or distortion. The soundtrack as mentioned is very good and doesn't distract from the visuals. Optional subtitles are included in English.

Extras


We are presented with the featurette "The Joys of Emmanuelle: Part 2" (9:48) which stars Sylvia Kristel and producer Yves Rousset-Rouard. The two discuss the follow up film and other matters including the many sequels that were spawned from the original film.

There are a collection of six 30 second vintage radio spots.

The disc also includes the "U.S." theatrical trailer (1:31), the film's "International" theatrical trailer (2:18), and the film's original teaser trailer (0:50).

Bonus trailers are included for:

- "Emmanuelle" (2:26).
- "Goodbye Emmanuelle" (2:20).

Packaging


Packaged in a standard Blu-ray keep case.

Overall


I am giving this film a slightly higher grade than the original for the fact that the film moves along swiftly and the soundtrack by Frances Lai is better utilized in helping establish the mood for our busy heroine as she makes the rounds.
| | | | | |
| --- | --- | --- | --- | --- |
| The Film: A | Video: A | Audio: A | Extras: A | Overall: A |

---
DVD Compare is a participant in the Amazon Services LLC Associates Program and the Amazon Europe S.a.r.l. Associates Programme, an affiliate advertising program designed to provide a means for sites to earn advertising fees by advertising and linking to amazon.co.uk, amazon.com, amazon.ca, amazon.fr, and amazon.de.