Goodbye Emmanuelle [Blu-ray]
Blu-ray A - America - Kino Lorber
Review written by and copyright: Robert Segedy (16th November 2019).
The Film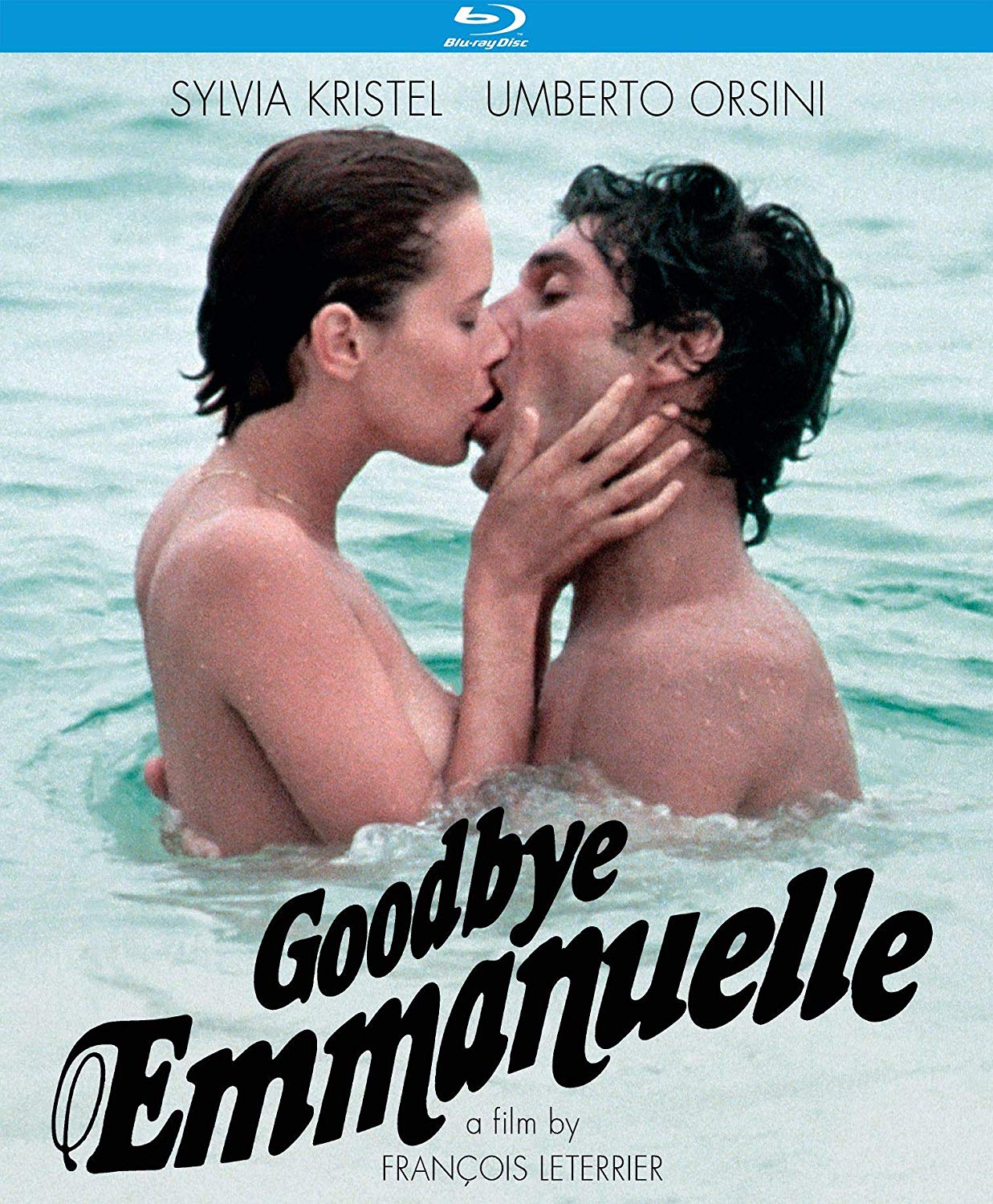 "Goodbye Emmanuelle" picks up two years after the events in "Emmanuelle 2" (1975) and this time we are in beautiful Seychelles, and Emmanuelle (Sylvia Kristel) and her husband Jean (Umberto Orsin) are still up to their old tricks. They still enjoy other people in bed but their relationship still seems to be going strong.

Things are about to change when a new stranger enters their relaxed lives: the stranger is a young film director named Gregory (Jean-Pierre Bouvier) and Emmanuelle feels an immediate attraction to him. The two hook up but they have a rocky start and he sort of treats Emmanuelle like a whore, even offering her money which merely insults Emmanuelle. She gets dressed and leaves him to his own devices. But there is something about Gregory that Emmanuelle can't leave alone and days later she spies him with another woman and jealousy strikes. Intrigued by this new emotion, Emmanuelle starts asking around about the other woman and later she is invited to the house to have dinner.

I was surprised by the direction that this third installment was pursuing and actually felt intrigued that there might be more to offer than blatant displays of skin. Jean then gets a load of what his formerly free minded wife has in mind and he too is struck by the power of Emmanuelle's yearning for another man and for once he acts like a human. This film actually starts to examine the other side of the coin in terms of the free love situation and even though there are no acknowledgements of disease and death, jealousy and possession become subtopics of discussion. This feeling is evident where Gregory and Emmanuelle meet an older man who tells them a horrid story of his wife being consumed by a shark while he watched helplessly. In reality, it turns out that the woman was rather loose and ended up running away with another man. The fact that this man prefers to recall a fictional story about his missing wife than face the truth is a disturbing fact and indicts that the series had run its course.

There are still plenty of couplings happening during the film, but somehow the steam has been let out of the engine as the action seems rather mechanical and lifeless. Emmanuelle seems rather distant and otherwise uninvolved, but this could have been at the director's urgings. I guess that this may pass for the character having matured and finally decides to listen to her heart instead of the nattering of her husband and his pals. As the story wanders along, we are presented with some very beautiful shots of the coast and the beaches; the cinematography by Jean Badal is very effective and the locations look amazing. In the end, Emmanuelle wises up and leaves her husband and no one should be surprised by that disclosure. As Emmanuelle gets ready to board a plane that will take her to Paris where Gregory awaits, the soundtrack by French pop star Serge Gainsbourg plays and that song is "Goodbye Emmanuelle". The screen darkens and the credits roll.

Video


Presented in widescreen 2.35:1 HD 1080p 24/fps mastered in AVC MPEG-4 compression. The film looks pretty nice, but there are moments when the master reveals flaws in its picture quality. The outdoor scenes are rather well done and the locations were well selected. For a skin flick this was an overall quality production.

Audio


Two audio tracks are included in French DTS-HD Master Audio 2.0 mono and an English DTS-HD Master Audio 2.0 mono options, I prefer watching the film with its original French track because it just seems more authentic. The English dubbing always bothers me and makes me feel like I am watching some trashy European junk. Some people may dig the Serge Gainsbourg sound, but not I. Goodbye Emmanuelle indeed. Optional subtitles are included in English.

Extras


Kino continues to give you more bang for your buck and collectors will rejoice at the issue of this trilogy on Blu-ray. Continuing the series of featurettes is "The Joys of Emmanuelle: Part 3" (9:00) the continuing saga continues; the conclusion of the Anchor Bay produced series.

A collection of four radio spots (2:00) are included.

There are also bonus trailers for:

- "Emmanuelle" (2:26)
- "Emmanuelle 2" (2:18)

Packaging


Packaged in a standard Blu-ray keep case.

Overall


This one fairs slightly less on the scale simply because the burnout rate of watching three of these films in a row is too much to take for anyone. At least there was some character development and we will leave it at that.
| | | | | |
| --- | --- | --- | --- | --- |
| The Film: C | Video: B+ | Audio: A | Extras: B+ | Overall: B- |

---
DVD Compare is a participant in the Amazon Services LLC Associates Program and the Amazon Europe S.a.r.l. Associates Programme, an affiliate advertising program designed to provide a means for sites to earn advertising fees by advertising and linking to amazon.co.uk, amazon.com, amazon.ca, amazon.fr, and amazon.de.