Night Hunter AKA Nomis
R2 - United Kingdom - Signature Entertainment
Review written by and copyright: Rick Curzon (20th November 2019).
The Film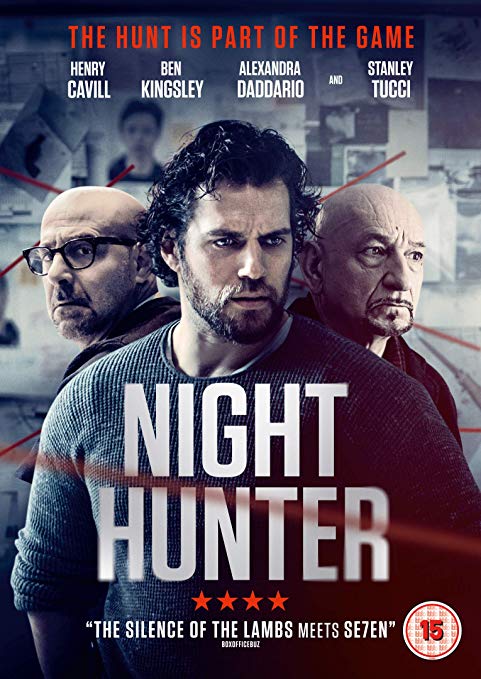 Combining the tense, psychological investigation of killer classics such as Silence of the Lambs and Zodiac with fast-paced twists, turns and edge-of-your-seat action, Night Hunter is one of this year s darkest and most daring thrillers. On the hunt for an elusive serial rapist and murderer, battle-hardened cop Marshall (Henry Cavill: Man of Steel, Mission Impossible: Fallout) crosses paths with vigilante duo Cooper (Ben Kingsley: Gandhi, Sexy Beast) and Julia (Eliana Jones) as they trap online predators and deliver their own extreme methods of justice.

When Julia is kidnapped, Marshall, Cooper and the police hunt down the perpetrator but the psychologically damaged man they capture only deepens the mystery surrounding the killings. Good-cop Rachel (Alexandra Daddario: True Detective Season 1) believes the captured killer, who is linked to years of female abductions and murders, is harbouring multiple personalities, one of which may hold answers. But with Marshall taking a harder stance, pressure from the Commissioner (Stanley Tucci: The Hunger Games franchise), and a public out for blood, the plot thickens.

Video


Ludicrous mishmash of serial killer cliches that feels like chunks have been dropped in editing rendering the narrative feeling rushed and contrived. The big plot twist is pretty obvious and the decent cast flail about although Cavil's accent wavers about.

It's all very slick and passes the time painlessly enough but too many very dumb things happen that damage credibility.

This is a slick, well mounted production with lots of colourful moments and plenty of gel lighting, especially in the nighttime sequences which are bathed in blue towards the end in the big showdown. No signs of bleed or of noise in blocks of colour so bravo.

There is a certain standard definition softness obviously that means backgrounds can be muddy. Closeups obviously fair best but don't expect plenty of layered detail. The colour platte is generally pretty robust favouring strong primaries but it's dominated by blacks, greys, browns and blues.

Black levels are string with little unintended crush and contrast is well managed; no blown out highlights. Grain is virtually non existent and there's obviously no signs of print damage being a modern, digitally lensed production.

Why this didn't get the HD treatment is mystifying, but it's a solid transfer and rendering.

PAL / 2.4:1 / 94:51

Audio


English Dolby Digital 5.1
English Dolby Digital 2.0 Stereo
Subtitles: None

Solid 5.1 and 2.0 Stereo renderings of the soundtrack. Plenty of depth and surround activity considering it's a lossy Dolby Digital track. Gets the job done without blowing you away. Like many lossy tracks it needs to have the volume turned up to get more out of it. LFE at odd moments although my woofer didn't get a huge workout.

No subtitles for the hearing impaired alas.

Extras


Startup Trailer:
- American Woman (2:01)
Kursk: The Last Mission (1:23)

Nada, nowt, none ... at leats none to speak of.

Packaging


Standard black DVD case.

Overall


A very silly thriller gets pretty basic treatment from Signature Entertainment. It's very recent production from 2018 and I would've expected a Blu-ray rendering (as in other territories) but Signature Entertainment have only given the UK and standard definition DVD. It gets the job done with decent image and sound on a single layered disc. Sadly, there are no extras to speak off nor are there any subtitles for the hearing impaired. It's selling at an appropriately low price so a no brainer for those who want to see the film.
| | | | | |
| --- | --- | --- | --- | --- |
| The Film: D- | Video: B- | Audio: B- | Extras: E | Overall: C |

---
DVD Compare is a participant in the Amazon Services LLC Associates Program and the Amazon Europe S.a.r.l. Associates Programme, an affiliate advertising program designed to provide a means for sites to earn advertising fees by advertising and linking to amazon.co.uk, amazon.com, amazon.ca, amazon.fr, and amazon.de.