The Film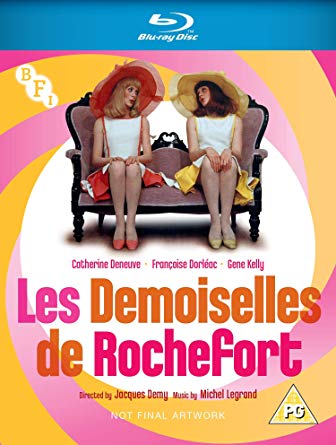 "Les demoiselles de Rochefort" ("The Young Girls of Rochefort") (1967)

Taking place on a beautiful weekend in the coastal town of Rochefort in France, Delphine (played by Catherine Deneuve) and Solange (played by Françoise Dorléac) Garnier are twin sisters looking to make changes to their lives. Ballet instructor Delphine is ready to end her relationship with art gallery owner Guillaume Lancien (played by Jacques Riberolles), but at the same time finds a fascinating anonymous painting, in which she suddenly feels the urge to find the person that made it. The music shop owner Simon Dame (played by Michel Piccoli) wants to introduce Solange to his friend, the American composer Andy Miller (played by Gene Kelly) to help her in the career of singing. The twins' mother Yvonne (played by Danielle Darrieux) works at a small cafe in the town square, who meets a host of people from around town and including a troupe of performers who are scheduled to bring their show to town. The two male leads Etienne (played by George Chakiris) and Bill (played by Grover Dale) immediately fall for the beautiful twin ladies, but with their hearts looking in other directions, will they find love or have opportunity pass them by?

The 1964 musical film "The Umbrellas of Cherbourg" was a collaborative effort between writer/director Jacques Demy, composer Michel Legrand and actress Catherine Deneuve, which captivated audiences with its colorful splendor and memorable score, becoming one of the most popular French films of its time. A follow-up film would take another three years, with a larger budget, an international cast, and produced in bilingual form with all songs being composed and written in French and English. "The Young Girls of Rochefort" was an ambitious and expensive production, having international appeal while being an entirely French production, and what a wondrous and beautiful picture it became.

The story itself like many musicals is not particularly complicated on paper, with various characters longing for love and not noticing that the people they were meant for were just around the corner. The man that painted Delphine is the sailor boy Maxence (played by Jacques Perrin). The man Solange is supposed to be introduced to helps her with her dropped belongings in front of her brother's school. Mr. Dame's former fiancee is actually right around the corner - the mother of the twin girls. The audience can see where all the connections should take place, but as things go, the characters who are supposed to meet do not right away, and as different scenarios unfold, slowly but surely their tales are revealed to each other. But rather than frustrating audiences with "How do they not know they are just around the corner for all this time?" the musical works brightly with the song and dance sequences. From the opening bridge shot of the opening credits with the dance troupe, the sisters in the dance studio, to the climactic town square presentation, there is much to be said about the sequences, filled with beautiful colors, various techniques from tracking shots outdoors or locked down steady shots indoors to give each sequence its own style. Some of the absolute standouts go to the legendary Gene Kelly, in his scenes showing off his fancy footwork that are one step beyond anything else. It was said that Kelly was offered the part by Demy, but due to other commitments, it took two years until they could work together on the production.

The music and lyrics were recorded with professional singers prior to the shooting of the film, so all the actors had to lip sync all the musical sequences, which were done both in English and French. Danielle Darrieux happened to be the only person to do her own singing, but for most viewers, they may not be able to tell with the production on first watch. Gene Kelly could speak French as a second language and played his character as and American in... Rochefort, and there are subtle references to "An American in Paris" which Kelly starred in in 1951. George Chakiris and Grover Dale on the other hand, were not French speakers and had to play as French characters, in which the two actor/dancers had to learn their own lines phonetically and have them later dubbed with non-accented dialogue, plus having to do the same while singing and dancing as well. The choreography of many of the dance sequences were by English director Norman Maen, having the set being almost entirely bilingual behind the scenes. The film takes many cues from the Hollywood musical genre, but gives it its own spin and its own identity.

Though the core is a musical with love being at the center, there are some unusual points in the story to make things quite unique. There is the art gallery and artist Guillaume who's introduction is with a gun and paint in balloons. Mr. Dutrouz (played by Henri Crémieux) is a seemingly nice elderly man that appears from time to time at the cafe, but is revealed nonchalantly in a later day newspaper headline that he was a serial murderer. Though almost an extreme in comparison to the rest of the whimsical picture, it is played off in a whimsical manner by the characters, as they have love on their minds. It's a very bizarre choice to have as the character does not have particularly any consequential purpose to the story, but maybe that is the point. In musicals there are some bad things that could happen in the backgrounds, but with everyone singing and dancing, who can really have the time for it?

The film opened in France on March 8th, 1967 and was a very big hit as expected with 1.3 million tickets sold. Elsewhere on the other hand, the reception was not as positive. Critically it was mixed in America and the UK, and could not lift it as high or as near as Demy's previous film. The American premiere was a year later in April 1968 in the original French language version, and with the not so positive reviews, the rollout with the English language version where all the songs were sung in English and the dialogue scenes were later dubbed over, was not released. To this day, the fate of the English language version of the film is unknown. It has not been included on any home video release, and there seems to be no information of a screening. There are English songs recorded, there is behind the scenes footage shot of the English language musical sequences. Is it possible the English version was never completed with the dubbing and editing? Was there a print made but lost? There doesn't seem to be a definitive answer.

Another unfortunate happening was that on June 26, 1967, star Françoise Dorléac was killed in a car accident at the age of 25, only a few months after the film premiered, making "The Young Girls of Rochefort" the only film in which she and her sister would star together in. When speaking of French musicals, "The Young Girls of Rochefort" would usually come much after "The Umbrellas of Cherbourg" especially in non-French circles, but over the years has been receiving a much better light. Its use of the camera by cinematographer Ghislain Cloquet, the production design by Bernard Evein, the beautiful setting of the town of Rochefort has been celebrated, with even the city continuing to promote it as a tourism attraction more than fifty years later. Magical, delightful, and a joy to watch, "The Young Girls of Rochefort" is a timeless classic.

Note this is a region B Blu-ray

Video


The BFI presents the film in the theatrical 2.35:1 aspect ratio in 1080p AVC MPEG-4. The original 35mm negative was restored in 2K in 2011 by Digimage in France and supervised by Demy's widow and filmmaker Agnès Varda. The restored version is jawdropping to say the least, with bold colors of the costumes, the architecture, and production design of the interiors. Oranges, blues, whites, all pop out, while blacks look dark when necessary. The image has been cleaned very well, leaving the film grain while removing all dust and scratches, with very little if any damage remaining. It's certainly one of the most striking looking films out there, and the Blu-ray does do it justice.

The film's runtime is 124:53.

Audio


French DTS-HD Master Audio 5.1
French DTS-HD Master Audio 2.0 stereo
There are two audio tracks available, both lossless in form. The original 6-track surround tracks were used for the remix process to 5.1 and 2.0 stereo tracks, and like the film's image, were lovingly restored as well. Dialogue scenes remain mostly in mono with the center speaker. Once the musical scenes take place, the left, right speakers incorporate the music while the surrounds are left for ambient noises and instruments. It's a very well balanced track with the music never drowning out the vocals, and a good amount of audio separation in the sequences. There are no hisses or pops to speak of, though there may be a little lip sync issue at points, but that is because many of the characters were overdubbed later and the musical sequences were all shot with pre-recorded sound for lip syncing, so not at all a fault of the transfer.

There are optional English subtitles in a white font for the feature.

Extras


Audio commentary by film critic David Jenkins
In this new audio commentary, Jenkins discusses quite a lot during the runtime, with the visuals, the motifs, about the dance numbers and music score, as well as biographies for the cast and crew, and much more.
in English Dolby Digital 2.0 with no subtitles

"A Melody Composed by Chance..." visual essay by Geoff Andrew (19:18)
This visual essay starts with Demy's life before Rochefort, but for the most part is about the film itself, its themes, and its construction. The visual essay uses still frame photos as well as clips from the film, though Andrew sounds like he's recording it in an echo chamber rather than in a studio.
in 1080p AVC MPEG-4, in 1.78:1/2.35:1, in English Dolby Digital 2.0 with no subtitles

"The Young Girls are 25" documentary (63:19)
"Les demoiselles ont eu 25 ans" is a 1991 documentary directed by Agnès Varda, chronicling the 25th anniversary of the production and one year after the death of Demy from AIDS complications, in which the town has an anniversary celebration and commemoration of the new bridge, named after Demy. Some of the original cast and crew join the festivities, while it also documents the people of Rochefort who were there in the original shoot and how their lives have been following the film. There are also some behind the scenes clips of the original production including the lost English version. Shot on 16mm and using some videotape footage as well, this documentary was restored in 2013 from the original 16mm film and supervised by Varda
in 1080p AVC MPEG-4, In 1.37:1, in French/English Dolby Digital 2.0 with optional English subtitles

Guardian Interview: Catherine Deneuve (2005) (7:21)
Here is an excerpt from a filmed on stage interview with Deneuve from 2005, recalling how meeting Demy changed her life and career, as well as behind the scenes of "The Umbrellas of Cherbourg" and "The Young Girls of Rochefort".
in 1080p AVC MPEG-4, in 1.33:1, in English Dolby Digital 2.0 with no subtitles

Guardian Interview: Jacques Demy (1982, audio only) (75:50)
Recorded on Nov 2nd, 1982 after a screening of Un Chambre en Ville", Demy is interviewed by Don Allen as they talk about Demy's love of musicals, reactions in France compared to other countries, working with different composers, and more. Demy's English is fair but he does revert to French at times which Allen tries to interpret for the audience. This is an audio-only feature, which is played as an alternate audio track over the feature film.
In English/French with English interpretation Dolby Digital 2.0 with no subtitles

Guardian Interview: Michel Legrand (1991, audio only) (71:23)
Recorded on November 16th, 1991, Legrand talks with David Meeker about his long career as a composer, as well as his upbringing in France as well. Legrand's English is excellent and he jokes around a lot and is very talkative as a storyteller, with many anecdotes to say and many memories working with many big names not just in France but in Hollywood. This is an audio-only feature, which is played as an alternate audio track over the feature film.
in English Dolby Digital 2.0 with no subtitles

Guardian Lecture: Gene Kelly (1980, audio only) (76:00)
Recorded on May 25th, 1980, Kelly is interviewed by John Russell Taylor, in which they discuss everything from Kelly's early days in school, as a dancer on stage, his transition into film, working with David O. Selznick, Arthur Freed, Busby Berkeley, Stanley Donen, and more. There is no mention of his work with Demy in this lecture, unfortunately. This is an audio-only feature, which is played as an alternate audio track over the feature film.
in English Dolby Digital 2.0 with no subtitles

Original Theatrical Trailer (3:19)
An unrestored trailer filled with speckles, scratches, and the colors that are less than vibrant.
in 1080p AVC MPEG-4, in 2.35:1, in French LPCM 1.0 with burned-in English subtitles

Restoration Trailer (1:46)
Vibrant and beautiful with excellent stereo sound, the restoration trailer is a wonderful short look at the film.
in 1080p AVC MPEG-4, in 2.35:1, in French LPCM 2.0 with optional English subtitles

Booklet
A 32 page booklet is included in the first pressing. First is the essay "Not the Same Old Song and Dance" by Jonathan Rosenbaum about the production and reception. Next is the essay "Les Demoiselles" by Selina Robertson about her recollections seeing the film and about the film itself. There are biographies on Michel Legrand by Nicolas Pillai and Jacques Demy by Jason Wood, plus credits, stills, extras information, transfer information, and acknowledgements.


The film has seen Blu-ray releases in France, the US, and in Germany. The French release from Arte Video also has "The Young Girls are 25" plus a few short featurettes, but strangely the audio is only in 2.0 stereo. The US release from The Criterion Collection was part of the six film Demy collection, which had a wealth of extras including "The Young Girls are 25", vintage extras, and some new ones as well with a 5.1 audio track. It was subsequently issued in a standalone version outside the box. The German release from Studio Canal is only part of a double feature with "The Umbrellas of Cherbourg" with only a booklet as an extra. The BFI's release contains a lengthy amount of exclusives, but obviously cannot be called definitive with all these other releases around, including some great vintage television material on the Criterion.

Overall


"The Young Girls of Rochefort" is one of the most gorgeous films ever made, with a whimsical and wonderful style that looks and sounds magical. One of Demy's finest works and Legrand's music is exquisite, and the BFI's release is stacked with lengthy extras making this an easy recommendation for anyone. Easily one of the best discs of the year.
| | | | | |
| --- | --- | --- | --- | --- |
| The Film: A+ | Video: A+ | Audio: A+ | Extras: A | Overall: A+ |