The Film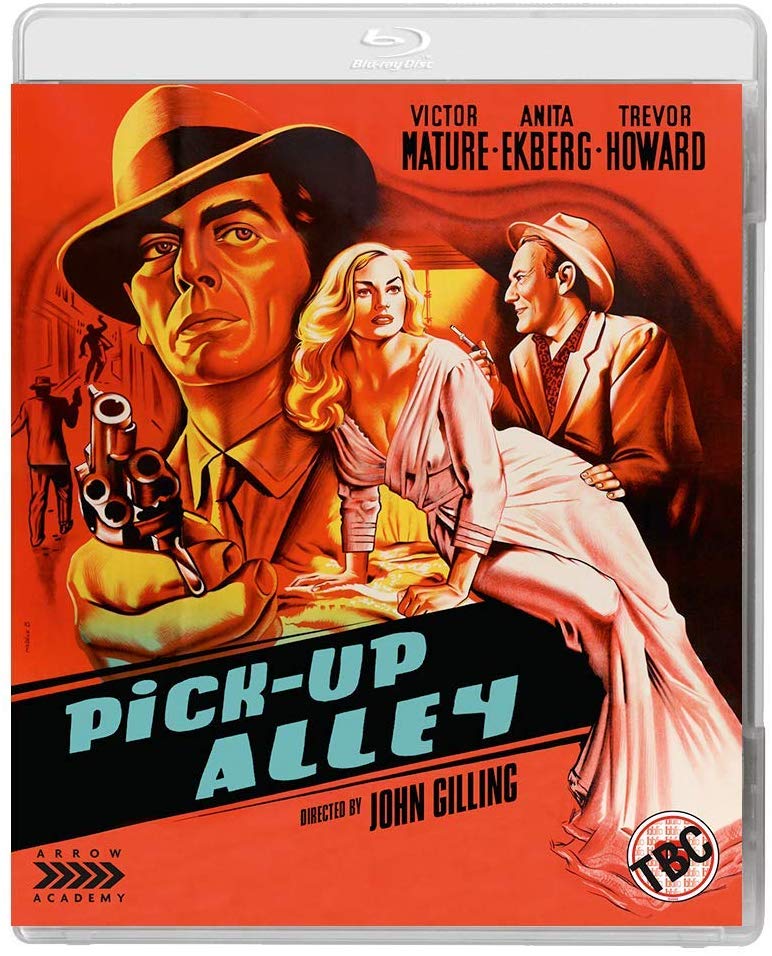 Pick-Up Alley (John Gilling, 1957)

Synopsis: In New York, international drugs magnate Frank McNally (Trevor Howard) murders Helen (Dorothy Alison), the sister of Narcotics Bureau detective Charles Sturgis (Victor Mature). Helen has been working undercover, posing as an addict, to get close to the mysterious McNally – whose true identity is concealed thanks to plastic surgery and a slack handful of passports.

When Sturgis discovers his sister has been killed by McNally, he becomes overwhelmed with desire for revenge. Sturgis finds an addict (Betty McDowall) who leads the Narcotics Bureau to a dealer, Cashling (Alfred Burke), who cracks under interrogation and offers some information about McNally.

The Narcotics Bureau receives a communique from Interpol in London, with information that McNally's associate Salko (Alec Mango) is living in London under an assumed name. Sturgis is sent to London to question Salko. There, Sturgis meets Breckner (Andre Morrell), who heads the Interpol office in London.

However, before Sturgis and Breckner can get to Salko, he is killed in self-defence by a woman, Gina Broger (Anita Ekberg), who has smuggled drugs for Salko in her makeup case and who Salko attempts to rape. Gina flees the scene of the crime and begs McNally for help. McNally offers to assist Gina in getting out of the country, but only if she will smuggle an item from Lisbon to Rome. Gina agrees.

Meanwhile, Interpol find Gina's fingerprints in Salko's room and identify her. Sturgis tracks Gina to Lisbon. There, he is spotted by an associate of McNally's, Guido Martinelli (Marne Maitland). Guido tells McNally of Sturgis' presence in Lisbon, and McNally vows to 'look after him'. However, Sturgis enlists the help of Amalio (Bonar Colleano), an American ex-pat living in Europe, who may be able to help Sturgis pinpoint the location of McNally.


Critique: Distributed in the UK as Interpol, John Gilling's 1957 thriller Pick-Up Alley – released on Blu-ray by Arrow Academy under the title of its US release – marries the tormented anti-hero of film noir, represented here by the character of Charles Sturgis (played with sweat and venom by the American actor Victor Mature), with the globetrotting thriller mode that would become popular with UK productions following the success of the early James Bond pictures in the early 1960s (with imitators such as Carol Reed's Running Man, 1963, and Ralph Thomas' Hot Enough for June, 1965).

Gilling's career in filmmaking would bridge the crime picture with horror (such as his later work for Hammer, including The Plague of the Zombies and The Reptile in 1966). This oscillation between horror and crime fiction was evident from Gilling's early days as a scriptwriter: his first two writing credits were on two pictures directed by Oswald Mitchell: the crime film Black Memory (1947) and the Tod Slaughter horror picture The Greed of William Hart (1948), the latter based on the story of Burke and Hare – material which Gilling would revisit in his 1960 film The Flesh and the Fiends, which he wrote and directed. By the time of the production of Pick-Up Alley, Gilling had already established himself as a director of lean and efficient 'B' pictures for Kenilworth Productions before moving on to Warwick Films, where he was assigned pictures with slightly larger budgets, and more 'known' American stars – such as, in Pick-Up Alley, Victor Mature. Formed in 1951, Warwick Films was headed by producers Irving Allen and Albert R Broccoli; Warwick's films were distributed by Columbia Pictures. In early 1956, Warwick had renegotiated their contract with Columbia Pictures, enabling them (Warwick) to make nine films with moderately high budgets between 1956 and 1959. A number of these were directed by Gilling: other films Gilling made for Warwick included the 1957 war film High Flight, with Ray Milland and Bernard Lee, and the 1958 crime picture The Man Inside, with Jack Palance and Anita Ekberg. When Albert Broccoli left Warwick Films in 1961, he created Eon Productions with Harry Saltzman; with Eon, Broccoli would channel some of the tropes of Warwick's adventure-oriented globetrotting thrillers during production of the James Bond pictures with which Broccoli's name is arguably most closely associated. (Some of the early James Bond films would also be photographed by Ted Moore, who acted as director of photography on Pick-Up Alley.)


Focusing on the activities of a gang of international drug smugglers, headed by a mysterious figure (Trevor Howard's McNally) and pursued by a troubled rogue detective from New York (Victor Mature), there are some superficial parallels between Pick-Up Alley and William Friedkin's The French Connection (1971). Interestingly, like Friedkin's The French Connection – which was based on Robin Moore's 1969 non-fiction book The French Connection: A True Account of Cops, Narcotics, and International Conspiracy, focusing on New York detectives Eddie Egan and Sonny Grosso's pursuit of Jean Jehan – Pick Up Alley was also based on a non-fiction book. The source material for Pick-Up Alley was the 1955 book Interpol by A J Forrest, in which Forrest explored the notion of a borderless police agency and its pursuit of smugglers of narcotics, and the roles of American detectives sent to Europe to investigate international crimes. In Pick-Up Alley, like 'Frog One' in The French Connection, McNally is on the cusp of a huge international drug deal – smuggling $5 million worth of opiates to New York in a ship sailing from Athens to the US.

Pick-Up Alley opens with McNally, played with urbane menace by Trevor Howard, murdering Sturgis' sister – who has been working undercover, posing as an addict, for the Narcotics Bureau and is getting close to pointing the proverbial finger in McNally's direction. McNally murders this woman in a deeply visceral way, strangling her with her scarf. The murder itself is played out on the face of Trevor Howard, shown in closeup, as he grimaces and strains. This scene establishes the threat of violence that is associated with McNally, who oscillates between easy charm and both threats and acts of brutality. Playing McNally, Trevor Howard seems to channel something of Orson Welles' mercurial performance as Harry Lime. Throughout the film, McNally is dressed in a linen suit which, in the film's black and white photography, registers as almost white – an ironic contrast to the darkness which exists at the heart of this man.


Set against McNally is Sturgis, an earthy New Yorker whose moral contrast with the film's villain is symbolised in the fact that Sturgis is always shown dressed in darker suits. Victor Mature plays Sturgis with sweaty rage, driven by a vendetta against McNally that is triggered by the murder of Sturgis' sister. Sturgis is a haunted cop, Mature bringing with him the aura of his performances in films noir such as Henry Hathaway's Kiss of Death (1947) and Robert Siodmak's Cry of the City (1948). After discovering his sister's murder at the hands of McNally, Sturgis is driven off-piste; he resorts to skulking about in nightclubs in the hope of finding an addict and trailing the supply to its source, Sturgis' short fuse leading to him throwing his drink into the face of a barman. His methods are unorthodox: when he does find an addict, he follows her to her apartment and holds her down, preventing her from getting her fix, as she screams. The following day, he speaks with his superior in the Narcotics Bureau. When asked 'Where have you been?', Sturgis responds with a characteristically hard-boiled reply: 'Crawling around on my belly in the gutter, looking for dope peddlers and needle pushers. It's the same filthy think day in and day out'. 'Will yu stop trying to fight a one-man war?', Sturgis' boss asks him. Like 'Popeye' Doyle after him, Sturgis is thrown into a new age of criminality (and policing) without borders: drawn into the Interpol investigation into McNally, Sturgis encounters within Interpol an efficiency in policing across international lines, the film emphasising the swiftness of Interpol's systems of communication and transportation in the pursuit of Gina to Lisbon, and on to Rome and Athens. ('Interpol's making the world smaller than ever now for the international criminal', Breckner tells Sturgis in London.) Sturgis' methods, the film suggests, are old hat in this new world of borderless investigaton: in Rome, Sturgis is told by Captain Varolli (Martin Benson) that 'Interpol is the kind of agency that relies on co-operation, not on the kind of rash, individual action that you have just displayed [….] We must work together, not at cross purposes'.


Video



Photographed in CinemaScope on 35mm black and white stock, Pick-Up Alley is presented on Arrow's Blu-ray in its original aspect ratio of 2.35:1. The 1080p presentation uses the AVC codec and fills slightly over 26Gb on a dual layered Blu-ray disc.

The film is uncut and runs for 91:22 mins.

The photography makes much use of canted angles to suggest unease and tension – and one might wonder, given the similarities between Trevor Howard's mercurial McNally and Orson Welles' Harry Lime in The Third Man, whether Ted Moore – the film's cinematographer – was consciously influenced by Robert Krasker's photography for Carol Reed's film.

Billed as being sourced from unspecified 'film elements', Arrow's Blu-ray presentation of Pick-Up Alley is very good. The image is filled with detail, a satisfying level of fine detail being present in closeups. The monochromatic photography is carried well through nicely-balanced contrast levels, with richly-defined midtones being complemented by a stable drop-off into the toe. Highlights are equally well-balanced. Evidence of damage is negligible. The encode to disc is fine and presents no problems, the presentation retaining the structure of 35mm film.

Some full-sized screengrabs are included at the bottom of this review. Please click to enlarge them.






Audio


Audio is presented via a LPCM 1.0 track. This is deep and has good range, with balanced dialogue that is audible throughout. Optional English subtitles for the Hard of Hearing are included. These are easy to read and accurate.

Extras



The disc includes:
- 'John Gilling: Journeyman of Genre' (18:59). Film historian Robert Shail reflects on John Gilling's career as a filmmaker and considers Pick-Up Alley, specifically. Shail begins by discussing the film's titling in the UK and US markets – suggesting that the US title, Pick-Up Alley, is both more nebulous and more dramatic than the UK title, Interpol. Shail argues that the UK title is more apt. Shail asserts that Gilling 'made a lot of formula films' but 'there is something there, something distinctive'. Shail discusses Gilling's efficient approach to filmmaking, making the most of moderate budgets. Shail argues that one of the most ingenious aspects of Pick-Up Alley is the casting, against type, of Trevor Howard as the film's villain.

- 'The Warwick Way' (33:02). Josephine Botting talks about Warwick Films. Botting considers the manner in which British filmmaking went into something of a decline during the 1950s – with films that were 'very successful at the box office but were probably not Britain's finest hour in terms of creativity'. She discusses the relationship between American and British cinema, talking about the reasons why, during the 1950s, American companies were investing in British films. Botting outlines the careers of Albert R Broccoli and Irving Allen, discussing their roles in creating Warwick Films before talking, in some detail, about the films made by Warwick Films.

- US Theatrical Rerelease Prologue (1:00). This is the prologue filmed for the US theatrical release of the film. It features Louisiana Congressman Hale Boggs, then-chairman of the US Senate Committee of Narcotics; Boggs delivers a short and stern warning about the importance of policing the international drugs trade.

- Trailer (2:25).

- TV Spot (1:00).

- Image Gallery (6:40).



Overall



Pick-Up Alley is an efficient thriller, the narrative making the most of its juxtaposition of Victor Mature's film noir-ish anti-hero and the 'new' world of international policing. The viewer can have fun spotting various British actors of the big and small screen in smaller roles: Sid James as a barman, for example, Alfred Burke as a weak link in the drugs gang, and Brian Wilde as a monk who acts as a tour guide in the San Malo catacombs. As Robert Shail argues in the interview on this disc, one of the most memorable aspects of Pick-Up Alley is the casting of Trevor Howard as the sadistic McNally; Howard is playing against type here, and the manner in which he channels his 'stiff upper lip' persona into something so deeply sadistic and manipulative makes one lament the fact that Howard didn't get more roles such as this.

Arrow's Blu-ray presentation of Pick-Up Alley is very good, a solid presentation of the main feature being accompanied by some strong contextual material, the interviews with Robert Shail and Josephine Botting helping to give the picture a sense of context – in terms of Gilling's work and the body of work of its production studio, Warwick Films.

Please click to enlarge: