The Film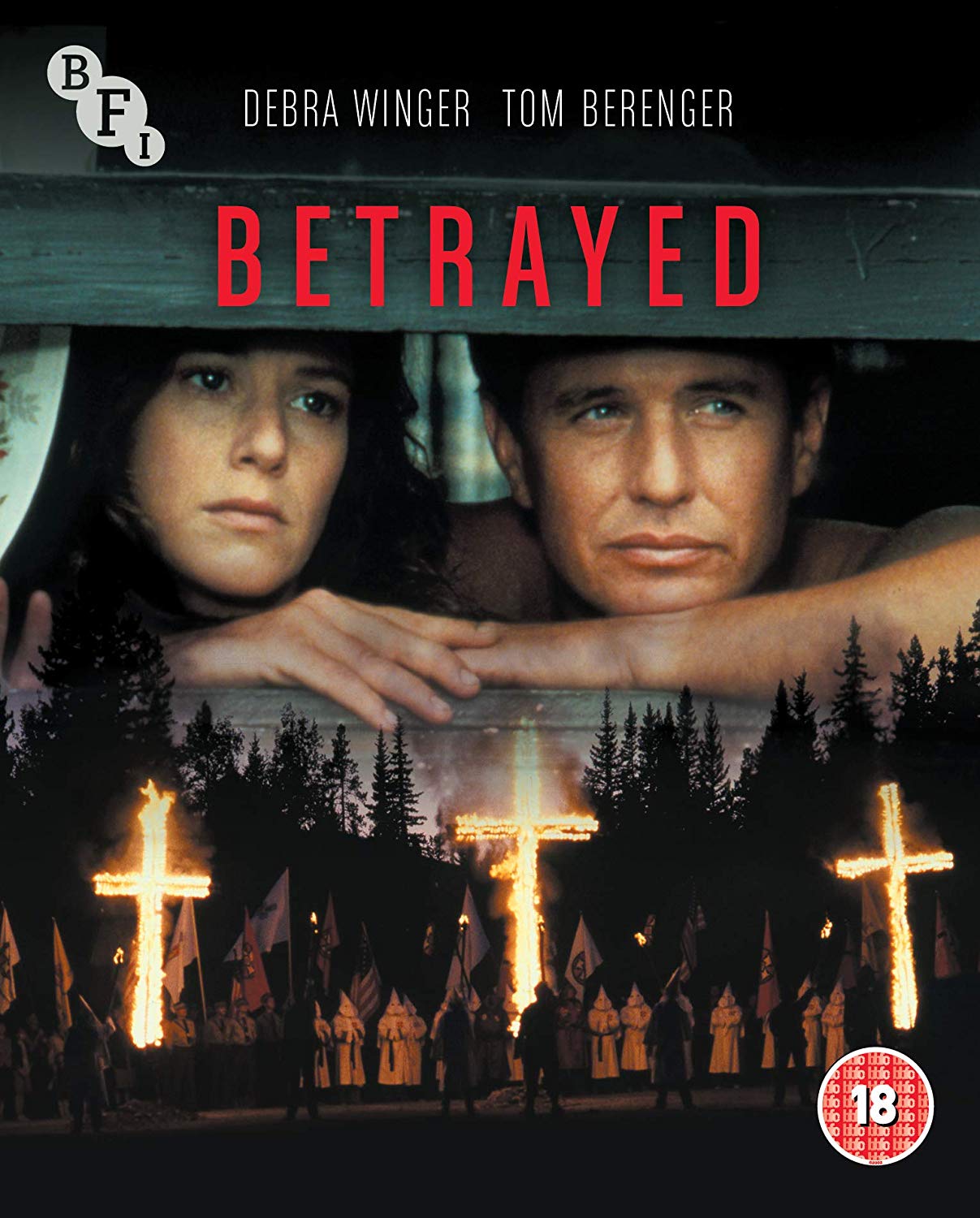 "Betrayed" (1988)

Following the gruesome assassination of controversial radio talk show host Sam Kraus (played by Richard Libertini), the FBI send in agent Cathy Weaver (played by Debra Winger) to infiltrate a small farming town in the midwest that looks to be harboring the killers, using the code name "ZOG". Posing as "Katie", a combine driver new to town, she falls in love with widower and father of two Gary (played by Tom Berenger), a seemingly all American farmer, but with a secret life. While gathering information on the local townsfolk to find connections to the murder, Gary shows her his truth - his views as a white supremacist and how he and many others in the community plus more on a computer network are all about taking the country back and ridding the nation of all non-whites through violent means.

"Betrayed" has some things in common with "Notorious" from 1946, about a woman who is sent on a mission by the US government to uncover the truth of a Nazi in hiding in South America. The aspect of a love triangle between the woman, the male federal agent, and the target is also seen in "Betrayed", but while in the Hitchcock film the Nazi connection and the mission is known from the start for audiences, "Betrayed" is one that slowly unfolds in front of the viewer's eyes. The identity of "Katie" and her mission is not known from the start as she is a seemingly normal midwestern woman in a new town. The realization that Gary is a white supremacist is also not immediately known, though there are hints along the way, it is about forty minutes into the story that the audience sees how far his morals are, with a brutal murder of a young African-American man by him and his group of friends. While in "Notorious" it was a hunt for an escaped Nazi on the other side of the world, "Betrayed" plays things in America's own backyard in plain sight. The townsfolk in the film are presented as normal everyday Americans doing their work, going to church, celebrating the Fourth of July, and having a close knit community. When Cathy reports back to the FBI, she at first does not see anything that seems incriminating, but Gary's sudden outbursts with racially insensitive wording (or uneducated wording) and seeing some tension between some of his neighbors, little by little the truth comes forward. The story maybe fiction, but there are connections to the murder of American radio talk show host Alan Berg, who was gunned down in a similar fashion in 1984 by a white nationalist group for his outspoken left wing views. Interestingly in 1988 there were two movies from Hollywood that took inspiration from the killing, the other being "Talk Radio" from another politically minded filmmaker, Oliver Stone, released only a few months after "Betrayal.

While the murder at the beginning of the film is disturbing with a man being gunned down in a parking garage in downtown Chicago, it is to say not much of a shock compared to gangster films or even the evening news. What is disturbing is the aforementioned second murder. A group of white men bring a half naked black man to the middle of a dark forest, set him loose and they go hunt for him. Not only is it disturbing for the viewer, but this is the point when Cathy thinks the mission has gone too far. She already fell in love with the Gary, but witnessing the cold execution by his hands sets her into a breakdown. Her boss Michael (played by John Heard is very adamant she must go back and gather information as she has already become "one of them" by earning their trust. Winger does a fine job with an emotionally broken character - one that has never had parental support due to the deaths of her parents at a young age, and finally finding love during an unfortunate mission due to the man's charm.

There are some things in the story that do seem a little questionable. Like the hunting scene, there are other occasions where Gary would take Cathy in his truck and not tell her the destination, or tell her a fake destination, to reveal something at arrival. Whether it is hunting for a human, entering a KKK rally, or even a bank robbery, the choices seem odd. As for Cathy to fall in love with Gary, even though he shows some charming aspects, for an undercover agent it seems to be an obviously bad mistake to do such a thing. Though it is seen that she is looking for affection in her life, this seems too odd to be true. The screenplay, written by Hungarian born American Joe Eszterhas has some great dialogue and sequences, but there are a few cheesy lines along the way, such as when Cathy explains to Michael that she didn't sleep with Gary, but rather "made love to him". Greek born French based director Costa-Gavras made a few English language film prior, but this was his first to be set on American soil entirely, and it is interesting to see how "American" the film looks and feels even with the two at the helm. And interestingly, the film was shot in Alberta, Canada doubling for the American midwest.

When the film was released in summer 1988 in America, the film was a fair hit, debuting at #2 at the box office and grossing $25.8 million theatrically. It was not a major hit, but enough to make a profit for United Artists. Critics were extremely divided on the film, with some condemning it for the violence, the depiction of white supremacists as wholesome Americans, and the missteps in logic by some of the main characters. There were also praises, with the performances and the tension it displayed. Unlike many of Gavras' other works, "Betrayed" was not a major winner of awards, nor was it one that was reassessed in later years. Some at the time thoughthow the white supremacists were portrayed were over the top and unrealistic, in the years of Trump America, Charlottesville, and social media uncovering white supremacist ideals being fairly spread not only in America but overseas, the happenings seen in "Betrayed" don't seem so fake anymore.

This will be a spoiler, so it has been noted here. At the final sequence of the film when Cathy reunites with Rachel at the church, this is where the moral message of the film is hit over the head directly. It was shown that Gary's two young children Joey and Rachel were being taught to accept racism as they used derogatory language against non-whites, not in a hateful way, but like they were just repeating what was said by their father verbatim without thought. Cathy made it a case to instill Rachel with the idea that hating people is not good to do, and in the final segment she sees a little bit of herself in little Rachel. Rachel has also lost both of her parents at that point. The only person she looked up to as a mother figure was for a short time, Cathy. Without proper guidance, she would grow up without a conscience about race relations and end up like her father or any of the other kids at the KKK camp seen earlier. The final freeze frame is hope that the next generation would rid of such old world and absurd hatred. Racism is not something that is natural, but something learned and given through upbringing, fear, and a lack of education. "Betrayed" most likely will not change people's minds about race relations or make racists see the nonsensical nature of their beliefs, as it is not a propaganda film, but one that showcases the darkness within the light of America.

Note this is a region B Blu-ray

Video


The BFI presents the film in the theatrical 1.85:1 aspect ratio in 1080p AVC MPEG-4. The transfer comes from MGM's HD master which looks fine though it is not particularly wonderful. Colors are fair though skin tones are slightly on the orange side (a Trump effect...?) and there are no particular colors that pop. Darker scenes lack fine detail, and in some instances there is a bit of minor screen wobble for static shots. Damage such as speckles and dust can be spotted throughout but overall they are small and will not get in the way of viewing. On the positive side, colors are consistent and there are no major damage marks or errors in the transfer. It easily could be better with a full restoration though, but most likely not the most cost effective choice.

The film's runtime is 126:35.

Audio


English LPCM 2.0 Stereo
The original Dolby Stereo track has been given an uncompressed LPCM option, and the audio is fairly on the good side. Dialogue is always center balanced while the directional audio is used with the effects such as gunshots and the combines on the farms, as well as the minimal score by Bill Conti. There are no major qualms here, with the audio sounding quite clear and no errors to speak of.

There are optional English HoH subtitles for the main feature in a white font.

Extras


Audio commentary by Jim Hemphill
Filmmaker and historian Jim Hemphill gives a solo commentary on the film, talking about the production itself, the collaboration between Gavras and Eszterhas, biographies of the cast and crew, the connection between the film and real life incidents, as well as repeating some of the critical reaction the film received in its initial run - both positive and negative.
in English LPCM 2.0 with no subtitles

The Guardian Interview: Costa-Gavras (audio only) (70:49)
In this on stage interview and Q&A from March 16th 1984, critic David Malcolm has a lengthy chat with Gavras about his life and career in cinema, as well as political talk and about specific films, including "Z" and "Missing". As this was an interview done four years before "Betrayed", there are no mentions of that film. Note this interview is also available on the Powerhouse Films Blu-ray of "Missing". Also note the audio interview plays as an alternate audio track with the film itself.
in English Dolby Digital 2.0 with no subtitles

Interview and Q&A with Joe Eszterhas (audio only) (96:22)
In this on stage interview at the The London Screenwriters Festival in 2013, Eszterhas is interviewed by filmmaker and author Chris Jones. They talk about the screenwriting process, advice for young writers, as well as specifics including "Showgirls" for some time. He also discusses his early life and education, upbringing, his Hungarian heritage, and also his time as a writer for Rolling Stone Magazine, and much more. Note the audio interview plays as an alternate audio track with the film itself.
in English Dolby Digital 2.0 with no subtitles

Interview with William Bradford Huie (29:42)
In this never before broadcast interview for the unaired series "Now and Then", journalist and civil rights activist William Bradford Huie talks about the state of America at the current moment of 1968 in the post Martin Luther King era, as well as his opinions on television and media making massive change for the better while also being critical of the news media to a point. Shot on film, this is an unedited clip with clapperboard markers seen,
in 1080p AVC MPEG-4, in 1.85:1, in English LPCM 2.0 with no subtitles

Original Theatrical Trailer (2:08)
With no narration, this effective vintage trailer is certainly one of its time in its editing and intense synth music heard.
in 1080p AVC MPEG-4, in 1.85:1, in English LPCM 2.0 with no subtitles

20 Page Booklet
Included is a booklet in the first pressing only, which includes essays, biographies, photos, credits, and more. First is critic Jessica Kiang's essay on the film from its inspirations, about the production, and its reception when released. Next is a biography of Costa-Gavras, film credits, a contemporary review of the film by Chris Petit from 1989, special features credits, transfer information, and acknowledgements.


The film was released on Blu-ray a while back in America by Olive Films, which only had the trailer as an extra. The BFI release adds quite a lot to it, though mostly in audio form. Note that besides the commentary, the other audio extras and interview are not particularly connected directly to the film, but they are still worthy of listening nonetheless.

Overall


"Betrayed" is an interesting political and racially tense piece of work about a divided America from Gavras that seems more relevant today than it was back in 1988. While the film has its flaws it is certainly still provoking and entertaining, and worthy of a look again. The BFI release is fair on its audio and video presentation, but offers a great amount of extras making this recommended.
| | | | | |
| --- | --- | --- | --- | --- |
| The Film: B | Video: B | Audio: A- | Extras: B | Overall: B |