The Film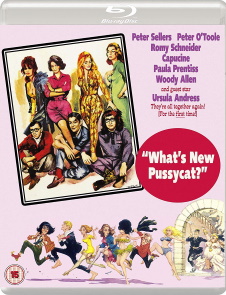 Oscar (Best Music, Original Song): Burt Bacharach and Hal David (nominee) - Academy Awards, 1966

Women have always been the weakness of Michael James (Caligula's Peter O'Toole) from his school days when he had a dalliance with a teacher and got a schoolmate into "trouble" to the present day as the lone male editor of the Paris arm of a major fashion magazine. While he has become engaged to English-language school teacher Carol Werner (L'important c'est d'aimer's Romy Schneider) he is not ready to give up his womanizing ways, nor does he want to cheat on her as suggested by his psychoanalyst Dr. Fritz Fassbender (The Fiendish Plot of Dr. Fu Manchu's Peter Sellers) whose own attempts to woo neurotic patient Renée (Fellni Satyricon's Capucine) are complicated both by her repulsion of him and his rightfully suspicious wife Anna (I Love You, Alice B. Toklas!'s Eddra Gale). Carol is aware of Michael's past dalliances and doubts his fidelity as he refuses to commit to a wedding date. After a fight with Micahel, she starts a flirtation with his hapless starving artist buddy Victor (Sleeper's Woody Allen). While cooling off at the strip club The Crazy Horse, Michael becomes enamored of neurotic American stripper "Liz Bien" (The Stepford Wives' Paula Prentiss) but any chance of a fling is scuttled when she attempts suicide when he attempts to extricate himself from her political poetry recital. Attending Fassbender's group therapy "freak show," Michael catches the eye of Renée who has an "intense need to be loved by many men, many times," but their assignation is interrupted by Carol who all but ends things. The couple reconnect and reconcile, however, while trying to maintain appearances for Carol's visiting parents (The Mysterious Island of Captain Nemo's Jess Hahn and The Night of the Generals' Eléonore Hirt). Trouble follows Michael, however, when he innocently heads to love nest Chateau Chantelle for the weekend to do a magazine story followed by suspicious Carol, Liz who is convinced that Michael is her fiancé, Victor who has impressed stripper Jacqueline (The Bitter Tears of Petra von Kant's Katrin Schaake) with a sports car he cannot drive, Fritz in his unwelcome pursuit of Renée who is meeting anarchist Philippe (Le petit soldat's Michel Subor), Fritz's wife and Renée's violently jealous husband Marcel (Jean Parédès), and parachutist Rita (The 10th Victim's Ursula Andress), Michael's "pussycat from the sky" who drops into this convertible en route.

The first produced screenplay by future director Allen – helmed by jobbing director Clive Donner (Charlie Chan and the Curse of the Dragon Queen) – What's New Pussycat? is an artifact of the Sexual Revolution more satisfying in its collision of elements than the sum of its parts as a madcap comedy. Shot through with film references – from a dream sequence modeled on 8 1/2's "house of women" sequence and a homage to Lawrence of Arabia to throwaway references like Fassbender introducing Andress to his wife as a "personal friend of James Bond" – cameos by Richard Burton and Françoise Hardy, and a soundtrack featuring Burt Bacharach, Tom Jones, Dionne Warwick, and Manfred Mann, the film is funniest at its most intimate. While the film may have been ahead of its time in terms of dealing with the casual infidelity of its characters when other romantic comedies would instead of have stuck to the temptation to stray and saved the hero from it by such contrivances as Liz's suicide attempts. The film's most Allen-esque aspects like the various Freudian sex jokes and exchanges such as:

"Did you find a job?"
"Yeah, I got something at the striptease. I help the girls dress and undress."
"Nice job."
"Twenty francs a week."
"Not very much."
"It's all I can afford."

feels as desperate as the under-cranked hijinks of the climactic go-cart chase. The film's winning aspects come from its cast, from O'Toole's charming lech, Schneider's exasperation, and Prentiss' neurosis to the broader turns of Sellers and Gale along with the Euro-cool of Capucine and Andress (not to mention a recurring comic bit featuring Jean-Pierre Melville/Jess Franco-favorite Howard Vernon and a throwaway role for Daniel Emilfork). There is, however, much for the attentive viewer along the lines of the garishly art nouveau production design of Jacques Saulnier (Swann in Love) – although American production designer Richard Sylbert (Chinatown) is listed as one of the producers and may have had some hand in the design but was uncredited as such to meet co-production quotas for billing – background faces one feels should be recognizable but may just be distinctive, not to mention background "walk-ons" by doubles for Toulouse-Lautrec, Vincent Van Gogh, and Paul Gauguin. The film received a semi-remake in the form of the lesser Pussycat, Pussycat, I Love You by sitcom director Rod Amateau (My Mother, the Car).

Video


Released theatrically by United Artists and on VHS in the United States by MGM and the UK by Warner, What's New Pussycat came to DVD stateside in 2004 from MGM barebones with a non-anamorphic 1.66:1 letterboxed transfer (possibly derived from the 1993 laserdisc master) while the anamorphic European MGM releases like the U.K. release were from an anamorphic master cropped to 1.78:1. The original aspect ratio was restored when the film made its Blu-ray debut stateside from Kino Lorber, followed by a German edition. Eureka's 1080p24 MPEG-4 AVC 1.66:1 widescreen Blu-ray is derived from the same master which appears to be an older transfer with windowboxed titles, typically grainy opticals, and a seeming light green tinge that may actually be part of the art direction rather than the film processing (see the commentary). There is a degree of softness appropriate to the film's glamour, but the image lacks the depth and crispness one would hope for a visually-stylish sixties picture.

Audio


The sole feature audio option is the original mono mix in LPCM 2.0, boasting clear voices (including a lot of post-synch work which calls into question which voices are those of the foreign actors and which are familiar British and American voice artists doing "European" accents) and nice support for the scoring and song selections. Optional English HoH subtitles are available (although I question whether a heavily-accented cry is the "thank you" of the subtitles or an early in cinema "fuck you").

Extras


Besides the film's theatrical trailer (2:53), the disc includes a new audio commentary by film critics Emma Westwood and Sally Christie who discuss the film in the context of Donner's career as well as that of Sellers – along with parallels to the Pink Panther series and another cluttered Charles K. Feldman production Casino Royale – as well as production anecdotes like the film originating with Warren Beatty in the lead before he pulled out objecting about the amount of screen time afforded to Allen's character, as well as Prentiss' nervous breakdown during the production. They also discuss the touches buried in the film including the pink and purple color scheme (noting that the green in the image that critics suggested was a side effect of poor lab work is actually part of the art nouveau theme).

Packaging


Packaged with the disc is a collector's booklet featuring a new essay by Simon Ward titled "A Pussycat and a Jew Walk into a Bar: Traversing the Humour in What's New Pussycat?" in which Ward notes the key issue with the film being its "sexual dynamo" of a protagonist who is as alien to Brits as he is to Allen's writing and his persona.

Overall


The first produced screenplay by future director Woody Allen, What's New Pussycat? is an artifact of the Sexual Revolution more satisfying in its collision of elements than the sum of its parts as a madcap comedy.