The Film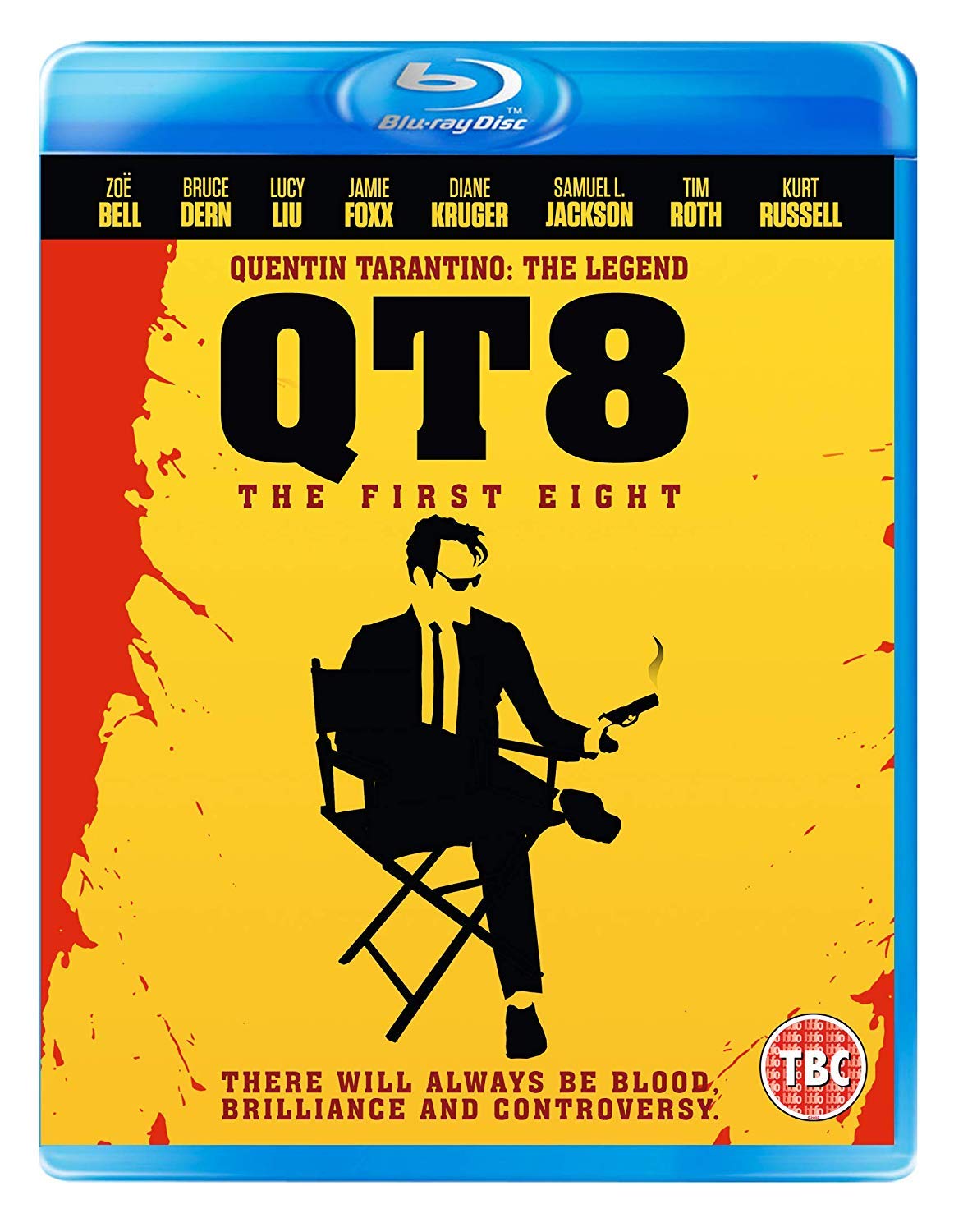 There will always be blood, brilliance and controversy. This is the legendary story of the legendary Quentin Tarantino. This is the thrilling journey of Quentin Tarantino's first eight movies, and gives its audience an inside look at the celebrated filmmaker's body of work through interviews with former cast members and film industry experts.

His films inspire, provoke and challenge us individually and as a society to the utmost extremes, all stemming from his passion for people and continuous exploration of the human condition.

Featuring interviews with his contemporaries, former cast members and industry experts, including Samuel L. Jackson, Jamie Foxx, Kurt Russell, Christoph Waltz, Jennifer Jason Lee, Lucy Liu, Diane Kruger, Zoe Bell and more. QT8: Quentin Tarantino - The First Eight sheds new light on the life and legacy of Quentin Tarantino, and gives viewers unprecedented access to his vision throughout his career.

Video


Affectionate, reverential but not entirely plain sailing documentary about the controversial film maker covers all of his working career with Miramax and the fallout from the Harvey Weinstein affair.

Reservoir Dogs - 91%
Pulp Fiction - 92%
Jackie Brown - 87%
Kill Bill: Volume 1 - 85%
Kill Bill: Volume 2 - 84%
Death Proof - 63%
Inglorious Basterds - 89%
Django Unchained - 87%
The Hateful Eight - 74%
Once Upon a Time ... in Hollywood - 85%

(Four rooms - 1995 - is not mentioned; From Dusk till Dawn - 1996 - and Natural Born Killers - 1994 - are mentioned in passing)

Looking at the critical aggregate site Rotten Tomatoes it's fair to say that the general consensus is that critics like Tarantino's films even if there seems to be a strong sub-culture in film appreciation that decries his merits. When approaching this new documentary which analyses his themes and gives us a a swift overview of his career, I thought it was going to be a swizz ... a puff piece that was going to just celebrate. And, it is a celebration but not a swizz.

It was inevitable that this would be mostly a positive look at Tarantino's impact on cinema but it does touch on his negative impacts via the many imitators who created product that flooded the market in the mid to late '90s; on his obsessive nature and how it led to a falling out with Uma Thurman; on his complicity with Weinstein by continuing to work with him despite suspecting (knowing) the rumours were true; on his passion for his characters that could extend to firing those who he felt hadn't prepared well enough for their roles at the script read throughs.

There's plenty discussion of his themes of revenge / romance / self discovery; his burying of details that interweave his cinematic world both obvious and aubtle. It also touches on his falling out with Spike Lee (cue an hilarious imitation of Lee from Jamie Foxx) but doesn't cover the controversies about the violence in nor the minor uproar over the treatment of Jennifer Jason Leigh's character in The Hateful Eight.

It's a good film and Tarantino never appears in the talking heads; only being represented by video and stills on sets, promo and candid shots and from quotes that punctuate sequences. His fondness for strong female characters is covered in some detail, his long term collaborations also get a mention with a nice section on the late Sally Menke who was his editor (and according to Tarantino effectively his co-writer); his happy cell-phone free film sets. We also get some amusingly caricatured animations representing Tarantino and his collaborators and other famous personalities mentioned in the narrative.

You do get a feeling for the man after viewing QT8 if only slightly more than you'd heard before and some of the comments about Inglorious Basterds made me want to re-evaluate the film again after having gone off it (I was interested to find that the consensus has rated it third in his oeuvre when I thought it was one of his less well regarded films). Ultimately however, this is a glorified DVD / BD extra and would've made a great addition to the collected works sets.

Not as good as it ought to have been but certainly not as bland as I feared; this gets a solid recommendation from me.

Interviewees:

ZoŽ Bell (stunts, actor), Louis Black (journalist), Bruce Dern (actor), Robert Forster (actor), Jaime Foxx (actor), Richard Gladstein (producer), Samuel L. Jackson (actor), Diane Kruger (actor), Jennifer Jason Leigh (actor), Lucy Liu (actor), Michael Madson (actor), Eli Roth (writer, director, producer, actor), Tim Roth (actor), Kurt Russell (actor), Stacey Sher (producer), Scott Spiegel (writer, director, producer) and Christoph Waltz (actor).

Films / television excerpted (other than QT's work):

Across 110th Street (1972), Banyon (1971-73), Black Caesar (1973), Blazing Saddles (1974), Breaking Bad 5.15 (2013), Bucktown (1975), City on Fire (1979), Coffy (1973), The Cowboys (1972), Foxy Brown (1974), Game of Death (1978), Golden Girls 4.6 (1988), Gone in 60 Seconds (1974), The Haunting (1963), The Killing (1956), Lady Snowblood (1973), Medium Cool (1969), Moesha (1996-2001), Sweet Sweetback's Badasss Song (1971), The Texas Chain Saw Massacre (1974), True Romance (1993), 12 Years a Slave (2013) and Vanishing Point (1971).

Signature Entertainment has picked this surefire seller for distribution here in the UK and it's a fine presentation of a new, digitally shot production. In keeping with the graphical style of Tarantino's films, particularly Pulp Fiction (1994) we have amusing, boldly coloured animation sequences which really kick out. Colour values for this documentary vary according to the material being presented; the newly shot talking head interviews are well done and shot with a naturalistic colour palette. Clips from the Tarantino's films are richly, warmly coloured all presented in pristine HD extractions. Clips from other films vary in quality from excellent HD image harvests to VHS masters although most are full HD.

Black levels generally vary according to source but for the most part are rich and deep with no unintended crush and fine shadow detail. Contrast is supportive and surprisingly even on the lesser quality clips. I did detect an ever so slight yellow bias but that may well be a creative choice. In any case this is a well encoded BD25 and presents the film well with good detail at all focal planes.

The concurrent DVD release hets the same comments although I did detect small amounts of mild noise and some macro blocking in some of the darker sequences when scrutinised up close. Obviously, it's a much softer image when seen side by side next to the Blu-ray. Detail still comes through due to the robust nature of the underlying HD scans and material. For a single layered DVD this is a very decent transfer.

Both are pleasing for their intended markets.

Blu-ray: 1080/24p / MPEG-4 AVC / 1.78:1 / 100:58
DVD: PAL / 1.78:1 / 96:50

Audio


Blu-ray
English DTS-HD Master Audio 5.1
English LPCM 2.0 Stereo

DVD
English Dolby Digital Master Audio 5.1
English Dolby Digital 2.0 Stereo

Subtitles: None on both formats

This being a documentary, the lossless sound options are mainly concerned with keeping dialogue front and centre and very clear. Surround activity is mainly used for the score. It's a decent track that isn't going to give your home cinema surround system or the LFE track a major workout. The 5.1 obviously has a little subtlety, separation and depth than the 2.0 surround; the DVD's lossy version is a good notch down in range but still more than adequate for the film. As is to be expected.

There are no subtitles on either the DVD nor the Blu-ray and that's a shame; especially for such a verbose film as this.

Extras


Startup Trailers:
- The Courier (1:36)
Rise of the Footsoldier 4: Marbella (1:23)

Meh

Initial copies came with a card outer sleeve which reproduces the same art

Meh II

Packaging


Blu-ray: Standard blue single disc case.
DVD: Standard black single disc Amaray.

Overall


This new documentary encapsulating and analysing Quentin Tarantino's enviable career gets a more than adequate rendering on both Blu-ray and DVD from Signature Entertainment. Picture and sound are robust for each respective format; both could probably be improved a notch by being on dual layered discs but not by much. Extras are extremely disappointing with no contextual material or deleted scenes at all.
| | | | | |
| --- | --- | --- | --- | --- |
| The Film: B- | Video: A | Audio: A- | Extras: E | Overall: B- |