Famine [Blu-ray]
Blu-ray A - America - Unearthed Films / MVD Visual
Review written by and copyright: Eric Cotenas (20th December 2019).
The Film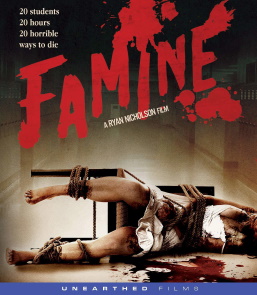 Five years after Sloppy Secondary's last twenty-four hour famine ended in disaster, new teacher Miss Vickers (Michelle Sabiene) thinks another famine would be a good extra credit assignment to bond the cool kids and the nerds despite the misgivings of authoritarian principal Mr. Nielsen (Glenn Hoffmann). The mean kids lead by Darren (Des Larson) and Sarah (Karyn Halpin) are all pretty cagey about what happened five years before as Miss Vickers discovers when she investigates. Good girl Katie (Sanya Silver) only knows Sarah's account of what happened: that respected wrestling teacher Mr. Balszack (Nathan Durec) was horribly disfigured by acid while making advances at shy, nerdy Cathy (Beth Cantor) who has been a basket case ever since, wandering the school grounds after her psychiatric hospital stay. Once the school's outer doors are locked, Miss Vickers has difficulty containing the students within the gymnasium as they split off in search of stashed snacks and places to have sex. They are not alone, however, because someone has donned the school mascot costume and has started dismembering and disemboweling the student body and nobody may survive till morning. The fifth feature directorial effort of Ryan Nicholson – a Canadian make-up effects artist who started in the nineties on shows like The Outer Limits and Stargate SG-1 before moving on to larger assignments like Final Destination and The Chronicles of Riddick – who sadly died earlier this year at age forty-eight, Famine is an odd duck in his grisly filmography in that it is oddly un-entertaining. There is nothing approaching reality from the get-go, and the broad performances seem undirected and more forced compared to the likes of the bullies of Gutterballs or the freaks of Hanger. Over-the-top characterizations and acting are not unusual in his films but here they seem to be trying to compensate for a lack of momentum in the story, and neither the truth of what happened five years before or who is behind the current murders are particularly compelling or unpredictable. The make-up effects of Nicholson associate Michelle Grady (Collar) are proficient and suitably nasty next to a couple bits of CGI blood spatter, but the segue to loud, thrashing metal music during the kills has the undesired effect of drawing attention away from the impact and focusing on the rough edges of the prosthetics compared to the more grueling Live Feed. To say the least, Famine delivers the grue, but fans of Nicholson's other works may still be peckish (hopefully Unearthed Films will revisit some of his other films on Blu-ray).

Video


Previously released on VHS as Stupid Teens Must Die, Famine comes to Blu-ray from Unearthed Films in a respectable-looking 1080p24 MPEG-4 AVC 1.78:1 widescreen transfer owing to the clean videography and conservative color grading (presumably both the work of DP Matt Leaf who was also the film's editor).

Audio


The sole audio option is a DTS 5.1 track, but the lossy encode is the least of the mix's worries as the dialogue can often get drowned out by the music and effects (much of the effected passages appear to be adlibbed bits which may not have been well-recorded in the first place). There are no subtitles or captions.

Extras


Apart from the film's stills gallery (4:04) and trailer (1:36), there are no extras apart from other trailers including Nicholson's Collar.

Overall


To say the least, Famine delivers the grue, but fans of Nicholson's other works may still be peckish (hopefully Unearthed Films will revisit some of his other films on Blu-ray).

---
DVD Compare is a participant in the Amazon Services LLC Associates Program and the Amazon Europe S.a.r.l. Associates Programme, an affiliate advertising program designed to provide a means for sites to earn advertising fees by advertising and linking to amazon.co.uk, amazon.com, amazon.ca, amazon.fr, and amazon.de.