The Film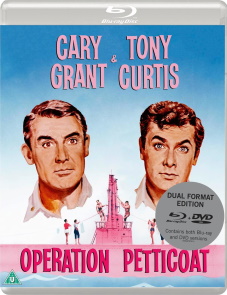 Oscar (Best Writing, Story and Screenplay - Written Directly for the Screen): Paul King, Joseph Stone, Stanley Shapiro, and Maurice Richlin (nominated) - Academy Awards, 1960
Golden Globe (Best Motion Picture - Comedy) and Best Actor - Comedy or Musical: Cary Grant (nominated) - Golden Globes, 1960

On the morning that the USN Sea Tiger is to be sent to the junkyard, its commander Matt Sherman (To Catch a Thief's Cary Grant) looks back to 1941 in the Philippines when the submarine was heavily damaged in an air attack. Although most of his crew has been reassigned, Sherman refuses to write off the then-year old sub as a "periscope sitting on a couple of thousand tons of scrap metal," and obtains permission to repair it to the point that it is at least seaworthy enough to get it to the nearest sub tender in Darwin. With the rest of the army units due to evacuate to Bataan in a few weeks, Sherman and his remaining men – including surly machinist Tostin (Anatomy Of A Murder's Arthur O'Connell), Ensign Stovall (Bewitched's Dick Sargent), and timid sailor Hunkle (The Love Boat's Gavin MacLeod) who only had to reenlist because he did not want his fiancée back home to see the obscene tattoo he got on his chest while drunk – fight through a red tape web of requisitions amidst an army of officers appropriating any and everything. Further exasperation comes in the form of Lieutenant Nicholas Holden (Some Like It Hot's Tony Curtis), a pampered "ideas man" with no naval experience shipped off suddenly because of his flirtation with an officer's wife, whose methods of finessing the system to obtain turns out to be covert scavenging of everything from much-needed parts to a quintet of female officers – lead by Major Edna Heywood (Two on a Guillotine's Virginia Gregg) – whose plane left them behind during an air strike on a nearby base. In spite of Sherman's worries about the distraction of women on the sub and Tostin's superstitions, they are forced to take the women with them at least as far as Cebu where Sherman hopes to complete repairs. En route to Cebu, Sherman discovers an easy Japanese target in a docked eight thousand ton tanker and decides to take the risk despite orders not to engage the enemy, but accident-prone Lieutenant Crandall (The Alamo's Joan O'Brien) literally puts her foot in it. In Cebu, they discover that the army is preparing to evacuate into the hills and cannot take the women who put themselves to work helping with repairs, with the resulting undercoat of short supplied red and leftover white paint turning the submarine into a pink abomination. As Crandall tries to make things up to gruff Sherman, Holden casually romances Lieutenant Duran (Butterfield 8's Dina Merrill) who falls hard until Holden backs off, not wanting to get too serious because he is engaged to a wealthy industrialist's daughter back home. A sudden air attack on Cebu forces the unit to leave early, taking on a group of pregnant women and their children, and submerging as a bright pink-colored target for both the Japanese and the Americans who believe Tokyo Rose reports of the sub are a ploy to sneak an enemy sub past their defenses. Happy Days' Marion Ross also stars.

Although nominated for an Academy Award for its screenplay and helmed by the great Blake Edwards, Operation Petticoat is dead in the water as a comedy, showing none of the brightness of Edwards' subsequent comedies from the hilarious Pink Panther series and 10 to even the lowly Switch, its comic antics coming across like a bloated color episode of McHale's Navy. Grant seems to grin and bear it throughout while Curtis' usual charisma comes across as insincere as his character who has to learn that there is more to life than money when he meets the comely Miss Merrill whose Universal contract unfortunately consigned her to a slew of episodic TV roles throughout the sixties at the height of her beauty. The battle of the sexes is lukewarm at best, with middle-aged Gregg (soon to be the voice of Norman Bates' mother) and O'Connell generating more steam in the engine room than either Grant and O'Brien or Cutis and Merrill. The action aspect of the film suffers much from Universal-International's fifties cost-cutting, and the wraparound story seems like a way of getting past the unsatisfying climax. In 1977, Universal dug deep for a short-lived TV spinoff with John Astin as Sherman, Richard Gilliland as Holen, and Curtis' daughter Jamie Lee Curtis as Duran.

Video


Released theatrically by Universal-International in the United States and Rank in the United Kingdom, Operation Petticoat's TV syndication through NTA was how the title wound up with Republic Pictures Home Video when it was released on VHS and laserdisc in the eighties and nineties, along with their 2001 non-anamorphic letterboxed DVD. When most of the Republic library went to Paramount Pictures, so too did Operation Petticoat but it did not get a reissue until Olive Film's barebones 2014 Blu-ray framed at 1.78:1. An Olive "Signature Edition" followed in 2017 that added extras but just gave the existing master a crop to 1.85:1 and a higher bitrate encode. Eureka's 1080p24 MPEG-4 AVC Blu-ray is also framed at 1.85:1 but seems zoomed in next to the earlier transfers with slivers less picture information on the sides in addition to what is expected from the 1.85:1 cropping of the top and bottom. Typical of a lower budget Universal-International offering of the time is an inconsistent-looking image with great detail in close-ups and medium shots, less so in long shots, extremely grainy opticals (particularly noticeable during long dissolves), and some color bleed in the Eastman Color by Pathé that shades grays and whites with some hints of blue and green.

Audio


The sole audio option is an LPCM 2.0 mono track that ably conveys the dialogue, music, and effects while optional HoH subtitles are also provided.

Extras


While Olive's Signature Edition featured an audio commentary, interviews with the surviving cast, a documentary on Grant, archival footage, and a text essay, Eureka's Blu-ray is barebones featuring only the film's theatrical trailer (2:23).

Overall


Although nominated for an Academy Award for its screenplay and helmed by the great Blake Edwards, Operation Petticoat is dead in the water as a comedy.