The Film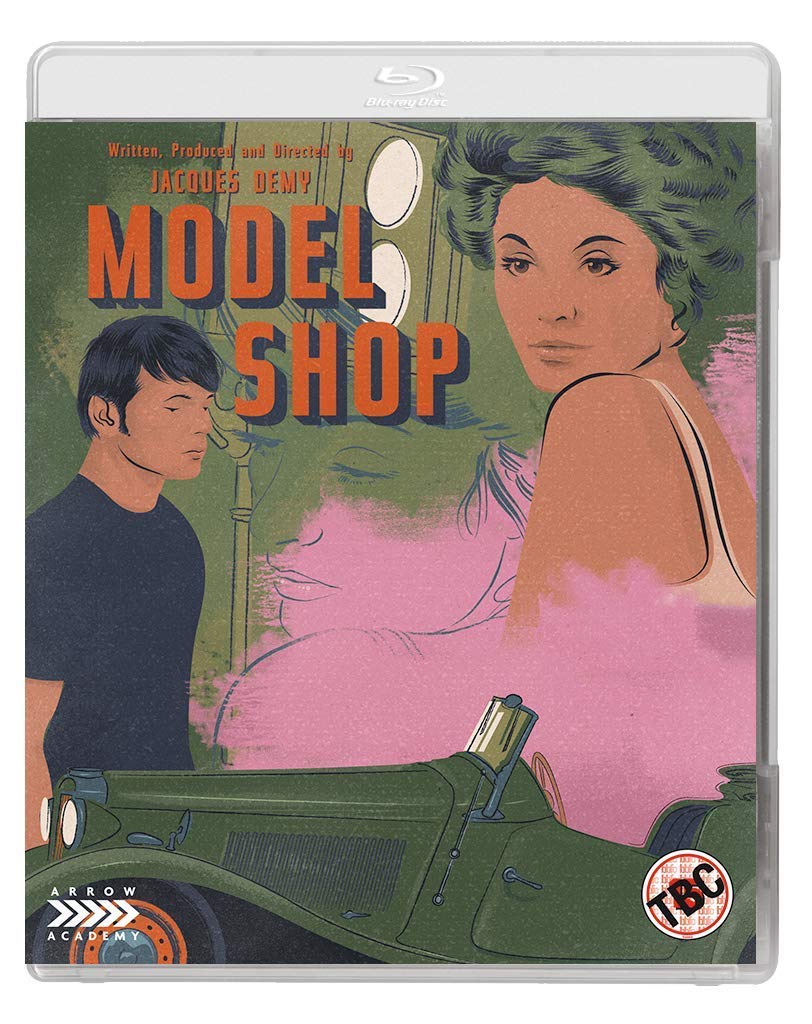 Model Shop (Jacques Demy, 1969)

Synopsis: George Matthews (Gary Lockwood) is 26 and unemployed. He is an aspiring architect, with a degree in the subject from Berkeley. However, he refuses to compromise in his search for employment and is concerned that any day soon, he may receive a letter drafting him to serve in Vietnam.

George's lack of direction frustrates his girlfriend Gloria (Alexandra Hay), who is settled and employed. When creditors knock on George's door, demanding the payments he owes towards his swanky new car, George decides to knock on the doors of various friends, including the members of the band Spirit (who sing the songs on the film's soundtrack), asking them to loan him a couple of hundred dollars. Whilst driving through Los Angeles, he spots the exotic Lola (Anouk Aimee), a young French woman, and decides to follow her. He discovers she works in a 'model shop': an establishment in which men can rent out a camera and a model to pose for their own erotic photographs.

George manages to borrow some money from one of his friends and uses this to buy some time at the model shop, where he photographs Lola and quizzes her about her work. Afterwards he visits the offices of the finance company and tells them that he can't give them the two months' worth of payments they have demanded. Then, George attends the offices of an underground newspaper, where he is offered a job. George doesn't take it; instead he telephones his parents, who refuse to lend him the money he needs, and discovers that they have received his draft letter. George must report to San Francisco on the next Monday.

George returns home and tells Gloria that he has been drafted to serve in the war. Gloria is unsympathetic, and she discovers the photographs George made of Lola. This is the final straw in George and Gloria's already tense relationship. George returns to the model shop to photograph Lola again, and they converse. George tells her he's been drafted into the army. George offers her what little money he has, in order that Lola might be able to leave the country and return to her son in France.


Critique: The fifth feature by director Jacques Demy (discounting his work on the 1962 portmanteau picture Les sept peches capitaux/The Seven Deadly Sins), Model Shop was Demy's first English-language film. Parallels may arguably be drawn between Model Shop, a story of ennui and alienation, focusing on young people in late-1960s America, directed by a European filmmaker and set in Los Angeles, and Antonioni's Zabriskie Point (1970) – another film about American counter-cultural youth by a European filmmaker. Though low-key and naturalistic, both films have a strangely disconnected approach to their material.

Demy wrote Model Shop after visiting the Haight-Ashbury area of San Francisco in 1967 (see Waldron, 2014). There, Demy was struck by the attitudes of the counter-cultural youths and reputedly wrote the script very quickly (ibid.). After agreeing to make the picture to a budget of $700,000, Demy and his wife (Agnes Varda) remained in the US for two years, shooting Model Shop in Los Angeles in just 30 days.


Demy's previous films had often contained references to American culture, as a fantasy which formed part of the dreams of his characters. With Model Shop, Demy focused explicitly on American culture, examining the US as a site of alienation and cultural tensions. Much of this is articulated through the film's perspective on the Vietnam war, which hangs over George like the sword of Damacles. When George visits his friends who work on the underground newspaper, they discuss the draft. George is eligible for it, but many of his more outwardly counter-cultural friends are not – and they talk about how they have escaped the draft owing to various reasons (one is a sole carer for his mother, another has been exempted because of his mental state, the third says that he will become a conscientious objector). The Vietnam war was a recurring theme in several films by French auteurs during this period (including, for example, Godard's Pierrot le fou, 1965), following on from a number of New Wave films that questioned French colonialism (eg, Godard's Le petit soldat, 1963). As Darren Waldron has noted in his book about Jacques Demy, some of George's plight may be considered semi-autobiographical, as Demy himself 'simulated depression' and thereby managed to avoid being drafted to serve in Algeria (Waldron, op cit.).


Model Shop is connected to Demy's previous films by the appearance of Anouk Aimee as Lola, the same character Aimee essayed in Demy's 1961 debut feature Lola. In Model Shop, we find Lola bereft, her dreams shattered, and resorting to modelling for sleazy men in the seedy titular 'model shop': a shop in which men can hire a camera and a model to take their own erotic photographs. Lola becomes an object of fascination for George, the film's shiftless protagonist, who refuses to find gainful employment and spends his time sponging off family and friends, finding various excuses to do so – ranging from the assertion that as an aspiring architect, he doesn't want to compromise his artistic vision, to his claim that the impending draft that hangs over his head makes it impossible for him to commit to either a job or his incredibly patient girlfriend Gloria. Into this, Demy weaves references to both Demy's other pictures and the films of the New Wave: when George looks at photographs of Lola, these are stills from Demy's film Lola; in another scene, George looks at a poster bearing the likeness of Jean-Paul Belmondo, as Michel Poiccard, from Godard's A bout de souffle (1960).

Throughout the film, George's rootlessness and lack of gainful employment and relationships is offset by other characters. Particularly notable is his interaction with his friend Jay (Jay Ferguson). An unmistakable hippy, Jay is nevertheless settled, with a career in music, a loving spouse and child. Jay is centred and content, his contentedness juxtaposed with George's constant state of dissatisfaction. George speaks of his idealism, stating that he has a need 'to build something, create something', but he is unable to commit to any action that might lead to him doing this – whether it is 'creating something' socially or culturally, or simply in his own private life and relationships. When the representatives of the finance company knock on George's door and threaten to repossess his beloved new car, George tells Gloria 'I gotta find a hundred bucks today'. 'You didn't have to buy the car', Gloria reminds him. 'I like it', George responds tersely. 'You don't buy a fifteen hundred dollar car just because you like it', Gloria pleads, 'You don't have a cent to your name and you don't even work. You get a skateboard'.


Unlike Demy's previous films, Model Shop is bleak and deeply ironic: its protagonist, George, is often unsympathetic and deliberately difficult to relate to. The film opens with a bravura tracking shot along a lonely coastal street, which takes us to the home of George and Gloria. Outside the house is a nodding donkey pump which George looks at morosely: the unending rhythm of the pump acts as a metaphor for his feelings of being trapped in both his relationship with Gloria and, more broadly, his life. The film's narrative and message is downbeat – dreams are compromised, Lola (a symbol of hope in Demy's debut film) is reduced to making money in an incredibly degrading manner. (However, when George asks her if she finds her work degrading, Lola responds by asking George what he does for a living; when George tells her he is unemployed, Lola tells him, 'You don't run the risk of degrading yourself by working'.) Throughout, Lola is despondent ('I don't want neither you nor anybody else anymore', she tells George), and on George's second visit to the model shop she explains why she is working there (it was the only job she could get without a work permit) and informs him of her 14 year old son in Paris. She also tells George of the end of her relationship with Michel, her lover in Demy's Lola, which left her 'living like a dead person'. 'I gave him everything, I never mistrusted him', Lola tells George before informing him that Michel, an inveterate gambler, had an affair with a woman named Jackie in Las Vegas. She tells George that throughout her life, she has had 'high hopes' and life has tried to destroy these, but Lola refuses to give up. After they sleep together, George describes her beauty in almost architectural terms (praising 'the straight line of your neck'); Lola tells him, 'You really speak as if you were just discovering love'. It's a dialogue between resigned hope (Lola) and forlorn hopelessness (George).




Video
Filling 28.3Gb of space on a dual-layered Blu-ray disc, Model Shop is presented in 1080p using the AVC codec. The film is uncut, with a running time of 97:05 mins. Photographed on 35mm and in colour, Model Shop is here presented in its original theatrical aspect ratio of 1.85:1.

The photography is filled with tracking shots and shots staged in depth. As noted above, the opening shot is a bravura reverse dolly shot (presumably mounted on a crane of some kind) down a coastal road lined with small houses.

Arrow Academy's presentation of Model Shop is based on a new 2k restoration of the main feature. The image is crisp and clean, devoid of any distracting damage. Plenty of fine detail is present in close-ups, and colours are rich and consistent too. Skintones are balanced and naturalistic. Contrast levels are pleasing. Midtones have a very strong sense of definition to them, and the drop-off into the toe is subtle, whilst blacks are rich and deep. Highlights are evenly balanced. The encode to disc is very pleasing, and the presentation retains the structure of 35mm film with no evidence of harmful digital tinkering.

Full-sized screengrabs are included at the bottom of this review. Please click to enlarge.






Audio


Audio is presented via a LPCM 1.0 track. This has good range and displays the score by Spirit very well though it's far from a 'showy' track. Nevertheless, dialogue is audible throughout. Optional English subtitles are included for the Hard of Hearing. These are easy to read and accurate.

Extras



On the disc:
- Audio commentary with Illeana Douglas. Actress Illeana Douglas offers a packed commentary fact that focuses on trivia associated with the film – exploring the careers of some of the personnel involved in the picture, and discussing some of the symbolism. (She suggests that Demy's use of the nodding donkey pump outside George's house influenced Quentin Tarantino's employment of a similar motif in Tarantino's recent picture Once Upon a Time in Hollywood.)

- Isolated Music and Effects Track (LPCM 1.0). This is superb, showcasing Spirit's haunting and evocative music from the film.

- 'A City Full of Poetry' (23:10). Critic Philip Kemp looks at Model Shop, describing it as 'a very neglected film by a rather neglected director'. As Kemp notes, all of Demy's early films, including Model Shop, were set and shot in conurbations close to the coast. Kemp compares Demy to the directors of the French New Wave, suggesting that Demy stands apart from them in his focus on 'the magic of cinema' at the expense of the rhetorical/discursive strategies employed by the likes of Godard and Truffaut. Kemp summarises Demy's early career. Kemp discusses Model Shop as part of Demy's project of making a series of films linked by the appearances of certain recurring characters – comparing this to Balzac's novels in the 19th Century. Kemp suggests that Demy's lack of commercial success following Model Shop was 'almost as if Model Shop put a jinx on the rest of his career'.

- Alternate French Titles (2:25). This is the opening shot of the film, with French-language titles instead of the English titles on the main feature.

- Trailer (1:00).

- TV Spots (0:32).

- Gallery (14 images).



Overall



An interesting film and a time capsule of attitudes in the late 1960s, Model Shop offers a uniquely European approach to American society – arguably comparable with Antonioni's look at US counterculture in Zabriskie Point. Model Shop is filled with irony, its approach to its protagonist, George, being multifaceted. Although its American setting is ostensibly very different, Model Shop has strong connections with Demy's earlier films – notably in his Balzacian use of characters (such as Lola) who weave in and out of the seemingly disparate narratives/settings of each film. However, as Philip Kemp reminds us in the interview on this disc, Model Shop also shares its coastal setting with Demy's earlier films. Where George is something of a cold fish (and the film's promotional material plays on Gary Lockwood's then-recent success in Kubrick's 2001: A Space Odyssey), Demy manages to make Lola, and her separation from her child, the heart of the film. The film's impact is heightened by the haunting score from the rock band Spirit.

Arrow Academy's Blu-ray presentation of Model Shop contains an excellent presentation of the main feature that is supported by some very strong contextual material. The commentary track by actress Illeana Douglas is packed with trivia and anecdotes, whilst in his albeit short interview Philip Kemp offers a strong analysis of Model Shop within the framework of Demy's other films (and the New Wave filmmakers, more generally). This is a more-than-welcome home video release for a film that seems to have inexplicably dropped off the proverbial radar for a number of years.

References:
Waldron, Darren, 2014: French Film Directors: Jacques Demy. Manchester University Press

Please click to enlarge: