The Film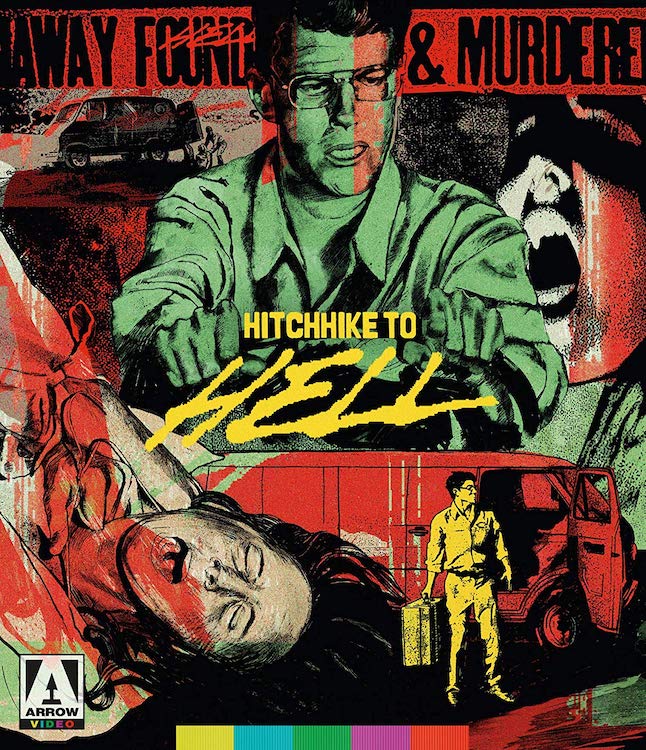 This film, like a bad AC/DC song, is a heavy handed cautionary tale of the dangers of hitch hiking; this may have been a hot topic back in the day, but now it comes across as merely laughable, providing some lessons in exploitative filmmaking. If we consult the history books, we will find that in 1977, California seems to have been serial killer heaven: the Hillside Stranglers were prowling the highways and a few years earlier Californians were frightened by the hulking menace named Edmund Kemper. At one time California had at least three very active serial killers at large in the 70's: the Trash Bag Murders (Patrick Kearney), the Freeway Killer (William Bonin) and the Scorecard Killer (Randy Kraft). All three were working the highways of California and they were racking up the bodies in a grim game of killing. So one can understand why director Irv Berwick had the brilliant idea of creating a fictitious killer who seemed to have appeared as if he came straight from the headlines made sense, plus it would be an easy pay day as well.

The film opens with an off camera woman's voice pleading for help and then suddenly her shirtless upper body is thrust onto the screen with a trickle of blood running from her mouth. Prior to this we were shown the seal of sleaze certifying that this is a Harry Novak production (Box Office International) so we are assured that our demands for exploitative thrills will be fully met. As the credits roll, we hear a sad country dirge entitled "Hitch Hike to Hell" sung by Nancy Adams with accompanying harmonic solo by Wayne Berwick (the director's son!) We first meet Howard Martin (Robert Gribbin), a mild mannered momma's boy that has a job driving a red van for a dry cleaner, as he cruises the highways outside of the sleepy burg of Crescent City, California. It seems that Howard has some serious issues with the freewheeling lifestyles of young runaways; he has been scarred ever since his sister Judy disappeared six years earlier, but it is the bad effect that it had on his mother (Dorothy Bennett) that fuels his rage. You see Harold is a perfect example of the new breed of menace that stalks the young girls that are foolish enough to hitch hike; he is seemingly a perfectly well adjusted hard working young man, that is unless you are a "bad girl," the kind of girl that speaks badly of her parents or even expresses a distain for life here in Crescent City. Suddenly, Harold starts contorting his face into an ugly grimace and he begins to rub his forehead in anticipation of one of those nagging migraines. Before you know it Harold is seemingly operating in a fugue state; there is a certain robotic quality to his movements and he begins to address his victim as Judy, and then since he can't help it, he rapes and then strangles the girl, unceremoniously dumping the body like it was a bag of unwanted rubbish. Harold then blacks out and comes to behind the wheel of his employers van. He will need to come up with a lame excuse for his nagging boss, Mr. Baldwin (John Harmon) to explain where he's been and why there are unmade deliveries at the end of the day. Then he heads home to the nattering's of his mother, who has been cooking all his favorite dishes; but something isn't right, the food doesn't taste right, he just wants to drink a root beer, but mama insists that he eat more of the foul tasting food. All Harold wants to do is be left alone in his room to work on his hobby, building model cars. And so it goes until the local police realize that there is a sicko out there who has an insatiable need to kill hitch hikers; essentially a two man detective squad consisting of Captain J.W. Shaw (Russell Johnson) and Lieutenant Davis (Randy Echols) as his trusty sidekick.

This is typical 70's drive-in fare with very little suspense and the horror is found in the repetitious killings that are practically the same each time. There is brief nudity and very little on screen violence, so gore hounds will be disappointed. Robert Gribbin in the lead role of Howard is akin to Norman Bates bastard love child; a myopic, regular dude that loses it and is compelled to punish the bad girl's again and again, feeling no remorse as well as displaying no real personality except this aw shucks persona to the outside world. His mother, although a tad overly concerned about every single mood change on display, is hardly to blame for Howard manic impulses. It is rather amusing to listen to Russell Johnson mouthing platitudes about there also being "… delinquent parents as well as delinquent children." Russell obviously needing to make a car payment is the only real actor on display here and his appearance helps add a certain After School Special quality to the film. You can just see the title of the episode: "Stranger Danger!"

Video


Even though released on Blu-ray, the print is truly in sad condition, riddled with scratches, dust on the print, and large blemishes visible throughout. Yes, this is probably as good as it's going to get, that still isn't saying much. There is the choice of two different versions: fullscreen 1.33:1 and widescreen 1.78:1 1080p 24/fps using AVC MPEG-4 compression, but because the same source was used, you still get a poor picture to see.

Audio


English DTS-HD Master Audio 1.0 mono is the only audio included and according to Arrow's website, "the soundtrack was sourced from the original optical negatives. Additional audio remastering was completed at Pinewood Studios." That being said, the mono audio track does its job and dialogue is clear and direct. Again, nothing to write home about. Optional subtitles are included in English for the hearing impaired.

Extras


As usual Arrow offers up a banquet of extras for the consumer that is interested in this content.

"Of Monsters and Morality: The Strange Cinema of Irvin Berwick" (29:01) featurette hosted by the ever informative author Stephen Thrower, he offers up a career illuminating retrospect of director Berwick and even some facts about Berwick's son and his career.

"Road to Nowhere: Hitchhiking Culture Goes to Hell" (21:27) featurette is an interesting look at hitch hiking in the cinema hosted by Alexandra Heller-Nicholas. Plenty of archival clips are found here.

"Nancy Adams on the Road" (24:52) featurette the singer-songwriter recalls her career and how she came to be warbling the lead tune.

"Lovin' on My Mind" - original song (2:24) this is the original unadulterated version before various changes were made for the film.

"Lovin' On My Mind" - alternate opening titles (3:02) features a one of a kind experience combing the original version with the edited version, includes a brief introduction by Nancy Adams.

Two original theatrical trailers are included:

- "1.33:1 version" (2:21).
- "1.85:1 version" (2:21).

Packaging


Comes packaged in a regular Blu-ray case but featuring hip artwork by The Twins of Evil.

Overall


Heavy handed and preachy without adequate character development when needed, this is a long forgotten relic from the 70's, but is nothing to get excited about.
| | | | | |
| --- | --- | --- | --- | --- |
| The Film: B- | Video: B | Audio: B | Extras: A | Overall: B- |