The Film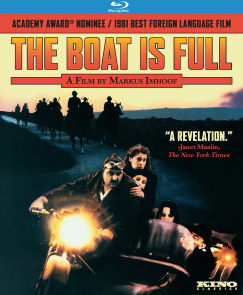 Oscar (Best Foreign Language Film): The Boat is Full (nominated) - Academy Awards, 1982
C.I.D.A.L.C. Award: Markus Imhoof (winner), FIPRESCI Prize (Honorable Mention): Markus Imhoof (winner), , Interfilm Award (Special Recommendation): Markus Imhoof (winner), OCIC Award: Markus Imhoof (winner), Silver Berlin Bear (Outstanding Single Achievement): Markus Imhoof (winner), and Golden Berlin Bear : Markus Imhoof (nominee) - Berlin International Film Festival, 1981
René Clair Award: Markus Imhoof (winner) - David di Donatello Awards, 1982
Max Ophüls Award: Markus Imhoof (nominee) - Max Ophüls Festival, 1982

When a German train stops near the Swiss border, Jewish grandfather Ostrowskij (Casablanca's Curt Bois), his granddaughter Gitty (), housewife Judith Krueger (The Tin Drum's Tina Engel), her wounded brother Olaf Landau (Killer Condom director Martin Walz), and French child Maurice (Laurent)escape with the help of deserting Nazi soldier Karl Schneider (Full Moon's Gerd David); unfortunately, Ostrowskij's wife (Possession's Ilse Bahrs) fails to get away and goes defiantly to her grisly death. The escapees cross the Swiss border and spend the night in a chicken coup where they are discovered by Anna (Sweet Movie's Renate Steiger), the proprietress of a village inn who at first seems unsympathetic but hurries them into her kitchen where she makes them a meal from rations. She resents Karl's presence but takes his uniform and gives him some clothes belonging to her husband Franz (Downfall's Mathias Gnädinger), and allows Judith to telephone the work camp where her German husband Hannes (The Castle's Hans Diehl) was sent after he refused to divorce her for being a Jew. They are unable to hide from Franz for long and he sends for the local police official Bigler (Shining Through's Michael Gempart) to determine what happens to them. Franz too is not entirely unsympathetic, going along with Anna's suggestions that the refugees might be able to stay if they pose as a family, with Karl playing father to Gitty and Maurice and Judith mother while Olaf dons Karl's uniform since deserters are automatically allowed to stay and he can get treatment for his injuries. None of them can communicate with Maurice who only speaks French, and they worry that he might inadvertently give them away; however, Hannes' assisted escape upon learning that his wife is in Switzerland and anti-refugee sentiments may seal their fates.

Based on the book of the same name by Alfred A. Haesler as well as official reports and true accounts, The Boat is Full interrogates the notion of Swiss neutrality and the countries laws and attitudes towards refugees during the war; indeed, the title comes from the anti-refugee sentiments voiced during the period. Although the film has all the elements for a conventional war drama with escapees, separated lovers, collaborators, and the danger of discovery, the film instead grimly explores the situation in which policy is indifferent to the safety and survival of Jewish refugees and objectors to Germany's position in the war, and decisions about who to report and who to protect are up to individuals who can exploit the desperate for profit (Ostrowskij offers up some of the family silverware to Anna in return for the food and meagre hospitality but all of them are must see their personal possessions and heirlooms assessed in terms of the convenience of selling for cash by Bigler when he raises the issue of bail). Initial attitudes of certain characters change for the better or worse, but the climax shows the village's populace expressing both bigotry and compassion, some hurling anti-immigrant abuse at the refugees and others haranguing Bigler who is apparently not so widely respected as he himself believes. The fact that the film does not reflect well upon its country of origin lead to narrow domestic distribution, critical attacks, and even death threats upon director Markus Imhoof and his family; however, it did prove popular abroad, only achieving its deserved recognition in Switzerland in the late nineties (more on that below).

Video


Released theatrically by eclectic arthouse distributor Quartet Films and to VHS in both subtitled and English-dubbed versions by Embassy Home Entertainment in the eighties and subtitled VHS from First Run in the nineties, The Boat is Full came to DVD 2006 from Image Entertainment through Quartet's successor company Castle Hill Productions; however, it was discovered in the late nineties that the original negative was in poor condition, and the PAL-NTSC converted DVD image reflected this. The same can be said of Kino Lorber's 1080p24 MPEG-4 AVC 1.66:1 widescreen Blu-ray, but to a lesser extent thanks to modern mastering tools. The defects of the transfer stand out in the night scenes where minute portions of the shadows become crushed while the blacks of brighter scenes are a range of grays (making one wonder how faded the overall image may be even though the color scheme appears to be deliberately cool and muted).

Audio


The film was released in mono but apparently remixed when it was re-released in Switzerland in the nineties, with the aforementioned Image DVD having a German Dolby Digital 2.0 surround track. The Kino Blu-ray, on the other hand, has a German DTS-HD Master Audio 2.0 mono track and the option of a 5.1 mix that does not have a lot to do in terms of the film's sedate sound design and lack of scoring (the electronic music heard during the Blu-ray menus seems very suited to European films of the era, even period pieces, but it is not heard in the film itself). Optional English subtitles are provided.

Extras


The sole extra is an interview with director Markus Imhoof (18:11) ported over from the Image DVD in which he discusses the origins in the source novel, his research, and his memories of his family's experience with refugees. He discusses the lack of government support in the funding, the casting of the film, his choice not to include any scoring so that the film's drama could stand on its own, the film's domestic and international reception, and its reassessment in the nineties. The disc also includes the film's theatrical trailer (2:02) and bonus trailers.

Overall


Although The Boat is Full as a war film is rife with dramatic possibilities to be a thriller or action film, it is instead a grim interrogation of attitudes towards refugees that grate against the portrait of neurtral Switzerland as a haven or sanctuary.