The Film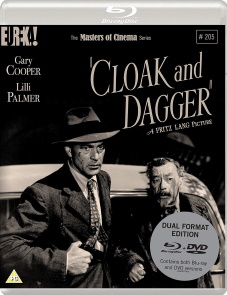 When an interrupted cable only from the French boarder reveals to Colonel Walsh (King Kong's James Flavin) of the Office of Strategic Services that the Germans are transporting chemicals from countries they are occupying, he suspects that they have joined the race against the United States and other nations to build the first atomic bomb but none of his agents have an adequate understanding of nuclear physics. He appeals to former college buddy Professor Alvah Jesper (High Noon's Gary Cooper) to go to Switzerland and meet Hungarian Dr. Katarin Lodor (Isle of the Dead's Helene Thimig) who escaped the Nazis and crossed the border on foot and is now hospitalized with pneumonia. With no experience in espionage, he does not know who to trust upon arrival, even supposed ally Pinkie (The House of Exorcism's Robert Alda) and dazzling American socialite Ann Dawson (Dangerous Crossing's Marjorie Hoshelle) who chats him up at the bar. Posing as a watch and jewelry dealer, Jesper goes to visit Lodor in the hospital only to discover that she plans to go back to the Nazis since they have threatened to execute ten Hungarian anti-Nazi operatives every day starting the following Sunday unless she goes to Italy to work with former colleague Dr. Giovanni Polda (The Magnificent Seven's Vladimir Sokoloff). Jesper suggests that the United States can help her, if not to escape, than to find ways to slow the progress of their research; however, Pinkie informs him that Dr. Lodor has vanished from the hospital and that he must somehow be the weak link, tracing the leak to Dawson who may be American but has been involved with anti-Semitic and anti-Negro groups in the States. Jesper is able to discover Lodor's whereabouts with the help of Pinkie cooking up a bribery scheme that would have Dawson's Nazi superior's believing she had double-crossed them. Unfortunately, their attempt to rescue Lodor results in her death; whereupon, Jesper suggests they work on Polda who had been vehemently against the notion of science in the service of war before the Italian occupation. Posing as a German scientist, Jesper meets with Polda who reveals that the Nazis have his daughter Maria and he will do anything they demand of him so long as she is in danger. While Pinkie works out a way of extracting Maria from a German prison, Jesper is on the run throughout Italy with partisan Gina (The House That Screamed's Lilli Palmer). Thrown together and dependent upon each other while checking constantly for word from Pinkie that they can extract Polda, the two fall in love; however, treachery lurks around every corner, and some people are not who they appear.

One of a handful of war films helmed by director Fritz Lang during his Hollywood period, Cloak & Dagger is less of a thriller than propaganda for the then-defunct CIA precursor the Office of Strategic Services; indeed, the film takes its title from the nonfiction book of the same title by Corey Ford and Alastair MacBain. While Lang's Hollywood films enjoyed little critical popularity at the time until reassessed by the Cahiers du Cinema crowd, Cloak & Dagger is very much a dud in spite of the expected displays of Lang's style. Although Lang defended the casting of Cooper, he does seem very much miscast and badly let down by a screenplay that has him seeming to cast aside his misgivings about the atomic arms race, only seeming to use Polda's own words about a "free science at the service of humanity" for strategic purposes. It also strains credibility that the OSS appears to be so short-staffed that Jesper is not only dragged along on dangerous maneuvers but placed in the positions of having to engage in fisticuffs with the Nazis while Pinkie and other agents are elsewhere on the perimeter of locations, or that Jesper seems to make promises on behalf of the government to Lodor and Polda seemingly on the spot rather than as part of a negotiation plan. The best parts of the film come during the middle with Cooper and Palmer having a nice chemistry and Lang building suspense through editing and camerawork, a standout sequence being Jesper's "dirty fight" with Italian collaborator Luigi (Pigs' Marc Lawrence), both fighters attempting to kill each other without drawing undue attention from the village revelers in the street while Gina keeps watch in the doorway lest their fight also alert the Germans to their extraction plan. The film's climactic firefight has some nice surprises including Gina's blunt and ruthless disposal of a traitor and a chance for Alda's Pinkie to get in on the fighting in which he is supposedly more trained than academic Jesper, but one wonders if American audiences might not have been fatigued by war films in 1946, even those that purported to reveal secret operations. Along with the requisite Lux radio adaptation, the film also spawned a radio series. Strangely, in spite of (or because of) the film's vehement anti-fascist bent in a post-war Hollywood, the film's screenwriters Albert Maltz (The Naked City) and Ring Lardner Jr. (M*A*S*H) were two of The Hollywood Ten blacklisted by the House Un-American Activities Committee.

Video


Released theatrically by Warner Bros., the subsequent television syndication deal for the film lead to its ownership by Republic Pictures with a VHS release in 1990 and laserdisc in 1992, followed by a barebones 2002 DVD. When the Republic Pictures library – purchased by Spelling Entertainment – was then sold to Viacom, it became one of the titles Paramount licensed to Olive Films for barebones DVD and Blu-ray releases in 2013. Presumably sourced from the same HD master, Eureka's 1080p24 MPEG-4 AVC 1.33:1 pillarboxed fullscreen Blu-ray is generally attractive with nice detail in close-ups and layered contrast in the noir lighting while white surface scratches are evident throughout that have not been digitally erased (probably for the best as some may even have occurred in camera).

Audio


The sole feature audio option is an LPCM 2.0 mono track that has clear dialogue, music, and but is not particularly dynamic in its effects or even the heights of undistinguished Max Steiner score. Optional English HoH subtitles are provided.

Extras


Extras start off with an audio commentary by film critic and writer Alexandra Heller-Nicholas who starts off the track noting that this is a film in which Nazis are unequivocally the bad guys – noting the ludicrousness of current political discourse – as they were for unequivocally for Lang. She reveals that the film is indeed propaganda for the Office of Strategic Services in that the government was trying to drum up support for a post-war equivalent that would later become the CIA. She also discusses the film in the context of Lang's war films and in his overall genre output during his Hollywood period, as well as Cooper's latter day career, and Lang's clashes with the producer Milton Sperling (The Court-Martial of Billy Mitchell), particularly over the film's original, now lost ending. Additional light on the OSS and the film's production woes is covered in "Spycraft" (19:15), a video essay by film historian David Cairns in which he notes that some of Lang's sentiments about nuclear war as espoused by Cooper's character survive in the film's dialogue despite the film's overall attitude that atomic energy would be best in the hands of the Americans. He also discusses the contrast between the superman heroes of Lang's German adventure films and the "everyman" underdogs he recognized as being favored by American audiences. The disc also includes the Lux Radio Theater adaptation (57:58) from 1946 starring Palmer and Ronald Reagan in which Palmer's character narrates the tale even though the setup happens outside of her purview, as well as all twenty-two episodes of the 1950 NBC radio series. While the running time of the series is roughly five hours, it is audio only.

Packaging


Packaged in the case is a collector's booklet featuring a new essay by Samm Deighan titled "Year One of the Atomic Age: Nuclear Terror in Fritz Lang's Cloak and Dagger" in which she too notes that it is a World War II film but does not "fit neatly into that subgenre" discussing it in terms of Lang's other war films, and not being the only one in the disc's extras to note the parallels with Alfred Hitchcock's later Torn Curtain. The booklet also includes an episode guide for the radio series.

Overall


While Fritz Lang encountered conflict with producers in pretty much all of Hollywood films, Cloak and Dagger seems the most lopsided, but intriguingly so with an understanding of the behind the scenes story.