Beyond (The) AKA E Tu vivrai nel terrore - L'aldilą AKA Seven Doors of Death (Blu-ray) [Blu-ray]
Blu-ray ALL - United Kingdom - Shameless Screen Entertainment
Review written by and copyright: Rick Curzon (8th January 2020).
The Film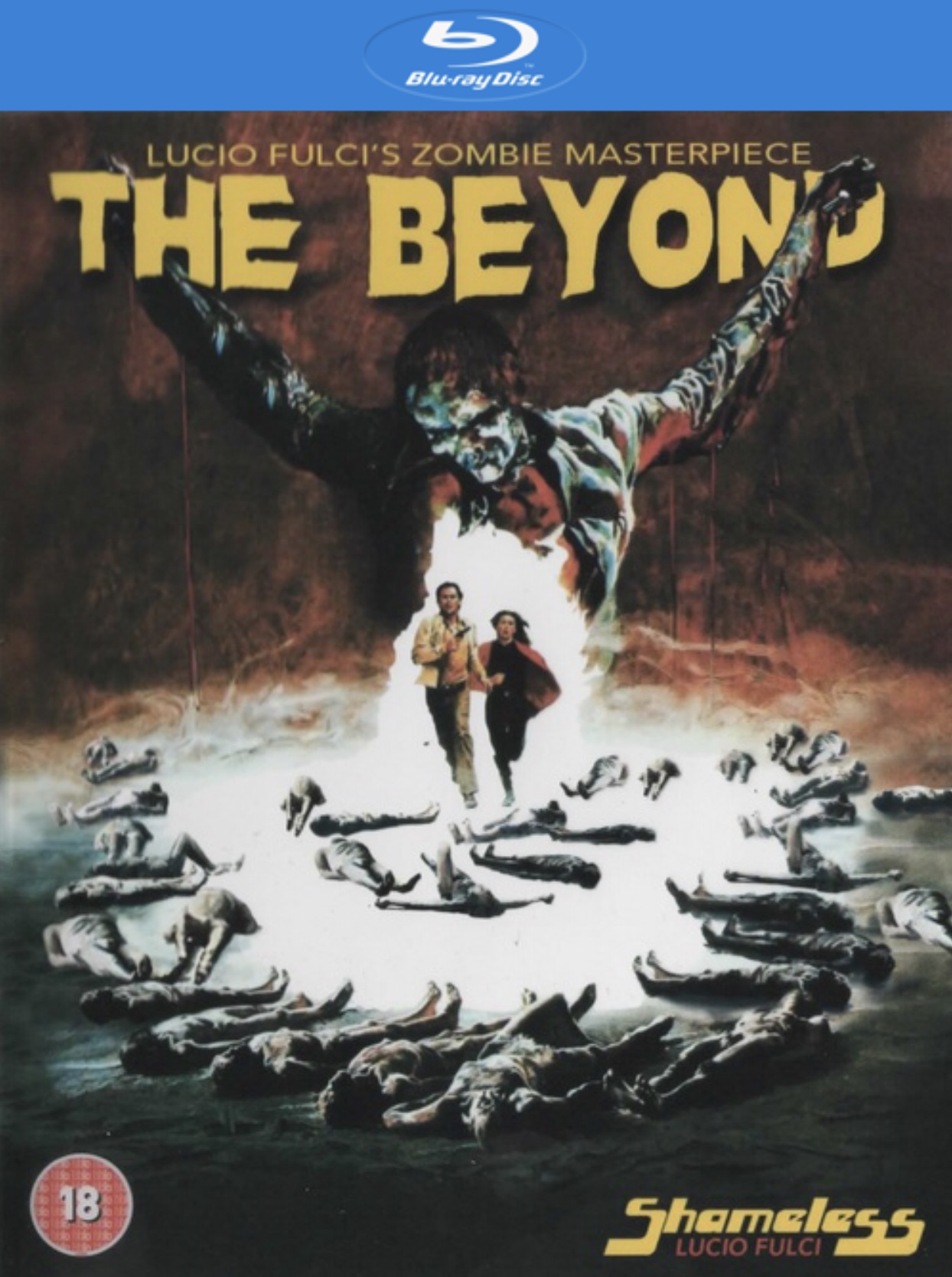 When jaded New Yorker (Catriona MacColl) inherits a New Orleans hotel, she calls on composed local doctor (David Warbeck) to contain the inexplicable and increasingly gory accidents that are plaguing the building and its surroundings.
But soon the Gates of Hell themselves open under the hotel, rendering their fight futile as the Dead emerge to walk the earth...

SHAMELESS FILMS PRESENTS LUCIO FULCI'S HORROR MASTERPIECE THE BEYOND, FROM A NEW 2K SCAN

Additionally, and for the first time ever The Beyond is presented with four different versions of the prologue, seamlessly branched:

The now accepted standard sepia
The original colour camera footage
The B&W version
A new fourth-way: presented as an homage to director Lucio Fulci and director of Photography, DOP Sergio Salvati.

For this new alternative prologue version, for the 1st time ever, Shameless have used the restored colour camera footage as a base on which a new golden toning was applied in reference to known considerations from DOP Salvati. All other sepia tint were monochrome. The result of applying tone over the newly rediscovered and restored colour footage is that the reds of the gore are now strikingly visible and all the light sources such as the torches and car headlights are much more luminous and enhancing a painterly chiaroscuro never presented before.

Video


The Beyond is one of many films shot from the early '60s through the '80s on the now defunct 35mm 2-perf widescreen format Techniscope. This means that it was shot using half the amount of film per shot than standard 4-perf 35mm lensed productions. Consequently, the image is inherently softer and grainier than a 4-perf production.

This has caused problems for those supervising transfers for home video formats over the years. Shameless are using a new 2K scan of the OCN and it looks fabulous on this Blu-ray.

Colours are rich and the slightly yellowish hues of prior transfers have been eliminated with a more naturalistic slightly colder palette. Shadow detail is excellent with no unintended crush to be seen with one exception (see below). Blacks are deep and rich being suitable stygian.

Contrast is perfectly balanced with no blown out highlights allowing detail to shine through. Detail is extremely good for the Techniscope format and at times approaches the sharpness of a 4-perf production. Grain is ever present and very welcome maintaining a nice even pattern across the whole film. The transfer is very pleasing and film like. The encode is strong with no holes in the grain or digital artefacts present.

This version of The Beyond presents four viewing options for the 1927 prologue. All are terrific with the exception of the sepia which has been graded too dark and slightly contrast boosted which means it suffers from pretty severe black crush. The ideal choice is the new Sergio Salvatti approved sepia on original colour which is luscious with a gorgeous golden hue.

A top notch new transfer that has been encoded very well; a shame the sound isn't as good overall.

1080/24p / MPEG-4 AVC / 2.35:1 / 87:29

Audio


English DTS-HD Master Audio 2.0 Mono
Italian DTS-HD Master Audio 2.0 Mono
Subtitles: English (translation of Italian dialogue)

The quality of both tracks is generally very strong with dialogue coming clearly to the fore; music never steps on the actors. Both are lossless and very robust with plenty of welly.

I head no distortion on the English track which is the better of the two; music, dialogue and sound effects are well balanced throughout.

The Italian has some mild distortion that came through on my system as being slightly duller and muted when compared side by side to the English. It's most likely the way it has always sounded and dialogue is favoured over music and effects at times.

In any case, the film was shot on set with all of the lead actors speaking English and the vast majority of the supporting players also seem to be speaking English; and is the definitive track for the viewing of the film. MacColl and Warbeck also did their own dubbing so their true voices are heard.

The subtitles translate the Italian track and are excellent.

Now for the big disappointments:

(1.) Although the audio is 2.0 but phasing issues between the channels causes an echoey 4.0 output on 5.1 systems. Those with the capability will want to switch their amp to pure 2.0 only (mucho thanks to my colleague Eric Cotenas for looking into this issue for me).

(2.) The superb 5.1 track created for the 1998 midnight movie screenings distributed by Grindhouse Releasing in conjunction with Quentin Tarantino has not been included here. It's been on most DVD and Blu-ray releases starting with the 2000 Anchor Bay (USA) DVD release and has become my preferred option.

Extras


Audio Commentary with actors David Warbeck and Catriona MacColl

This excellent, if sad, commentary has been a mainstay of most home video releases of The Beyond since the US Anchor Bay DVD (it was recorded for a cancelled Laserdisc release). Literally a death bed piece as it was recorded in Warbeck's hospital room as he lay dying and he references his condition and the drugs he's having to tale at a couple of points. Despite this, he's on fine form and bounces well off MacColl and the track is filled with trivia and good humour; especially amusing are their comments about Fulci and his cameo. Warbeck died shortly after on July 23rd 1997.

Audio Commentary with cinematographer Sergio Salvati and moderator Paolo Alviero (with optional English subtitles)

Another superb track that heralds from 2004 and the Italian DVD release from No Shame. Jam-packed with fascinating information about the production of the film. Alviero is a first class moderator and Salvati a thoroughly garrulous subject; essential.

The Film: With different prologue options (Original Colour Shoot, Black & White, Standard Sepia, Sepia-Tone on Colour)

See my comments on these above in the video section; the best is the new sepia on colour.

"Emily's Eyes" 2017 interview with actress Cinzia Monreale (16:55)

The veteran actress (who plays Emily in the film) discusses working with Fulci on Silver Saddle (1978) and The Beyond (1981). It would seem that Fulci's reputation as being grumpy was well founded, but Monreale still enjoyed working with him. They shared an interest in food and films and had many conversations about such.

"Arachnophobia" 2018 interview with actor Michele Mirabella (28:30)

The actor who plays architect Martin Avery in the film. He starts off discussing his alternate career as a radio broadcaster and the inconsistent nature of that job and how it led to him getting the part in The Beyond. Mirabella new New York well having been involved in the theatre scene there was over joyed to get to work again in the USA albeit in New Orleans. Most amusing is his asides regarding alligators and gangsters in New Orleans, shooting on location, shooting in .rome, spiders and many recollections of his friend Fulci.

"Murder, They Wrote - Working with Lucio Fulci: A Conversation with Giorgio Mariuzzo" 2018 featurette (12:59)

Mariuzzo is an affable fellow who discusses first meeting Fulci and working on his films. He remembers Fulci as a man who had creative bursts and would suggest ideas for set pieces and gore scenes that everyone else thought were disgusting. Plenty of interesting stuff here with the most interesting comment being that director Elio Petri admired Fulci's style and camerawork.

"Lucio Fulci on the Set of Demonia" 1990 featurette (1:47)

A clip of videotaped material shot on the 1990 set of Demonia; nothing to do directly with The Beyond but nice all the same.

"The Beyond Prologue Comparison" 2019 featurette:
- Text Introduction (0:50)
- Featurette (7:14)

Short piece discussing the variations in presenting the pre-credits prologue set in 1927.

Startup Trailers:
- The New York Ripper (0:50)
- Cannibal Ferox (1:07)
- The Church (1:26)
Shameless Promo (0:10)

A nice collection of trailers for other Shameless releases.

Overall


A stunning new 2K master is the basis of this welcome revisit to Fulci's Beyond from UK label Shameless Entertainment. The image is about as good as can be and may arguably be the best this classic film has looked. However, although the original English language mono track is present and correct and is very good, it and the Italian track suffer from phasing issues when played through 5.1 equipment and thus have a 4.0 echoey quality unless you switch your amp to only output 2.0.

It's also regrettable that the excellent 5.1 boost from previous DVDs and BDs hasn't been ported over. Extras are superb and mainly made up of legacy material but it's very choice.
| | | | | |
| --- | --- | --- | --- | --- |
| The Film: B+ | Video: A+ | Audio: C+ | Extras: A | Overall: B |

---
DVD Compare is a participant in the Amazon Services LLC Associates Program and the Amazon Europe S.a.r.l. Associates Programme, an affiliate advertising program designed to provide a means for sites to earn advertising fees by advertising and linking to amazon.co.uk, amazon.com, amazon.ca, amazon.fr, and amazon.de.