The Film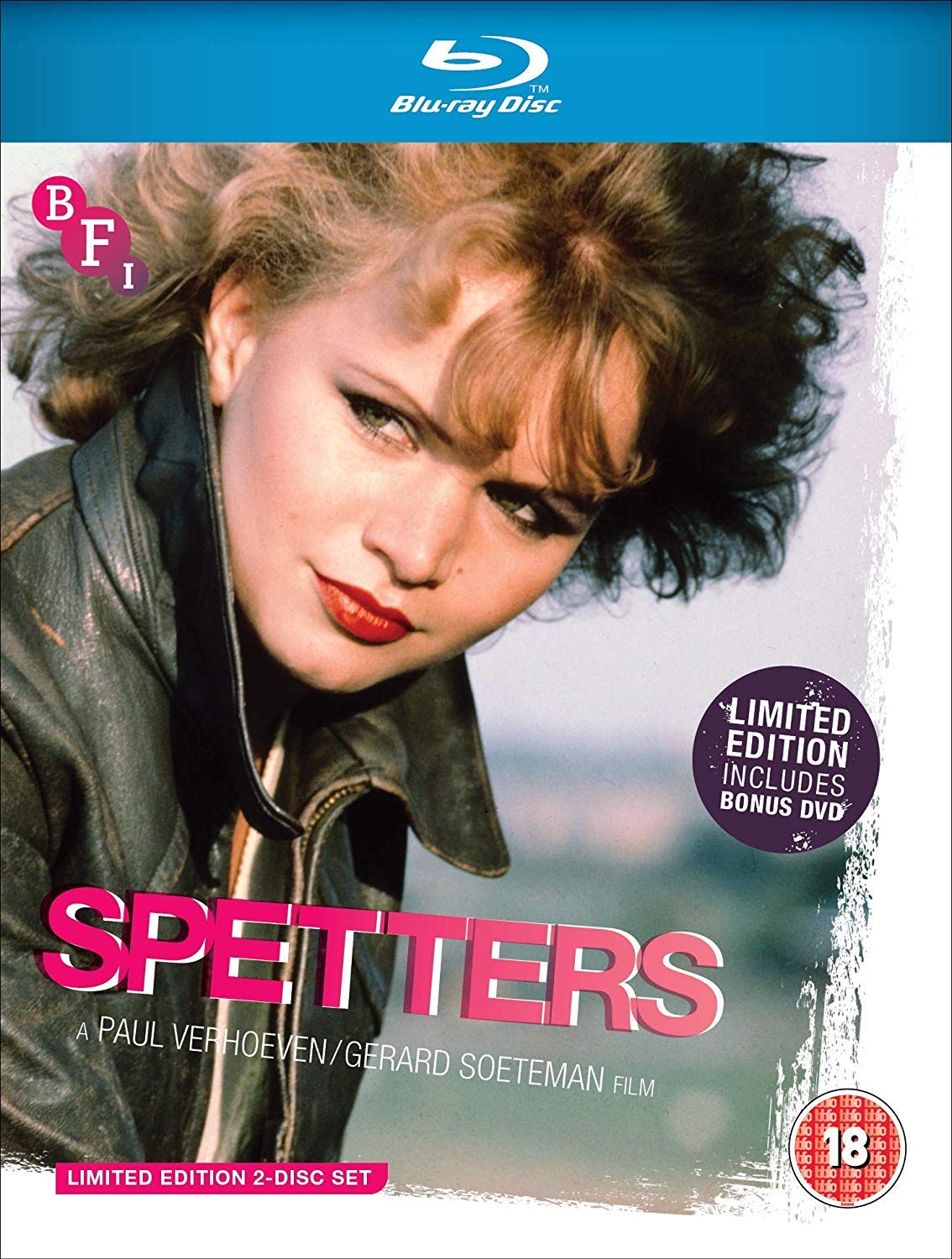 "Spetters" (1980)

Rien (played by Hans van Tongeren), Eef (played by Toon Agterberg), and Hans (played by Maarten Spanjer) are three best friends with a dream - to become dirt bike racing superstars, just like their idol Gerrit Witkamp (played by Rutger Hauer), a dentist by day and local champion dirt bike racer who is praised and celebrated by many. Rien is an agile young racer that has proven himself by moving up in rankings. Hans is not great, but is full of heart and is not ready to give up. Eef is their mechanic and making sure things run smoothly for the races. The three have their highs and lows in life, from their distant relationships with their respective fathers, difficulty in terms of love at a young age, but they are having fun and they are set out to follow their dreams. After Rien wins his first major tournament, it catches the attention of Fientje (played by Renée Soutendijk) who works out of a traveling food truck making chips and croquettes. Once she enters the picture, her ambitions both support and clash with their dreams...

After a string of successful films in his native Holland that won national and international acclaim, director Paul Verhoeven's 1980 production "Spetters" became one of the most reviled films of the era with negative marks from various groups in Holland, calling out the film as misogynistic filth. While the basic premise seems innocent enough, there was a lot of controversy surrounding the characters and their actions as well as the graphic sexuality and violence seen throughout. Collaborating with screenwriter Gerard Soeteman following their success in adapting "Soldier of Orange" in 1977, it was decided to make a film that was an original piece of work in a contemporary setting with a youthful setting.

Of all the characters in the film, there is not one that is particularly a "good" character. Rien rides high on his ego after winning his first big race, but the way he treats his girlfriend Maya (played by Marrianne Boyer) is not particularly gentlemanly, and when Fientje comes into the picture, he is ready to easily kick her to the curb. In addition, after his accident (which might be a spoiler) he basically gives up on his will to continue even with the support of others. Eef denies his true self, by attacking local gay men, humiliating them, and stealing their money. Hans may be the only good kid in the bunch, but he is clumsy and awkward, without much of a lead in life for himself. The three have issues with their fathers, who are quite disappointed in their sons in different ways, straining relations at home and also how the boys treat others. Fientje wants a better life than just work out of a traveling food truck, and she uses sex to try to get more for herself and for the people around her. She uses her body to get out of a parking ticket, also to help Rien get dirt bike sponsorship by sleeping with TV announcer Henkhof (played by Jeroen Krabbé) as well as looking for ways to manipulate the three young men.

The sexual nature shown on screen is graphic, though surprisingly there is no full frontal female nudity, but rather full male nudity seen throughout, with female nudity kept at topless shots. Dicks are seen being jerked off, fondled with, semi-erections and full hard ons are visible in certain scenes. A fellatio scene is shown for real with actual oral contact rather than just suggested. But these sexual scenes are not particularly there for excitement. There is a dick measuring scene by the main characters to see who has the biggest. A scene with a hard on being shown is a male gang rape sequence. The scenes are there for story purposes unlike a pornographic film, and even the blowjob scene is one that can be argued as valid as it was a voyeur viewpoint of the character and what he was seeing. Even ith Holland being more on the liberal side of sexuality on screen at the time, the images were quite shocking and disturbing in some sequences, and some international territories, there were some cuts that had to be made, such as the blowjob scene having to be shortened so the actual blowjob would not be seen on screen.

Not only did "Spetters" cause controversy against women and gays, but it also irked the Christian community with their take on Christianity and faith healing. There are portions that the main characters mock the Jesus lovers that appear in some sequences and later with Rien rejecting spiritual saving through the powers of the Lord, it also caused outcry over the film and the depiction of Christians. Eventually, the Anti-Spetters-Action group was formed, with leftists, women, gays, and Christians coming together (who knew they could all get along on something?) to protest the film and its messages shown. While on the surface, it can be easily seen as a film with unlikable characters and hatred, there is much more to it than what is seen on screen. There was a major backlash against homosexuals in the late 70s and early 80s even in Holland, and violence against them was quite common. Not only were heterosexuals attacking them, but closeted homosexuals were part of the act, as seen time and time again with people rejecting their truth. There have been instances of politicians that were enacting anti-homosexual laws but in turn those politicians were closeted homosexual themselves. The character of Eef's actions were mirrors of himself - a way to scar himself for who he was but not on himself. One aspect the film did not do as well as it could have was revealing that Eef was a closet gay, as hints were far and few, with his revealing scene to his father seemingly coming out of nowhere rather than a gradual understanding of who he was and accepting it. The way the boys treat girls is fairly negative but so are the parents an other men of the past generation in the film. The one female character that tries to stand on her own is Fientje and she knows that men are weak for sex and she uses that to her advantage. Is it a good quality? No, it isn't, but is that her fault or the fault of men who let it happen? The character of Maya loses her hopes and aspirations with Rien disappearing from her picture, but she is out to do better, by seeking help from God through the Christian church, and later she is seen in a nurse's outfit on a bus, as she is ready to become a nurse to help others, rather than staying a supermarket cashier, her new found belief takes her on a journey to save people.

Critics at the time were not able to see the depths of the characters and how it reflected the period, but audiences were much better, with over a million admissions in Holland alone, and becoming an arthouse hit in the United States, United Kingdom, and other countries. Interestingly the title "Spetters" was kept internationally, as there was no particular translation that could do it justice. A slang word for "Hunk" and also a word meaning "hot splash", it was parallel to both the hot grease used in Fientje's food stand as well as semen from various characters.

Due to the controversy and difficulty Verhoeven had with funding and censorship, it would take another three years until he could make his next film "The Fourth Man" which again was a hit and met with controversy as expected. That would be the last Dutch film the director would make for a long time, as he went outside of his native country to make some defining and controversial works such as "RoboCop" and "Total Recall". Many of the cast and crew would enjoy lengthy careers in their native country and abroad, but unfortunately lead actor Hans van Tongeren would not live to see much success as he took his own life in 1982 at the young age of 27. A method actor who did almost all his own stuntwork in "Spetters", he truly had a powerful performance in the film, and it was a great loss for the film world with his death. While "Spetters" won no awards when it was released, it has subsequently received better reviews and seen as a defining moment in Dutch cinema, as were some of Verhoeven's other earlier works. It has its flaws, but it is still a though provoking and visceral piece of work.

Note this is a region B Blu-ray / region 2 PAL DVD set

Video


The BFI presents the film in the original theatrical 1.66:1 aspect ratio in 1080p AVC MPEG-4. The uncensored 35mm interpositive was scanned at 4K for the restoration by rightsholders MGM. The film was a fairly colorful one with the clothes worn by the characters and the natural environments from the cityscape to the rural areas. The 4K restoration keeps the colors bold while eliminating dust, debris, and other issues with a healthy looking amount of grain intact for a film-like appearance. Colors are well balanced with no problems with fluctuation or fading. By no means is it perfect, as there are some minor debris remaining in minor shots, and darker scenes have some issues with the darker portions, but overall it is a solid restoration and transfer.

The film's runtime is 122:41.

Audio


Dutch LPCM 2.0 mono
The original mono Dutch audio track is presented in uncompressed form. Filled with some great well known music from the era with Michael Jackson, Iggy Pop, Blondie, and others, as well as a score with original music by Dutch prog rock band Kayak, the mono audio may not do their music justice but it certainly sounds great for a film of the period. Dialogue, music, and effects are well balanced, there are no issues with synchronization, and the track has no issues with hisses, pops, or other defects.

There are optional English subtitles for the main feature in a white font, with no problematic issues to speak of.

Extras


The BFI is releasing this in a Limited Edition form with the film and some extras on a Blu-ray with additional extras on a bonus DVD in the PAL format. A subsequent standard edition will drop the bonus disc and will be a single Blu-ray only. The extras on the Limited Edition are as follows:


DISC ONE (Blu-ray)

Audio commentary by director Paul Verhoeven
In this commentary recorded in 2001 for the US DVD from MGM, the director flies solo talking about the production and reception of the film. From the idea of making a blue collar modern piece, information on each of the characters and deconstructing them, the problems encountered with the funding of the film and the extremely negative reviews the film received in Holland, and much more. As he states, he is extremely proud of the film and was been disappointed in it, as critics turned their thoughts years later.
in English LPCM 1.0 with no subtitles

"Symbolic Power, Profit and Performance in Paul Verhoeven's Spetters" visual essay by film historian Amy Simmons (17:27)
In this visual essay, Simmons talks about the characters, the references, the controversy, and the film's place in Verhoeven's filmography. The visuals are entirely taken from the film itself.
in 1080p AVC MPEG-4, in 1.66:1, in English LPCM 2.0 with no subtitles

Image Gallery (3:13)
A series of behind the scenes stills, posters, and promotional stills in an automated slideshow without music accompaniment.
in 1080p AVC MPEG-4

Trailers: English / Dutch / German 1 / German 2 (9:33)
Four trailers are presented, all varying in editing and presentation, with the European trailers showcasing the sexual angle more than the American. The US trailer has the best colors, the Dutch trailer is quite soft in appearance, the first German trailer is very washed out with quite a lot of scratches and dust, and the second German trailer is very reddish brown in colors.
in 1080p AVC MPEG-4, in 1.78:1 and 1.33:1, in English/Dutch/German LPCM 2.0 with optional English subtitles


DISC TWO (DVD)

"Andere Tijden - Spetters" TV episode (29:27)
In this 2002 episode of Dutch TV series "Andere Tijden", it is focused on "Spetters" and how it made waves in Dutch cinema at the time of its release. It features new interviews with some of the cast and crew, as well as critics both praising and trashing the film, giving insights for all sides. It also features vintage footage of Verhoeven and the actors promoting the film on Dutch TV in 1980 as well as a talk show in which Verhoeven tries to defend the film from many of the angry critics. There is also footage of the premiere screening, which also had its positive and negative reactions. This was previously found on the German Koch Media Blu-ray release of "Spetters".
in non-anamorphic 1.33:1 and 1.66:1, in Dutch Dolby Digital 2.0 with optional English subtitles

"Speed Crazy" an interview with director Paul Verhoeven (7:49)
In this interview from 2014, Verhoeven recalls the making of "Spetters" and its messages, as well as its reception and how it shaped and helped his career thereon. The interview portion is in English while the film clips are in Dutch with English subtitles. This was previously found on the German Koch Media Blu-ray release of "Spetters".
in anamorphic 1.78:1, in English and Dutch Dolby Digital 2.0 with optional English subtitles

"Writing Spetters" an interview with screenwriter Gerard Soeteman (10:39)
In this interview from 2014, Soeteman recalls how he met Verhoeven and their collaboration on "Spetters", as well as all the issues it had getting the film made with its troubling plot. The interview portion is in English while the film clips are in Dutch with English subtitles. This was previously found on the German Koch Media Blu-ray release of "Spetters".
in anamorphic 1.78:1, in English and Dutch Dolby Digital 2.0 with optional English subtitles

An Interview with cinematographer Jost Vacano (66:31)
In this lengthy interview from 2014, Vacano talks about his early career in Germany, his collaborations with Verhoeven including "Spetters", his Oscar win for "Das Boot" and work on "The Neverending Story" opening many doors for work in the United States, and much more. He talks greatly about his collaborations with Verhoeven including "RoboCop, "Total Recall" and "Starship Troopers" as well. He also talks about his decision to retire and why he has no desire to return to cinematography. Around the 12 minute mark, the image and sound are unsynchronized for some reason. This was previously found on the German Koch Media Blu-ray release of "Spetters".
in anamorphic 1.78:1, in German Dolby Digital 2.0 with optional English subtitles


Booklet
A 36 page booklet is included for the first pressing only. First is an interview with Paul Verhoeven conducted by Peter Stanley talking mostly about "Spetters". Next is "From Soldier of Orange to Spetters" by Gerard Soeteman in which the screenwriter discusses his films with Verhoeven in the period. "Making Spetters" is by Verhoeven biographer Rob Van Scheers on the production. There is also a reprinted review of the film from December 1983 by Sheila Johnston from Monthly Film Bulletin. A notice from the "Anti-Spetters-Action" group is reprinted along with an English translation. "Growing Pains: The Supposed Sleaziness of Spetters" by Dr. Peter Verstraten is the last essay, focusing on the sexual angle of the film. Lastly there are film credits, special features information, transfer info, acknowledgements, and stills.


"Spetters" has been released on Blu-ray already in Holland, the US, and Germany. The Dutch release had no extras. The US release had the 2001 commentary along with stills and a trailer. The German release had the extras from the US release plus newly made interviews and the vintage TV special. The UK Limited Edition includes all the previously released extras and adds its own exclusives making this the most definitive edition available.

A clip of the film has been embedded below, courtesy of the BFI.



Overall


"Spetters" may have been reviled on its original release, but the film is much deeper than just sex and violence with young people, reflecting on social frustration and generation gaps, plus dirt bike racing in a truly provoking piece of work. The BFI Blu-ray features an excellent transfer with a great selection of extras.
| | | | | |
| --- | --- | --- | --- | --- |
| The Film: A- | Video: A- | Audio: A | Extras: A- | Overall: A- |