Endless Night (Blu-ray) [Blu-ray]
Blu-ray B - United Kingdom - Powerhouse Films
Review written by and copyright: Rick Curzon (21st January 2020).
The Film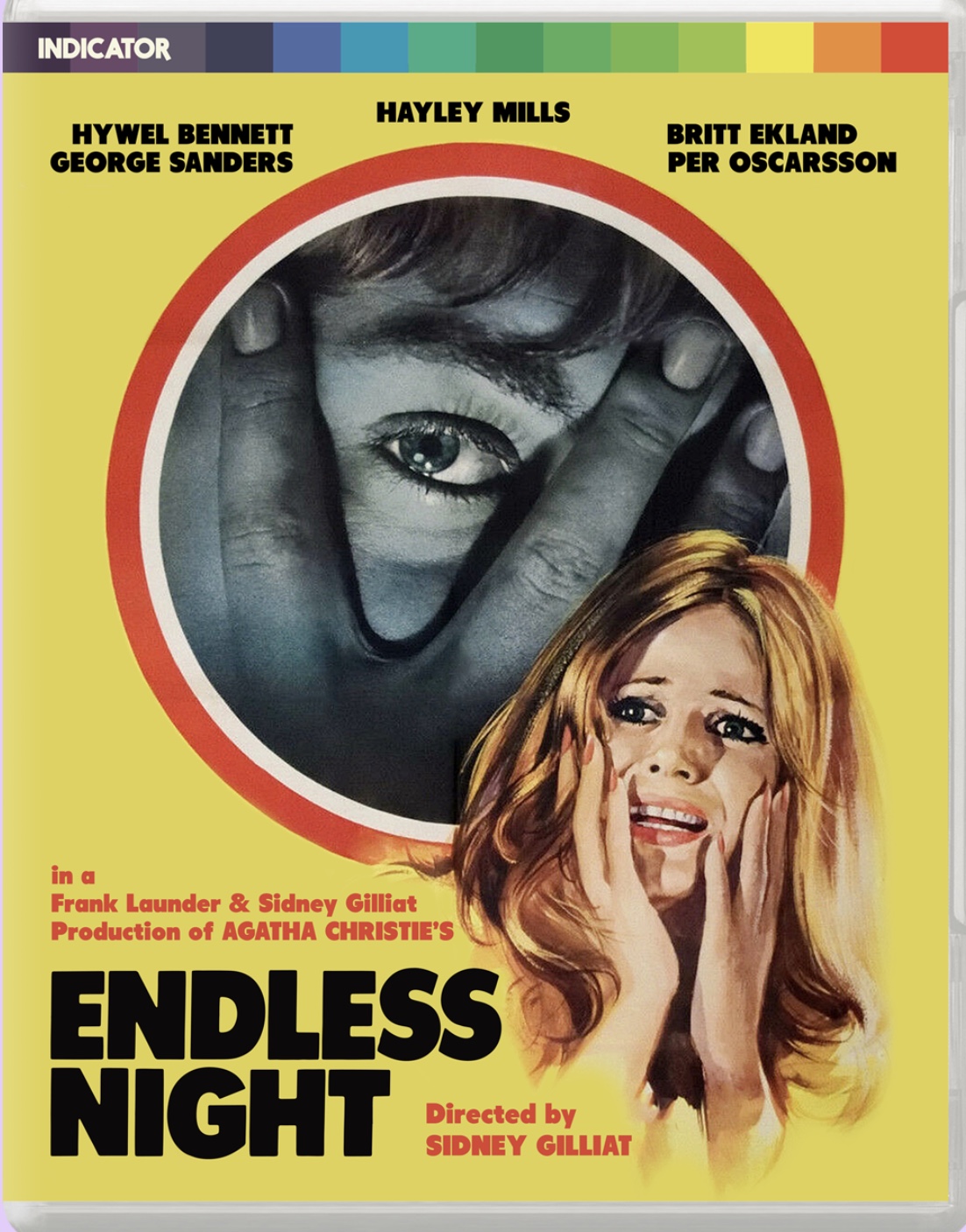 The final feature by Sidney Gilliat, Endless Night capped a career that encompassed screenplays for Alfred Hitchcock and Carol Reed, the anarchic St. Trinianís comedies, and his own directorial gems such as mystery-thriller Green for Danger.

Adapting Agatha Christieís celebrated novel of the same name, the film reunites the co-stars of cult classic Twisted Nerve, Hywel Bennett (The Virgin Soldiers) and Hayley Mills (Take a Girl Like You) and boasts an impressive supporting cast including Britt Ekland (The Wicker Man), Per Oscarsson (A Dandy in Aspic) and George Sanders (All About Eve).

Video


A slacker (Hywel Bennett, pronounced Howell) drifts from job to job until he meets a beautiful young woman (Hayley Mills) and it's love at first sight. He then finds out that she's a wealthy heiress and they get married; her family aren't amused and this being an adaptation of Agatha Christie's 1967 novel things don't go smoothly.

Unusual Christie story isn't a straightforward murder mystery but more a psychological thriller that resembles in some ways Les Diabolique (1954) and the various Hammer riffs on that classic ... in tone if not in plot. The cast are all good but Bennett isn't a very compelling lead. Sidney Gilliat's direction is largely inspired with some unusual framing and editing techniques. It sags a tad in the middle but that is bookended by a crackerjack opening and closing thirds and the spot-the-faces cast of stalwarts always entertains as various character actors pop up and do entertaining turns.

Good stuff and chock full of actors of note.

Powerhouse have done yet another great job with this release; all image factors are bang in point with rich colour values, deep black levels, fine contrast and no signs of digital tinkering. Grain is healthy throughout. I did notice a few instances of density changes and there was at least two tramline scratches that appeared; both in the lefthand third of the 1.85:1 frame. The film itself isn't a visual powerhouse but is very nicely lensed on great locations which come off very well here.

Otherwise another superb, brilliantly encoded transfer from a first-rate image harvest that's obviously had a ton of restoration done to it by Studio Canal (copyright holder) with no doubt some additional fine tuning from Powerhouse. The mild print damage ind inconsistencies are very minor and absolutely will not (or should not) hamper enjoyment.

1080/24p / MPEG-4 AVC / 1.85:1 / 99:41

Audio


English LPCM 1.0
Subtitles: English HoH

Effective mono track with no distortions or other issues. Dialogue is clear, music is well represented and has some good low end. Subtitles for the hearing impaired are included and obviously essential.

Extras


All extras are in HD unless noted.

"The British Entertainment History Project (BEHP) Interview with Sidney Gilliat Conducted by Roy Fowler and Taffy Haines on 15th May 1990" plays as alternate audio track over the film (99:35)

An excellent highly chatty and informative excerpt from a much longer interview. Hopefully more of which will appear on future releases.

"The John Player Lecture with Bernard Hermann Conducted by Canadian Writer Ted Gilling at the National Film Theatre, London on 11 June 1972" plays as an alternate audio track over the film (52:29)

Hermann is a tough old bird based on this with strong opinions and a true champion of the art of film composing. The guy was a genius and died too young age 64 only a few years after this fascinating talk.

"A Full House: Hayley Mills on Endless Night" 2020 featurette (7:20)

Mills was married to film producer Roy Boulting at time of making Endless Night and Sidney Gillait worked for him. She notes that director Gilliat was well prepared and maintained a calm atmosphere on set. She enjoyed the cast getting on with everyone; Bennett was good to work with; Sanders having memory issues but was a sweet guy (who amusingly called Bennett Margaret); Oscarson was a fascinating character with great screen presence and Ekland was perfectly lovely and gave tips on drinking and not gaining weight (grapefruit juice and vodka). Mills gives high praise to Hermann's score. A short and concise piece that has Mills on fine form.


"Endless Notes: Composer and Synthesiser Player Howard Blake on Bernard Hermann and Endless Night" 2020 featurette (12:38)

An extremely interesting piece; I've not heard from Blake before but admire his scores for The Avengers (1961-69), Flash Gordon (1980), Superman III and Amityville 3D (both 1983). It covers his beginnings and career, his wide-ranging interest in film music and the way it allowed aspects of jazz, rock and other forms of music into the fold. The piece covers working with various synthesisers starting with Blake buying the first prototype of the Mini Moog from it's creator Dr. Moog. Blake loved working with Hermann and got on with him very well and discusses the great man and his working relationship in plenty of detail. Essential.

"Emotional Turbulence: Neil Sinyard on the Career of Bernard Hermann" 2020 featurette (16:02)

Sinyard is a very relaxed, knowledgeable presence with a warm voice; I could listen to him talking about films, composers and film makers for hours. This piece covers Hermann's career from the beginning to it's end and focuses a fair amount on how Hermann was the go-to guy for composing for films with a strong psychological "landscape". A perfect companion to the Blake short.

Theatrical Trailer (3:13)

Typical promo short for a film of the era with the ubiquitous Patrick Allen voiceover.

Endless Night Image Gallery: Original Promotional Material (25 images)

Solid HD still gallery with a decent number of stills.

36-page liner notes booklet by Anne Billson, Frank Launder and Sidney Gilliat on Endless Night, an archival interview with Gilliat, an overview of contemporary critical responses, and film credits

The usual highly desirable and chunky booklet that I've come to love from Powerhouse Films. At some point in the future, as these booklets creep out of print due to the initial 3,000 edition limited print runs sell out and bog-standard disc only releases take over, these booklets could be collected into book form by theme or film maker. They're that good. This one has yet another superb essay by the always reliably brilliant Anne Bilson. As always, worth the price of the disc by itself!

Packaging


Standard clear Blu-ray case.

Overall


An unusual Agatha Christie adaptation which has unfairly fallen through the cracks over the decades gets brought into the limelight. Overall excellent image quality with a couple of blemishes still evident, top notch lossless sound and an essential and informative package of extras; all adds up to yet another winner from Powerhouse Films' Indicator series. Highly recommended.
| | | | | |
| --- | --- | --- | --- | --- |
| The Film: B | Video: A | Audio: A+ | Extras: A+ | Overall: A |

---
DVD Compare is a participant in the Amazon Services LLC Associates Program and the Amazon Europe S.a.r.l. Associates Programme, an affiliate advertising program designed to provide a means for sites to earn advertising fees by advertising and linking to amazon.co.uk, amazon.com, amazon.ca, amazon.fr, and amazon.de.