The Film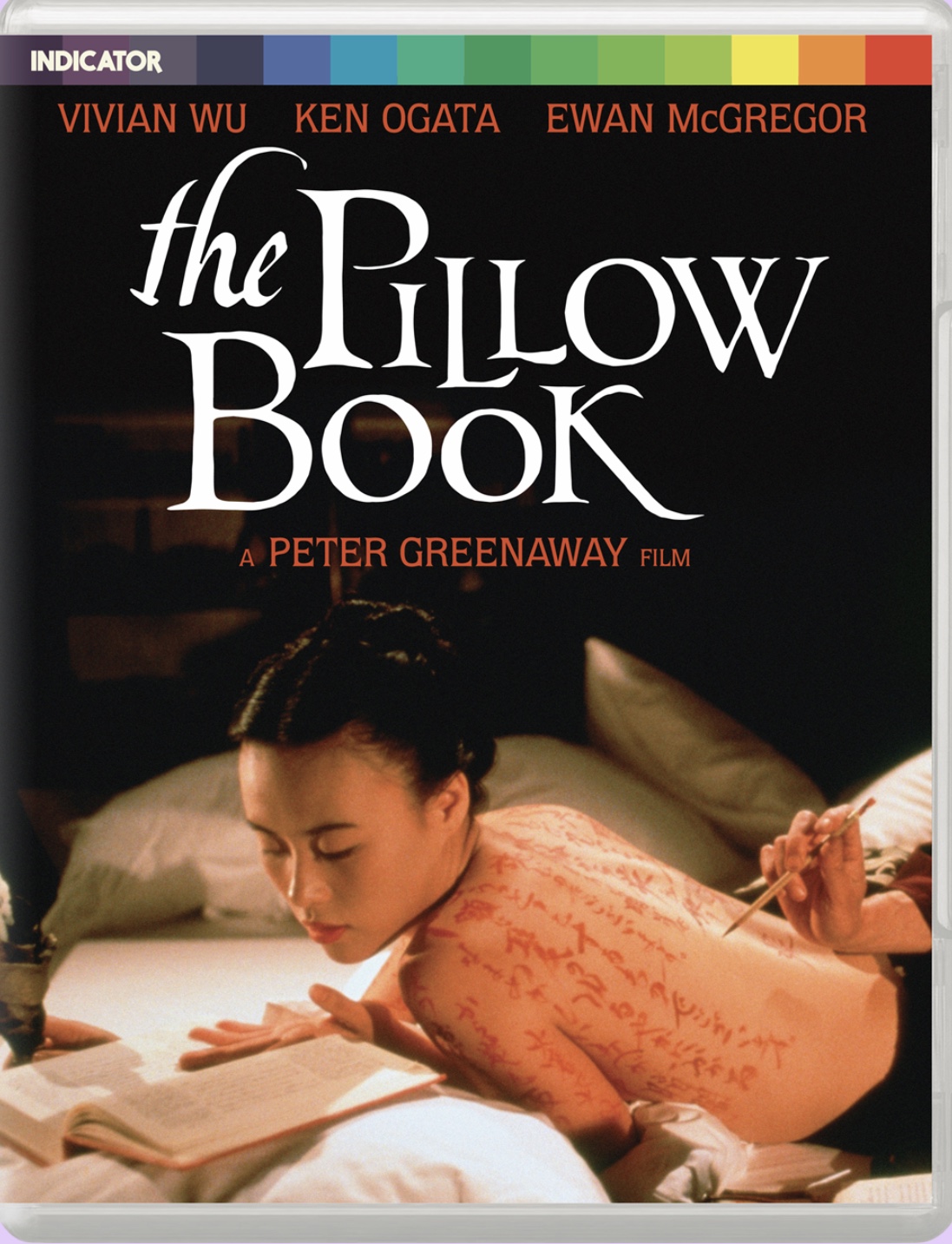 Inspired by Sei Shōnagon's first-century diary, Peter Greenaway's The Pillow Book is an audio-visual tour de force, and a showcase for one of British cinema's most singular talents.

Starring Vivian Wu (8˝ Women), Ewan McGregor (Trainspotting) and Ken Ogata (Mishima: A Life in Four Chapters), the film is among Greenaway's most daring and adventurous works.

Video


It's fair to say that Greenaway's arthouse films aren't for everyone. Dense, intelligent almost intellectual to a fault they always look and sound extraordinary. The Pillow
Book was one that had eluded me but I would not describe myself as a fan so I can't say I was searching.

In this case I found the densely layered images and text to be somewhat maddening and the characters un-engaging, but if Greenaway is your bag then you'll be like a pig amongst the truffles with this extraordinary disc.

The colour palette is extremely rich and well designed with deep blacks fabulous shadow detail and contrast displays a pleasingly dynamic range. Detail is excellent throughout despite the image being a mix of aspect ratios all displayed within the 1.37:1 frame; the film was shot in Super 35 a popular film making format designed to allow multiple different ratios to be created for different purposes.

There's a fine layer of grain throughout which has been beautifully encoded by David Mackenzie and his team at Fidelity in Motion; this is a very film like image.

There are no signs of print related wear and tear and no digital tinkering. This is a potentially problematic image in that colour, black and white, different ratios and 35mm film stocks. For those of a technical bent apparently (according to IMDB) Eastman EXR 500T 5296, 250D 5297, EXR 500T 5298.

A stunning transfer that's about as flawless as anyone could

1080/24p / MPEG-4 AVC / 1.37:1 / 126:24

Audio



English LPCM 2.0 Stereo
Subtitles: English HoH

A rich, enveloping stereo track that shows off Brian Eno's magnificent score to it's best advantage. Surrounds are limited to the score and occasional ambient sounds. Dialogue is clear always to the fore. No distortions at all and shy of a 5.1 boost this is as good as it's possible to be; undoubtably faithful to Greenaway's intentions.

Subtitles for the hearing impaired are provided and essential.

Extras


Selected scenes audio commentary with Peter Greenaway (38:05)

Greenaway starts by discussing his approach to art and interest in Japanese culture. He discusses how Britain is a country steeped in literary tradition and how painting was mainly accomplished here by foreigners and that English painters tended not to transfer internationally bar a few examples. This changed obviously since the 19th century. Greenaway covers his influences as a painter and his approach to cinema is extremely visual and his fascination of mixing text with images. He feels that cinema is too much painted text; he believes that cinema began in the 1600s when a group of painters discovered artificial light: Reubens, Rembrandt, Caravaggio and Velasquez. This relatively brief track focusses along these lines and functions very much as a lecture which covers the films production in some detail. A very chatty fellow which surprised me as I think in my mind's eye I had pictured Greenaway as being someone much more staid. He is rather academic but is obviously passionate about his subject and believes strongly that cinema is a medium where meaning is conveyed in image.


"The Book of the Editor: Editor Chris Wyatt on The Pillow Book" 2020 featurette (26:23)

Greenaway's editor on a number of films and discusses in detail his career's early days working with the great man. Most interesting is his discussion of the images in a Greenaway's films are layered and how The Pillow Book was pushing the boundaries of digital image manipulation and the process of filming, transferring to digital and then outputting the optical composite back onto film.

Films discussed: The Draughtsman's Contract (1982), A Zed & Two Noughts (1985), The Belly of an Architect (1987), Drowning by Numbers (1988), The Cook, the Thief, his Wife and Her Lover (1989), Prospero's Books (1991), Rosa (1992), The Baby of Macon (1993) and The Pillow Book (1996). The original book on which the film is based The Pillow Book (1002) by Sei Shōnagon is also mentioned.

The Pillow Book Image Gallery: Original Promotional Material (70 images)

Decent HD still gallery.

"Rosa" 1992 short film (15:50)

One of Greenaway's short films presented in a restored version by The Royal Film Archive of Belgium. A filmed dance piece shot in B&W in the foyer of the Ghent Opera House; in an anamorphic widescreen process (2.35:1). Image quality is flawless and film like with a very fine layer of grain and no annoying gamma bias that I could detect; pristine, pure, inky, velvety B&W. The

Theatrical Trailer (1:57)

Lyrical, lilting promo trailer also presented in 1.37:1 as per the film.

40-page liner notes booklet by Adam Scovell, Peter Greenaway on The Pillow Book, excerpts from Greenaway's 26 Facts About Flesh and Ink and the original press book, an overview of contemporary critical responses, Anthony Nield on Rosa, Bruno Mestdagh on restoring Rosa, and film credits

Another extensive and peerless liner notes booklet worth the price of the disc by itself.

Packaging


Standard clear Blu-ray case seen on all of Powerhouse's Indicator releases.

Overall


Superb picture and sound, some choice if brief extras add up to another winner from Powerhouse Films. Fans have been wanting a definitive release of Greenaway's film with the proper calligraphic subtitles restored for years and their wish has come true; kudos to those involved in it's production.

You should be proud.
| | | | | |
| --- | --- | --- | --- | --- |
| The Film: C+ | Video: A+ | Audio: A+ | Extras: B+ | Overall: A |