Resurrected (Blu-ray) [Blu-ray]
Blu-ray ALL - United Kingdom - Powerhouse Films
Review written by and copyright: Rick Curzon (25th January 2020).
The Film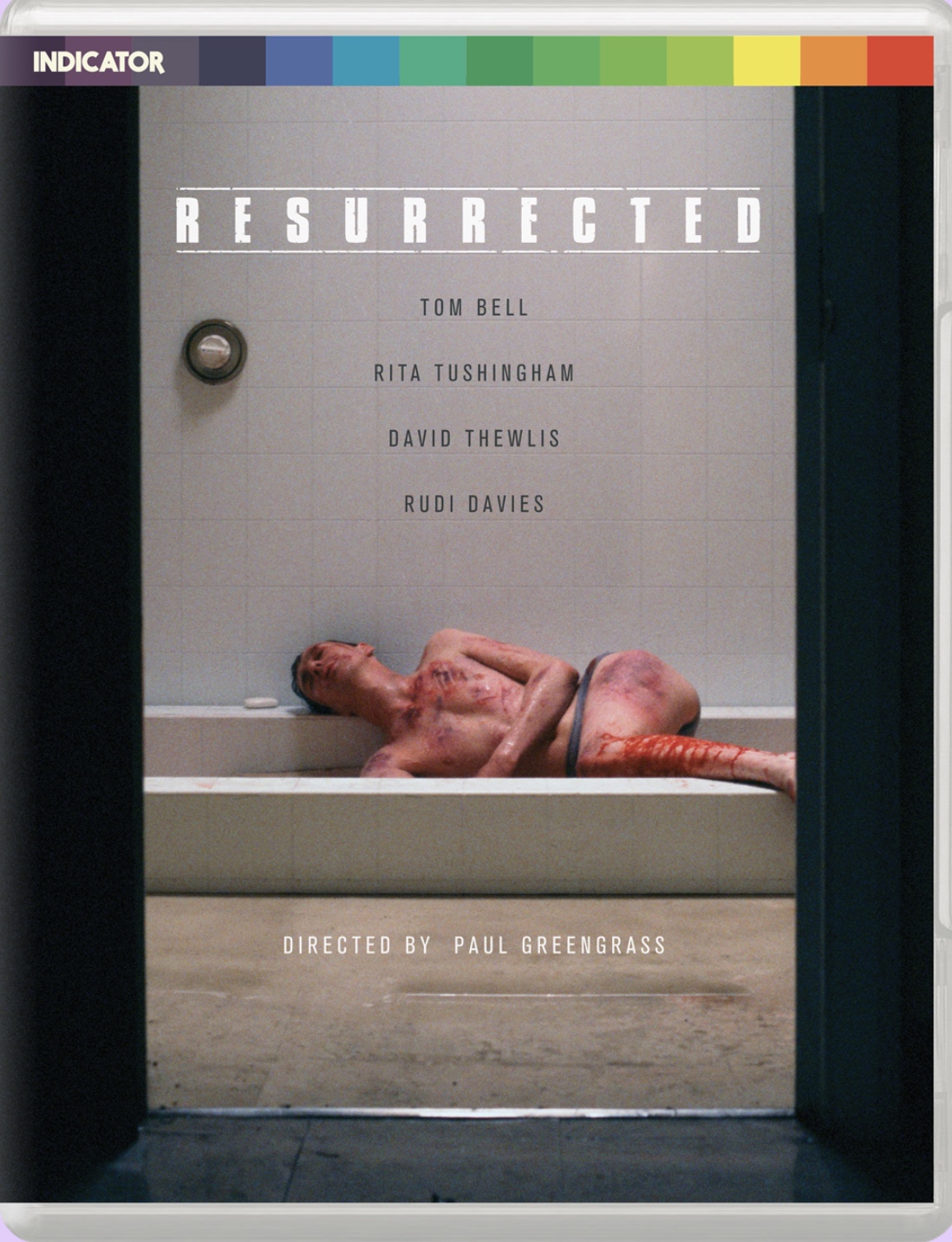 The extraordinary feature film debut from Paul Greengrass (The Bourne Supremacy, United 93) is a disturbing and powerful true story of a British soldier (David Thewlis - Naked) injured and lost during the 1980s Falklands conflict. Presumed dead, he's given full military honours; but on returning he's treated with distrust and shame, and accused of desertion.

Also featuring excellent performances from Rita Tushingham (A Taste of Honey, Doctor Zhivago) and Tom Bell (The L-Shaped Room, The Krays), Resurrected is an intense and provocative drama, a powerful cry against institutional violence and political indifference.

Video


An extremely involving drama about a serious miscarriage of justice and Paul Greengrass's first film; beautifully mounted across the board. All the performances are awards worthy but Thewlis really shows his magnetic side giving a heartbreaking, emotionally felt performance. Easy to see why his career really took off after this. It's a simple tale well told and Greengrass makes it visually interesting and appealing with some classic compositions. Interestingly shot around Huddersfield which is where I reside.

Image quality is extremely good with a healthy, film like appearance and solid grain structure. Typical of the late '80s the colour palette is naturalistic and warm with a pleasingly pastel cast; flesh tones aren't over cooked with an occasional pinkish tinge.

Black levels are excellent with plenty of shadow detail and no crush (compare to the trailer to see a much lesser image quality). Detail is ever present along all focal planes although this isn't a massively contrasty image by design. It's supportive and with no blown out highlights. I could also detect no print damage or digital tinkering. The encode is top notch managing detail and grain beautifully lending the whole thing a cinematic sheen.

First rate.

1080/24p / MPEG-4 AVC / 1.85:1 / 92:00

Audio


Audio
English LPCM 2.0 Mono
Subtitles: English HoH

A pretty standard mono track of the era. Good fidelity with decent base and no distortions that I could detect. Dialogue is always clearly legible and the minimalistic score never intrudes. If I have one problem is that it isn't as loudly recorded as other mono tracks I've heard on Powerhouse Films' releases. I had to really boost the volume in order to hear it clearly and even channel the sound through multi-stereo (all speakers) to get it sounding robust. It's a good track otherwise.

Subtitles for the hearing impaired are welcome, essential and it continues to please me no end that they translate so accurately the onscreen dialogue. The number of studio releases that have very slapdash subtitles that get the essence but virtually none of the nuance.

Extras


All extras are in HD.

"Paul Greengrass on Resurrected" 2011 interview (18:30)

Interesting interview that heralds from an earlier DVD release. Covers his early career, how he got into drama, how he came to make Resurrected, the process of making a fictionalised version of a real event, the depiction of the ordeal the character of Deakin went through, and his career subsequent.

"David Thewlis on Resurrected" 2011 interview (16:39)

The star discusses his career in another holdover from a previous release. He researched the original story as much as possible in the pre-internet days, the Falklands war and being at The Guildhall School of Speech and Drama at the same time. He covers the shoot and working with SPFX.

"Filming the Unthinkable: Rita Tushingham on Resurrected" 2019 featurette (4:46)

A brand new piece kicks off with Tushingham's thoughts on the true story, on her colleagues on the film, the locations and her preference for working thus.

"The Imperial War Museum (IWM) Oral History with Philip Williams: Conducted in 1992" plays as an alternate audio track over the film (66:35)

Vintage piece taken from the IWM's archive. Interviews with a couple of individuals on what it mean for them to be a soldier and the experiences whilst on the job, life during and afterwards.

Theatrical trailer (2:36)

Vintage trailer; no more really to say. Open matte film source; grainy, black crush. The narration is rather self serious and cheesy.

Resurrected Image gallery: Original Promotional Material (41 images)

HD still gallery.

36-page liner notes booklet by Julian Petley, Paul Greengrass and screenwriter Martin Allen on Resurrected, extracts from an archival interview with Philip Williams, an overview of critical responses, and film credits

Another in the long line of fabulous booklets filled with contextual material including some interesting material on the real story behind the film.

Packaging


Standard clear BD case as used by Powerhouse Films for their Indicator series.

Overall


Another winner from Powerhouse Films with excellent picture, decent sound and good extras. A somewhat forgotten film made by Film 4 gets the deluxe treatment.
| | | | | |
| --- | --- | --- | --- | --- |
| The Film: B | Video: A+ | Audio: A | Extras: A | Overall: A |

---
DVD Compare is a participant in the Amazon Services LLC Associates Program and the Amazon Europe S.a.r.l. Associates Programme, an affiliate advertising program designed to provide a means for sites to earn advertising fees by advertising and linking to amazon.co.uk, amazon.com, amazon.ca, amazon.fr, and amazon.de.