The Film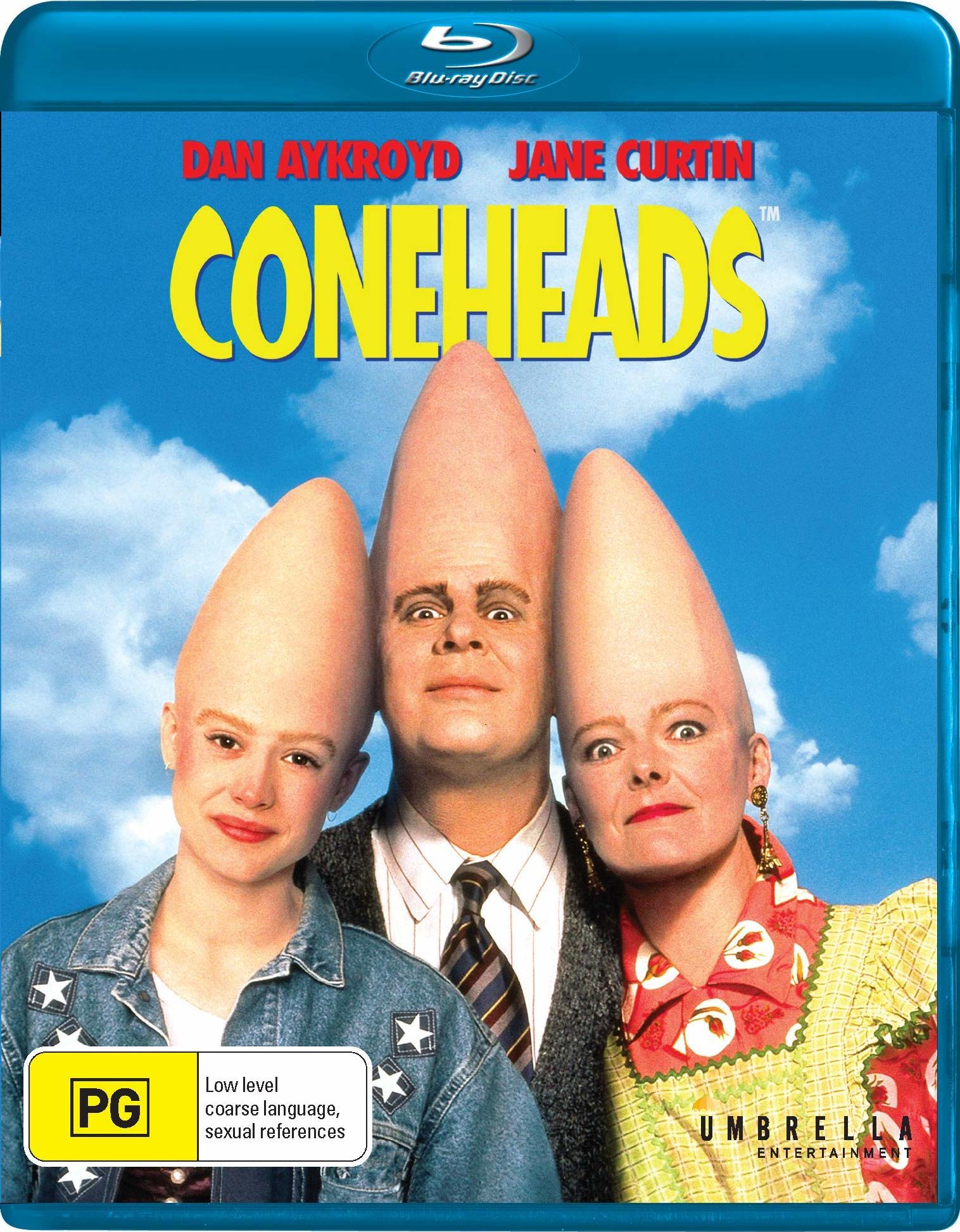 "Coneheads" (1993)

Beldar (played by Dan Aykroyd) and his mate Prymaat (played by Jane Curtin) are aliens from the planet Remulak whose space ship crash landed on Earth during a mission. Without a way to communicate to their homeland, they decide to adapt as humans and gather enough materials to at least create a new communicator. With their bald heads being in a cone shape towering almost twice the height of a normal human's head and having a sharp series of teeth, they certainly don't look like the average human, and with their particular way of speaking with a monotone and fast cadence with unusual vocabulary, they have to make ends meet with menial work and learning from observation.

With the help of people such as shop owner Otto (played by Sinbad and taxi driver Koudri (played by Shishir Kurup, they are able to make ends meet, but hot on their tails are agents of the INS, led by Agent Seedling (played by Michael McKean) and his sheepish assistant Eli Turnbull (played by David Spade), when the two start using fake social security numbers.

Starting as a short skit on Saturday Night Live in 1977, the characters of the Coneheads were portrayed by Aykroyd and Curtin, along with Laraine Newman as their Earth born daughter. The sketches ran sporadically until 1979, then an animated pilot was made by Rankin Bass in 1983 but never picked up for a series. By 1993. SNL had only made two feature films based on sketches from their series. "Blues Brothers" in 1980 and "Wayne's World" in 1992. While the twelve year gap is a surprise, both happened to be massive box office hits worldwide, especially with "Wayne's World" earning nearly $200 million worldwide. Both films were made and released when the skits were still on SNL, so it did seem like a surprise that Paramount and SNL were investing $33 million into a "Coneheads" movie when the skits were not on SNL for over a full decade. For the production, not only were the original "parental-unit" stars brought back in their original roles along with Newman playing in a cameo appearance, but it also featured a number of then-current SNL cast members.

Phil Hartman, John Lovitz, Adam Sandler, Chris Farley, Kevin Nealon, Jan Hooks, Julia Sweeney, Tim Meadows are to name a few of the SNL stars that make appearances in the film, which always brings a smile and laughter just with their presence. There are quite a lot of other comedians that appear, who were not as famous at the time but have become familar faces in later years, such as Tom Arnold, Michael Richards, Jason Alexander, Eddie Griffin, Drew Carey, Ellen Degeneres, and others making short appearances. For the film version, the Coneheads' teenage daughter Connie is played by Michelle Burke as Newman would not have convincingly been able to play a teenager at her age. The family dynamic of the three characters in the second half of the film is great, with the rebellious teenage daughter trying to go against the standards set by her parents, and adapting better than her parents could ever have. Regardless of them being from another planet, the feelings and problems the family go through are no less alien than what the average household may go through with the changing times and generations. It is also interesting to point out that the two best friends of Connie are played by Parker Posey and Joey Lauren Adams, and the three of them also played three best friends in "Dazed and Confused", released the same year.

While in the SNL skits the focus was on the strangeness of Earth habits that the Coneheads saw and how they interacted, a focus the film version took was the force of immigration laws in an exaggerated form. Sthingscenes of rooms full of people trying to get information and agents having no helpful use, megaphone yelling at refugees on boats, and an idea of electrified collars for people trying to cross the border might have seemed silly at the time, but considering how things have changed since 9/11 and the exaggerations becoming norms in Trump America, the scenes might not be as funny as they used to be. Michael McKean as the tough Seedling is one that only sees the law as the law and is a fine character at that, and David Spade as the assistant being snarky, uncaring, and kiss-assy is something that Spade plays exceptionally well.

One of the points the film does not seem to follow at all is the sense of time. When Beldar and Prymaat receive word that a rescue vessel would come in "Seven Zurls" which must be at least 16 years, considering when the rescue ship comes their daughter is a teenager. But for them to return to their home planet, as well as time to return to Earth seems to be nearly instantaneous. In addition, Seedling and Turnbull are on the case before the baby is born and are also there when the daughter is a teenager. Yet both are in the same positions at work and have not aged a day. Logic is obvious thrown out the window here, as well as a number of other questionable acts and choices. But obviously audiences are not there for logical issues but more for the silly comedy, and in that sense "Coneheads" does deliver. Lots of great one liners, awkward sequences, unusual love making by the aliens, but in addition to that, there are the special effects. From the gorging of food, the widening of the mouth to an insanely large level, stop motion animation, the film mixes both practical and CGI effects.

"Coneheads" didn't hit well with theatrical audiences, grossing a low $21 million, much under the $33 million production budget. Critics were not very pleased with it, and it continued a downward trend with SNL based films being box office disappointments. It was a much bigger hit on television and on home video, and in subsequent years has become a cult hit. Paramount released the film on DVD in most territories, though they have all been basic edition with just the theatrical trailer as an extra. Umbrella Entertainment has now given the film its first HD release worldwide on Blu-ray.

Note this is a region ALL Blu-ray

Video


Umbrella Entertainment presents the film in the 1.78:1 aspect ratio in 1080p AVC MPEG-4. The high definition transfer comes from what seems to be a slightly dated master, though it still has some positive points to it. Skin tones are fairly good, but grain structure and color stability is not at its best, with solid colors sometimes flickering and not remaining solid. Some of the sequences with CGI does look slightly off with the colors and grain structure, and as for damage there are some that can be seen. Though very minor, slightly speckles and dust can be seen in some of the brighter sequences. It obviously hasn't been given a full restoration, and fans might be a bit disappointed that compared to the older DVDs it isn't a major upgrade.

The film is uncut with a runtime of 86:44.

Audio


English DTS-HD Master Audio 5.1
The 5.1 track is presented lossless. Originally given a Dolby Stereo mix theatrically, this 5.1 track was created for the DVD release and sounds very good. Sound effects from the space flight sequences, the fireworks explosion, and elements of the score are spread out very well. The music score by David Newman sounds very good, along with the songs by Soft Cell, Red Hot Chili Peppers, Digable Planets, Paul Simon, and more. Dialogue is almost entirely center based and well balanced with the music and effects. There are no issues with damage or problems with the audio track such as hisses or pops.

There are no subtitles for the main feature.

Extras


Unfortunately there are none to be found here. The disc has no menu and boots up the film on start-up and after the film ends the disc stops.

Previous DVD releases from Paramount only had the theatrical trailer as an extra. Interestingly the theatrical trailer has some instances of scenes not in the theatrical film, such as Beldar mentioning to Drew Carey that he comes from France. The television cut had some alternate and extended scenes, and they have never been available on home video. No EPK featurettes or interviews, no music videos either. "Soul to Squeeze" by Red Hot Chili Peppers was quite a big hit and released as a tie-in to the film, with the Kevin Kerslake directed video having Coneheads references including a cameo by Chris Farley. The theatrical trailer and music video have been embedded below.





Packaging


The inlay is reversible, with identical artwork on the opposite side though the Australia PG rating logo removed. It states the disc is region B but in fact is region ALL.

Overall


"Coneheads" was not a massive hit on its release, but it certainly has a great number of laughs from a star filled cast in an absurdly bizarre premise. The Umbrella Entertainment release has good audio and fair video, but not having any extras is a disappointing aspect of this release.
| | | | | |
| --- | --- | --- | --- | --- |
| The Film: B- | Video: C+ | Audio: A- | Extras: F- | Overall: C+ |